This website uses cookies to ensure you get the best experience while browsing it. By clicking 'Got It' you're accepting these terms.
PA Supreme Court Finds Parts of Act 13 Unconstitutional, Allows Municipalities to Limit Fracking
Dec. 20, 2013 11:23AM EST
Fracking
The Pennsylvania Supreme Court issued an opinion yesterday in the closely-watched case of Robinson Township v. Commonwealth of Pennsylvania, No. 63 MAP 2012.
The case was a challenge filed by several Pennsylvania municipalities against the state legislature's adoption of Act 13. Act 13 sought to eliminate zoning authority from municipalities over oil and gas extraction.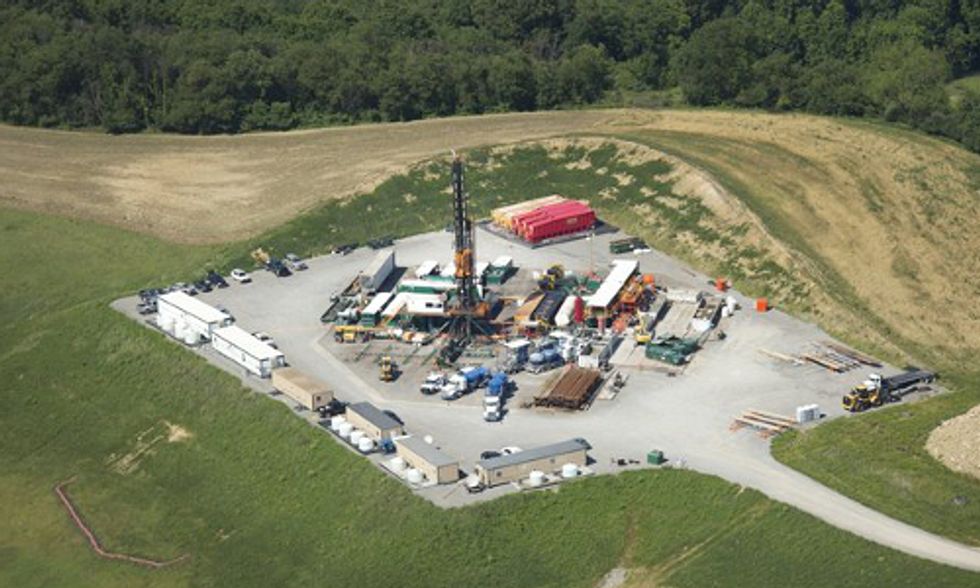 Act 13 was passed in 2012 to remove any local barriers to the expansion of drilling and fracking across the state. Provisions of Act 13 made certain oil and gas extraction activities a "use by right" in any part of any municipality, thus eliminating the ability of municipalities to use zoning and planning to control oil and gas drilling (and other activities) within their communities.
In 2012, Pennsylvania's Commonwealth Court (Pennsylvania's trial court for actions brought against the State of Pennsylvania), ruled in favor of the municipal plaintiffs. That court struck down certain portions of Act 13, ruling that they were a constitutional violation of the property rights of landowners who would be affected by the act's elimination of municipal zoning authority.
The decision was then appealed by several parties to the Pennsylvania Supreme Court.
In yesterday's decision, the Pennsylvania Supreme Court also ruled in favor of the plaintiffs. However, in a departure from the lower court, the state Supreme Court rooted its decision not in the property rights of landowners, but on Pennsylvania's Environmental Rights Amendment. 
The amendment, adopted in 1971 by the voters of the state as part of the State Constitution's Declaration of Rights, declares the right of citizens to "clean air and pure water" and to the "preservation of natural, scenic, historic and esthetic values of the environment." The amendment also declares that the state and its municipalities must act as trustees to protect the rights of Pennsylvania citizens under the amendment.
The court ruled that Act 13's elimination of zoning and land use planning authority—the primary method through which municipalities act as trustees—was unconstitutional. For, the court found, the state cannot interfere with the constitutional duty of municipal governments to carry out the duties imposed by the Environmental Rights Amendment.
In essence, the Pennsylvania Supreme Court delivered a ruling which limits the power of the state to interfere with the duty of municipalities to act as a trustee of natural resources. 
The court thus overturned several sections of Act 13, including the sections creating the power of the state to nullify municipal zoning provisions which ran afoul of the act's requirement that oil and gas drilling could occur in any area of a municipality, regardless of how that area was zoned.
The court's decision was a drastic departure from that of prior courts with respect to the Environmental Rights Amendment. Ever since the amendment's overwhelming adoption by the people of the commonwealth, courts have generally disregarded it, holding that its sole purpose was to provide additional authority to state agencies to protect the natural environment.
"Today was a significant victory for municipalities seeking to regulate the placement of oil and gas wells and other structures on the surface of land," said Thomas Linzey, the executive director of the Community Environmental Legal Defense Fund (CELDF).
"Further, today's decision may not only affect Act 13 or oil and gas drilling," said Linzey. "For years, the state legislature has sought to eliminate local authority on extraction and other activities, including forestry and coal, which the court referenced in its decision." 
For many years, CELDF has represented municipal clients adopting local ordinances that ban corporate projects harmful to communities. As part of that work, CLEDF has fought to overturn another Pennsylvania law—known as ACRE (Agriculture, Communities and Rural Environment)—which forced corporate factory farms into communities regardless of local zoning and land use planning laws which sought to limit industrial agriculture. 
Linzey stated, "The court's decision calls into question the constitutionality of any state laws which nullify the authority of municipal zoning ordinances and land use plans. Today's ruling gives new life to people's environmental rights, and serves more importantly, in some ways, to shield our communities from a state legislature that has been privatized by certain industries."
"This ruling, while welcome, does not stop fracking of Pennsylvania's communities, nor does it recognize the right of the people of Pennsylvania to govern their own communities without state or corporate interference," Linzey explained further. "Today's decision does, however, for the first time open the door for future rulings that would add that law."
"However, there remain tremendous legal barriers in place which subordinate the authority of people, communities and nature to protect themselves from fracking and the wide range of activities that the state legislature has forced into our municipalities," explained Linzey.
Visit EcoWatch's FRACKING page for more related news on this topic.

EcoWatch Daily Newsletter
We need our government to do everything it can to stop PFAS contamination and exposure from wreaking havoc in communities across the country. LuAnn Hun /
Unsplash
By Genna Reed
The EPA announced last week that it is issuing a preliminary regulatory determination for public comment to set an enforceable drinking water standard to two of the most common and well-studied PFAS, PFOA and PFOS.
This decision is based on three criteria:
PFOA and PFOS have an adverse effect on public health
PFOA and PFOS occur in drinking water often enough and at levels of public health concern;
regulation of PFOA and PFOS is a meaningful opportunity for reducing the health risk to those served by public water systems.
Charging EVs in Stockholm: But where does a dead battery go? Ranjithsiji / Wikimedia Commons
By Kieran Cooke
Driving an electric-powered vehicle (EV) rather than one reliant on fossil fuels is a key way to tackle climate change and improve air quality — but it does leave the old batteries behind as a nasty residue.
U.S. Secretary of the Treasure Steven Mnuchin arrives for a welcome dinner at the Murabba Palace in Riyadh, Saudi Arabia on Feb. 22, 2020 during the G20 finance ministers and central bank governors meeting. FAYEZ NURELDINE / AFP via Getty Images
Finance ministers from the 20 largest economies agreed to add a scant mention of the climate crisis in its final communiqué in Riyadh, Saudi Arabia on Sunday, but they stopped short of calling it a major economic risk, as Reuters reported. It was the first time the G20 has mentioned the climate crisis in its final communiqué since Donald Trump became president in 2017.
Aerial view of Parque da Cachoeira, which suffered the January 2019 dam collapse, in Brumadinho, state of Minas Gerais, Brazil — one of the country's worst industrial accidents that left 270 people dead. Millions of tons of toxic mining waste engulfed houses, farms and waterways, devastating the mineral-rich region. DOUGLAS MAGNO / AFP / Getty Images
Participants of the climate demonstration Fridays for Future walk through Hamburg, Germany on Feb. 21, 2020. Axel Heimken / picture alliance via Getty Images