This website uses cookies to ensure you get the best experience while browsing it. By clicking 'Got It' you're accepting these terms.
Overturning of Local Zoning Protections for Fracking Leads to Protests at Senators' Offices
Feb. 16, 2012 10:10PM EST
Energy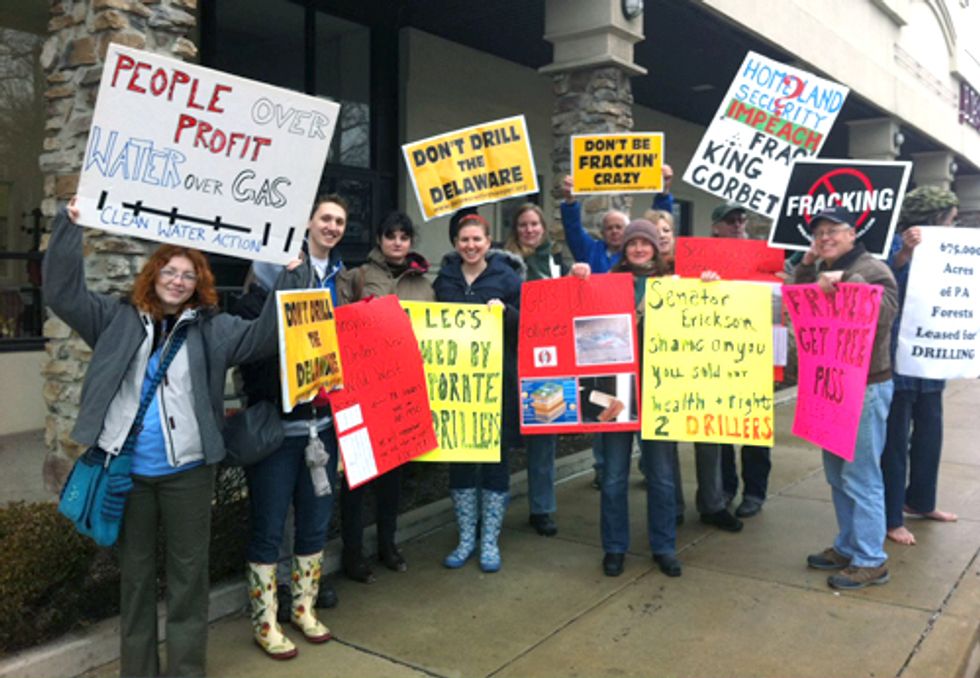 Environmental organizations held protests outside the offices of three State Senators who recently voted for Marcellus Shale gas drilling legislation (HB 1950). State lawmakers approved HB 1950 last week which contains provisions that overturn local zoning ordinances and forces townships to allow gas operations in residential and all other parts of the municipality.
The Senators targeted by protesters included Sen. Tim Solobay (D-Washington) who represented one of five Democratic Senators supporting the legislation. Sen. Chuck McIlhinney (R-Bucks) and Sen. Edwin Erickson (R-Delaware) had publicly voiced their opposition to overturning local zoning rights, but then reversed their stand in voting for final passage of the law.
"Sadly, this is just one more case of powerful interests dominating the political process," stated Erika Staaf of PennEnvironment. "For this reason, we believe it is imperative that Pennsylvanians know which legislators voted against the public's interest and for this oil and gas industry-approved bill. That's why we are out here today."
Myron Arnowitt, PA state director for Clean Water Action, stated, "The loss of local zoning control is already creating problems which these Senators are responsible for. We just learned about another town that cannot protect its public water supply from nearby gas drilling because there is no longer any local control. Drillers are already challenging local ordinances, demanding that they can drill in areas where towns formerly prevented them. It's outrageous that these Senators listened to industry and ignored the tens of thousands of residents who urged the state legislature to vote down this bill."
"Pennsylvania communities will now pay the price of HB1950 and it will be a very heavy price of pollution and harmful health impacts. The loss of municipal control of gas drilling will allow current problems where gas operations are occurring to multiply. We're saying loud and clear: Shame on those who voted for selling out the public to the gas industry, we know who you are—we will not take this lying down," said Tracy Carluccio, deputy director, Delaware Riverkeeper Network.
"The legislation passed by the General Assembly was 174 pages long," said Jeff Schmidt, director of the Sierra Club Pennsylvania Chapter. "However, Republican leadership and Governor Corbett concocted the 'deal' behind closed doors, and then rushed its passage less than 48 hours later. Most legislators did not read the bill, and simply followed the instructions of the drilling industry to pass it. We are discovering all sorts of hidden problems no one mentioned during the legislative debates, including mandatory secrecy provisions imposed on doctors who treat victims of drilling pollution. Legislators need to be held accountable for voting in support of this backroom deal," Schmidt continued.
Provisions in the final version of HB 1950 included:
· Most aspects of oil and gas operations must be allowed in all zones in townships in Pennsylvania, including residential and commercial areas.
· Well pads and frac pits can be as close as 300 feet to a school, home, or other building.
· Pipelines must be allowed in all zones in a township, and can be closer than 300 feet to other structures, such as schools and homes.
· The only exemption for residential areas is in dense, urban neighborhoods, where a well pad could not meet the 300 foot setback requirement. This exemption is unlikely to help most townships trying to protect residential areas from oil and gas operations.
Groups sponsoring today's protests include: Clean Water Action, PennEnvironment, Sierra Club, Delaware Riverkeeper Network, and Conservation Voters of PA.
EcoWatch Daily Newsletter
We need our government to do everything it can to stop PFAS contamination and exposure from wreaking havoc in communities across the country. LuAnn Hun /
Unsplash
By Genna Reed
The EPA announced last week that it is issuing a preliminary regulatory determination for public comment to set an enforceable drinking water standard to two of the most common and well-studied PFAS, PFOA and PFOS.
This decision is based on three criteria:
PFOA and PFOS have an adverse effect on public health
PFOA and PFOS occur in drinking water often enough and at levels of public health concern;
regulation of PFOA and PFOS is a meaningful opportunity for reducing the health risk to those served by public water systems.
Charging EVs in Stockholm: But where does a dead battery go? Ranjithsiji / Wikimedia Commons
By Kieran Cooke
Driving an electric-powered vehicle (EV) rather than one reliant on fossil fuels is a key way to tackle climate change and improve air quality — but it does leave the old batteries behind as a nasty residue.
U.S. Secretary of the Treasure Steven Mnuchin arrives for a welcome dinner at the Murabba Palace in Riyadh, Saudi Arabia on Feb. 22, 2020 during the G20 finance ministers and central bank governors meeting. FAYEZ NURELDINE / AFP via Getty Images
Finance ministers from the 20 largest economies agreed to add a scant mention of the climate crisis in its final communiqué in Riyadh, Saudi Arabia on Sunday, but they stopped short of calling it a major economic risk, as Reuters reported. It was the first time the G20 has mentioned the climate crisis in its final communiqué since Donald Trump became president in 2017.
Aerial view of Parque da Cachoeira, which suffered the January 2019 dam collapse, in Brumadinho, state of Minas Gerais, Brazil — one of the country's worst industrial accidents that left 270 people dead. Millions of tons of toxic mining waste engulfed houses, farms and waterways, devastating the mineral-rich region. DOUGLAS MAGNO / AFP / Getty Images
Participants of the climate demonstration Fridays for Future walk through Hamburg, Germany on Feb. 21, 2020. Axel Heimken / picture alliance via Getty Images