This website uses cookies to ensure you get the best experience while browsing it. By clicking 'Got It' you're accepting these terms.
Overturning of Local Zoning Protections for Fracking Leads to Protests at Senators' Offices
Feb. 16, 2012 10:10PM EST
Energy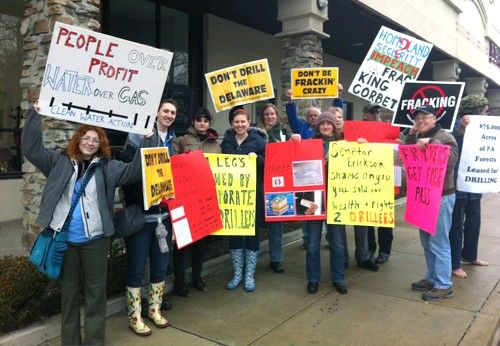 Environmental organizations held protests outside the offices of three State Senators who recently voted for Marcellus Shale gas drilling legislation (HB 1950). State lawmakers approved HB 1950 last week which contains provisions that overturn local zoning ordinances and forces townships to allow gas operations in residential and all other parts of the municipality.
The Senators targeted by protesters included Sen. Tim Solobay (D-Washington) who represented one of five Democratic Senators supporting the legislation. Sen. Chuck McIlhinney (R-Bucks) and Sen. Edwin Erickson (R-Delaware) had publicly voiced their opposition to overturning local zoning rights, but then reversed their stand in voting for final passage of the law.
"Sadly, this is just one more case of powerful interests dominating the political process," stated Erika Staaf of PennEnvironment. "For this reason, we believe it is imperative that Pennsylvanians know which legislators voted against the public's interest and for this oil and gas industry-approved bill. That's why we are out here today."
Myron Arnowitt, PA state director for Clean Water Action, stated, "The loss of local zoning control is already creating problems which these Senators are responsible for. We just learned about another town that cannot protect its public water supply from nearby gas drilling because there is no longer any local control. Drillers are already challenging local ordinances, demanding that they can drill in areas where towns formerly prevented them. It's outrageous that these Senators listened to industry and ignored the tens of thousands of residents who urged the state legislature to vote down this bill."
"Pennsylvania communities will now pay the price of HB1950 and it will be a very heavy price of pollution and harmful health impacts. The loss of municipal control of gas drilling will allow current problems where gas operations are occurring to multiply. We're saying loud and clear: Shame on those who voted for selling out the public to the gas industry, we know who you are—we will not take this lying down," said Tracy Carluccio, deputy director, Delaware Riverkeeper Network.
"The legislation passed by the General Assembly was 174 pages long," said Jeff Schmidt, director of the Sierra Club Pennsylvania Chapter. "However, Republican leadership and Governor Corbett concocted the 'deal' behind closed doors, and then rushed its passage less than 48 hours later. Most legislators did not read the bill, and simply followed the instructions of the drilling industry to pass it. We are discovering all sorts of hidden problems no one mentioned during the legislative debates, including mandatory secrecy provisions imposed on doctors who treat victims of drilling pollution. Legislators need to be held accountable for voting in support of this backroom deal," Schmidt continued.
Provisions in the final version of HB 1950 included:
· Most aspects of oil and gas operations must be allowed in all zones in townships in Pennsylvania, including residential and commercial areas.
· Well pads and frac pits can be as close as 300 feet to a school, home, or other building.
· Pipelines must be allowed in all zones in a township, and can be closer than 300 feet to other structures, such as schools and homes.
· The only exemption for residential areas is in dense, urban neighborhoods, where a well pad could not meet the 300 foot setback requirement. This exemption is unlikely to help most townships trying to protect residential areas from oil and gas operations.
Groups sponsoring today's protests include: Clean Water Action, PennEnvironment, Sierra Club, Delaware Riverkeeper Network, and Conservation Voters of PA.
EcoWatch Daily Newsletter
In this Oct. 7 handout photo from the Aracaju Municipal Press Office, workers are removing oil from Viral Beach, in Aracaju, Brazil. The spill has been polluting Brazil's beaches since early September. Aracaju Municipal Press Office / AP
More than 1,000 miles of shoreline in Brazil are now contaminated by a mysterious oil spill. that has lasted for weeks as the country struggles to clean what may be its largest oil spill in history.
Nitrogen dioxide and nitrogen oxides, the pollutants released by diesel vehicles are a major source of air pollution in London. Jack Taylor / Stringer / Getty Images
On days where air pollution is higher, hundreds of people across nine major cities in England are suffering from more potentially fatal cardiac arrests or heading to the hospital for strokes or severe asthma attacks, according to new research from King's College in London.
A diet high in fish and vegetables can help keep your gut healthy. Linda Raymond / E+ / Getty Images
By Heather Cruickshank
Trillions of bacteria and other microbes live in the human digestive system. Together, they form a community that's known as the gut microbiota.
Many bacteria in the microbiota play important roles in human health, helping to metabolize food, strengthen intestinal integrity and protect against disease.
The message of the global movement to ban fracking and get off fossil fuels envisions a different future, one that starts with cutting off pollution at the source. cta88 / iStock / Getty Images Plus
A young fingerling Chinook salmon leaps out of the water at Pillar Point Harbor in Half Moon Bay, California on May 16, 2018. Justin Sullivan / Getty Images
The Trump administration is rolling back protections for endangered California fish species, a move long sought by a group of wealthy farmers that Interior Secretary David Bernhardt continued to lobby for months before he began working for the administration, The New York Times reported Tuesday.