Overfishing to Blame for Sardine Shortage and Starving Sea Lions
The National Oceanic and Atmospheric Administration (NOAA) just announced a lack of Pacific sardines is a "likely contributor" to the "Unusual Mortality Event" (UME) that occurred last year where more than 1,600 California sea lions were found stranded and malnourished along the Southern California coastline. The big story, however, is the one NOAA is not telling us.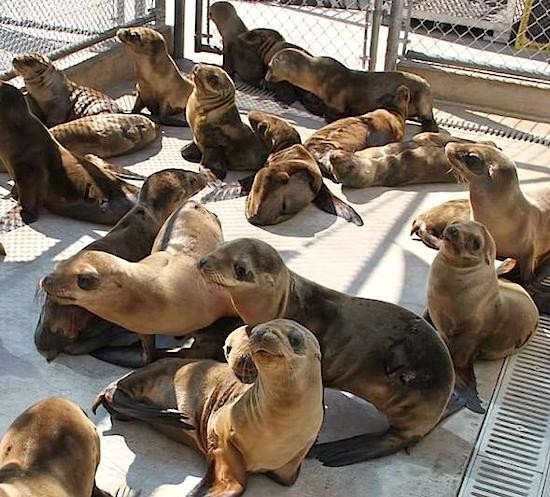 NOAA failed to recognize that the sardine fishery had anything to do with the scarcity of sardines and instead is diverting resources and public attention to solely addressing the symptom of the problem by rehabilitating pups and returning them to the wild, without also allocating resources to address the root cause of the problem; continued overfishing.
Pacific sardines are a critically important forage fish that provide the nutrition and fats necessary for nursing California sea lion pups and newly-weaned pups foraging on their own. Although other prey like market squid and rockfish were available, these alone did not provide the adequate nutrition the pups needed. Sardines are a much more energy-rich food source and critical in the diet of nursing sea lions.
Last year an unprecedented number of sea lion pups were admitted to rehabilitation facilities, emaciated, dehydrated and very underweight for their age. The pups were admitted between January and April 2013 with increased strandings documented in California's Santa Barbara, Ventura, Los Angeles, Orange and San Diego counties. Now this year, NOAA is seeing more stranded pups in central and northern California, as well as a higher than average number in Southern California although not as high as last year. NOAA determined, through its investigation of this UME, that "this event was not caused by disease rather by the lack of high quality, close-by food sources for nursing mothers."
The untold part of this story is the underlying public communication strategy that NOAA uses to justify continued overfishing. In early 2012, top NOAA scientists published a major study warning that the sardine population was collapsing and that fishery managers were repeating the overfishing pattern that occurred during the historic collapse of the sardine fishery in the 1950s which ended the famous Cannery Row era.
NOAA leadership, however, immediately discounted this science, telling the public and managers that no such collapse was occurring. Two years later, in March 2014, NOAA released the latest Pacific sardine stock assessment concluding that the Pacific sardine population has precipitously crashed 74 percent since 2007 with no evidence of recovery. Now NOAA acknowledges that a collapse occurred but attributes it solely to unfavorable environmental conditions. In other words, NOAA's pattern is to first deny a population collapse while continuing fishing, then once it has collapsed, blame events other than fishing. Sea lions are dying due to starvation and NOAA appears to be addressing it by spending money on rehab, but they are allowing continued overfishing. They are rehabilitating starving sea lions and then putting them back into a sardine starved ocean.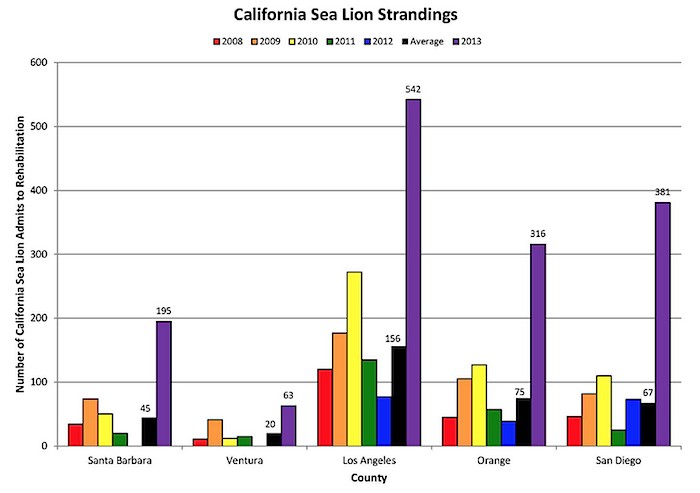 While the sardine population is in part influenced by ocean conditions, it is also highly susceptible to fishing pressures. What we know now is that forage fish stocks like sardines can withstand fishing pressure when they are abundant and productive, but in times of poor ocean conditions, they become extremely vulnerable to overfishing.
The Pacific sardine population declined 1.05 million metric tons between 2007, when it peaked at 1.42 million metric tons, and July 2014, when it is projected to be 369,506 metric tons. Over the same seven year period the fishery removed 715,000 metric tons of sardines. Therefore, while we can only speculate what the decline would have been in the absence of fishing, more than two-thirds (68 percent) of the recent seven year decline are attributable directly to fishery removals. In other words, any fishing on sardines right now is overfishing, as the stock is not even replacing itself, much less providing a surplus. The Los Angeles Times reported on the sardine crash in January with evidence that some ocean predators are starving without sardines.
Our federal government employs some of the top marine scientists in the world, including marine mammal and fishery experts. These scientists are finding that sardines are collapsing and that fishing is part of the root cause. Sea lion pups are starving as a direct result of this prey depletion. Rather than following their own scientists' advice, the decision-makers determining NOAA policy have instead chosen to strategically disregard scientific evidence that may suggest that fishing is impacting the health of our ocean ecosystem. This is concerning on many levels given that recent scientific surveys show the Pacific sardine population is not recovering and sea lions starving on the beach may only be the tip of the iceberg.
--------
YOU MIGHT ALSO LIKE
EU Makes Bold Commitment to Sustainable Fishing
Overfishing Threatens One Quarter of Sharks and Rays With Extinction
The Future of U.S. Fisheries: An Ecosystem-Based Approach
--------
Disturbing footage of a snake in Goa, India vomiting an empty soft drink bottle highlights the world's mounting plastic pollution crisis.
Keep reading...
Show less
By Melissa Hellmann
When her eldest son was in elementary school in the Oakland Unified School District, Ruth Woodruff became alarmed by the meals he was being served at school. A lot of it was frozen, processed foods, packed with preservatives. At home, she was feeding her children locally sourced, organic foods.
Keep reading...
Show less
May. 28, 2017 01:33PM EST
Laurie Woolever
By James O'Hare
There are 20 million people in the world facing famine in South Sudan, Somalia, Nigeria and Yemen. In developed nations, too, people go hungry. Venezuela, for instance, is enduring food insecurity on a national level as a result of economic crisis and political corruption. In the U.S., the land of supposed excess, 12.7 percent of households were food insecure in 2015, meaning they didn't know where their next meal would come from.
Keep reading...
Show less
May. 28, 2017 01:22PM EST
Melwater, Greenland ice sheet. Diane Tuft
Artists are taking the climate crisis into frame and the results are emotional, beautiful and stirring.
So you've seen the best climate change cartoons and shared them with your friends. You've showed your family the infographics on climate change and health, infographics on how the grid works and infographics about clean, renewable energy. You've even forwarded these official National Oceanic and Atmospheric Administration graphs that explain the 10 clear indicators of climate change to your colleagues at the office.
Keep reading...
Show less
May. 27, 2017 01:11PM EST
As the Trump administration moves full speed ahead on boosting the oil and fossil fuel industry, opposition to increased pipeline construction is cropping up in different communities around the country.
Keep reading...
Show less
May. 27, 2017 01:02PM EST
Minke whale stranding near Havergate Island in Suffolk. MCGA.
By Simon Evans
Last Saturday, two dead whales washed up on the coast of Suffolk, in eastern England, and a third was spotted floating at sea.
What happened next illustrates how news can spread and evolve into misinformation, when reported by journalists rushing to publish before confirming basic facts or sourcing their own quotes.
Keep reading...
Show less
May. 27, 2017 01:22PM EST
By Monica Amarelo and Paul Pestano
Sun safety is a crucial part of any outdoor activity for kids, and sunscreen can help protect children's skin from harmful ultraviolet rays. Kids often get sunburned when they're outside unprotected for longer than expected. Parents need to plan ahead and keep sun protection handy in their cars or bags.
Keep reading...
Show less
May. 27, 2017 01:02PM EST
By Joe McCarthy
A lot of people take part in community clean-up efforts—spending a Saturday morning picking up litter in a park, mowing an overgrown field or painting a fence.
Keep reading...
Show less


Get EcoWatch in your inbox