This website uses cookies to ensure you get the best experience while browsing it. By clicking 'Got It' you're accepting these terms.
Overfishing Causes Pacific Bluefin Tuna Numbers to Drop 96%
Jan. 09, 2013 12:51PM EST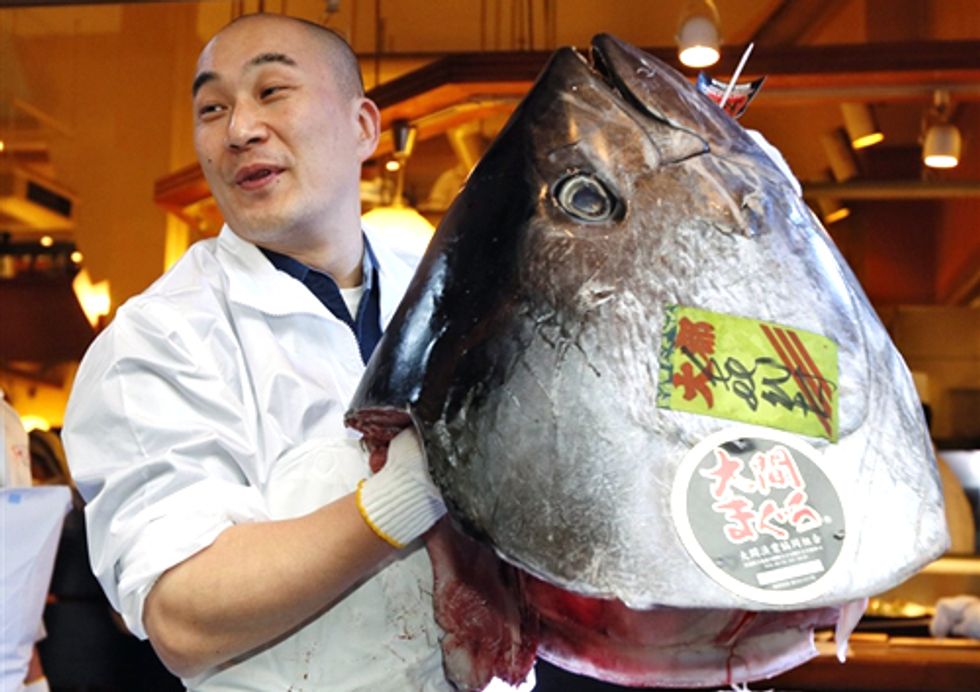 A chef shows the head of a 489-pound bluefin tuna sold for the record sum of 155.4 million yen (some $1.7 million) in the New Year's first auction at Tsukiji Market. The successful bid was about three times the record 56.49 million yen bid in last year's auction. Photo: Kimimasa Mayama / EPA
Just three days after a single Pacific bluefin tuna fetched a jaw-dropping $1.76 million at a fish auction in Tokyo, Japan, scientists released a new stock assessment for this species—and the findings are shocking. According to the report, the Pacific bluefin population has dropped 96.4 percent from unfished levels due to decades of overfishing.
"These new data show that the population of Pacific bluefin is a small fraction of what it used to be, and is in danger of all but disappearing," said Amanda Nickson, who directs global tuna conservation at the Pew Environment Group.
Despite these findings, countries are still fishing for Pacific bluefin tuna in its only known spawning and nursery areas in the western Pacific Ocean. The current management measures in the western Pacific do not limit overall catches and fail to ensure the long-term sustainability of this fishery.
Slightly better management exists in the eastern Pacific. At its annual meeting last June, the body responsible for managing Pacific bluefin off the west coast of the Americas, adopted the first catch limits for this species. This conservation measure caused the fishery to close earlier than planned when the limit was exceeded in August. While those actions were encouraging, they are not nearly enough.
"The Pew Environment Group believes the most responsible course of action is to immediately suspend the fishery until significant steps are taken to reverse this decline," said Nickson.
"This latest assessment shows just how bad the situation really is for this top predator," said Nickson. "This highly valuable fish is being exploited at almost every stage of its life cycle, and more than 90 percent of Pacific bluefin caught are juveniles, taken before they have reproduced. Further, fishing continues on the spawning grounds of this heavily overfished species."
"We call on the major countries fishing this species—Japan, Mexico, South Korea, and the United States—to immediately take necessary conservation and management actions for Pacific bluefin," said Nickson.
Measures needed include science-based catch limits, and major reductions in the catches of juvenile bluefin by implementing size limits across the Pacific and preventing fishing on bluefin spawning grounds. Robust monitoring and enforcement measures must also be implemented to ensure that the rules are followed.
Visit EcoWatch's BIODIVERSITY pages for more related news on this topic.
EcoWatch Daily Newsletter
Democratic presidential candidate, former Vice President Joe Biden speaks during a campaign town hall meeting at Vista Grande Jan. 28 in Clinton, Iowa. The Iowa caucuses are February 3. Chip Somodevilla / Getty Images
Joe Biden put his hand on the chest of an Iowa voter and told the man to vote for someone else when the voter asked the former vice president about his plans to replace gas pipelines, The Independent reported.
Greening the barren mountain has helped recharge groundwater levels in the villages. Photo by Gurvinder Singh. Mongabay India
Jamini Mohan Mahanty is out for a morning walk every day. At 91, he is hale and hearty. A resident of Jharbagda village in Purulia district, West Bengal, Mahanty thanks the "green mountain" in his village for having added some extra years to his life.

A wild Woodland Bison walks in the Arctic wilderness. RyersonClark / iStock / Getty Images Plus
Visitors to the Hollywood & Highland mall in Hollywood wear face masks on Jan. 27 . Five people in the U.S. have tested positive for the deadly strain of Coronavirus, one each in Washington, Illinois and Arizona, and two in Southern California, according to the U.S. Centers for Disease Control and Prevention. ROBYN BECK / AFP / Getty Images
Insects play a vital role in ecosystems and humans are particularly dependent on them for food.
Dmitry Grigoriev / Unsplash
By Ajit Niranjan
Seven 'no-regret' actions could rescue insects on the road to extinction, a new roadmap for conservation says, helping ecosystems even where a lack of research means scientists cannot prove benefits to individual species.