This website uses cookies to ensure you get the best experience while browsing it. By clicking 'Got It' you're accepting these terms.
OUTRAGEOUS: U.S. Forests Logged, Pelletized, Shipped Overseas in the Name of Renewable Energy
Oct. 12, 2012 02:35PM EST
Climate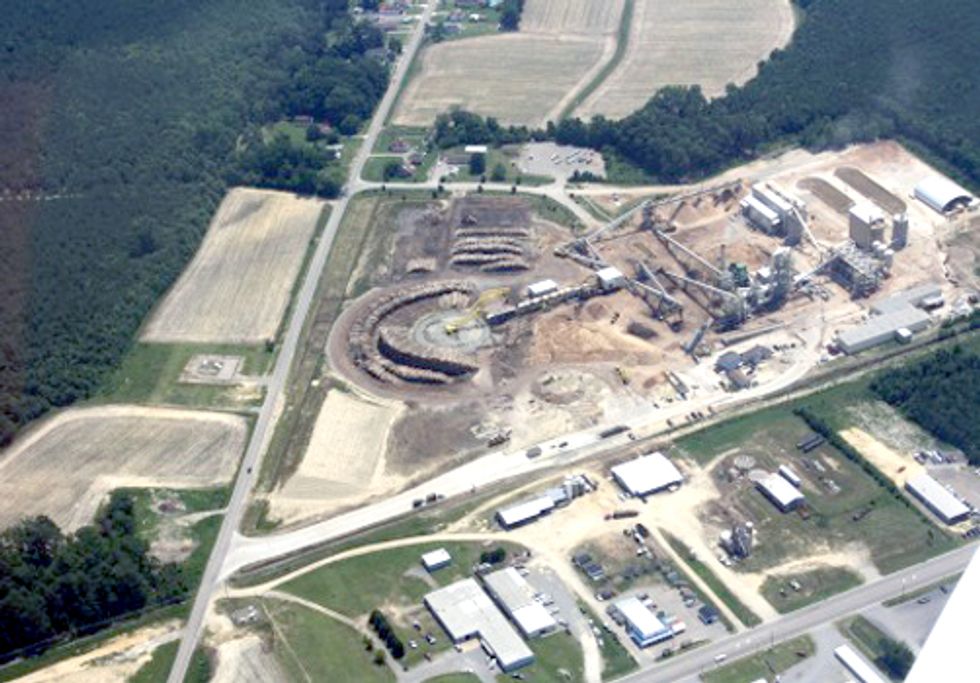 At a time when scientific evidence is mounting that burning trees for electricity will actually result in increased carbon emissions when compared to coal over the next 30 to 50 years, utilities in Europe are making a mad dash to convert coal burning power plants to wood, all in the name of "renewable energy." The recent explosion in the use of wood to generate electricity in Europe has resulted in the proliferation of new mills across the southern U.S. that are turning whole trees into wood pellets for export to European utility companies. That's right. Forests in the southern U.S. are being logged, turned into wood pellets and shipped across the Atlantic Ocean to Europe all in the name of "green energy."
In what felt like a full on southern forest assault, in September, a multitude of new projects were announced that will help take tree burning to a whole new level. Between Sept. 18 and Sept. 24 four new wood pellet manufacturing facilities were announced, one in South Carolina and three in Georgia. Just two days later on Sept. 26 a port expansion project was announced in Moorhead City, North Carolina, for the stated purpose of supporting the growing wood pellet export market to Europe. New companies with catchy green-sounding names like "Enviva" and "Enova Energy" are popping up out of nowhere, staking their positions as leading suppliers of "sustainable, "renewable" energy.  Heck, even the word "biomass" sounds kind of green, so it's no wonder that the German utility company RWE that owns the biggest wood pellet facility in the south has branded it as simply, "Georgia Biomass."   When you click on their website the first thing you notice is a tree coming out of the logo next to the words "We're Carbon Neutral."
Also on Sept. 26, BusinessWeek reported that England's biggest utility, Drax announced plans to convert the country's biggest coal burning power plant into Western Europe's largest burner of wood, which they describe as a major, $1 billion investment in "renewable" energy.  This power plant will require the harvest of a forest equivalent to "four times the size of Rhode Island" every year! The company is now "investigating building wood pellet plants in North America." Unfortunately, England's recently proposed "sustainable biomass" standards do nothing to protect our forests or ensure real carbon emission reductions.  Even worse, they allow companies to claim sustainability if their wood comes from bogus certification schemes like the Sustainable Forestry Initiative (SFI) which has routinely certified as "sustainable" destructive logging practices such as the ditching and draining of wetlands along the Atlantic Coast to make way for pine plantations.
Perhaps the European government, utilities and pellet manufacturers are hoping that with a little "green" smoke, no one will be able to see what's really going on. Never mind the mounting body of scientific evidence including the European Environmental Protection Agency's own Scientific Committee  warning that burning trees could actually accelerate climate change. Never mind that protecting forests is actually a much better strategy for reducing carbon emissions than burning them. Never mind that beyond climate change forests are critical protectors of drinking water or that countless species of plants and animals are already in serious danger of extinction because of habitat loss and degradation. Never mind all that. Let's just call it "green," "renewable" and "carbon neutral" and bulldoze ahead.
Never mind the people who live in the regions whose forests will be stripped and shipped to burn overseas. Never mind the existing industries (forest products, tourism and outdoor recreation) that employ millions of people that depend on that same limited resource. Never mind the huge economic disaster that will occur in the wake of catastrophic climate change if we don't drastically reduce carbon emissions over the next two decades. Let's just call it good for the economy and charge on ahead.
The time is now to stand up, make our collective voice heard and demand an immediate halt to the burning of whole trees in the name of "clean, green and renewable" energy. Europe is heading in the wrong direction and if the mad dash to burn forests for electricity isn't redirected to truly green and clean sources of energy like solar and wind we might as well forget any chance of slowing climate change. We can't afford to wait until the green smoke fades away and our forests are laid to waste to realize what a huge mistake it is to burn trees for electricity. Biomass is the new coal and it, too, must be stopped. The time is now to ramp up investment in energy conservation and truly clean energy like solar and wind.
EcoWatch Daily Newsletter
The Ernest N. Morial Convention Center in New Orleans, Louisiana has been converted to a 1,000-bed field hospital for coronavirus patients to alleviate stress on local hospitals. Chris Graythen / Getty Images
An area in Louisiana whose predominantly black and brown residents are hard-hit by health problems from industry overdevelopment is experiencing one of the highest death rates from coronavirus of any county in the United States.
A woman lies in bed with the flu. marka/Universal Images Group via Getty Images
A central player in the fight against the novel coronavirus is our immune system. It protects us against the invader and can even be helpful for its therapy. But sometimes it can turn against us.
Several flower species, including the orchid, can recover quickly from severe injury, scientists have found. cunfek / iStock / Getty Images Plus
Calling someone a delicate flower may not sting like it used to, according to new research. Scientists have found that many delicate flowers are actually remarkably hearty and able to bounce back from severe injury.
A Boeing 727 flies over approach lights with a trail of black-smoke from the engines on April 9, 2018. aviation-images.com / Universal Images Group via Getty Images
With global air travel at a near standstill, the airline industry is looking to rewrite the rules it agreed to tackle global emissions. The Guardian reports that the airline is billing it as a matter of survival, while environmental activists are accusing the industry of trying to dodge their obligations.
A National Guard member works on election day at a polling location on April 7, 2020 in Madison, Wisconsin. Andy Manis / Getty Images.
ByJulia Baumel
The outbreak of COVID-19 across the U.S. has touched every facet of our society, and our democracy has been no exception.