This website uses cookies to ensure you get the best experience while browsing it. By clicking 'Got It' you're accepting these terms.
Our Addiction to Fossil Fuels Is a Bridge to Nowhere
Feb. 10, 2015 10:30AM EST
Energy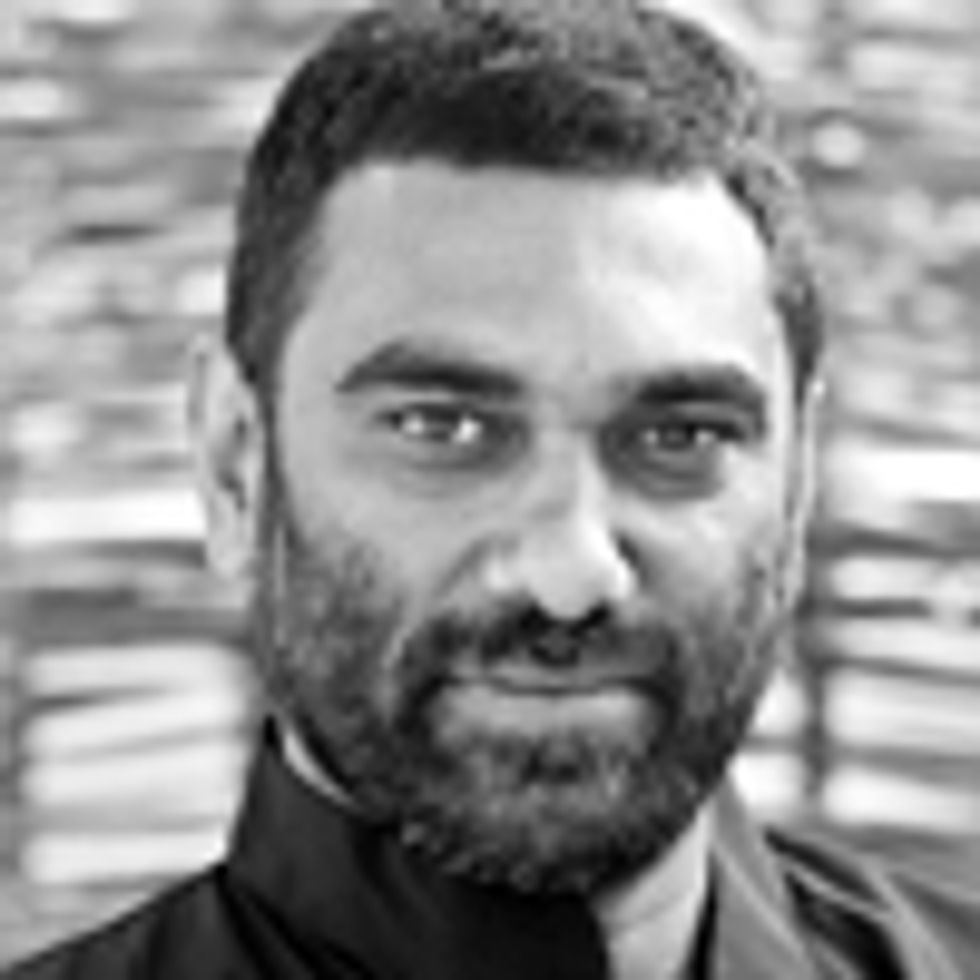 On Saturday I joined a panel at the Munich Security Conference in Germany and talked about global security and energy security. You might be surprised to see Greenpeace at a security conference. The room was full of members of the "strategic community," people who are not the crowd we normally engage with; they are the crowd we have historically challenged with our peace campaigns. However, I appreciated having the opportunity to be a dissenting voice and to talk about what I consider is the path towards true energy security.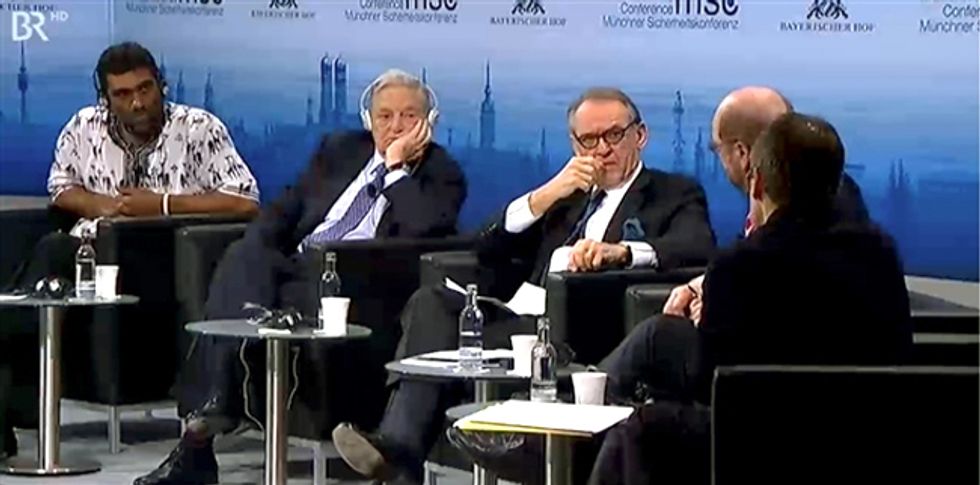 What often dominates discussions about peace and security are questions about solutions—around how conflicts are to be addressed and solved, economic sanctions, peace missions, diplomatic negotiations—these are all the mechanisms we have become accustomed to which dominate the discourse.
I urge you however to think about this from a different perspective—prevention. How could conflicts have been prevented and even more importantly—how can the next conflicts be prevented, or at least how do we mitigate the risks.
When I look back at 2014 and consider the many conflicts that have plagued our planet, there is one fact that I cannot ignore and that is—our addiction to fossil fuels is taking us on the road to nowhere.
It must be made clear—conflict is always driven by a unique set of circumstances and it would be wrong to try to reduce a conflict to one dimension. However, if you look at some of the conflicts that have dominated our news screens this year you will see that fossil fuels—coal, oil and natural gas—have often played a role. Sometimes in the background, sometimes taking center stage. The conflict in the Ukraine, which had partly been triggered by its ongoing energy crisis, has been making headlines. But there were several other conflicts around the world last year, also related to energy issues: in the South China Sea, Iraq and South Sudan, to name just a few.
Energy security was high on the agenda of world leaders in 2014. Governments all over the world are now trying to come up with plans to ensure stable energy supply. I would urge you to consider that our quest for energy security must go hand in hand with the quest for true security. And when embarking on this quest we must insist on finding true solutions. Opt for a system change rather than tweak the existing broken system. For me, true energy security would mean freedom from the geopolitical instability and conflicts triggered by fossil fuels, from the risks to lives, health and the environment, and from some of the threats of climate change.
The conflict in Ukraine has brought the issue closer to home. Gas imports from Russia through Ukraine represent more than 15 percent of Europe's gas supply and last year's threat by Russia to cut off this supply has caused EU leaders to urgently scramble for solutions. Let me be clear—replacing energy supplies from Russia with nuclear energy and fossil fuels from elsewhere, as has been suggested, such as the Middle East or North Africa, is not the answer. We should not be thinking about changing the dealer but instead kick the dirty energy addiction.
We must recognize that Ukraine is only part of the problem. The EU spends about €400 billion a year buying more than half of its energy (53 percent) from abroad. That means Europe spends more than 1 billion euro every day importing more than half of its energy.
The only way forward is choosing energy efficiency and renewables. EU leaders should put greater emphasis on energy saving and renewable energy in order to reduce Europe's dependence on fossil fuel imports and to enhance its energy security. Greenpeace's "Road Map for Europe" explains exactly how this could be done. The citizens of the EU have already made up their mind. According to polls, Europeans overwhelmingly support national targets for renewable energy and strong policies for energy efficiency
This is the only way the EU can set its own course now and forever.
Back in October EU leaders agreed on its 2030 targets for emission cuts, energy saving and clean energy. The bad news—the agreed targets are significantly weaker than those proposed by the European Parliament. And they will slow down clean energy investments. The result—the EU will still have to rely heavily on imported energy. EU leaders have failed to enter this road towards true energy security.
The choice is not between Russia and Saudi Arabia. The choice is between dirty and clean energy providers and between climate chaos and more sustainable living, it's a choice between the past and the future. Fundamentally it is a choice between peace and ongoing and intensifying conflicts. We can choose for a win-win-win for the climate, the economy and people.
Germany is an example: 15 years ago only 6 percent of Germany's electricity was generated by Renewable Energies. Today, 27 percent of Germany's electricity comes from renewables. In another 15 years according to the Government's projections it will be at least 50 percent. German Energiewende (energy transition) is the model for how an industrial country can move towards true energy security.
A report launched at the conference presented a poll according to which more than 8 percent of those asked, and more than 90 percent in some regions, thought there was a leadership crisis in the world today. As long as elected leaders hesitate to take those decisions they were elected for, this will remain the case. Masses of people want change for a just world, fueled by clean energy sources. The year 2015 might be remembered as the year in which this leadership crisis was tackled, in which world leaders turned towards a global Energiewende. Four months from now, Chancellor Angela Merkel will welcome Barack Obama and the other Heads of G7 Governments to Germany to discuss future climate and energy policy. I call on Mrs. Merkel to use this unique opportunity. The G7 summit must give the world a vision for a future energy system without nuclear power, without coal power, based 100 percent on Renewable Energies.
YOU MIGHT ALSO LIKE
Burlington, Vermont Becomes First U.S. City to Run On 100% Renewable Electricity
Look Out Utility Companies: Tesla is Disrupting More Than Just the Auto Industry
EcoWatch Daily Newsletter
Penguins are seen near the Great Wall station in Antarctica, Feb. 9, days after the continent measured its hottest temperature on record at nearly 65 degrees Fahrenheit. Xinhua / Liu Shiping / Getty Images
By Richard Connor
Scientists have recorded Antarctica's first documented heat wave, warning that animal and plant life on the isolated continent could be drastically affected by climate change.
The Athos I tanker was carrying crude oil from Venezuela when a collision caused oil to begin gushing into the Delaware River.
U.S. Department of the Interior
A case that has bounced around the lower courts for 13 years was finally settled yesterday when the U.S. Supreme Court upheld a lower court decision, finding oil giant Citgo liable for a clean up of a 2004 oil spill in the Delaware River, according to Reuters.
The buildings of downtown Los Angeles are partially obscured in the late afternoon on Nov. 5, 2019, as seen from Pasadena, California, a day when air quality for Los Angeles was predicted to be "unhealthy for sensitive groups." Mario Tama / Getty Images
The evidence continues to build that breathing dirty air is bad for your brain.
Wave power in Portugal. The oceans' energy potential is immense. Luis Ascenso, via Wikimedia Commons
By Paul Brown
The amount of energy generated by tides and waves in the last decade has increased tenfold. Now governments around the world are planning to scale up these ventures to tap into the oceans' vast store of blue energy.
Yellowstone National Park closed to visitors on March 24, 2020 because of the Covid-19 virus threat. William Campbell-Corbis via Getty Images
When the novel coronavirus started to sweep across the country, the National Park Service started to waive entrance fees. The idea was that as we started to practice social distancing, Americans should have unfettered access to the outdoors. Then the parking lots and the visitor centers started to fill up, worrying park employees.