Our Addiction to Fossil Fuels Is a Bridge to Nowhere
Feb. 10, 2015 11:30AM EST
Energy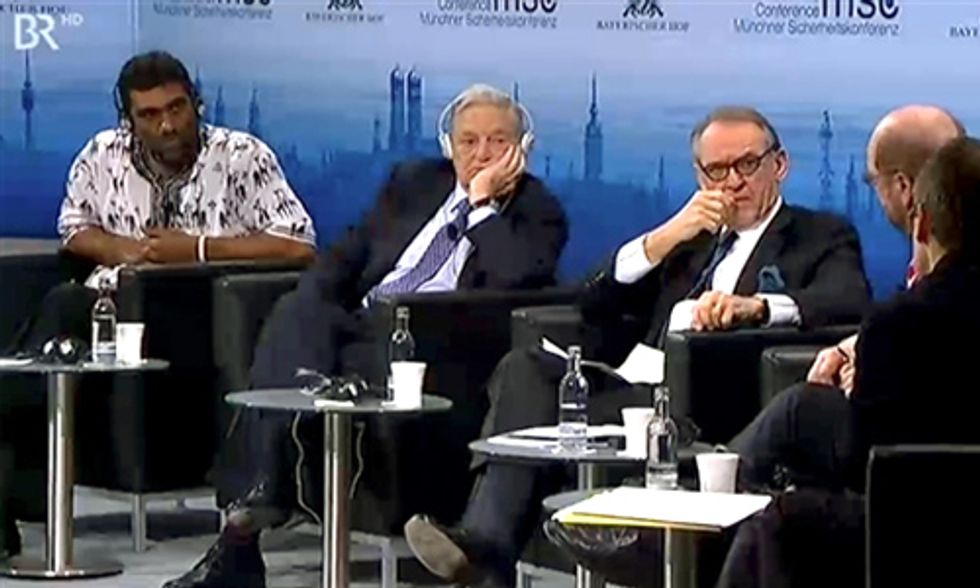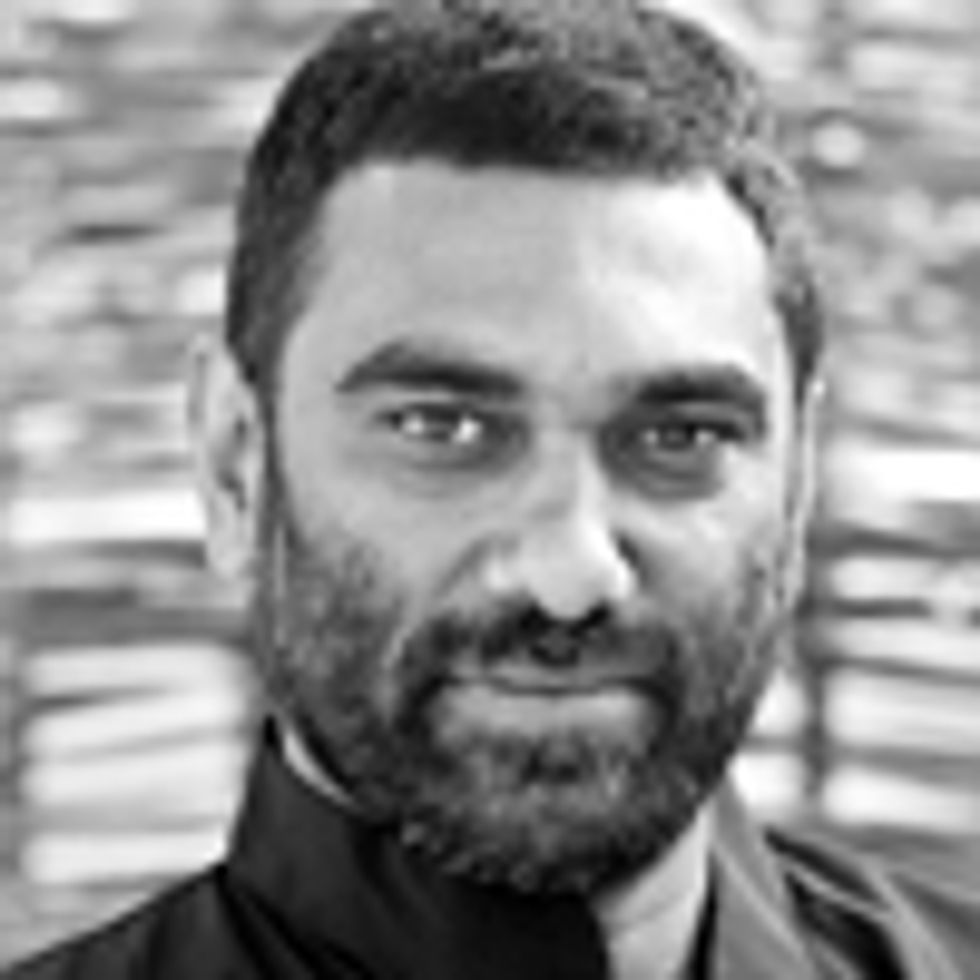 On Saturday I joined a panel at the Munich Security Conference in Germany and talked about global security and energy security. You might be surprised to see Greenpeace at a security conference. The room was full of members of the "strategic community," people who are not the crowd we normally engage with; they are the crowd we have historically challenged with our peace campaigns. However, I appreciated having the opportunity to be a dissenting voice and to talk about what I consider is the path towards true energy security.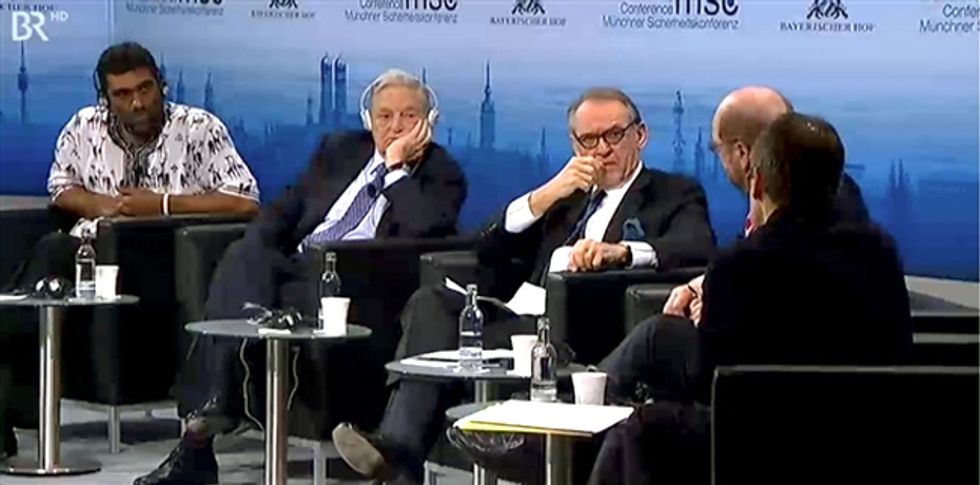 What often dominates discussions about peace and security are questions about solutions—around how conflicts are to be addressed and solved, economic sanctions, peace missions, diplomatic negotiations—these are all the mechanisms we have become accustomed to which dominate the discourse.
I urge you however to think about this from a different perspective—prevention. How could conflicts have been prevented and even more importantly—how can the next conflicts be prevented, or at least how do we mitigate the risks.
When I look back at 2014 and consider the many conflicts that have plagued our planet, there is one fact that I cannot ignore and that is—our addiction to fossil fuels is taking us on the road to nowhere.
It must be made clear—conflict is always driven by a unique set of circumstances and it would be wrong to try to reduce a conflict to one dimension. However, if you look at some of the conflicts that have dominated our news screens this year you will see that fossil fuels—coal, oil and natural gas—have often played a role. Sometimes in the background, sometimes taking center stage. The conflict in the Ukraine, which had partly been triggered by its ongoing energy crisis, has been making headlines. But there were several other conflicts around the world last year, also related to energy issues: in the South China Sea, Iraq and South Sudan, to name just a few.
Energy security was high on the agenda of world leaders in 2014. Governments all over the world are now trying to come up with plans to ensure stable energy supply. I would urge you to consider that our quest for energy security must go hand in hand with the quest for true security. And when embarking on this quest we must insist on finding true solutions. Opt for a system change rather than tweak the existing broken system. For me, true energy security would mean freedom from the geopolitical instability and conflicts triggered by fossil fuels, from the risks to lives, health and the environment, and from some of the threats of climate change.
The conflict in Ukraine has brought the issue closer to home. Gas imports from Russia through Ukraine represent more than 15 percent of Europe's gas supply and last year's threat by Russia to cut off this supply has caused EU leaders to urgently scramble for solutions. Let me be clear—replacing energy supplies from Russia with nuclear energy and fossil fuels from elsewhere, as has been suggested, such as the Middle East or North Africa, is not the answer. We should not be thinking about changing the dealer but instead kick the dirty energy addiction.
We must recognize that Ukraine is only part of the problem. The EU spends about €400 billion a year buying more than half of its energy (53 percent) from abroad. That means Europe spends more than 1 billion euro every day importing more than half of its energy.
The only way forward is choosing energy efficiency and renewables. EU leaders should put greater emphasis on energy saving and renewable energy in order to reduce Europe's dependence on fossil fuel imports and to enhance its energy security. Greenpeace's "Road Map for Europe" explains exactly how this could be done. The citizens of the EU have already made up their mind. According to polls, Europeans overwhelmingly support national targets for renewable energy and strong policies for energy efficiency
This is the only way the EU can set its own course now and forever.
Back in October EU leaders agreed on its 2030 targets for emission cuts, energy saving and clean energy. The bad news—the agreed targets are significantly weaker than those proposed by the European Parliament. And they will slow down clean energy investments. The result—the EU will still have to rely heavily on imported energy. EU leaders have failed to enter this road towards true energy security.
The choice is not between Russia and Saudi Arabia. The choice is between dirty and clean energy providers and between climate chaos and more sustainable living, it's a choice between the past and the future. Fundamentally it is a choice between peace and ongoing and intensifying conflicts. We can choose for a win-win-win for the climate, the economy and people.
Germany is an example: 15 years ago only 6 percent of Germany's electricity was generated by Renewable Energies. Today, 27 percent of Germany's electricity comes from renewables. In another 15 years according to the Government's projections it will be at least 50 percent. German Energiewende (energy transition) is the model for how an industrial country can move towards true energy security.
A report launched at the conference presented a poll according to which more than 8 percent of those asked, and more than 90 percent in some regions, thought there was a leadership crisis in the world today. As long as elected leaders hesitate to take those decisions they were elected for, this will remain the case. Masses of people want change for a just world, fueled by clean energy sources. The year 2015 might be remembered as the year in which this leadership crisis was tackled, in which world leaders turned towards a global Energiewende. Four months from now, Chancellor Angela Merkel will welcome Barack Obama and the other Heads of G7 Governments to Germany to discuss future climate and energy policy. I call on Mrs. Merkel to use this unique opportunity. The G7 summit must give the world a vision for a future energy system without nuclear power, without coal power, based 100 percent on Renewable Energies.
YOU MIGHT ALSO LIKE
Burlington, Vermont Becomes First U.S. City to Run On 100% Renewable Electricity
Look Out Utility Companies: Tesla is Disrupting More Than Just the Auto Industry
David Attenborough narrates "The Year Earth Changed," premiering globally April 16 on Apple TV+. Apple
Next week marks the second Earth Day of the coronavirus pandemic. While a year of lockdowns and travel restrictions has limited our ability to explore the natural world and gather with others for its defense, it is still possible to experience the wonder and inspiration from the safety of your home.
Here are three new films to watch this Earth Week that will transport you from pole to pole and introduce you to the scientists and activists working to save our shared home.
Where to Watch: Apple TV+
When to Watch: From April 16
The coronavirus pandemic has brought home the stakes of humanity's impact on the environment. But the lockdowns also proved how quickly nature can recover when humans give it the space. Birds sang in empty cities, whales surfaced in Glacier Bay and capybara roamed the South American suburbs.
The Year Earth Changed captures this unique year with footage from more than 30 lockdowned cities between May 2020 to January 2021. Narrated by renowned wildlife broadcaster David Attenborough, the film explores what positive lessons we can take from the experience of a quieter, less trafficked world.
"What the film shows is that the natural world can bounce back remarkably quickly when we take a step back and reduce our impact as we did during lockdown," executive producer Alice Keens-Soper of BBC Studios Natural History Unit told EcoWatch. "If we are willing to make even small changes to our habits, the natural world can flourish. We need to learn how to co-exist with nature and understand that we are not separate from it- for example if we closed some of our beaches at for a few weeks during the turtle breeding we see that it can make a huge difference to their success. There are many ways that we can adapt our behavior to allow the natural world to thrive as it did in lockdown."
When to Watch: 12 a.m. PST April 9 to 11:59 p.m. April 18
In 1989, Will Steger led an international team of six scientists and explorers to be the first humans to cross Antarctica by dogsled. Steger and his team weren't just in it for the adventure. They also wanted to draw attention to the ways in which the climate crisis was already transforming the icy continent and to rally support for the renewal of the Antarctic Treaty, which would keep the continent safe from extractive industries.
In After Antarctica, award-winning filmmaker Tasha Van Zandt follows Steger 30 years later as he travels the Arctic this time, reflecting on his original journey and once again bringing awareness to changes in a polar landscape. The film intersperses this contemporary journey with footage from the original expedition, some of which has never been seen before.
"Will's life journey as an explorer and climate activist has led him not only to see more of the polar world than anyone else alive today, but to being an eyewitness to the changes occurring across both poles," Van Zandt told EcoWatch. "But now, these changes are happening in all of our own backyards and we have all become eyewitnesses. Through my journey with Will, I have learned that although we cannot always control change, we can change our response. I feel strongly that this is a message that resonates when we look at the current state of the world, as we each have power and control over how we choose to respond to hardships, and we all have the power to unite with others through collective action around a common goal."
After Antarctica is available to stream once you purchase a ticket to the San Francisco International Film Festival. If you miss it this weekend, it will screen again at the Minneapolis St. Paul International Film Festival from May 13 to May 23.
Tasha Van Zandt
When to Watch: From Earth Day, April 22
While many films about the climate crisis seek to raise awareness about the extent of the problem, The Race to Save the World focuses on the people who are trying to stop it. The film tells the story of climate activists ranging from 15-year-old Aji to 72-year-old Miriam who are working to create a sustainable future. It follows them from the streets to the courtroom to their homes, and explores the impact of their advocacy on their personal lives and relationships.
Emmy award-winning documentary filmmaker Joe Gantz told EcoWatch that he wanted to make a film about climate change, but did not want to depress viewers with overwhelming statistics. Instead, he chose to inspire them by sharing the stories of people trying to make a difference.
"Unless millions of people take to the streets and make their voices heard for a livable future, the politicians are not going to get on board to help make the changes needed for a sustainable future," Gantz told Ecowatch. "I think that The Race To Save The World will energize and inspire people to take action so that future generations, as well as the plants, animals and ecosystems, can survive and thrive on this planet."
Check back with EcoWatch on the morning of Earth Day for a special preview of this inspiring film!
EcoWatch Daily Newsletter
By Michael Svoboda
For April's bookshelf we take a cue from Earth Day and step back to look at the bigger picture. It wasn't climate change that motivated people to attend the teach-ins and protests that marked that first observance in 1970; it was pollution, the destruction of wild lands and habitats, and the consequent deaths of species.
An Amazon.com Inc. worker walks past a row of vans outside a distribution facility on Feb. 2, 2021 in Hawthorne, California. PATRICK T. FALLON / AFP via Getty Images
Over the past year, Amazon has significantly expanded its warehouses in Southern California, employing residents in communities that have suffered from high unemployment rates, The Guardian reports. But a new report shows the negative environmental impacts of the boom, highlighting its impact on low-income communities of color across Southern California.
The report, from the People's Collective for Environmental Justice (PCEJ) and students from the University of Redlands, shared with The Guardian, is meant to serve as an "advocacy tool to help raise awareness related to the warehouse industry's impacts on Southern California's air pollution issues," Earthjustice noted.
California's Inland Empire, 60 miles east of Los Angeles, has emerged as one of the largest "warehousing hubs" in the world in just the past few decades, according to Grist. Since establishing its first warehouse in the region in 2012, Amazon has become the largest private employer in the region, where 40,000 people now work in Amazon warehouses, picking, packing, sorting and unloading, as well as driving trucks and operating aircrafts, The New York Times Magazine reported.
"The company is so enmeshed in the community that it can simultaneously be a TV channel, grocery store, home security system, boss, personal data collector, high school career track, internet cloud provider and personal assistant," The New York Times Magazine added.
In just the last year, Amazon has tripled its delivery hubs in the region due to the demand for online shopping during the COVID-19 crisis. But despite the economic boom, heavy air pollution mainly from trucks going in and out of the warehouses infects nearby communities, the new research showed, according to The Guardian.
The research found, for example, that the populations living within a half-mile of the warehouses are 85 percent people of color, while California's overall population is 64 percent people of color, The Guardian reported. The research also found that communities with the most Amazon warehouses nearby have the lowest rates of Amazon sales per household.
"Amazon has boomed in 2020 and tripled the amount of money it's making, and it is happening at a cost to the folks who live in these communities," Ivette Torres, a PCEJ environmental science researcher and analyst, who helped put the research together, told The Guardian.
The research also demonstrated that the top 10 communities with the most warehouses in the region also experience pollution from other facilities, like gas plants and oil refineries, Earthjustice wrote in a statement.
"The Inland Empire, probably more than any region in the United States, has disproportionately [borne] the brunt of the environmental and economic impact of goods movement, and Amazon is driving that now in the Inland Empire," Jake Wilson, a California State University, Long Beach, professor of sociology, told Grist.
Last year, the San Bernardino International Airport Authority ratified a decision to allow an air cargo facility development at the airport, allowing Amazon to operate more flights out of the region, Grist reported.
Among the local residents to oppose the decision was Jorge Osvaldo Heredia, a resident of San Bernadino in Southern California since 2005. "This whole region has been taken over by warehouses," Heredia told Grist, and commented on the "horrible" air quality in the city on most days. "It's really reaching that apex point where you can't avoid the warehouses, you can't avoid the trucks," he added.
Advocates who published the research are pushing on the South Coast Air Quality Management District, a local air pollution regulatory agency, to move forward with the Warehouse Indirect Source Rule, which would require new and existing warehouses to take action to reduce emissions locally each year, The Guardian reported. Some solutions include moving towards zero-emissions trucks and mitigation fees.
"Last year, we saw some of the worst air quality, with wildfires adding to it, and the trucks were still in and out of our communities. So this is a huge change that we need right now, and that we actually needed yesterday," Torres concluded, according to The Guardian.
From Your Site Articles
Related Articles Around the Web
Xiulin Ruan, a Purdue University professor of mechanical engineering, holds up his lab's sample of the whitest paint on record. Purdue University / Jared Pike
Scientists at the University of Purdue have developed the whitest and coolest paint on record.
Painting buildings white to help cool down cities has long been touted as a climate solution. However, the white paints currently on the market reflect only 80 to 90 percent of sunlight and cannot actually cool a roof to below air temperature, The Guardian reported. However, this new paint can.
"Our paint can help fight against global warming by helping to cool the Earth – that's the cool point," University of Purdue Professor Xiulin Ruan told The Guardian. "Producing the whitest white means the paint can reflect the maximum amount of sunlight back to space."
The new paint, introduced in ACS Applied Materials & Interfaces on Thursday, can reflect up to 98.1 percent of sunlight and cool surfaces by 4.5 degrees Celsius. This means it could be an effective replacement for air conditioning.
"If you were to use this paint to cover a roof area of about 1,000 square feet, we estimate that you could get a cooling power of 10 kilowatts. That's more powerful than the central air conditioners used by most houses," Ruan said in a University of Purdue press release.
The new paint improves upon a previous paint by the same research team that reflected 95.5 percent of sunlight. Researchers say it is likely the closest counterpart to the blackest black, "Vantablack," which can absorb as much as 99.9 percent of visible light. The new paint is so white for two main reasons: It uses a high concentration of a reflective chemical compound called barium sulfate, and the barium sulfate particles are all different sizes, meaning they scatter different parts of the light spectrum.
White paint is already being used to combat the climate crisis. New York has painted more than 10 million square feet of rooftops white, BBC News reported. Project Drawdown calculated that white or plant-covered roofs could sequester between 0.6 and 1.1 gigatons of carbon between 2020 and 2050. The researchers hope their paint will enhance these efforts.
"We did a very rough calculation," Ruan told BBC News. "And we estimate we would only need to paint one percent of the Earth's surface with this paint — perhaps an area where no people live that is covered in rocks — and that could help fight the climate change trend."
The research team has filed a patent for the paint and hope it will be on the market within two years, according to The Guardian. However, Andrew Parnell, who develops sustainable coatings at the University of Sheffield, said it would be important to calculate the emissions produced from mining barium sulphate and compare those with the emissions saved from using the paint instead of air conditioning.
"The principle is very exciting and the science [in the new study] is good. But I think there might be logistical problems that are not trivial," Parnell told The Guardian. "How many million tons [of barium sulphate] would you need?"
Parnell thought green roofs, or roofs on which plants grow, might prove to be a more ecologically friendly alternative.
Less than three years after California governor Jerry Brown said the state would launch "our own damn satellite" to track pollution in the face of the Trump administration's climate denial, California, NASA, and a constellation of private companies, nonprofits, and foundations are teaming up to do just that.
Under the umbrella of the newly-formed group Carbon Mapper, two satellites are on track to launch in 2023. The satellites will target, among other pollution, methane emissions from oil and gas and agriculture operations that account for a disproportionate amount of pollution.
Between 2016 and 2018, using airplane-based instruments, scientists found 600 "super-emitters" (accounting for less than 0.5% of California's infrastructure) were to blame for more than one-third of the state's methane pollution. Now, the satellite-based systems will be able to perform similar monitoring, continuously and globally, and be able to attribute pollution to its source with previously impossible precision.
"These sort of methane emissions are kind of like invisible wildfires across the landscape," Carbon Mapper CEO and University of Arizona research scientist Riley Duren said. "No one can see them or smell them, and yet they're incredibly damaging, not just to the local environment, but more importantly, globally."
For a deeper dive:

Los Angeles Times, Reuters, Bloomberg, Axios, BBC
For more climate change and clean energy news, you can follow Climate Nexus on Twitter and Facebook, sign up for daily Hot News, and visit their news site, Nexus Media News.
From Your Site Articles
Related Articles Around the Web