This website uses cookies to ensure you get the best experience while browsing it. By clicking 'Got It' you're accepting these terms.


The best of EcoWatch, right in your inbox. Sign up for our email newsletter!
Organic vs. Conventional: Find Out Which Eggs Are Healthiest to Eat
Nov. 14, 2014 02:55PM EST
By Kris Gunnars
I love eggs and eat 3-4 of them for breakfast every single day.
I don't lose sleep over it because research shows that they are good for my health.
But depending on what the hens themselves ate, the nutritional value of the eggs can differ greatly.
The Different Types of Eggs Are a Confusing Mess
There are several different types of eggs, which can leave people confused.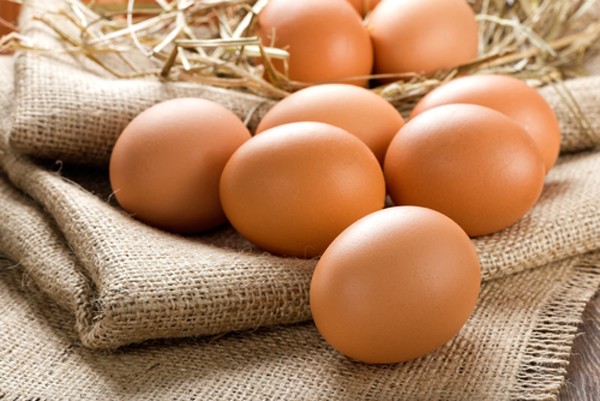 Photo credit: Shutterstock
What all of them have in common is that they come from chickens, but they vary depending on how the chickens were raised and what they were fed.
Conventional Eggs: These are your standard supermarket eggs. The chickens are usually raised in an overfilled hen house or a cage and never see the light of day. They are usually fed grain-based crap, supplemented with vitamins and minerals. May also be treated with antibiotics and hormones.
Organic Eggs: Were not treated with antibiotics or hormones and received organic feed. May have had limited access to the outdoors.
Pastured Eggs: Chickens are allowed to roam free, eating plants and insects (their natural food) along with some commercial feed.
Omega-3 Enriched Eggs: Basically, they're like conventional chickens except that their feed is supplemented with an Omega-3 source like flax seeds. May have had some access to the outside.
Conventional vs. Omega-3 Eggs
A study compared the fatty acid composition of three types of eggs: conventional, organic and omega-3 enriched (1).
Omega-3 eggs had 39 percent less arachidonic acid, an inflammatory Omega-6 fatty acid that most people eat too much of.
Omega-3 eggs had five times as much Omega-3 as the conventional eggs.
There was very little difference between organic and conventional eggs.
It is clear that hens fed an omega-3 enriched diet lay eggs that are much higher in Omega-3 than conventional eggs.
This is important because most people eat too little Omega-3.
Unfortunately this study didn't measure other nutrients, only the fatty acid composition.
Conventional vs. Pastured Eggs
In 2007, Mother Earth News magazine decided to test the nutritional value of pastured eggs and received such eggs from 14 different farms.
They were measured in a chemical lab, then compared to the USDA standard conventional egg.

As you can see, eggs from pastured hens are more nutritious than the conventional eggs you might find at the supermarket.
They are higher in Vitamin A and E and Omega-3s. They are also lower in cholesterol and saturated fat, but I don't think that matters.
A study I found on pastured eggs produced similar results (2).
Other Terms For Eggs
There are other more loose and confusing terms, including Free Range and Cage Free, which may or may not be any better than conventional eggs.
Free Range could mean that there's a small window on the hen house where the hens have the option of going outside.
Cage Free just means that they aren't raised in a cage. They could still be raised in a smelly, dirty overstuffed hen house.
Take Home Message
At the end of the day, pastured eggs are your best bet. They are more nutritious and the hens were allowed free access to the outside and ate a more natural diet.
If you can't get pastured eggs (like me) then Omega-3 enriched eggs will be your second best choice. If you can't get either pastured or Omega-3 eggs, then try to find eggs that are either free-range, cage-free or organic.
But even if that's not an option, then conventional eggs are still among the healthiest and most nutritious foods you can eat.
To sum up:
Pastured > Omega-3 > Organic > Free Range/Cage Free > Conventional
This just goes to show that what we eat isn't all that matters … it also matters what our foods eat.
This article was reposted from our media associate Authority Nutrition.
YOU MIGHT ALSO LIKE
6 Superfoods to Keep You Healthy All Winter Long
Cranberries: One of the World's Most Powerful Antioxidants
EcoWatch Daily Newsletter
A metal fence marked with the U.S. Border Patrol sign prevents people to get close to the barbed/concertina wire covering the U.S./Mexico border fence, in Nogales, Arizona, on Feb. 9. ARIANA DREHSLER / AFP / Getty Images
D'Bone Collector Museum head Darrell Blatchley shows plastic found inside the stomach of a Cuvier's beaked whale in the Philippines this weekend. - / AFP / Getty Images
Yet another whale has died after ingesting plastic bags. A young male Cuvier's beaked whale was found washed up in Mabini, Compostela Valley in the Philippines Friday, CNN reported. When scientists from the D' Bone Collector Museum in Davao investigated the dead whale, they found it had died of "dehydration and starvation" after swallowing plastic bags―40 kilograms (approximately 88 pounds) worth of them!
Pexels
By Jeff Turrentine
"Be careful what you wish for; you just might get it." This is something that everybody has to learn at some point. Lately, the lesson has hit home for a group of American automakers.
Art direction: Georgie Johnson. Illustrations: Freya Morgan
By Joe Sandler Clarke
"Don't expect us to continue buying European products," Malaysia's former plantations minister Mah Siew Keong told reporters in January last year. His comments came just after he had accused the EU of "practising a form of crop apartheid."

A few months later Luhut Pandjaitan, an Indonesian government minister close to President Joko 'Jokowi' Widodo, warned his country would retaliate if it was "cornered" by the EU.
Torres and his parents walk along the Rio Grande. Luis Torres / Earthjustice
By Luis Torres
For some people who live along the U.S.-Mexico border, President Trump's attempt to declare a national emergency and extend the border wall is worse than a wasteful, unconstitutional stunt. It's an attack on their way of life that threatens to desecrate their loved ones' graves.
Flooding caused by last week's bomb cyclone storm has broken records in 17 places across the state of Nebraska, CNN reported Sunday. Around nine million people in 14 states along the Mississippi and Missouri Rivers were under a flood watch, CNN meteorologist Karen Maginnis said.
A car destroyed by Cyclone Idai in Beira, Mozambique. ADRIEN BARBIER / AFP / Getty Images
At least 150 people have died in a cyclone that devastated parts of Mozambique, Zimbabwe and Malawi over the weekend, The Associated Press reported Sunday. Cyclone Idai has affected more than 1.5 million people since it hit Mozambique's port city of Beira late Thursday, then traveled west to Zimbabwe and Malawi. Hundreds are still missing and tens of thousands are without access to roads or telephones.
"I think this is the biggest natural disaster Mozambique has ever faced. Everything is destroyed. Our priority now is to save human lives," Mozambique's Environment Minister Celso Correia said, as AFP reported.