This website uses cookies to ensure you get the best experience while browsing it. By clicking 'Got It' you're accepting these terms.
Organic vs. Conventional: Find Out Which Eggs Are Healthiest to Eat
Nov. 14, 2014 02:55PM EST
Food
By Kris Gunnars
I love eggs and eat 3-4 of them for breakfast every single day.
I don't lose sleep over it because research shows that they are good for my health.
But depending on what the hens themselves ate, the nutritional value of the eggs can differ greatly.
The Different Types of Eggs Are a Confusing Mess
There are several different types of eggs, which can leave people confused.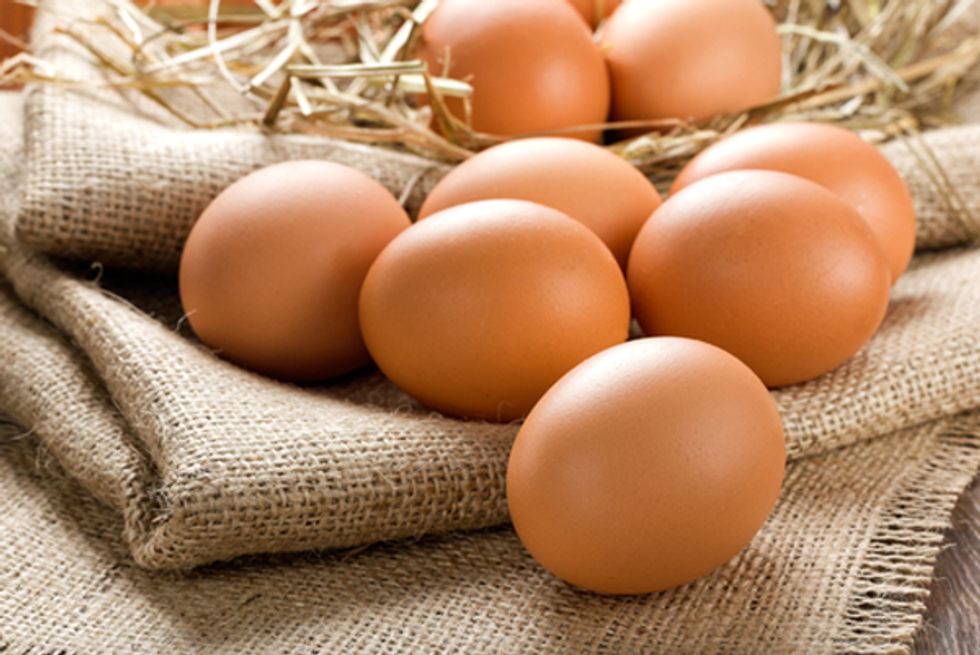 Photo credit: Shutterstock
What all of them have in common is that they come from chickens, but they vary depending on how the chickens were raised and what they were fed.
Conventional Eggs: These are your standard supermarket eggs. The chickens are usually raised in an overfilled hen house or a cage and never see the light of day. They are usually fed grain-based crap, supplemented with vitamins and minerals. May also be treated with antibiotics and hormones.
Organic Eggs: Were not treated with antibiotics or hormones and received organic feed. May have had limited access to the outdoors.
Pastured Eggs: Chickens are allowed to roam free, eating plants and insects (their natural food) along with some commercial feed.
Omega-3 Enriched Eggs: Basically, they're like conventional chickens except that their feed is supplemented with an Omega-3 source like flax seeds. May have had some access to the outside.
Conventional vs. Omega-3 Eggs
A study compared the fatty acid composition of three types of eggs: conventional, organic and omega-3 enriched (1).
Omega-3 eggs had 39 percent less arachidonic acid, an inflammatory Omega-6 fatty acid that most people eat too much of.
Omega-3 eggs had five times as much Omega-3 as the conventional eggs.
There was very little difference between organic and conventional eggs.
It is clear that hens fed an omega-3 enriched diet lay eggs that are much higher in Omega-3 than conventional eggs.
This is important because most people eat too little Omega-3.
Unfortunately this study didn't measure other nutrients, only the fatty acid composition.
Conventional vs. Pastured Eggs
In 2007, Mother Earth News magazine decided to test the nutritional value of pastured eggs and received such eggs from 14 different farms.
They were measured in a chemical lab, then compared to the USDA standard conventional egg.

As you can see, eggs from pastured hens are more nutritious than the conventional eggs you might find at the supermarket.
They are higher in Vitamin A and E and Omega-3s. They are also lower in cholesterol and saturated fat, but I don't think that matters.
A study I found on pastured eggs produced similar results (2).
Other Terms For Eggs
There are other more loose and confusing terms, including Free Range and Cage Free, which may or may not be any better than conventional eggs.
Free Range could mean that there's a small window on the hen house where the hens have the option of going outside.
Cage Free just means that they aren't raised in a cage. They could still be raised in a smelly, dirty overstuffed hen house.
Take Home Message
At the end of the day, pastured eggs are your best bet. They are more nutritious and the hens were allowed free access to the outside and ate a more natural diet.
If you can't get pastured eggs (like me) then Omega-3 enriched eggs will be your second best choice. If you can't get either pastured or Omega-3 eggs, then try to find eggs that are either free-range, cage-free or organic.
But even if that's not an option, then conventional eggs are still among the healthiest and most nutritious foods you can eat.
To sum up:
Pastured > Omega-3 > Organic > Free Range/Cage Free > Conventional
This just goes to show that what we eat isn't all that matters … it also matters what our foods eat.
This article was reposted from our media associate Authority Nutrition.
YOU MIGHT ALSO LIKE
6 Superfoods to Keep You Healthy All Winter Long
Cranberries: One of the World's Most Powerful Antioxidants
EcoWatch Daily Newsletter
A worker with nonprofit organization Martha's Table loads bags of fresh produce to distribute to people in need during the novel coronavirus outbreak on April 1, 2020 in Washington, DC. Chip Somodevilla / Getty Images
By Shawn Radcliffe
The CDC recommends that all people wear cloth face masks in public places where it's difficult to maintain a 6-foot distance from others. This will help slow the spread of the virus from people without symptoms or people who do not know they have contracted the virus. Cloth face masks should be worn while continuing to practice social distancing. Instructions for making masks at home can be found here. Note: It's critical to reserve surgical masks and N95 respirators for healthcare workers.
The CDC has emphasized that washing hands with soap and water is one of the most effective ways to prevent the spread of COVID-19. Guido Mieth / Moment / Getty Images
The Centers for Disease Control has emphasized that washing hands with soap and water is one of the most effective measures we can take in preventing the spread of COVID-19. However, millions of Americans in some of the most vulnerable communities face the prospect of having their water shut off during the lockdowns, according to The Guardian.
A California newt (Taricha torosa) from Napa County, California, USA. Connor Long /
CC BY-SA 3.0
Aerial photos of the Sierra Nevada — the long mountain range stretching down the spine of California — showed rust-colored swathes following the state's record-breaking five-year drought that ended in 2016. The 100 million dead trees were one of the most visible examples of the ecological toll the drought had wrought.
Now, a few years later, we're starting to learn about how smaller, less noticeable species were affected.
Disinfectants and cleaners claiming to sanitize against the novel coronavirus have started to flood the market.
Natthawat / Moment / Getty Images
Disinfectants and cleaners claiming to sanitize against the novel coronavirus have started to flood the market, raising concerns for the U.S. Environmental Protection Agency (EPA), which threatened legal recourse against retailers selling unregistered products, according to The New York Times.