This website uses cookies to ensure you get the best experience while browsing it. By clicking 'Got It' you're accepting these terms.
Organic Milk—Are You Getting What You Pay For?
Mar. 13, 2012 07:30AM EST
GMO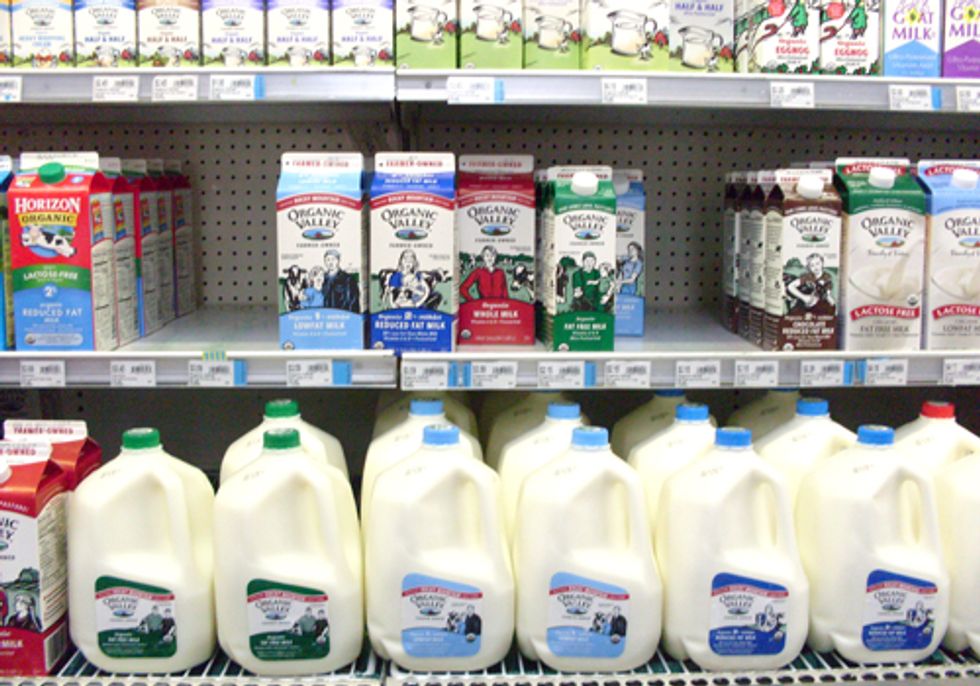 By Andrew Gunther
On the heels of a previous report highlighting the lack of enforcement and oversight in our food system, the U.S. Office of Inspector General's (OIG) new report on whether milk marketed as organic actually meets the National Organic Program's (NOP) standards is a real wake-up call to the organic community.
And so it should be. Consumers pay a significant premium for organic products and rightly expect transparency and oversight. However, the OIG's new report, Agricultural Marketing Service National Organic Program—Organic Milk, exposes major failings of the NOP certification and auditing systems. At a time when consumers are turning their backs on industrialized farming systems—and genetically modified (GM) farming in particular—the new report raises real questions about exactly what people are paying for when they buy organic milk.
Between 2000 and 2008, U.S. Department of Agriculture (USDA) figures show that annual sales of organic dairy products increased by 23 percent, totaling approximately $3.9 billion in 2010 alone. One of the key drivers behind the dramatic growth in demand for organic food is the mounting concern about the impact that GM farming is having on the environment, as well as the potential health risks of consuming GM food. Since the use of GM feed and forage (soybean, corn and alfalfa) is prohibited under NOP regulations, many consumers buy organic milk because they believe it comes from dairy cattle that are not fed GM material.
So it may come as a shock to know that while organic certifying agents are required to periodically test organic products for some prohibited materials, the NOP regulations do not explicitly require testing for GM material. Given the widespread use of GM and GM-contaminated seed, feed, and forage, the OIG report highlights the risk that organic milk could be contaminated as well—either inadvertently or intentionally. Yet rather than requiring organic certification agents to carry out regular GM testing, the OIG reports that NOP officials believed it was "better to allow the certifying agents to decide what they should test for, based on local agricultural conditions, proximity to conventional farming operations, and the product being inspected." However, as the OIG's report says, without testing "there cannot be reasonable assurance that certifiers are identifying and ensuring that GM material is not contaminating organic feed and forage."
The OIG's report goes on to highlight a number of other concerns with the NOP's auditing, including the likelihood of milk contamination by NOP-prohibited substances during transport, and the fact that few if any organic certification agents are currently carrying out unannounced inspections, which are known to be particularly important in monitoring whether organic dairy operations are fully complying with the recent so-called "access to pasture" rule.
The final criticism in the Organic Milk report is aimed squarely at the NOP itself. Under law, the NOP is required to maintain a list of all USDA-certified organic operations as a central point of reference, where organic certification agents, food businesses or members of the public can access information about farms and food businesses that claim to be certified organic. However, the OIG found that the NOP's list of organic businesses is only updated once a year and it is not updated to reflect the details of any organic certificates that have been suspended, surrendered or revoked. In other words, the list is effectively out of date as soon as it is produced.
Of course, no one is suggesting that all organic milk is contaminated with genetically modified organisms or that every organic farmer is breaking the rules. I know many certified organic farmers and ranchers who farm to the spirit of the organic principles and who pride themselves on the very highest welfare and environmental management. Many of these farmers are also part of the Animal Welfare Approved program as a clear statement of their dedication to high-welfare, sustainable farming, and as a means to stand out from the "commodity organic" crowd. At these farms, cattle are out on pasture practicing not just the NOP basics but complying with an even more rigorous set of standards—standards which actually have a positive impact on the animals, the planet, and the community.
The OIG report leads consumers to ask exactly what they are paying for when they buy organic milk. We have put our trust and hard-earned dollars into the organic label, but this trust is being repaid with inadequate oversight and ineffective certification and auditing. My advice is, if you are looking for the true organic experience, you need to look beyond the organic seal and ask whether the product you are buying really comes from the kind of farm you want to support.
For more information, click here.
EcoWatch Daily Newsletter
A harbour seal on an ice floe in Glacier Bay, Alaska. A new study shows that the climate crisis has warmed waters, changing ecosystems and crippling sea ice growth. Janette Hill / robertharding / Getty Images Plus
Doctors report that only 1 in 4 children are getting the recommended 60 minutes of physical activity per day. Ronnie Kaufman / DigitalVision / Getty Images
By Dan Gray
Pediatricians are being urged to start writing "exercise prescriptions" for the children they see in their office.
A First Nations protester walks in front of a train blockade in Tyendinaga, near Belleville, Ontario, Canada on Feb. 21, 2020. LARS HAGBERG / AFP via Getty Images
An indigenous rail blockade that snarled train travel in Canada for more than two weeks came to an end Monday when police moved in to clear protesters acting in solidarity with another indigenous community in British Columbia (B.C.), which is fighting to keep a natural gas pipeline off its land.
A rainbow snake, a rare reptile spotted in a Florida county for the first time in more than 50 years, seen here on July 5, 2013.
Kevin Enge / FWC Fish and Wildlife Research Institute / Flickr
A Florida hiker recently stumbled across a slithering surprise — a rare snake that hadn't been spotted in the area for more than 50 years.
We need our government to do everything it can to stop PFAS contamination and exposure from wreaking havoc in communities across the country. LuAnn Hun /
Unsplash
By Genna Reed
The EPA announced last week that it is issuing a preliminary regulatory determination for public comment to set an enforceable drinking water standard to two of the most common and well-studied PFAS, PFOA and PFOS.
This decision is based on three criteria:
PFOA and PFOS have an adverse effect on public health
PFOA and PFOS occur in drinking water often enough and at levels of public health concern;
regulation of PFOA and PFOS is a meaningful opportunity for reducing the health risk to those served by public water systems.