This website uses cookies to ensure you get the best experience while browsing it. By clicking 'Got It' you're accepting these terms.


The best of EcoWatch, right in your inbox. Sign up for our email newsletter!
Organic Food, Not Just for Hippies Anymore: How the U.S. Is Dealing With Growing Demand
Apr. 05, 2016 09:14AM EST
Insights + Opinion
An old adage says that solving a big problem requires attacking it from all sides. That is what organic industry players—large and small—are doing to overcome organic crop supply shortages in the U.S. Organic supporters have launched a range of initiatives to increase organic farming acreage—from big company initiatives and smaller company collaborations to a new organic transition certification and long-term contracts to help farmers transition to organic.
These initiatives aim to address a fundamental problem facing the organic industry: while demand for organic food continues to soar, the supply of organic crops to meet that demand is falling short, forcing companies to import organic crops from overseas. Organic food currently accounts for about 5 percent of all food sales in the U.S., but organic farming acres make up less than one percent of total U.S. farmland. The U.S. imported $184 million in organic soybeans and $35 million in organic corn in 2014.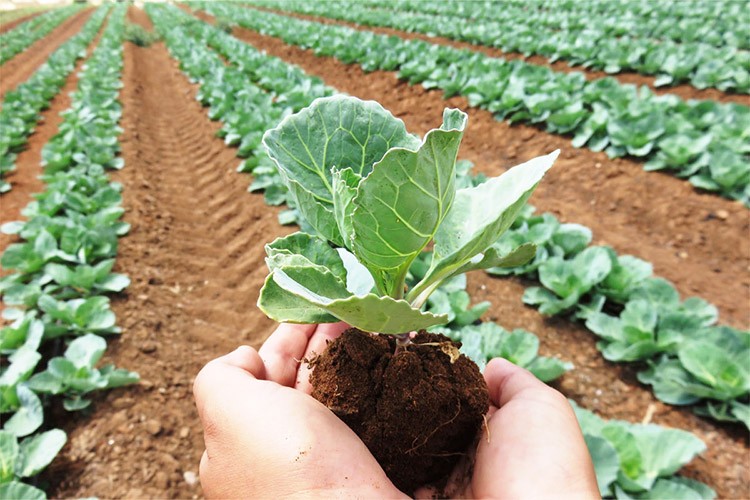 The supply-demand situation was even worse in 2015, according to Laura Batcha, executive director of the Organic Trade Association (OTA). "The supply shortage is holding back the market; 2015 was the peak of the supply shortage," she said.
"Not Just for Hippies Anymore"
On the bright side, Batcha sees new business coming into the organic market. "Organic certifiers are seeing record months for applications (for organic certification)," she said.
According to the U.S. Department of Agriculture (USDA) figures, there were a record number of certified organic operations—19,474—in the U.S. in 2014. OTA reported that there were another 3,000 farms transitioning to organic.
Annie's president John Foraker recently predicted that organic food will ultimately account for 20 percent of the U.S. food market.
Current market conditions are leading many conventional farmers to consider transitioning to organic. "Farmers are taking a second look (at organic) with commodity grain prices being low," Batcha said.
Nate Lewis, OTA's senior crop & livestock specialist, agrees. "There is a tremendous amount of interest from conventional producers who are really looking at organic as an option," he said. "This marks an underlying shift from organic being a four-letter word to being a viable economic option for farmers. It's not just for hippies anymore."
Big Company Organic Initiatives: General Mills and Ardent Mills
Larger companies are putting their resources into increasing organic acres. General Mills recently announced plans to more than double the organic acreage from which it sources ingredients. General Mills plans to meet its goal of 250,000 acres by 2019, the same year the company aims to achieve $1 billion in sales from its natural and organic products.
Since 2009, General Mills has increased the organic acreage it supports by 120 percent and is now among the top five organic ingredient purchasers—and the second largest buyer of organic fruits and vegetables in North America.
Another big player with ambitious organic goals is Ardent Mills, which supplies wheat flours, mixes, blends and specialty products. The company aims to double organic wheat acres in the U.S. from the current 260,000 to 520,000 by 2019.
"About a year ago, we started getting inquiries from our flour customers who wanted to introduce new organic products and were concerned about supply," said Shrene White, Ardent Mills' director of specialty grains risk. "We saw there was a big gap in the supply of organic wheat."
Since announcing their organic initiative last December, Ardent Mills has held farmer education meetings to discuss the project. "We talked to farmers about what they need to transition, what to expect during certification and the market for organic wheat," White said.
The response from farmers has been positive, White says, not only from conventional farmers but also from existing organic farmers who want to add wheat to their crop rotations.
There are challenges for farmers transitioning to organic. "The biggest challenge is educating farmers," White said. "They have to look at a whole new way of farming."
Batcha says initiatives by large companies like General Mills and Ardent Mills are positive. "When big companies make investments in organic acres, it means there is confidence that the market is there and will stay there," she said. "The more relationships there are with producers and end users, the less likely it will be that farmers will come and go in organic."
U.S. Organic Grain Collaboration
In addition to the big company initiatives to increase organic acreage, there is a collaborative effort involving several leading organic companies. The US Organic Grain Collaboration was launched in 2014 to address the supply shortage of organic grains. Participating companies include Annie's, Stonyfield Farm, Organic Valley, Clif Bar, Whole Foods Market, Nature's Path, Grain Millers and Pete & Jerry's Eggs.
"We have a progressive group of companies committed to growing the organic grain supply," said Elizabeth Reaves, program director at the Sustainable Food Lab, which helped facilitate the collaboration.
The fact that companies that normally would compete with each other are working together is unique and necessary, Lewis said. "What's needed is collaboration and relationship building. We all need to come together," he said.
In 2015, the group launched pilot projects in Aroostook County, Maine and in the Northern Great Plains to test approaches needed to grow the supply of organic grain.
This year, group's activities will be coordinated under a new Grain, Pulses and Oilseed council sector within the Organic Trade Association. "It makes sense to coordinate strategy through the existing industry platform of OTA," Reaves said.
Activities planned for this year include creating a strategic plan and holding organic opportunity events in the Pacific Northwest, Northern Great Plains, Midwest and New England for all members of the organic supply chain.
Collaboration member Nature's Path may be taking the most direct route to increasing organic acreage by buying land and converting it to organic. To date the company has purchased 6,600 acres of land in Saskatchewan and Montana to grow organic grains.
Nature's Path, along with Clif Bar, Grain Millers and General Mills, are also members of the Prairie Organic Grain Initiative, a similar collaborative industry effort to increase the supply of organic grains in Canada.
Certified Transition Program
Perhaps the biggest challenge to increasing organic farming acres is the three-year transition farmers must make to become organic. During those three years, a conventional farmer cannot use chemical fertilizers and pesticides and options for farmers to sell their transitional crops are often limited.
OTA is trying to ease that challenge by working with the U.S. Department of Agriculture to create a Certified Transition label program. Certified Transition food and animal feed products will contain ingredients made from crops harvested one year after the transition to organic has begun, but before the three-year transition period is completed.
Lewis says the standard for the Certified Transition program will be submitted to the USDA in early April. Existing organic certifiers will then apply to the USDA to be accredited to certify transitional farms and processing facilities.
Many organic certifiers already have some type of transition program for farmers. These will be harmonized under the USDA program.
Lewis hopes the program will be available to farmers by the end of this year's harvest.
The Certified Transition program offers advantages for both farmers and processors. "This could really help farmers overcome the three-year transition barrier," Lewis said. "For processors, having a transitional market is a way to pull farmers into organic. Instead of dangling the organic carrot (premium) three years down the road, they can dangle one-half of the carrot in one year."
Batcha agrees. "It will help facilitate market connections during the transition period," she said.
Long-Term Contracts Help Farmers
Another incentive to help organic farming grow is for companies to offer long-term contracts to transitioning farmers. Ardent Mills is offering long-term contracts to farmers that cover the transition period and the first few years of organic certification. Clif Bar contracted a conventional fig producer for seven years to produce organic figs, which covered the three-year transition and another four years of organic production. Oregon-based Hummingbird Wholesale has purchased rice, beans and cranberries at premium organic prices from farmers transitioning to organic.
"People that invest in transition want to secure the supply," Batcha said. "It's a different model than conventional farming, which rides the highs and lows of the spot market. An organic farmer with a long-term contract may be passing up a higher price on the spot market but they may also be passing up a lower price."
YOU MIGHT ALSO LIKE
Can Cuba Supply America's Growing Appetite for Organic Food?
6 Millennials Fight for the Title of 'America's Best Yardfarmer'
Is Growing Your Own Food the Only Way to Truly Be Vegetarian or Vegan?
Big Food Says They Will Label GMOs … But Is There More to the Story?
EcoWatch Daily Newsletter
PhotoAlto / Laurence Mouton / Getty Images
By Ana Reisdorf, MS, RD
You've probably heard the buzz around collagen supplements and your skin by now. But is the hype really that promising? After all, research has pointed to both the benefits and downsides of collagen supplements — and for many beauty-conscious folk, collagen isn't vegan.
Pixabay
By Marlene Cimons
Neil Pederson's introduction to tree rings came from a "sweet and kindly" college instructor, who nevertheless was "one of the most boring professors I'd ever experienced," Pederson said. "I swore tree rings off then and there." But they kept coming back to haunt him.
Aerial view of the explosion site of a chemical factory on March 22 in Yancheng, Jiangsu Province of China. Caixin Media / VCG / Getty Images)
At least 47 people have died in an explosion at a plant in Yancheng, China Thursday run by a chemical company with a history of environmental violations, Sky News reported.
A fishmonger in Elmina, a fishing port in the Central Region of Ghana. Environmental Justice Foundation
By Daisy Brickhill
Each morning, men living in fishing communities along Ghana's coastline push off in search of the day's catch. But when the boats come back to shore, it's the women who take over.
Pexels
By Sam Nickerson
Links between excess sugar in your diet and disease have been well-documented, but new research by Harvard's School of Public Health might make you even more wary of that next soda: it could increase your risk of an early death.
The study, published this week in the American Heart Association's journal Circulation, found that drinking one or two sugar-sweetened beverages (SSBs) each day — like sodas or sports drinks — increases risk of an early death by 14 percent.
Tyson Foods is recalling approximately 69,093 pounds of frozen chicken strips because they may have been contaminated with pieces of metal, the U.S. Department of Agriculture (USDA) Food Safety and Inspection Service (FSIS) announced Thursday.
The affected products were fully-cooked "Buffalo Style" and "Crispy" chicken strips with a "use by" date of Nov. 30, 2019 and an establishment number of "P-7221" on the back of the package.
"FSIS is concerned that some product may be in consumers' freezers," the recall notice said. "Consumers who have purchased these products are urged not to consume them. These products should be thrown away or returned to the place of purchase."
Environmental exposure to pesticides, both before birth and during the first year of life, has been linked to an increased risk of developing autism spectrum disorder, according to the largest epidemiological study to date on the connection.
The study, published Wednesday in BMJ, found that pregnant women who lived within 2,000 meters (approximately 1.2 miles) of a highly-sprayed agricultural area in California had children who were 10 to 16 percent more likely to develop autism and 30 percent more likely to develop severe autism that impacted their intellectual ability. If the children were exposed to pesticides during their first year of life, the risk they would develop autism went up to 50 percent.