Organic Food, Not Just for Hippies Anymore: How the U.S. Is Dealing With Growing Demand
An old adage says that solving a big problem requires attacking it from all sides. That is what organic industry players—large and small—are doing to overcome organic crop supply shortages in the U.S. Organic supporters have launched a range of initiatives to increase organic farming acreage—from big company initiatives and smaller company collaborations to a new organic transition certification and long-term contracts to help farmers transition to organic.
These initiatives aim to address a fundamental problem facing the organic industry: while demand for organic food continues to soar, the supply of organic crops to meet that demand is falling short, forcing companies to import organic crops from overseas. Organic food currently accounts for about 5 percent of all food sales in the U.S., but organic farming acres make up less than one percent of total U.S. farmland. The U.S. imported $184 million in organic soybeans and $35 million in organic corn in 2014.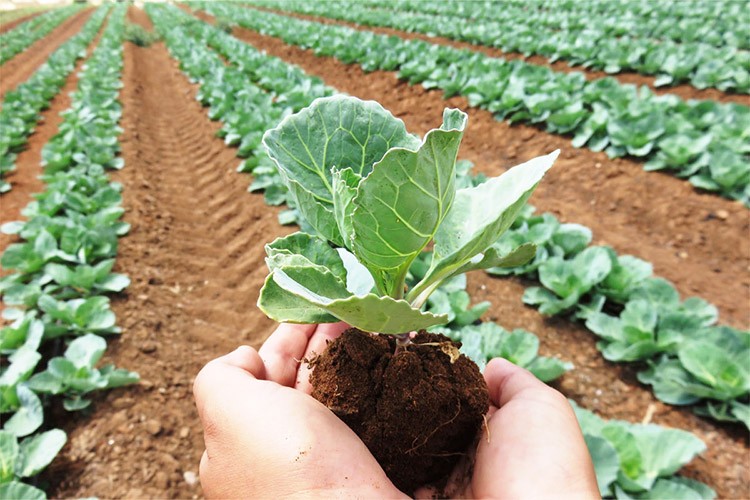 The supply-demand situation was even worse in 2015, according to Laura Batcha, executive director of the Organic Trade Association (OTA). "The supply shortage is holding back the market; 2015 was the peak of the supply shortage," she said.
"Not Just for Hippies Anymore"
On the bright side, Batcha sees new business coming into the organic market. "Organic certifiers are seeing record months for applications (for organic certification)," she said.
According to the U.S. Department of Agriculture (USDA) figures, there were a record number of certified organic operations—19,474—in the U.S. in 2014. OTA reported that there were another 3,000 farms transitioning to organic.
Annie's president John Foraker recently predicted that organic food will ultimately account for 20 percent of the U.S. food market.
Current market conditions are leading many conventional farmers to consider transitioning to organic. "Farmers are taking a second look (at organic) with commodity grain prices being low," Batcha said.
Nate Lewis, OTA's senior crop & livestock specialist, agrees. "There is a tremendous amount of interest from conventional producers who are really looking at organic as an option," he said. "This marks an underlying shift from organic being a four-letter word to being a viable economic option for farmers. It's not just for hippies anymore."
Big Company Organic Initiatives: General Mills and Ardent Mills
Larger companies are putting their resources into increasing organic acres. General Mills recently announced plans to more than double the organic acreage from which it sources ingredients. General Mills plans to meet its goal of 250,000 acres by 2019, the same year the company aims to achieve $1 billion in sales from its natural and organic products.
Since 2009, General Mills has increased the organic acreage it supports by 120 percent and is now among the top five organic ingredient purchasers—and the second largest buyer of organic fruits and vegetables in North America.
Another big player with ambitious organic goals is Ardent Mills, which supplies wheat flours, mixes, blends and specialty products. The company aims to double organic wheat acres in the U.S. from the current 260,000 to 520,000 by 2019.
"About a year ago, we started getting inquiries from our flour customers who wanted to introduce new organic products and were concerned about supply," said Shrene White, Ardent Mills' director of specialty grains risk. "We saw there was a big gap in the supply of organic wheat."
Since announcing their organic initiative last December, Ardent Mills has held farmer education meetings to discuss the project. "We talked to farmers about what they need to transition, what to expect during certification and the market for organic wheat," White said.
The response from farmers has been positive, White says, not only from conventional farmers but also from existing organic farmers who want to add wheat to their crop rotations.
There are challenges for farmers transitioning to organic. "The biggest challenge is educating farmers," White said. "They have to look at a whole new way of farming."
Batcha says initiatives by large companies like General Mills and Ardent Mills are positive. "When big companies make investments in organic acres, it means there is confidence that the market is there and will stay there," she said. "The more relationships there are with producers and end users, the less likely it will be that farmers will come and go in organic."
U.S. Organic Grain Collaboration
In addition to the big company initiatives to increase organic acreage, there is a collaborative effort involving several leading organic companies. The US Organic Grain Collaboration was launched in 2014 to address the supply shortage of organic grains. Participating companies include Annie's, Stonyfield Farm, Organic Valley, Clif Bar, Whole Foods Market, Nature's Path, Grain Millers and Pete & Jerry's Eggs.
"We have a progressive group of companies committed to growing the organic grain supply," said Elizabeth Reaves, program director at the Sustainable Food Lab, which helped facilitate the collaboration.
The fact that companies that normally would compete with each other are working together is unique and necessary, Lewis said. "What's needed is collaboration and relationship building. We all need to come together," he said.
In 2015, the group launched pilot projects in Aroostook County, Maine and in the Northern Great Plains to test approaches needed to grow the supply of organic grain.
This year, group's activities will be coordinated under a new Grain, Pulses and Oilseed council sector within the Organic Trade Association. "It makes sense to coordinate strategy through the existing industry platform of OTA," Reaves said.
Activities planned for this year include creating a strategic plan and holding organic opportunity events in the Pacific Northwest, Northern Great Plains, Midwest and New England for all members of the organic supply chain.
Collaboration member Nature's Path may be taking the most direct route to increasing organic acreage by buying land and converting it to organic. To date the company has purchased 6,600 acres of land in Saskatchewan and Montana to grow organic grains.
Nature's Path, along with Clif Bar, Grain Millers and General Mills, are also members of the Prairie Organic Grain Initiative, a similar collaborative industry effort to increase the supply of organic grains in Canada.
Certified Transition Program
Perhaps the biggest challenge to increasing organic farming acres is the three-year transition farmers must make to become organic. During those three years, a conventional farmer cannot use chemical fertilizers and pesticides and options for farmers to sell their transitional crops are often limited.
OTA is trying to ease that challenge by working with the U.S. Department of Agriculture to create a Certified Transition label program. Certified Transition food and animal feed products will contain ingredients made from crops harvested one year after the transition to organic has begun, but before the three-year transition period is completed.
Lewis says the standard for the Certified Transition program will be submitted to the USDA in early April. Existing organic certifiers will then apply to the USDA to be accredited to certify transitional farms and processing facilities.
Many organic certifiers already have some type of transition program for farmers. These will be harmonized under the USDA program.
Lewis hopes the program will be available to farmers by the end of this year's harvest.
The Certified Transition program offers advantages for both farmers and processors. "This could really help farmers overcome the three-year transition barrier," Lewis said. "For processors, having a transitional market is a way to pull farmers into organic. Instead of dangling the organic carrot (premium) three years down the road, they can dangle one-half of the carrot in one year."
Batcha agrees. "It will help facilitate market connections during the transition period," she said.
Long-Term Contracts Help Farmers
Another incentive to help organic farming grow is for companies to offer long-term contracts to transitioning farmers. Ardent Mills is offering long-term contracts to farmers that cover the transition period and the first few years of organic certification. Clif Bar contracted a conventional fig producer for seven years to produce organic figs, which covered the three-year transition and another four years of organic production. Oregon-based Hummingbird Wholesale has purchased rice, beans and cranberries at premium organic prices from farmers transitioning to organic.
"People that invest in transition want to secure the supply," Batcha said. "It's a different model than conventional farming, which rides the highs and lows of the spot market. An organic farmer with a long-term contract may be passing up a higher price on the spot market but they may also be passing up a lower price."
YOU MIGHT ALSO LIKE
Can Cuba Supply America's Growing Appetite for Organic Food?
6 Millennials Fight for the Title of 'America's Best Yardfarmer'
Is Growing Your Own Food the Only Way to Truly Be Vegetarian or Vegan?
Big Food Says They Will Label GMOs … But Is There More to the Story?
By Itai Vardi
A recent intensification in protests against Williams Partners' planned Atlantic Sunrise pipeline in Pennsylvania prompted a state senator to propose legislation aimed at limiting demonstrations.
Last month, Pennsylvania Sen. Scott Martin (R-Norman) announced his intention to introduce legislation that would pass the costs of law enforcement responding to protests onto the demonstrators. Martin also helped introduce a different bill that would criminalize protests at natural gas facilities.
Keep reading...
Show less
Black Shogun / iStock
The Federal Energy Regulatory Commission (FERC) released its Final Environmental Impact Statement Friday for the Mountain Valley Pipeline, a controversial 303-mile pipeline that would carry two billion cubic feet of fracked gas per day from West Virginia through Virginia.
Keep reading...
Show less
Falcon PEV
The so-called "first and last mile" problem is one of the biggest hurdles with public transportation. How do you encourage more people to take Earth-friendlier commutes when their homes are miles away from the train or bus station?
One solution, as this Estonian electric scooter company proposes, is to simply take your commute with you—literally. Tallinn-based Stigo has developed a compact e-scooter that folds to the size of a rolling suitcase in about two seconds.
Keep reading...
Show less
Connect4Climate
[Editor's note: I'm still in shock after hearing the news that Lucia Grenna passed away in her sleep last week. When we first met in April of 2014 at a Copenhagen hotel, I was immediately taken by here powerful presence. We spent the next couple days participating in a Sustainia climate change event where Lucia presented her audacious plans to connect people to the climate issue. I had the chance to partner with Lucia on several other projects throughout the years and work with her incredible Connect4Climate team. I was always in awe of her ability to "make the impossible possible." Her spirit will live on forever. — Stefanie Spear]
It is with a heavy heart that Connect4Climate announces the passing of its founder and leading light, Lucia Grenna. Lucia passed peacefully in her sleep on June 15, well before her time. We remember her for her leadership and extraordinary ability to motivate people to take on some of the greatest challenges of our time, not least climate change.
Keep reading...
Show less
Jun. 23, 2017 07:29PM EST
Wikimedia Commons
By Stacy Malkan
Neil deGrasse Tyson has inspired millions of people to care about science and imagine themselves as participants in the scientific process. What a hopeful sign it is to see young girls wearing t-shirts emblazoned with the words, "Forget princess, I want to be an astrophysicist."
Keep reading...
Show less
Jun. 23, 2017 01:57PM EST
www.youtube.com
By Andy Rowell
Any day now we will truly witness climate change in action. Within days at worst, maybe weeks at best, scientists predict that a huge section of the Larsen C ice shelf in Antarctica will break off into the ocean, in what is called a major "carving" event.
Keep reading...
Show less
Jun. 23, 2017 02:27PM EST
www.youtube.com
President Trump visited Cedar Rapids, Iowa on June 21 to speak to a large crowd in the U.S. Cellular Center at a political rally organized by his campaign.
As Trevor Noah noted during The Daily Show episode last night (starts at 2:25), the real reason Trump has these rallies is to "get back in front of his loyal crowds and feed of their energy." Noah believes that "Trump supporters are so on board with their dude he can say anything and they'll come along for the ride."
Keep reading...
Show less
Jun. 23, 2017 07:50PM EST
The Kamuthi solar plant in the southern Indian state of Tamil Nadu.
The rapid growth in renewable energy continues to put a dent in the demand for coal.
Coal India, the world's biggest coal mining company and producer of 82 percent of the country's coal, announced the closure of 37 mines that are financially "unviable."
Keep reading...
Show less
Jun. 23, 2017 06:42PM EST
www.youtube.com
By Katie O'Reilly
Two years ago—long before coal became one of the most dominant and controversial symbols of the 2016 presidential election—Bloomberg Philanthropies approached production company RadicalMedia with the idea of creating a documentary exploring the U.S. coal mining industry. Last spring, they brought on Emmy-nominated director Michael Bonfiglio, tasked with forging a compelling story out of the multitudes of facts, statistics and narratives underlying the declining industry.
Keep reading...
Show less


Get EcoWatch in your inbox