This website uses cookies to ensure you get the best experience while browsing it. By clicking 'Got It' you're accepting these terms.
Organic Food Is Healthier Confirms New Analysis
Jul. 15, 2014 08:44AM EST
Health + Wellness
More nutritional antioxidants, far fewer toxic pesticides; those are the results of a comprehensive meta-analysis on organic foods published yesterday in the British Journal of Nutrition. Led by Carlo Leifort, PhD, at England's Newcastle University, the analysis is a scientific rebuttal to a previous Stanford University review published in 2012, which found that there was little difference between the nutritional content of organic food over conventionally grown produce. Both studies found there to be fewer pesticides in organic products.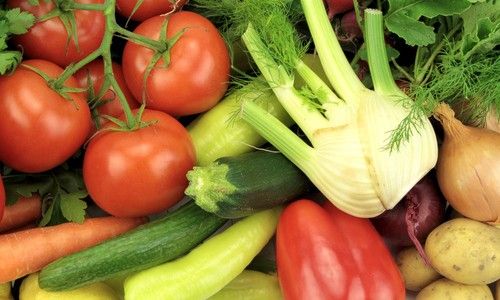 Photo courtesy of Shutterstock
While Stanford University's review only looked at 200 studies, Dr. Leifert and his team of researchers expanded the scope of their meta-analysis to 343 studies, and also employed more robust analytic tools by analyzing the standardized mean differences of the data from the various studies. "It shows very clearly how you grow your food has an impact," said Dr. Leifert to The New York Times. "If you buy organic fruits and vegetables, you can be sure you have, on average, a higher amount of antioxidants at the same calorie level." Antioxidants, compounds such as phenolic acids, flavanones, stilbenes, flavones, flavonols and anthocyanin, have been linked to lower risks of cancer and other diseases.
For many, news of higher nutritional content in organic foods is simply another benefit of buying into a system that eschews toxic pesticides, treats animals with care and protects farmworkers and the surrounding environment. Both the Stanford and Newcastle studies found pesticide residues four times more frequently on conventional crops than on organic produce.
Pesticide exposure, even at low level residues like those found on food, has been linked to a wide range of adverse impacts wildlife and humans, particularly children. In 2012, the American Academy of Pediatrics released a statement advising parents to choose organic in order to avoid pesticide exposure. Also in 2012, a report published by a team of 12 scientists found strong evidence that low doses of endocrine disrupting chemicals influence human diseases, including links to infertility, cardiovascular disease, obesity, cancer and other disorders. "Whether low doses of endocrine-disrupting compounds influence human disorders is no longer conjecture, as epidemiological studies show that environmental exposures are associated with human diseases and disabilities," the report stated. Research from Tyrone Hayes, PhD, at University of California Berkeley found that a minute dose of the herbicide atrazine (as small as .1 parts per billion) turns tadpoles into hermaphrodites. In 2013, the Environmental Protection Agency acknowledged that low dose responses to chemicals "do occur in biological systems," yet has still not begun regulating endocrine disrupters through a finalized Endocrine Disruptor Screening Program, as mandated by Congress in 1996.
Although eating organic provides immense benefits over chemically-intensive food production systems, it is critically important that consumers continue to pressure the U.S. Department of Agriculture (USDA) and the National Organic Program to maintain organic integrity. In order to defend organic standards from changes that would weaken public trust, Beyond Pesticides launched the Save Our Organic campaign. Consumers can take action to ask their U.S. Representatives and Senators, USDA Secretary Tom Vilsack and organic companies to support organic as a rigorous open process that holds its standards accountable to input and direction from those who produce and purchase organic food. Beyond Pesticides recently filed a petition to USDA to restore the authority of the National Organic Standards Board (NOSB). The agency mistakenly reclassified the NOSB as a time-limited advisory board, despite its creation as an independent authority by Congress under the Organic Foods Production Act.
EcoWatch Daily Newsletter

georgeclerk / E+ / Getty Images
By Jennifer Molidor
One million species are at risk of extinction from human activity, warns a recent study by scientists with the United Nations. We need to cut greenhouse gas pollution across all sectors to avoid catastrophic climate change — and we need to do it fast, said the Intergovernmental Panel on Climate Change.
This research should serve as a rallying cry for polluting industries to make major changes now. Yet the agriculture industry continues to lag behind.
Edwin Remsburg / VW Pics / Getty Images
Botswana, home to one third of Africa's elephants, announced Wednesday that it was lifting its ban on the hunting of the large mammals.
"The Ministry of Environment, Natural Resources Conservation and Tourism wishes to inform the public that following extensive consultations with all stakeholders, the Government of Botswana has taken a decision to lift the hunting suspension," the government announced in a press release shared on social media.
Pxhere
By Richard Denison
Readers of this blog know how concerned EDF is over the Trump EPA's approval of many dozens of new chemicals based on its mere "expectation" that workers across supply chains will always employ personal protective equipment (PPE) just because it is recommended in the manufacturer's non-binding safety data sheet (SDS).
By Grant Smith
From 2009 to 2012, Gregory Jaczko was chairman of the Nuclear Regulatory Commission, which approves nuclear power plant designs and sets safety standards for plants. But he now says that nuclear power is too dangerous and expensive — and not part of the answer to the climate crisis.
A lake in Rocky Mountain National Park. Brett Walton / Circle of Blue
By Brett Walton
When Greg Wetherbee sat in front of the microscope recently, he was looking for fragments of metals or coal, particles that might indicate the source of airborne nitrogen pollution in Rocky Mountain National Park. What caught his eye, though, were the plastics.
Gabriele Holtermann Gorden / Pacific Press / LightRocket / Getty Images
In a big victory for animals, Prada has announced that it's ending its use of fur! It joins Coach, Jean Paul Gaultier, Giorgio Armani, Versace, Ralph Lauren, Vivienne Westwood, Michael Kors, Donna Karan and many others PETA has pushed toward a ban.
This is a victory more than a decade in the making. PETA and our international affiliates have crashed Prada's catwalks with anti-fur signs, held eye-catching demonstrations all around the world, and sent the company loads of information about the fur industry. In 2018, actor and animal rights advocate Pamela Anderson sent a letter on PETA's behalf urging Miuccia Prada to commit to leaving fur out of all future collections, and the iconic designer has finally listened.
Amer Ghazzal / Barcroft Media / Getty Images
If people in three European countries want to fight the climate crisis, they need to chill out more.
That's the conclusion of a new study from think tank Autonomy, which found that Germany, the UK and Sweden all needed to drastically reduce their workweeks to fight climate change.
Amazon Employees for Climate Justice held a press conference after the annual shareholder meeting on May 22. Amazon Employees for Climate Justice