This website uses cookies to ensure you get the best experience while browsing it. By clicking 'Got It' you're accepting these terms.
Organic Farming vs. Fracking
Mar. 12, 2015 09:09AM EST
Energy
By Ted Auch, Juliana Henao and Samantha Malone
Currently, 11 percent (2,140 of 19,515 total) of all U.S. organic farms share a watershed with active oil and gas drilling. Additionally, this percentage could rise up to 31 percent if unconventional oil and gas drilling continues to grow.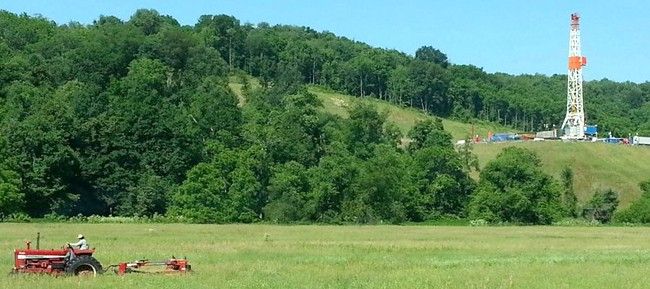 Organic farms represent something pure for citizens around the world. They produce food that gives people more certainty about consuming chemical-free nutrients in a culture that is so accustomed to using pesticides, fertilizers, and herbicides in order to keep up with booming demand. Among their many benefits, organic farms produce food that is high in nutritional value, use less water, replenish soil fertility and do not use pesticides or other toxic chemicals that may get into our food supply. To maintain their integrity, however, organic farms have an array of regulations and an extensive accreditation process.
What does it mean to be an organic farm?
The accreditation process for an organic farm is quite extensive. U.S. Department of Agriculture (USDA) organic regulations include:
The producer must manage plant and animal materials to maintain or improve soil organic matter content in a manner that does not contribute to contamination of crops, soil, or water by plant nutrients, pathogenic organisms, heavy metals or residues of prohibited substance.
No prohibited substances can be applied to the farm for a period of three years immediately preceding harvest of a crop
The farm must have distinct, defined boundaries and buffer zones, such as runoff diversions to prevent the unintended application of a prohibited substance to the crop or contact with a prohibited substance applied by adjoining land that is not under organic management.
There are additional regulations that pertain to crop pest, weed and disease standards; soil fertility and crop nutrient management standards; seeds and planting stock practice standards; and wild-crop harvesting practice standards, to name a few. A violation of any one of these USDA regulations can mean a hold on the accreditation of an organic farm.
The full list of regulations and requirements can be found here.
Threats Posed by Oil and Gas
Nearby oil and gas drilling is one of many threats to organic farms and their crop integrity. With a steady expansion of wells, the oil and gas industry is using more and more land, requiring significant quantities of fresh water, and emitting air and water pollution from sites (both in permitted and unpermitted cases). Oil and gas activity could not only affect the quality of the produce from these farms, but also their ability to meet the USDA's organic standards.
To see how organic farms and the businesses surrounding wells are being affected, Ted Auch analyzed certain dynamics of organic farms near drilling activity in the U.S., and generated some key findings. His results showcase how many organic farms are at risk now and in the future if oil and gas drilling expands. Below we describe a few of his key findings, but you can also read the entire article here.
Key Findings: Organic Farms Near Oil and Gas Activity
Explore this dynamic map of the U.S. organic farms (2,140) within 20 miles of oil and gas drilling. To view the legend and see the map fullscreen, click here.
Of the 19,515 U.S. organic farms in the U.S., 2,140 (11 percent) share a watershed with oil and gas activity—with up to 31 percent in the path of future wells in shale areas. Why look at oil and gas activity at the watershed level? Watersheds are key areas from which O&G companies pull their resources or into which they emit pollution. For unconventional drilling, hydraulic fracturing companies need to obtain fresh water from somewhere in order to frack the wells, and often the local watershed serves as that source. Spills can and do occur on site and in the process of transporting the well pad's products, posing risks to soils and waterways, as well.
Figure 1, below, demonstrates the number of organic farms near active oil and gas wells in the U.S.—broken down by five location-based Regions of Concern (ROC).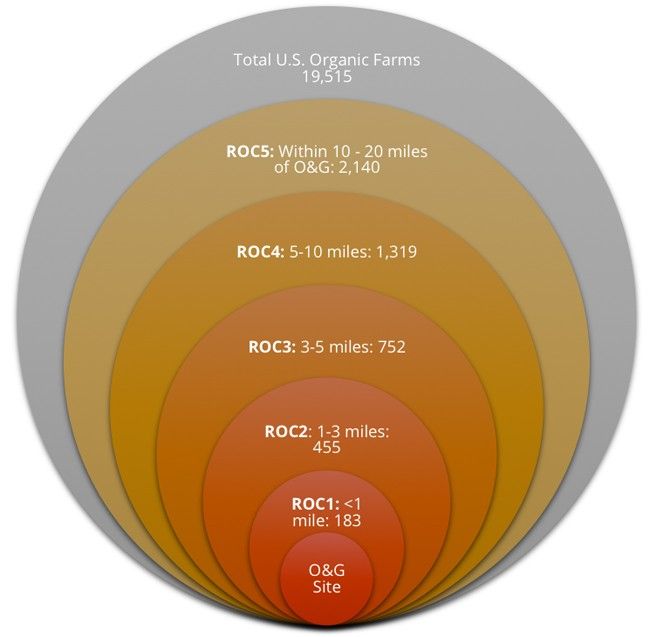 The most at-risk farms are located in five states: California, Ohio, Michigan, Texas and Pennsylvania. Learn more about the breakdown of the types of organic farms that fall within these ROCs, including what they produce.
Out of Ohio's 703 organic farms, 220 organic farms are near drilling activity, and 105 are near injection (waste disposal) wells.
Conclusion
More and more oil and gas drilling is being permitted to operate near organic farms in the U.S. The ability for municipalities to zone out oil and gas varies by state, but there is currently no national restriction that specifically protects organic farms from this industrial activity. As the oil and gas industry expands and continues to operate at such close proximities to organic farms in the U.S., there are a variety of potential impacts that we could see in the near future. The following list and more is explained in further detail in Auch's research paper:
A complete alteration in soil composition and quality,
A need to restore wetland soils that are altered beyond the best reclamation techniques,
A dramatic decline in organic farm and land productivity,
A changing landscape,
Watershed resilience … to name a few.
YOU MIGHT ALSO LIKE
Analysis of California's Fracking Wastewater Reveals a Slew of Toxic Chemicals Linked to Cancer and Other Illnesses
Yet Another Oil Bomb Train Explosion Marks Fourth Derailment in Four Weeks
Fighting Fracking: Calvin Tillman Shares His Story of Standing Up to the Fossil Fuel Industry
EcoWatch Daily Newsletter
By Adam Vaughan
Two-thirds of people in the UK think the amount people fly should be reined in to tackle climate change, polling has found.
Climate Week NYC
On Monday, Sept. 23, the Climate Group will kick off its 11th annual Climate Week NYC, a chance for governments, non-profits, businesses, communities and individuals to share possible solutions to the climate crisis while world leaders gather in the city for the UN Climate Action Summit.
By Pam Radtke Russell in New Orleans
Local TV weather forecasters have become foot soldiers in the war against climate misinformation. Over the past decade, a growing number of meteorologists and weathercasters have begun addressing the climate crisis either as part of their weather forecasts, or in separate, independent news reports to help their viewers understand what is happening and why it is important.

While airlines only serve bottled drinking water directly to customers, they use the plane's water for coffee and tea, and passengers can drink the tap water. Aitor Diago / Getty Images
You might want to think twice before washing your hands in an airplane bathroom.
By Allegra Kirkland, Jeremy Deaton, Molly Taft, Mina Lee and Josh Landis
Climate change is already here. It's not something that can simply be ignored by cable news or dismissed by sitting U.S. senators in a Twitter joke. Nor is it a fantastical scenario like The Day After Tomorrow or 2012 that starts with a single crack in the Arctic ice shelf or earthquake tearing through Los Angeles, and results, a few weeks or years later, in the end of life on Earth as we know it.
A pregnant woman works out in front of the skyline of London. SHansche / iStock / Getty Images Plus
Air pollution particles that a pregnant woman inhales have the potential to travel through the lungs and breach the fetal side of the placenta, indicating that unborn babies are exposed to black carbon from motor vehicles and fuel burning, according to a study published in the journal Nature Communications.
Teen activist Greta Thunberg delivered a talking-to to members of Congress Tuesday during a meeting of the Senate Climate Change Task Force after politicians praised her and other youth activists for their efforts and asked their advice on how to fight climate change.
Ten feet of water flooded 20 percent of this Minot, North Dakota neighborhood in June 2011.
DVIDSHUB
/
CC BY 2.0