Organic Farmers vs. Monsanto: Final Appeal to U.S. Supreme Court to Protect Crops from GMO Contamination
Last week, the Public Patent Foundation filed a brief with the U.S. Supreme Court in the landmark case, Organic Seed Growers and Trade Association (OSGATA) et al v. Monsanto, in the hopes that the highest court in the land would hear and reinstate the case of 73 American organic and conventional family farmers, seed businesses and public advocacy groups that seek protection for America's farmers from Monsanto's frivolous patent infringement lawsuits, and their promiscuous genetically engineered pollen while also seeking to invalidate the patents on 23 of Monsanto's genetically modified organisms (GMO) crops.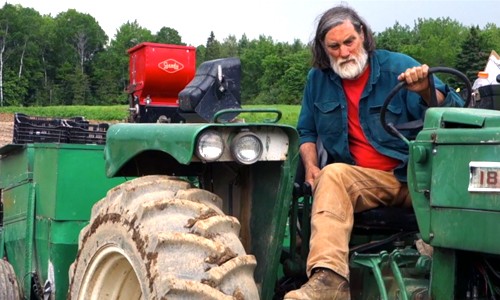 Earlier this month, Monsanto filed an opposition brief with the Supreme Court in a last ditch effort to deny a group of American family farmers and seed growers justice in their efforts to protect their farms and the integrity of their crops.
"In opposing our request that the Supreme Court take, and then reinstate, our case, Monsanto makes the same lame and untrue assertions that it made before," said Daniel Ravicher, executive director of the Public Patent Foundation (PUBPAT) and lead counsel to the plaintiffs in OSGATA et al v. Monsanto. "In our reply brief filed with the Supreme Court we point out precisely why Monsanto is wrong and that the case should be allowed to proceed," claimed Ravicher.
On June 10, a three-judge panel at the Court of Appeals for the Federal Circuit in Washington, D.C., issued a bizarre ruling that plaintiffs are not entitled to bring a lawsuit to protect themselves from Monsanto's transgenic seed patents "because Monsanto has made binding assurances that it will not take legal action against growers whose crops might inadvertently contain traces of Monsanto biotech genes" as stated anonymously on the company's website.
Farmers find this ruling inconclusive and  insufficient to protect their future economic interests since the Court of Appeals readily admitted that contamination from Monsanto's genetically engineered crops is "inevitable."
This Appellate Court ruling importantly validated that farmers do have a legitimate fear of contamination, something that the court and Monsanto's own attorney, former Solicitor General Seth Waxman, admitted in court during oral arguments.
Despite dismissing the farmers' and seed growers' case, the Court of Appeals ruling found the likelihood of contamination significant enough to order by estoppel that Monsanto make good on its promise not to sue farmers that are "inadvertently contaminated with up to one percent of seeds carrying Monsanto's patented traits." 
"As a seed grower, who has spent the past 37 years of my life protecting and maintaining the integrity of my seed stock to provide clean, wholesome food to my customers, I find it unconscionable that Monsanto can contaminate mine or my neighbors' crops and not only get away with it, but potentially sue us for patent infringement," said Jim Gerritsen, an organic seed farmer on Wood Prairie Farm in Maine and president of lead Plaintiff OSGATA. "The appeals court ruling fails to protect my family and our farm and has only complicated matters,"said Gerritsen.
Because of the insidious nature of GMO contamination and the fact that pollen naturally blows or migrates to neighboring fields, contamination of farmers' fields above one percent is both predictable and unavoidable. 
Already, reports of contamination across North America exceeding one percent have led an increasing number of farmers to incur considerable costs in testing their crops and seed supply for transgenic contamination or actually forgo planting of certain crops in order to maintain seed purity.
Significant contamination events happened in the U.S. this year alone, with an unapproved experimental variety of Monsanto's GMO wheat discovered in a farmer's field inOregon this past May. According to the U.S. Department of Agriculture (USDA), the illegal GMO wheat had been field-tested between 1998 through 2005, but never approved by the USDA. Its discovery sent shockwaves through international markets and caused Japan and South Korea to halt shipments of U.S. wheat for more than a month.
A similar event occurred in September when a Washington state farmer reported that his hay was rejected for export because it tested positive for contamination from Monsanto's genetically engineered alfalfa.
"For farmers, recent events in Washington and Oregon make clear that the damages of contamination are far-reaching in their impacts on farmers' economic survival, can be permanent and irreversible in their harm to our food supply and only can be properly redressed by a favorable ruling from the Supreme Court," said Dave Murphy, founder and executive director of Food Democracy Now!, a grassroots advocacy group based in Iowa and a plaintiff in the case.
"It's time to end Monsanto's campaign of fear against America's farmers and stand up for farmers' right to grow our food without legal threats and intimidation. America must no longer allow Monsanto to contaminate our food supply and destroy the livelihoods of farmers. Farmers deserve protection from these abuses," said Murphy.
Farmers expect to hear whether or not the U.S Supreme Court will hear their case next year and eagerly await their day in court.
Visit EcoWatch's GE FOOD page for more related news on this topic.

Monsanto, the maker of the glyphosate-based herbicide Roundup, filed a motion June 16 in U.S. District Court, Northern District of California to reconsider the chemical's addition to California's Proposition 65 list of agents known to cause cancer.
The agrochemical giant made this move based on a June 14 Reuters investigation of Dr. Aaron Blair, a lead researcher on the World Health Organization's International Agency for Research on Cancer (IARC) committee, that classified glyphosate as a "2A probable human carcinogen" in March 2015.
Keep reading...
Show less
By Avery Friedman
Algae is often considered a nuisance, but for Sweden, the rapidly growing sea plant is now an asset.
As the Scandinavian country works to cut all of its greenhouse gas emissions by 2045, it's using algae to sop up the carbon emissions from cement.
Keep reading...
Show less
Jun. 24, 2017 01:35PM EST
By Itai Vardi
A recent intensification in protests against Williams Partners' planned Atlantic Sunrise pipeline in Pennsylvania prompted a state senator to propose legislation aimed at limiting demonstrations.
Last month, Pennsylvania Sen. Scott Martin (R-Norman) announced his intention to introduce legislation that would pass the costs of law enforcement responding to protests onto the demonstrators. Martin also helped introduce a different bill that would criminalize protests at natural gas facilities.
Keep reading...
Show less
Jun. 24, 2017 01:29PM EST
Black Shogun / iStock
The Federal Energy Regulatory Commission (FERC) released its Final Environmental Impact Statement Friday for the Mountain Valley Pipeline, a controversial 303-mile pipeline that would carry two billion cubic feet of fracked gas per day from West Virginia through Virginia.
Keep reading...
Show less
Jun. 24, 2017 01:46PM EST
Falcon PEV
The so-called "first and last mile" problem is one of the biggest hurdles with public transportation. How do you encourage more people to take Earth-friendlier commutes when their homes are miles away from the train or bus station?
One solution, as this Estonian electric scooter company proposes, is to simply take your commute with you—literally. Tallinn-based Stigo has developed a compact e-scooter that folds to the size of a rolling suitcase in about two seconds.
Keep reading...
Show less
Jun. 24, 2017 05:12PM EST
Connect4Climate
[Editor's note: I'm still in shock after hearing the news that Lucia Grenna passed away in her sleep last week. When we first met in April of 2014 at a Copenhagen hotel, I was immediately taken by here powerful presence. We spent the next couple days participating in a Sustainia climate change event where Lucia presented her audacious plans to connect people to the climate issue. I had the chance to partner with Lucia on several other projects throughout the years and work with her incredible Connect4Climate team. I was always in awe of her ability to "make the impossible possible." Her spirit will live on forever. — Stefanie Spear]
It is with a heavy heart that Connect4Climate announces the passing of its founder and leading light, Lucia Grenna. Lucia passed peacefully in her sleep on June 15, well before her time. We remember her for her leadership and extraordinary ability to motivate people to take on some of the greatest challenges of our time, not least climate change.
Keep reading...
Show less
Jun. 23, 2017 07:29PM EST
Wikimedia Commons
By Stacy Malkan
Neil deGrasse Tyson has inspired millions of people to care about science and imagine themselves as participants in the scientific process. What a hopeful sign it is to see young girls wearing t-shirts emblazoned with the words, "Forget princess, I want to be an astrophysicist."
Keep reading...
Show less
Jun. 23, 2017 01:57PM EST
www.youtube.com
By Andy Rowell
Any day now we will truly witness climate change in action. Within days at worst, maybe weeks at best, scientists predict that a huge section of the Larsen C ice shelf in Antarctica will break off into the ocean, in what is called a major "carving" event.
Keep reading...
Show less
Jun. 23, 2017 02:27PM EST
www.youtube.com
President Trump visited Cedar Rapids, Iowa on June 21 to speak to a large crowd in the U.S. Cellular Center at a political rally organized by his campaign.
As Trevor Noah noted during The Daily Show episode last night (starts at 2:25), the real reason Trump has these rallies is to "get back in front of his loyal crowds and feed of their energy." Noah believes that "Trump supporters are so on board with their dude he can say anything and they'll come along for the ride."
Keep reading...
Show less