This website uses cookies to ensure you get the best experience while browsing it. By clicking 'Got It' you're accepting these terms.
Organic Farmers vs. Monsanto: Final Appeal to U.S. Supreme Court to Protect Crops from GMO Contamination
Dec. 24, 2013 12:07PM EST
Last week, the Public Patent Foundation filed a brief with the U.S. Supreme Court in the landmark case, Organic Seed Growers and Trade Association (OSGATA) et al v. Monsanto, in the hopes that the highest court in the land would hear and reinstate the case of 73 American organic and conventional family farmers, seed businesses and public advocacy groups that seek protection for America's farmers from Monsanto's frivolous patent infringement lawsuits, and their promiscuous genetically engineered pollen while also seeking to invalidate the patents on 23 of Monsanto's genetically modified organisms (GMO) crops.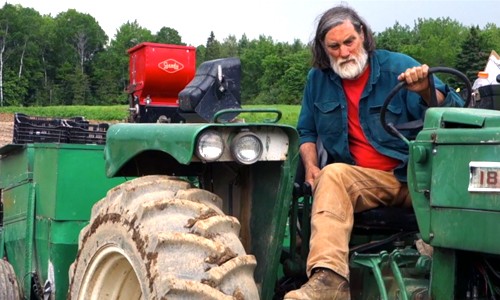 Earlier this month, Monsanto filed an opposition brief with the Supreme Court in a last ditch effort to deny a group of American family farmers and seed growers justice in their efforts to protect their farms and the integrity of their crops.
"In opposing our request that the Supreme Court take, and then reinstate, our case, Monsanto makes the same lame and untrue assertions that it made before," said Daniel Ravicher, executive director of the Public Patent Foundation (PUBPAT) and lead counsel to the plaintiffs in OSGATA et al v. Monsanto. "In our reply brief filed with the Supreme Court we point out precisely why Monsanto is wrong and that the case should be allowed to proceed," claimed Ravicher.
On June 10, a three-judge panel at the Court of Appeals for the Federal Circuit in Washington, D.C., issued a bizarre ruling that plaintiffs are not entitled to bring a lawsuit to protect themselves from Monsanto's transgenic seed patents "because Monsanto has made binding assurances that it will not take legal action against growers whose crops might inadvertently contain traces of Monsanto biotech genes" as stated anonymously on the company's website.
Farmers find this ruling inconclusive and  insufficient to protect their future economic interests since the Court of Appeals readily admitted that contamination from Monsanto's genetically engineered crops is "inevitable."
This Appellate Court ruling importantly validated that farmers do have a legitimate fear of contamination, something that the court and Monsanto's own attorney, former Solicitor General Seth Waxman, admitted in court during oral arguments.
Despite dismissing the farmers' and seed growers' case, the Court of Appeals ruling found the likelihood of contamination significant enough to order by estoppel that Monsanto make good on its promise not to sue farmers that are "inadvertently contaminated with up to one percent of seeds carrying Monsanto's patented traits." 
"As a seed grower, who has spent the past 37 years of my life protecting and maintaining the integrity of my seed stock to provide clean, wholesome food to my customers, I find it unconscionable that Monsanto can contaminate mine or my neighbors' crops and not only get away with it, but potentially sue us for patent infringement," said Jim Gerritsen, an organic seed farmer on Wood Prairie Farm in Maine and president of lead Plaintiff OSGATA. "The appeals court ruling fails to protect my family and our farm and has only complicated matters,"said Gerritsen.
Because of the insidious nature of GMO contamination and the fact that pollen naturally blows or migrates to neighboring fields, contamination of farmers' fields above one percent is both predictable and unavoidable. 
Already, reports of contamination across North America exceeding one percent have led an increasing number of farmers to incur considerable costs in testing their crops and seed supply for transgenic contamination or actually forgo planting of certain crops in order to maintain seed purity.
Significant contamination events happened in the U.S. this year alone, with an unapproved experimental variety of Monsanto's GMO wheat discovered in a farmer's field inOregon this past May. According to the U.S. Department of Agriculture (USDA), the illegal GMO wheat had been field-tested between 1998 through 2005, but never approved by the USDA. Its discovery sent shockwaves through international markets and caused Japan and South Korea to halt shipments of U.S. wheat for more than a month.
A similar event occurred in September when a Washington state farmer reported that his hay was rejected for export because it tested positive for contamination from Monsanto's genetically engineered alfalfa.
"For farmers, recent events in Washington and Oregon make clear that the damages of contamination are far-reaching in their impacts on farmers' economic survival, can be permanent and irreversible in their harm to our food supply and only can be properly redressed by a favorable ruling from the Supreme Court," said Dave Murphy, founder and executive director of Food Democracy Now!, a grassroots advocacy group based in Iowa and a plaintiff in the case.
"It's time to end Monsanto's campaign of fear against America's farmers and stand up for farmers' right to grow our food without legal threats and intimidation. America must no longer allow Monsanto to contaminate our food supply and destroy the livelihoods of farmers. Farmers deserve protection from these abuses," said Murphy.
Farmers expect to hear whether or not the U.S Supreme Court will hear their case next year and eagerly await their day in court.
Visit EcoWatch's GE FOOD page for more related news on this topic.

Prince William and British naturalist David Attenborough attend converse during the World Economic Forum annual meeting, on January 22 in Davos, Switzerland. Fabrice Cofferini /AFP / Getty Images
Britain's Prince William interviewed famed broadcaster David Attenborough on Tuesday at the World Economic Forum's annual meeting in Switzerland.
During the sit-down, the 92-year-old naturalist advised the world leaders and business elite gathered in Davos this week that we must respect and protect the natural world, adding that the future of its survival—as well as humanity's survival—is in our hands.
Electric vehicle sales took off in 2018, with a record two million units sold around the world, according to a new Deloitte analysis.
What's more, the accounting firm predicts that another 21 million electric cars will be on the road globally over the next decade due to growing market demand for clean transportation, government subsidies, as well as bans on fossil fuel cars.
Teenager Alex Weber and friends collected nearly 40,000 golf balls hit into the ocean from a handful of California golf courses.
Alex Weber /
CC BY-ND
Southwest Greenland had the most consistent ice loss from 2003 to 2012. Eqalugaarsuit, Ostgronland, Greenland on Aug. 1, 2018.
Rob Oo / CC BY 2.0
Greenland is melting about four times faster than it was in 2003, a new study published Monday in the Proceedings of the National Academy of Sciences found, a discovery with frightening implications for the pace and extent of future sea level rise.
"We're going to see faster and faster sea level rise for the foreseeable future," study lead author and Ohio State University geodynamics professor Dr. Michael Bevis said in a press release. "Once you hit that tipping point, the only question is: How severe does it get?"
Finally, some good news about the otherwise terrible partial government shutdown. A federal judge ruled that the Trump administration cannot issue permits to conduct seismic testing during the government impasse.
The Justice Department sought to delay—or stay—a motion filed by a range of coastal cities, businesses and conservation organizations that are suing the Trump administration over offshore oil drilling, Reuters reported. The department argued that it did not have the resources it needed to work on the case due to the shutdown.
Most people have heard of the Amazon, South America's famed rainforest and hub of biological diversity. Less well known, though no less critical, is the Pantanal, the world's largest tropical wetland.
Like the Amazon, the Pantanal is ecologically important and imperiled. Located primarily in Brazil, it also stretches into neighboring Bolivia and Paraguay. Covering an area larger than England at more than 70,000 square miles, the massive wetland provides irreplaceable ecosystem services that include the regulation of floodwaters, nutrient renewal, river flow for navigability, groundwater recharge and carbon sequestration. The wetland also supports the economies of the four South American states it covers.
Demonstrators participate in a protest march over agricultural policy on Jan. 19 in Berlin, Germany. Carsten Koall / Getty Images Europe
By Andrea Germanos
Organizers said 35,000 people marched through the streets of the German capital on Saturday to say they're "fed up" with industrial agriculture and call for a transformation to a system that instead supports the welfare of the environment, animals and rural farmers.

The fire that erupted after a pipeline explosion in Mexico Friday. FRANCISCO VILLEDA / AFP / Getty Images
By Patrick Rogers
If you have ever considered making the switch to an environmentally friendly electric vehicle, don't drag your feet. Though EV prices are falling, and states are unveiling more and more public charging stations and plug-in-ready parking spots, the federal government is doing everything it can to slam the brakes on our progress away from gas-burning internal combustion engines. President Trump, likely pressured by his allies in the fossil fuel industry, has threatened to end the federal tax credits that have already helped put hundreds of thousands of EVs on the road—a move bound to harm not only our environment but our economy, too. After all, the manufacturing and sale of EVs, hybrids, and plug-in hybrids supported 197,000 jobs in 2017, according to the most recent U.S. Energy and Employment Report.