Organic Farmers Struggle to Protect Land from Encroaching Fracking Industry
Apr. 01, 2013 09:22AM EST
Energy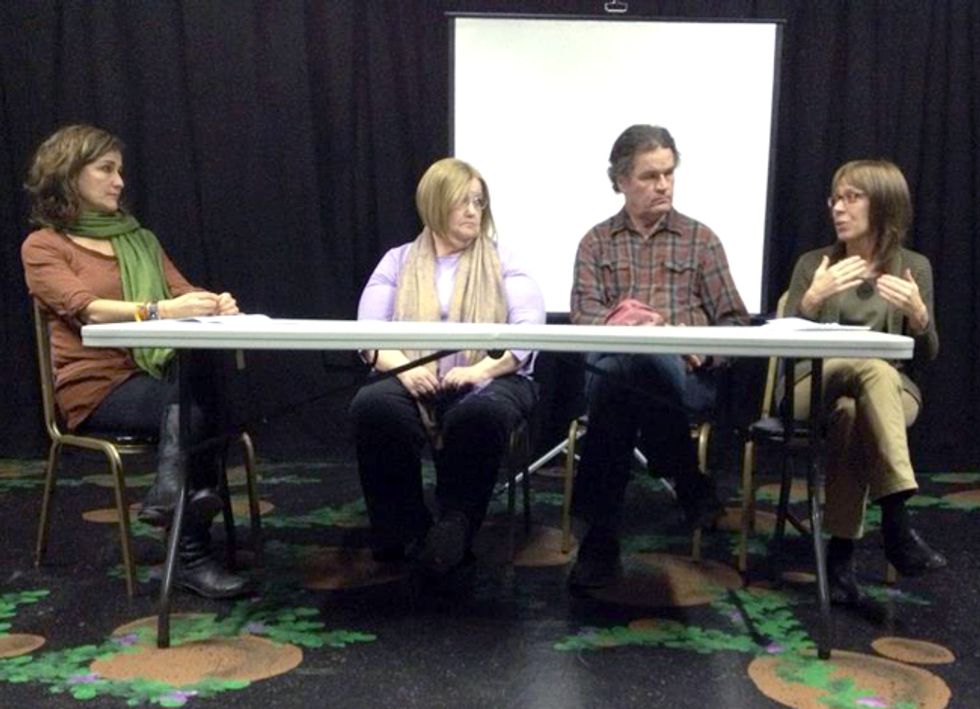 Many farmers in Pennsylvania welcomed the natural gas industry with open arms, letting companies set up operations on their land to drill wells and fracture the shale rock thousands of feet under the surface. Pennsylvania would not have become one of the top gas producing states in the U.S. in such a short period without the acquiescence of the state's farming community.
Not every landowner, though, believed in the promise of riches or bought into the gas industry's image of family farms coexisting with large-scale industrial activities. Among the skeptics were organic farmers, who feared the entire process of shale gas drilling—from the building of the well pads through the hydraulic fracturing process to the disposal of fracking wastewater—threatened their ability to produce products that conformed to organic standards.
"I just want everyone to know that I won't sell anything that I think is contaminated. I will go out of business and go after the gas company before I would sell one thing that I thought was contaminated," said Maggie Henry, an organic farmer in Lawrence County, Pa., during a March 28 panel discussion in Pittsburgh, Pa., on farming and fracking moderated by Kirsi Jansa, a filmmaker and journalist.
Henry's 88-acre organic pork and poultry farm is less than 4,000 feet from a drilling site operated by Shell. Henry's battle with the shale gas industry is featured in the latest installment of Gas Rush Stories, Jansa's documentary film project on shale gas drilling.
Henry sells her organic products at a local farmers' market. She also supplies restaurants and grocery stores, including Pittsburgh's East End Food Co-op, which hosted the March 28 event.
Henry's farm is in an area where conventional oil and gas drilling occurred in previous decades. "The thing that makes the drilling around here unique is right now, we're in the middle of an historic oil field," she said in the Gas Rush Stories documentary. She obtained a U.S. Geological Survey map that shows the location of more than 1,500 old oil and gas wells within a six-mile radius around her farm.
"I just don't understand how [the Pennsylvania Department of Environmental Protection] granted them [Shell] permits to drill in this area," Henry said in the film. According to Gas Rush Stories, old abandoned and unplugged oil and gas wells can provide a pathway for methane and other pollutants to seep to the surface and into aquifers. Pennsylvania currently does not have any laws preventing companies from drilling a shale gas well within a certain distance of an unplugged well.
When they were signing leases to allow activity on their land, many farmers trusted the shale gas industry representatives who promised strict adherence to the highest standards to ensure no harm would occur from the drilling operations. But there are still many unknowns about the impact of high-volume hydraulic fracturing being carried out on such a large scale. The industry admits in a number of documents that what they are doing is not a "steady state technology," Stephen Cleghorn, an organic dairy farmer in Jefferson County, Pa., said during the panel discussion.
"Every single wellbore, as Dr. Anthony Ingraffea puts it, is a new kind of experiment," Cleghorn said. Ingraffea is an engineering professor at Cornell University who has conducted several studies on the impacts of shale gas drilling, including the fracking process.
According to Cleghorn, the industry still does not completely understand the geology. "They're figuring it out. They have models. They think their models are right. But they don't really know," he said. "We're going forward with an industry like this that is not a steady state technology. It's still being invented as they go. They insist, as Dr. Terry Engelder at Penn State put it, that they have a right to come in and experiment on our farms and figure out how to do this."
Engelder is professor of geoscience at Penn State University who has studied the geology and has touted estimates showing potential reserves in the Marcellus Shale make it the "granddaddy" of shale gas plays.
If the shale gas industry were to spill chemicals or fracking wastewater on his land, Cleghorn said he would immediately call Pennsylvania Certified Organic, a U.S. Department of Agriculture-accredited organic certifying agency, and have their officials take soil samples at his farm. "If my soil has been contaminated," he explained, "I want you to decertify it because I'm not going to grow anything on it and call it organic anymore."
Both Cleghorn and Henry agreed that if there is the slightest evidence of contamination on their land, it is their responsibility, as organic farmers, to self-report it. "Not only do I have a legal responsibility to produce pure food, I consider it a moral and ethical one," Henry said.
Not every organic farmer shares the concerns of Cleghorn and Henry about shale gas companies operating on their property. According to Gas Rush Stories, as of early 2013, out of 500 farms certified by Pennsylvania Certified Organic in Pennsylvania and nine surrounding states, about 20 have signed a lease with a gas company.
Jill Kriesky, associate director of the Southwest Pennsylvania Environmental Health Project, said the issue of shale gas drilling on farmland raises many questions, all the way down the supply chain. "Should grocery stores come up with some sort of policy of testing the food that comes in?" Kriesky asked during the panel discussion.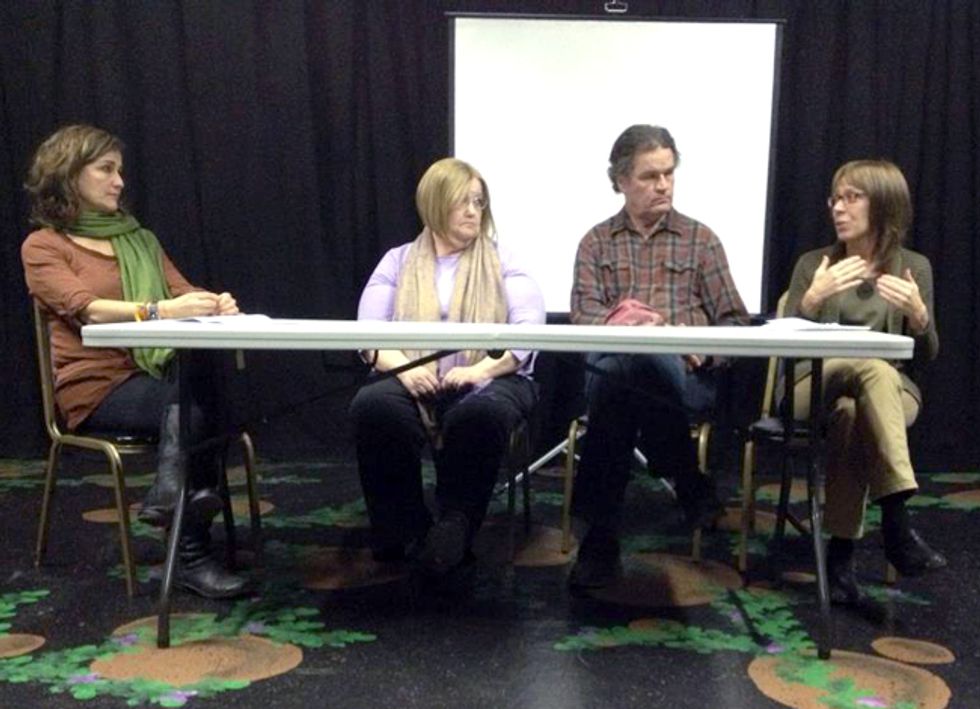 Southwest Pennsylvania Environmental Health Project is a nonprofit environmental health organization created to assist and support residents in the region who believe their health has been, or could be, impacted by natural gas drilling activities.
Without more research into the impact on food production and without greater transparency by the industry and the government, it would be difficult to track the issues related to food consumption. Referring to Cleghorn and Henry, Kriesky said it is clear that there are responsible farmers who do not want to sell any product that is potentially contaminated. "But we really are not completely clear on what to look for" in terms of contamination when the food makes its way to farmers' markets, grocery stores and restaurants, she explained.
The issue will likely become murkier as shale gas drilling encroaches on even more farmland in Pennsylvania. "In the past, we've thought that we'll zone off industrial activities because we know they're dangerous," Cleghorn said. "But the business model of the fracking industry can't work that way. They must impose themselves on a living human, animal and vegetative ecosystem throughout the state in order to get the gas they want."
Pennsylvania legislators also have passed laws, including Act 13, making it harder to restrict where shale gas drilling takes place. "That's why they can go near any person's farm. They can go near schools and hospitals," Cleghorn said. "They have the audacity to think that they can bring an industry in here and overlay an industrial grid on top of living populations."
Kriesky recalled that David Brown, a toxicologist and her colleague at Southwest Pennsylvania Environmental Health Project, recently told her that he has never studied anything as inescapable as shale gas drilling in his 50 years as a toxicologist.
"He's worked on Superfund sites for all sorts of really horrible environmental disasters. But they were contained," Kriesky said. "There's no fence line here. You can't put a fence around what's happening" in the communities affected by the shale gas rush, she said.
Visit EcoWatch's FRACKING page for more related news on this topic.
——–
Sign the petition today, telling President Obama to enact an immediate fracking moratorium:

EcoWatch Daily Newsletter