This website uses cookies to ensure you get the best experience while browsing it. By clicking 'Got It' you're accepting these terms.
Oregon Says No to Coal Exports Putting Environment and Public Health Before Big Coal Profits
Oct. 01, 2012 05:13PM EST
Energy
Dead end.
That was the message the Portland City Council, the Metro and the city of The Dalles sent Big Coal last week after they all approved resolutions opposing coal exports through the Pacific Northwest without a full area-wide environmental review conducted by the Army Corps of Engineers.
Portland's council vote was just the latest example in a string of cities and municipalities demanding environmental reviews and putting the interests of communities and public health before Big Coal profits. Tens of thousands of residents, 400 business leaders, 570 healthcare professionals, 200 faith leaders and more than 160 public officials, including Oregon Governor Kitzhaber, have written letters, submitted comments and rallied for a full review.
"There are so many better sources of energy available," says Howard Shapiro, Beyond Coal campaign volunteer in Portland, who lives less than a mile from the train tracks that coal trains would use.
"The idea that we're working hard to get off coal and then some guys come here who want to send coal through the Columbia River Gorge in open trains is crazy. Environmentally it's a disaster. And I'm particularly concerned by coal train derailments and that these trains would use the same tracks as passenger trains."
Big Coal wants to connect its coal mining operations in Wyoming with Asian markets by building export terminals at such places as Coos Bay, Oregon, and Longview, Port Westward, and Cherry Point, Washington. Peabody in particular wants to export 48 million tons through Cherry Point each year. Coal companies want to send 32 coal trains a day through Portland, reports The Oregonian.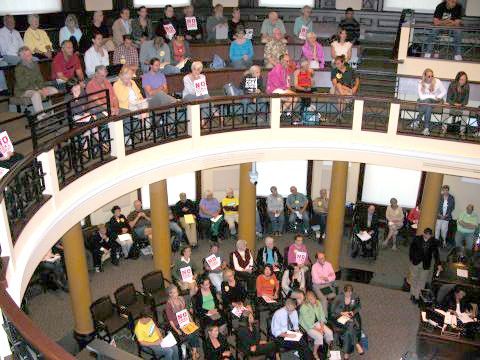 It's not just environmentalists who want to stop Big Coal in its tracks. The medical and public health communities, small business owners, educators, and all sorts of political figures and municipalities have opposed the idea.
"Up to one ton of coal dust can escape from each rail car in transit," Portland's City Council resolution states. "Noise, diesel emissions, and toxic coal dust from the increased rail traffic will negatively impact the livability of Portland's neighborhoods and the health of our citizens."
At the Portland City Council meeting, the mayor took a head count in the packed hall. Shapiro estimates three-quarters of the room supported the resolution. Most everyone in the room agreed: Bringing coal into the picture will harm the economy and communities along coal train routes.
"Let's say in 20 or 30 years China quits coal. We'll be stuck with these coal ports and dumps after the market drops off. You think these coal companies are going to clean that up? They don't have much history of doing that," Shaprio says.
"Can you imagine all the salmon that would be contaminated if those trains went through here? What about if you have a garden, but you live near the tracks? It's going to be covered in coal dust. Coal can affect things in so many different ways."
Congratulations to Oregon activists for standing up to Big Coal!
Visit EcoWatch's COAL pages for more related news on this topic.
EcoWatch Daily Newsletter
Colombia rainforest. Marcel Oosterwijk / CC BY-SA 2.0
Many of us think of the Amazon as an untouched wilderness, but people have been thriving in these diverse environments for millennia. Due to this long history, the knowledge that Indigenous and forest communities pass between generations about plants, animals and forest ecology is incredibly rich and detailed and easily dwarfs that of any expert.
picture-alliance / Newscom / R. Ben Ari
By Wesley Rahn
Plastic byproducts were found in 97 percent of blood and urine samples from 2,500 children tested between 2014 and 2017, according to a study by the German Environment Ministry and the Robert Koch Institute.

Pexels
Medically reviewed by Daniel Bubnis, MS, NASM-CPT, NASE Level II-CSS
Hot yoga has become a popular exercise in recent years. It offers many of the same benefits as traditional yoga, such as stress reduction, improved strength, and flexibility.
Lara Hata / iStock / Getty Images
By SaVanna Shoemaker, MS, RDN, LD
Rice is a staple in many people's diets. It's filling, inexpensive, and a great mild-tasting addition to flavorful dishes.
An image of the trans-alaskan oil pipeline that carries oil from the northern part of Alaska all the way to valdez. This shot is right near the arctic national wildlife refuge. kyletperry / iStock / Getty Images Plus
The Trump administration has initialized the final steps to open up nearly 1.6 million acres of the protected Alaskan National Wildlife Refuge to allow oil and gas drilling.
Kaboompics / Pexels
Tensions between lawmakers and several large manufacturing companies came to a head on Capitol Hill this week during a hearing on toxic fluorochemicals in U.S. drinking water.