This website uses cookies to ensure you get the best experience while browsing it. By clicking 'Got It' you're accepting these terms.


The best of EcoWatch, right in your inbox. Sign up for our email newsletter!
Opposition to Genetically Engineered Mosquito Heats Up
Jul. 12, 2012 12:29PM EST
GMO
By Eric Hoffman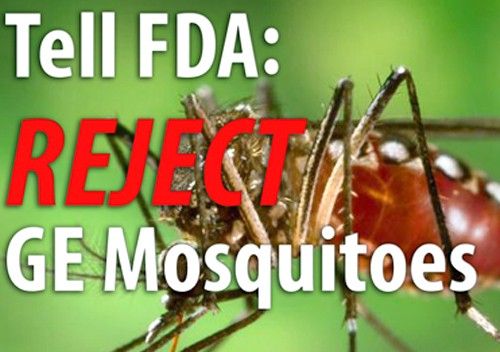 Activist opposition to the proposed plan to release genetically engineered mosquitoes in the Florida Keys is starting to heat up—and the media is increasingly taking notice.
Last month, I sent an email encouraging Friends of the Earth activists to call on the Food and Drug Administration (FDA) to reject the plan to release these GE mosquitoes in Key West. Our members and supporters sent more than 17,200 messages asking the FDA to reject the release of genetically engineered mosquitoes and any genetically engineered animals in the U.S. until we have laws on the books to ensure public health and safety are protected.
Meanwhile, a Key West resident and mother of three had created her own petition at Change.org  with a similar request: that the FDA "stop the experimental release of (GM) mosquitoes in the Florida Keys." The petition has started taking off, garnering more than 95,600 signatures as of July 11.
That means that, combined, the FDA has received more than 112,000 comments from Florida residents and people across the country who do not want potentially harmful genetically engineered mosquitoes released into their communities or anywhere in the U.S.
According to the Guardian in the UK:
Mila de Mier, the author of the petition, began the campaign because she said she was worried about the lack of scientific understanding of what the insects could do to the delicate ecosystem of the Florida Keys. She accused Oxitec, the UK-based biotech firm that has developed the mosquito, of failing to listen to local wishes.

"We need more data. If something goes wrong the consequences could be catastrophic not only for humans but also the whole ecosystem, and I don't want my family being used as laboratory rats for this," de Mier told the Guardian.
Local papers have taken notice as well. "The Florida Keys is a beautiful place, and it's my home," de Mier told ClickOrlando, a local CBS News affiliate. "We won't be lab rats just so this company can make money. Oxitec says we have to do this to control mosquitoes, but it's just not true. Other methods of mosquito control are working. We don't need to gamble with mutant mosquitoes."
For more information on why these mosquitoes have been genetically engineered and what they are supposed to do, check out our blog post and issue brief. For more on why the FDA is reviewing this application—and why this is a big problem—check out our recent blog post here.
And, if you haven't already, be sure to send your own message to the FDA in solidarity with Mila and other Keys residents speaking out for the health and safety of their community. You can use Friends of the Earth's form to personalize a sample message to the FDA or head over to Mila's petition, which is also copied to Florida regulators.
Visit EcoWatch's GENETICALLY MODIFIED ORGANISM and BIODIVERSITY pages for more related news on these topics.
EcoWatch Daily Newsletter
The Anopheles stephensi mosquito, which carries malaria. CDC / Jim Gathany
The world's first malaria vaccine was launched in Malawi on Tuesday, NPR reported. It's an important day in health history. Not only is it the first malaria vaccine, it's the first vaccine to target any human parasite.
Ice-rich permafrost has been exposed due to coastal erosion, National Petroleum Reserve, Alaska. Brandt Meixell / USGS
By Jake Johnson
An alarming study released Tuesday found that melting Arctic permafrost could add nearly $70 trillion to the global cost of climate change unless immediate action is taken to slash carbon emissions.
According to the new research, published in the journal Nature Communications, melting permafrost caused by accelerating Arctic warming would add close to $70 trillion to the overall economic impact of climate change if the planet warms by 3°C by 2100.
Jeff Reed / NYC Council
The New York City Council on Thursday overwhelmingly passed one of the most ambitious and innovative legislative packages ever considered by any major city to combat the existential threat of climate change.

Ghazipur is a neighborhood in East Delhi. It has been one of the largest dumping site for Delhi. India is one of many countries where global warming has dragged down economic growth. Frédéric Soltan / Corbis / Getty Images
Global inequality is worse today because of climate change, finds a new study published Monday by Stanford University professors Noah Diffenbaugh and Marshall Burke in the Proceedings of the National Academy of Sciences.
A child playing with a ball from planet earth during Extinction Rebellion rally on April 18 in London, England. Brais G. Rouco / Barcroft Media / Getty Images
Earth Day 2019 just passed, but planning has already begun for Earth Day 2020, and it's going to be a big deal.
Geneva Vanderzeil, A Pair & A Spare / Flickr / CC BY 2.0
Is your closet filled with clothes you don't wear (and probably don't like anymore)? Are you buying cheap and trendy clothing you only wear once or twice? What's up with all the excess? Shifting to a more Earth-conscious wardrobe can help simplify your life, as well as curb fast fashion's toll on people and the planet.
Christine Zenino / Wikimedia Commons / CC BY 2.0