This website uses cookies to ensure you get the best experience while browsing it. By clicking 'Got It' you're accepting these terms.
The yahoo jihad at the wildlife refuge in Oregon is part and parcel of the larger problem across the public lands of the West including here in Colorado. Ranchers aren't just occupying that federal building in Oregon, they've been occupying our public lands across the West for over a century and that occupation has been armed, violent and completely subsidized by state and federal taxpayers.
Here in Colorado, that occupation is proposing to take yet another extremist step forward as the Colorado Wildlife Commission considers a resolution on Jan. 13 at its Denver meeting to "oppose wolf reintroduction" in our state. Wolves have been reintroduced to many of the states surrounding Colorado including Wyoming, Montana, Idaho, Arizona and New Mexico, and the U.S. Fish and Wildlife Service may soon consider reintroducing wolves into Colorado too.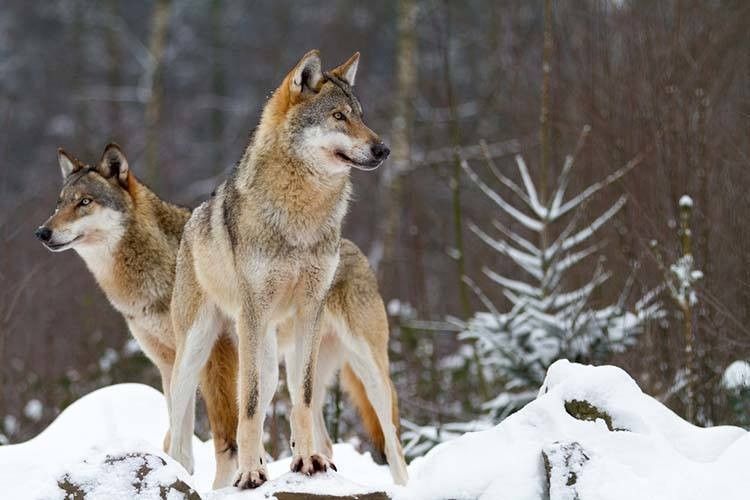 Photo credit: Shutterstock
A keystone species that protects and restores wild landscapes, wolves—like American Indians—were almost completely and violently exterminated from the U.S. when ranchers arrived in the 1800s and colonized and assimilated the Western landscape. Wolves were slaughtered by the hundreds of thousands—trapped, poisoned, mutilated—until every last animal in Colorado was killed. This slaughter was and still is, paid for by the American taxpayer.
The cow and sheep industry is heavily subsided across the public lands of Colorado, so much so that the some ranchers are often called "welfare ranchers." They pay almost nothing to send hundreds of thousands of livestock across our public lands sometimes obliterating the natural landscape as the livestock devour native grasses, pound the soil into dust, and wallow in and destroy streams and rivers. They also pay almost nothing to have the state and federal government exterminate native American wildlife on our public lands—wolves, coyotes, mountain lions, bears, even eagles—that sometimes prey on calves and lambs. The epitome of this extermination is the "aerial gunner men" hired by the U.S. Department of Agriculture to fly helicopters over our public lands and kill thousands of coyotes with shotgun blasts from the sky every year.
Further, the state of Colorado actually pays ranchers for the "damage" that native American wildlife do to domestic livestock. If a mountain lion eats a domestic sheep, the Colorado Parks and Wildlife pays the sheep rancher for the "damage" that lion caused to the rancher. Further yet, if that lion keeps eating sheep, Colorado Parks and Wildlife will go out and kill the mountain lion.
The elk and deer hunting industry in Colorado is also a mess. Millions of dollars are made every year by ranchers and outfitters to make sure that fat, lazy elk and deer are easy targets for hunters who pay large price-tags to take home a set of antlers and freezer full of meat. In some cases, elk and deer are practically baited on private property where ranchers leave hay fields for forage and then let hunters sit around on opening day waiting for the biggest buck or bull to saunter in for breakfast.
Of course, not all ranchers are on welfare—some graze their livestock responsibly on public land, don't kill predators and even support wolf reintroduction. And not all hunters want to sit around on opening day and wait by a hay field to shoot a fat, lazy elk. Some hunters want to actually "hunt" a wild ungulate that has been chased by a wolf and also support wolf reintroduction.
Wolves have a right to be on the landscape. They're native animals, were here first and are keystone species that protect and restore wildness. In areas where wolves are reintroduced, elk and deer are healthier as wolves cull the old, sick animals and keep the others scurrying away from a wolf's fang. Exercise improves everyone's health, including deer and elk. The landscapes are healthier too—elk and deer are forced to keep moving instead of standing in a meadow or stream overgrazing the grasses and willows. In places where wolves have returned, scientists find healthier landscapes with more song birds, more wildlife and more biological diversity.
On Jan. 13 at the next meeting of the Colorado Parks and Wildlife Commission, the commissioners will consider a resolution to "oppose wolf reintroduction" in Colorado. I urge you to contact the Commission and tell them to vote "no" on this resolution. You can click here to send them an email now.
We should oppose welfare ranching, not wolves, in Colorado. The armed, violent jihad that is occupying and destroying our public lands across Colorado and the West must stop.
YOU MIGHT ALSO LIKE
Organic Farmers Win GMO Fight in Jackson County, Oregon
2015 Wildfire Season Shatters National Record With 10 Million Acres Burned
This Woman Wears 15,000 Bees to Help Others Connect to Nature
EcoWatch Daily Newsletter
A glacier is seen in the Kenai Mountains on Sept. 6, near Primrose, Alaska. Scientists from the U.S. Geological Survey have been studying the glaciers in the area since 1966 and their studies show that the warming climate has resulted in sustained glacial mass loss as melting outpaced the accumulation of new snow and ice. Joe Raedle / Getty Images
By Mark Mancini
On Aug. 18, Iceland held a funeral for the first glacier lost to climate change. The deceased party was Okjökull, a historic body of ice that covered 14.6 square miles (38 square kilometers) in the Icelandic Highlands at the turn of the 20th century. But its glory days are long gone. In 2014, having dwindled to less than 1/15 its former size, Okjökull lost its status as an official glacier.
Members of Chicago Democratic Socialists of America table at the Logan Square Farmers Market on Aug. 18. Alex Schwartz
By Alex Schwartz
Among the many vendors at the Logan Square Farmers Market on Aug. 18 sat three young people peddling neither organic vegetables, gourmet cheese nor handmade crafts. Instead, they offered liberation from capitalism.
Hackney primary school students went to the Town Hall on May 24 in London after school to protest about the climate emergency. Jenny Matthews / In Pictures / Getty Images
Bird watching in the U.S. may be a lot harder than it once was, since bird populations are dropping off in droves, according to a new study.
Amazon CEO Jeff Bezos announces the co-founding of The Climate Pledge at the National Press Club on Sept. 19 in Washington, DC. Paul Morigi / Getty Images for Amazon
The day before over 1,500 Amazon.com employees planned a walkout to participate in today's global climate strike, CEO Jeff Bezos unveiled a sweeping plan for the retail and media giant to be carbon neutral by 2040, 10 years ahead of the Paris agreement schedule.
For the past seven years, the Anishinaabe people have been facing the largest tar sands pipeline project in North America. We still are. In these dying moments of the fossil fuel industry, Water Protectors stand, prepared for yet another battle for the water, wild rice and future of all. We face Enbridge, the largest pipeline company in North America, and the third largest corporation in Canada. We face it unafraid and eyes wide open, for indeed we see the future.
The climate crisis often intensifies systems of oppression. Rieko Honma / Stone / Getty Images Plus
By Mara Dolan
We see the effects of the climate crisis all around us in hurricanes, droughts, wildfires, and rising sea levels, but our proximity to these things, and how deeply our lives are changed by them, are not the same for everyone. Frontline groups have been leading the fight for environmental and climate justice for centuries and understand the critical connections between the climate crisis and racial justice, economic justice, migrant justice, and gender justice. Our personal experiences with climate change are shaped by our experiences with race, gender, and class, as the climate crisis often intensifies these systems of oppression.