Oppose Welfare Ranching, Not Wolves
The yahoo jihad at the wildlife refuge in Oregon is part and parcel of the larger problem across the public lands of the West including here in Colorado. Ranchers aren't just occupying that federal building in Oregon, they've been occupying our public lands across the West for over a century and that occupation has been armed, violent and completely subsidized by state and federal taxpayers.
Here in Colorado, that occupation is proposing to take yet another extremist step forward as the Colorado Wildlife Commission considers a resolution on Jan. 13 at its Denver meeting to "oppose wolf reintroduction" in our state. Wolves have been reintroduced to many of the states surrounding Colorado including Wyoming, Montana, Idaho, Arizona and New Mexico, and the U.S. Fish and Wildlife Service may soon consider reintroducing wolves into Colorado too.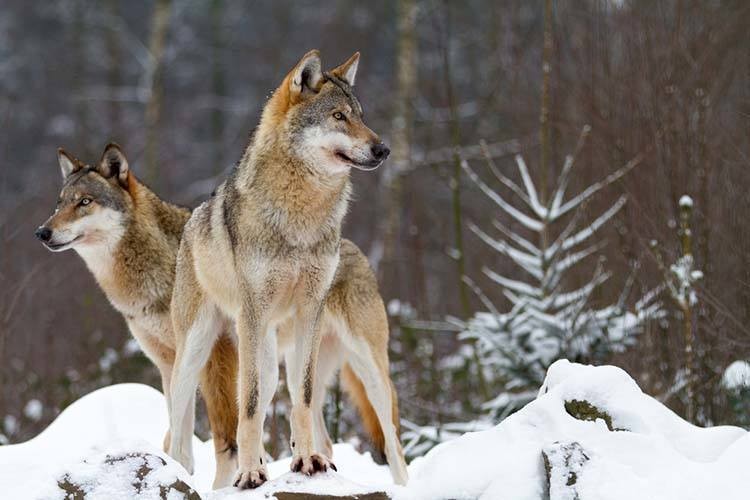 Photo credit: Shutterstock
A keystone species that protects and restores wild landscapes, wolves—like American Indians—were almost completely and violently exterminated from the U.S. when ranchers arrived in the 1800s and colonized and assimilated the Western landscape. Wolves were slaughtered by the hundreds of thousands—trapped, poisoned, mutilated—until every last animal in Colorado was killed. This slaughter was and still is, paid for by the American taxpayer.
The cow and sheep industry is heavily subsided across the public lands of Colorado, so much so that the some ranchers are often called "welfare ranchers." They pay almost nothing to send hundreds of thousands of livestock across our public lands sometimes obliterating the natural landscape as the livestock devour native grasses, pound the soil into dust, and wallow in and destroy streams and rivers. They also pay almost nothing to have the state and federal government exterminate native American wildlife on our public lands—wolves, coyotes, mountain lions, bears, even eagles—that sometimes prey on calves and lambs. The epitome of this extermination is the "aerial gunner men" hired by the U.S. Department of Agriculture to fly helicopters over our public lands and kill thousands of coyotes with shotgun blasts from the sky every year.
Further, the state of Colorado actually pays ranchers for the "damage" that native American wildlife do to domestic livestock. If a mountain lion eats a domestic sheep, the Colorado Parks and Wildlife pays the sheep rancher for the "damage" that lion caused to the rancher. Further yet, if that lion keeps eating sheep, Colorado Parks and Wildlife will go out and kill the mountain lion.
The elk and deer hunting industry in Colorado is also a mess. Millions of dollars are made every year by ranchers and outfitters to make sure that fat, lazy elk and deer are easy targets for hunters who pay large price-tags to take home a set of antlers and freezer full of meat. In some cases, elk and deer are practically baited on private property where ranchers leave hay fields for forage and then let hunters sit around on opening day waiting for the biggest buck or bull to saunter in for breakfast.
Of course, not all ranchers are on welfare—some graze their livestock responsibly on public land, don't kill predators and even support wolf reintroduction. And not all hunters want to sit around on opening day and wait by a hay field to shoot a fat, lazy elk. Some hunters want to actually "hunt" a wild ungulate that has been chased by a wolf and also support wolf reintroduction.
Wolves have a right to be on the landscape. They're native animals, were here first and are keystone species that protect and restore wildness. In areas where wolves are reintroduced, elk and deer are healthier as wolves cull the old, sick animals and keep the others scurrying away from a wolf's fang. Exercise improves everyone's health, including deer and elk. The landscapes are healthier too—elk and deer are forced to keep moving instead of standing in a meadow or stream overgrazing the grasses and willows. In places where wolves have returned, scientists find healthier landscapes with more song birds, more wildlife and more biological diversity.
On Jan. 13 at the next meeting of the Colorado Parks and Wildlife Commission, the commissioners will consider a resolution to "oppose wolf reintroduction" in Colorado. I urge you to contact the Commission and tell them to vote "no" on this resolution. You can click here to send them an email now.
We should oppose welfare ranching, not wolves, in Colorado. The armed, violent jihad that is occupying and destroying our public lands across Colorado and the West must stop.
YOU MIGHT ALSO LIKE
Organic Farmers Win GMO Fight in Jackson County, Oregon
2015 Wildfire Season Shatters National Record With 10 Million Acres Burned
This Woman Wears 15,000 Bees to Help Others Connect to Nature
Jul. 21, 2017 01:50PM EST
Will Rose / Greenpeace
Eleven peaceful activists from the Greenpeace ship Arctic Sunrise have taken to the water in inflatable boats with handheld banners to oppose the Statoil Songa Enabler oil rig, 275 km North off the Norwegian coast, in the Arctic Barents sea.
The banners say: "People Vs. Arctic Oil" and are directed at Statoil and the Norwegian government, which has opened a new, aggressive search for oil in the waters of the Barents Sea.
Keep reading...
Show less
Jul. 21, 2017 10:34AM EST
Dominion Pipeline Monitoring Coalition
The Federal Energy Regulatory Commission (FERC) paved the way Friday for the 600-mile, 42-inch fracked gas Atlantic Coast Pipeline to proceed when it issued the final environmental impact statement (FEIS). A joint project of utility giants Duke Energy and Dominion Energy, the Atlantic Coast Pipeline would move fracked gas from West Virginia into Virginia and North Carolina.
In April, the Sierra Club submitted more than 500 pages of legal and technical comments on FERC's draft EIS, which were joined by more than 18,000 individual comments detailing opposition to the project. The pipeline has been met with widespread opposition, with more than 1,000 people participating in public hearings across the three affected states. The Sierra Club recently requested that FERC issue a new environmental review document analyzing information that came in after or late in, the public comment process.
Keep reading...
Show less
Jul. 21, 2017 08:25AM EST
Greenpeace / PolluterWatch
By Jessica Corbett
"It's time Rex Tillerson step down or be removed," said Gigi Kellett of Corporate Accountability International, following an announcement on Thursday that ExxonMobil will pay $2 million for violating U.S. sanctions against Russian officials while the now-secretary of state was the company's CEO.
"ExxonMobil demonstrated reckless disregard for U.S. sanction requirements," according to enforcement filing released by the Treasury Department's Office of Foreign Assets Control (OFAC), which issued the penalty. Though the fine is reportedly the maximum penalty allowed, it's pittance to one of the world's most profitable and powerful corporations, which last year reported a profit of $7.8 billion.
Keep reading...
Show less
Jul. 21, 2017 11:15AM EST
New analysis from Amory B. Lovins debunks the notion that highly unprofitable, economically distressed nuclear plants should be further subsi­dized to meet financial, security, reliability and climate goals. The analysis, which will appear shortly in The Electricity Journal, shows that closing costly-to-run nuclear plants and reinvesting their saved operating costs in energy efficiency provides cheaper elec­tricity, increases grid reliability and security, reduces more carbon, and preserves (not distorts) market integrity—all without subsidies.

Keep reading...
Show less
Jul. 21, 2017 08:44AM EST
Oil Change International / Twitter
By Christian Detisch and Seth Gladstone
In the wake of Senate Republicans' ever-deepening debacle over their flailing attempts to strip health insurance from 22 million people, Majority Leader Mitch McConnell is desperate to do something—anything—to show that he can get legislation passed. To this end, he's bypassing the standard committee review process to push a complex 850+ page energy bill straight to the full Senate floor. Perhaps not surprisingly, this legislation, the Energy and Natural Resources Act of 2017, would be a disaster for public health and our climate.
Keep reading...
Show less
Jul. 21, 2017 08:11AM EST
Rooftop solar panels on a beach house in southern Florida. TAI VIINIKKA / CC BY-NC-ND 2.0
A new law passed this week in South Miami will require all new homes built in the city to install solar panels. The measure, which was inspired by a proposal from a teenage climate activist, will go into effect in September.
The text of the ordinance details the climate impacts facing South Miami.
Keep reading...
Show less
Jul. 21, 2017 10:27AM EST
www.youtube.com
Keep reading...
Show less
Jul. 21, 2017 08:49AM EST
iStock
By Katherine Paul and Ronnie Cummins
A recent series of articles by a Washington Post reporter could have some consumers questioning the value of the U.S. Department of Agriculture's (USDA) organic seal. But are a few bad eggs representative of an entire industry?
Consumers are all for cracking down on the fraudulent few who, with the help of Big Food, big retail chains and questionable certifiers give organics a bad name. But they also want stronger standards, and better enforcement—not a plan to weaken standards to accommodate "Factory Farm Organic."
Keep reading...
Show less


Get EcoWatch in your inbox