This website uses cookies to ensure you get the best experience while browsing it. By clicking 'Got It' you're accepting these terms.
Open Source Seeds: A Threat to Monsanto
May. 01, 2014 03:48PM EST
Food
By Maureen Wise
If you are a member of your local garden club, you know that a community of like-minded green thumbs is better than just being alone with your bean poles. Community and new ideas aid any process, including growing plants from seed.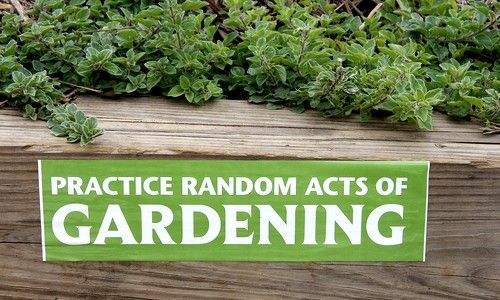 Photo courtesy of Shutterstock
Computer programmers are also a gregarious bunch, especially the open source gurus. A well-known open source project is Mozilla's Firefox web browser. The code for Firefox is free to tinker with and improve upon in the computer programmer community. This is not the case with, for example, Microsoft's closed code Internet Explorer or with most seeds planted by farmers in the U.S. that are bought from Big Ag businesses like Monsanto.
Now the garden clubs have their own open source stock to dabble with outside of Monsanto's stipulations. The Open Source Seed Initiative (OSSI) just released their first sale of 29 open source seed varieties on April 17. OSSI is offering newly bred variations of zucchini, barley, kale, lettuce, mustard, carrot, celery, quinoa, squash, peppers and more. All of these seeds are free of restrictions and patents.
Founded in 2011 in and around the University of Wisconsin-Madison by genetic scientists, sociologists and food advocates, OSSI intends to "free the seed." These freed seeds are very different than most seeds planted to grow our nation's crops. Nearly all American grown corn and soybean seeds are altered—genetically modified—to be more drought and pest resistant, and therefore are patented. They are bred and sold by Monsanto, Dupont Pioneer and other farming and biotech giants with a monopoly on seeds. Farmers are not allowed to save such restricted seeds for use the following year. They can not even share seeds with their fellow farmers. It's a controversial subject that has foodies, farmers, environmentalists and geneticists concerned about the future of seeds, the food produced and what it means for diversity in the ecosystem.
"These [new varieties of] vegetables are part of our common cultural heritage, and our goal is to make sure these seeds remain in the public domain for people to use in the future," said Professor Irwin Goldman, one of OSSI's founders and University of Wisconsin-Madison horticulture department chair. The new seed varieties shared through the OSSI project won't change the way industrial farms operate or where they obtain their seeds any time soon, but it is a big first step.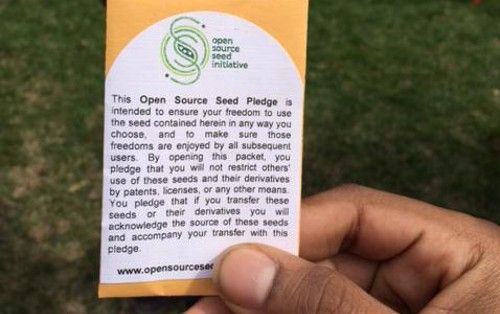 Photo credit: Adam Hirsch, Wisconsin Public Radio
If you purchase a pack of the open source seeds, not only will you be supporting this seed movement that threatens the biotech giants—you know, the Microsofts of seed breeders—you'll also be joining a huge gardening club. Your purchase is an agreement that you won't legally restrict the seeds or their produce in any way. You are encouraged to improve them, cross pollinate as early geneticist Gregor Mendel did in the mid 1800s, get back to gardening's roots and to share among your garden club.
Correction: The previous byline listed was inaccurate. The byline has been updated.
EcoWatch Daily Newsletter
A typical adult takes around 20,000 breaths per day. If you live in a megacity like Beijing, with many of those lungfuls you're likely to inhale a noxious mixture of chemicals and pollutants.
Fred Stone holds his brown swiss cow Lida Rose at his Arundel dairy farm on March 18 after a press conference where he spoke about PFAS chemical contamination in his fields. Gregory Rec / Portland Portland Press Herald via Getty Images
By Susan Cosier
First there was Fred Stone, the third-generation dairy farmer in Maine who discovered that the milk from his cows contained harmful chemicals. Then came Art Schaap, a second-generation dairy farmer in New Mexico, who had to dump 15,000 gallons of contaminated milk a day.
Protesters attend the 32nd Annual Fur-Free Friday demonstration on Nov. 23, 2018 in Beverly Hills, California. Ella DeGea / Getty Images
California Governor Gavin Newsom signed into law a bill that that bans the sale and manufacture of fur products in the state. The fur ban, which he signed into law on Saturday, prohibits Californians from selling or making clothing, shoes or handbags with fur starting in 2023, according to the AP.
By Simon Evans
During the three months of July, August and September, renewables generated an estimated total of 29.5 terawatt hours (TWh), compared with just 29.1TWh from fossil fuels, the analysis shows.
A demonstrator waves an Ecuadorian flag during protests against the end of subsidies to gasoline and diesel on Oct. 9 in Quito, Ecuador. Jorge Ivan Castaneira Jaramillo / Getty Images
Protesters block the road outside Mansion House in London during an XR climate change protest. Gareth Fuller / PA Images via Getty Images
Protestors marched outside the Prudential Center in Newark, New Jersey on Monday, August 26, during the MTV Video and Music Awards to bring attention to the water crisis currently gripping the city. Karla Ann Cote / NurPhoto / Getty Images
By Will Sarni
It is far too easy to view scarcity and poor quality of water as issues solely affecting emerging economies. While the images of women and children fetching water in Africa and a lack of access to water in India are deeply disturbing, this is not the complete picture.
Pexels
Mice exposed to nicotine-containing e-cigarette vapor developed lung cancer within a year.
More research is needed to know what this means for people who vape.
Other research has shown that vaping can cause damage to lung tissue.
A new study found that long-term exposure to nicotine-containing e-cigarette vapor increases the risk of cancer in mice.