One Year After Superstorm Sandy: Taxpayer Burden Grows from Climate Inaction
Oct. 28, 2013 12:56PM EST
Climate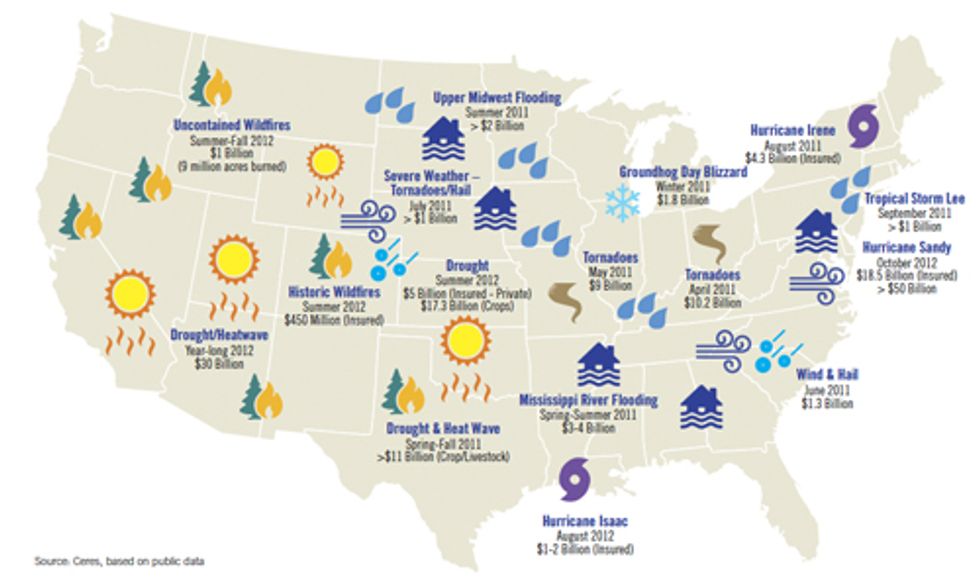 On the eve of the anniversary of Hurricane Sandy, a new report released from Ceres outlines the rising costs to American taxpayers for federal programs that provide flood insurance, crop insurance, wildfire protection and disaster relief. The report documents government losses from extreme weather events exacerbated by climate change, and provides instruction on combating future costs.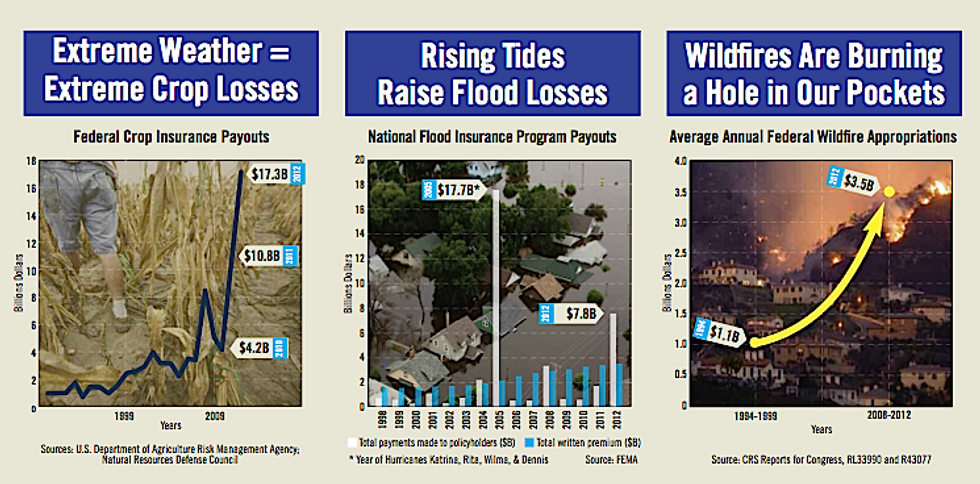 The report, Inaction on Climate Change: The Cost to Taxpayers, warns that these losses and the taxpayer price tag that accompanies them will become more pronounced unless government programs are reformed to encourage more resilient, protected practices in the face of a changing climate.
"Taxpayer costs from climate change are getting bigger and bigger," said Ceres President Mindy Lubber. "Last year's extreme weather events alone cost every American more than $300 apiece, or $100 billion altogether—most of it to pay for federal crop, flood, wildfire and disaster relief."
Yet, our public disaster relief and recovery programs have been slow to recognize that worsening climate impacts will drive up future losses to unsustainable levels. Instead of encouraging behavior that reduces risks from extreme weather events, these programs are encouraging behavior that increases these risks—such as agricultural practices that increase vulnerability to drought and new development in hurricane- and wildfire-prone areas."
The report includes recommendations such as:
Improving transparency and accounting of the costs of extreme weather events to disaster relief and recovery programs.
Boosting research to understand how climate change will impact these programs.
Requiring recipients of federal relief and recovery assistance to adopt more stringent building codes and prohibit development in vulnerable areas.
Find ways to increase the level of private insurance market participation to reduce pressure on government relief and recovery programs—only about 50 percent of the damages in the U.S. caused by extreme weather events are privately insured.
"Taxpayers should be outraged that their tax dollars are incentivizing high risk behavior that increases federal disaster costs," said Steve Ellis, vice president of Taxpayers for Common Sense, speaking at a media briefing today. "Especially in light of increased risks in the future, policymakers need to reorient federal policies to encourage mitigation and pre-respond to the disasters we know we face. The report's recommendations in this regard warrant close consideration. Every dime spent on disaster responses should help ensure we don't have to spend that dime in the future."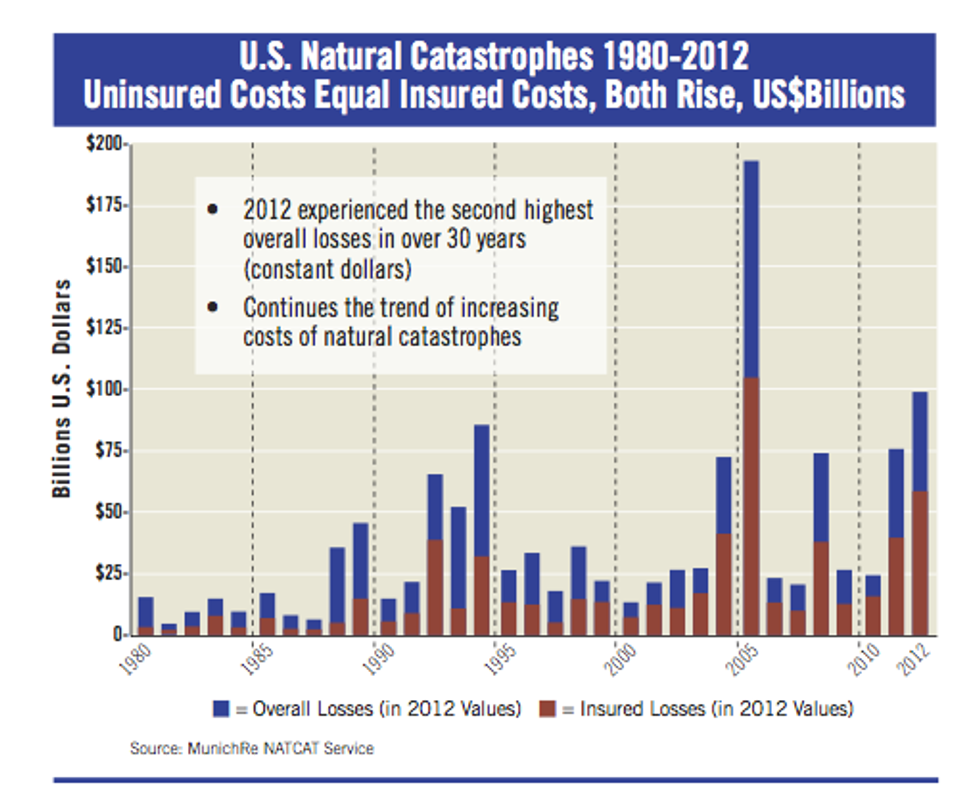 According to Ceres, the report makes specific recommendations for the National Flood Insurance Program (NFIP), Federal Crop Insurance Program (FCIP), disaster assistance and wildfire protection programs. Among those:
NFIP: Implement the Biggert-Waters Act reforms, including phasing in higher insurance premium rates that better reflect risks and incorporating climate change risks into flood plain maps, loss models and insurance premium rate setting.
FCIP: Institute a pilot program to offer lower insurance premiums to farmers who adopt farming practices that increase resiliency to drought and other weather extremes, such as sustainable soil management practices.
Disaster Assistance: Budget for reasonable foreseeable annual costs of natural disaster assistance and reduce reliance on ad hoc funding; require that states use a percentage of federal assistance to make public infrastructure more resistant to extreme weather events.
Wildfire Protection: Allocate substantially more federal and state resources to wildfire prevention measures and adopt and enforce state and local regulations that require wildfire risk reduction actions, such as broader use of setback requirements. 
"The report shows that dealing with climate change doesn't require large-scale schemes or a total restructuring of our global economy," said Eli Lehrer, president of the R Street Institute. "The ideas outlined here are the basis of a true 'no-regrets' strategy for dealing with a significant problem."
In the past 20 years, the total loss exposure of state-run insurance plans has risen 1,550 percent—from about $40 billion in 1990 to more than $600 billion in 2010. The report documents the skyrocketing loss exposure of the state-run insurance plans—especially pronounced in extreme weather-prone states such as Florida and Texas. Steps are needed to reform those programs, according to the report, such as charging insurance premium rates that truly reflect risks and incorporating climate change risks into insurance premium rate-settings. 
"The Ceres report rightly focuses on the need for forward looking risk assessment and the use of natural barriers to reduce property loss and loss of life," added Franklin Nutter, president of the Reinsurance Association of America.
Visit EcoWatch's CLIMATE CHANGE page for more related news on this topic.
EcoWatch Daily Newsletter
Related Articles from EcoWatch
Recent Stories from EcoWatch