One Woman's 2,000 Mile Paddle From the Big Apple to the Big Easy
Jul. 13, 2015 09:08AM EST
Adventure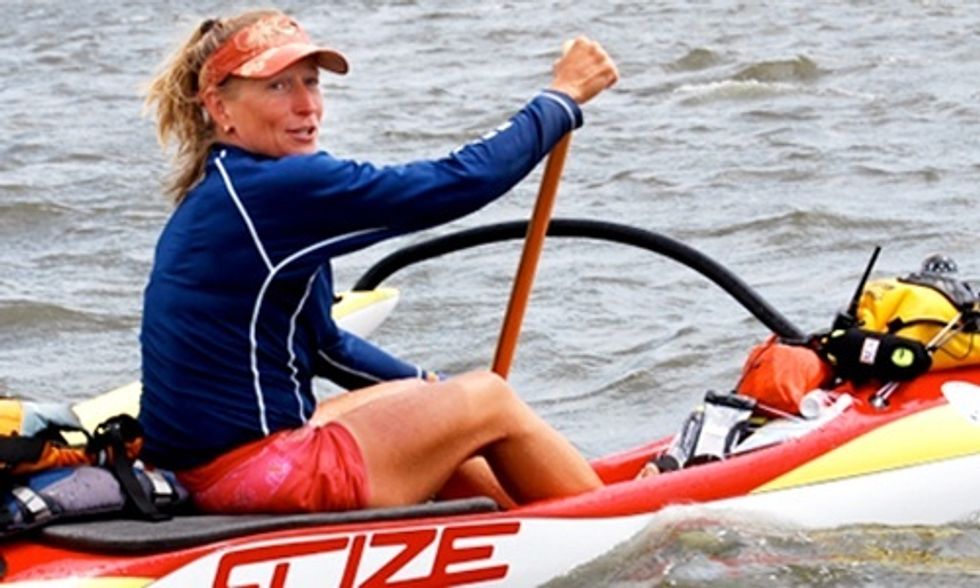 Margo Pellegrino, a self-identified and proud stay-at-home mother from New Jersey, is solo-paddling her outrigger canoe 2,000 miles from New York City to New Orleans in an effort to raise awareness of U.S. water pollution problems and the need for policies and public action to clean up our waterways.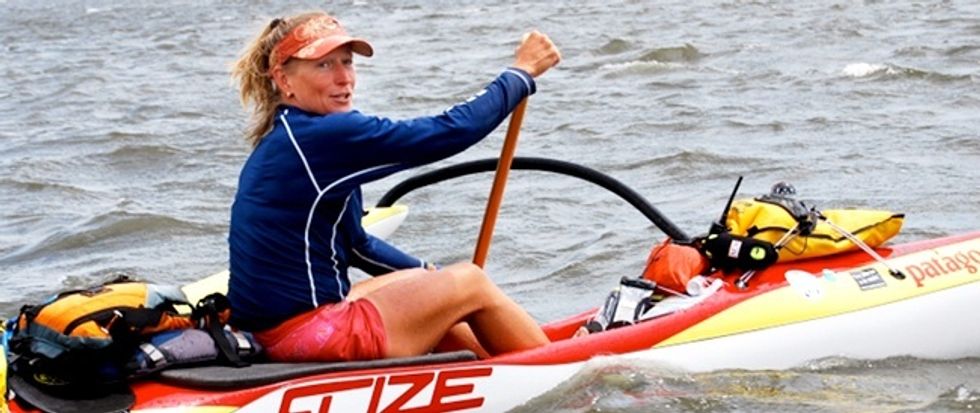 "For the sake of my children and future generations, I felt I needed to help folks see that we are indeed impacting our ocean and fresh water by what we do within our respective watersheds," Pellegrino said about why she embarked on this adventure. "I also want to show that there are a variety of organizations working to remedy these most pressing issues, so there is hope."
Pellegrino said she has seen one too many polluted waterways to sit still. "Yes, it's a kind of crazy thing to do to get folks thinking about and caring for our ocean and fresh water resources," she said. "But when you consider what we are actually doing to these resources, maybe it isn't."
Our nation's waterways are in trouble. Our waters are dealing with outbreaks of toxic algae slime due to agricultural pollution and runoff, extreme dumping of mining waste, dumping of toxic coal ash waste, mismanaged sewage systems that lead to harmful stormwater and sewage overflow into our rivers and lakes, and many other problems amid a changing climate, severe droughts and water shortages.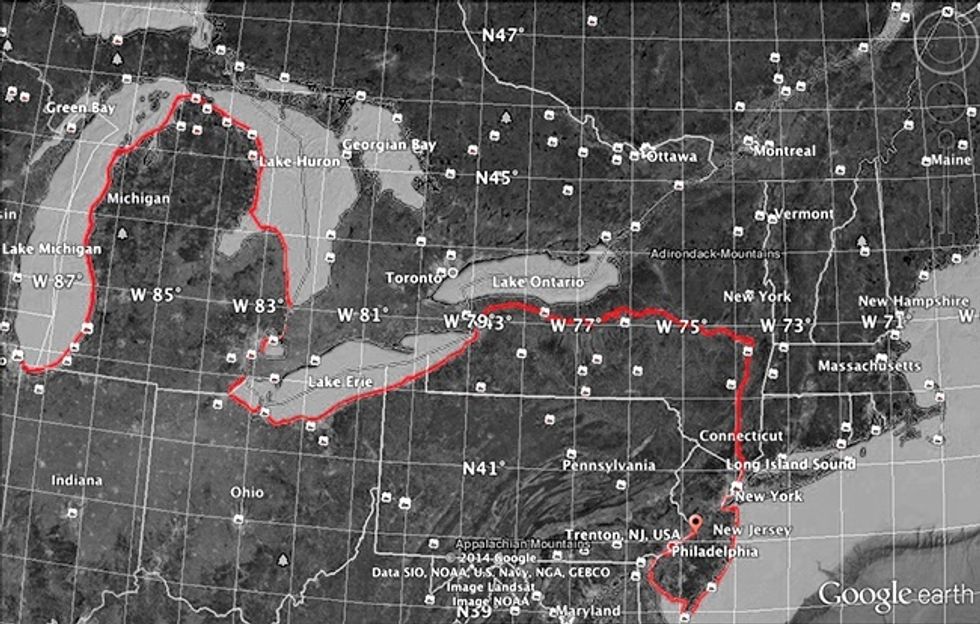 Margo, in particular, will be highlighting the importance of the U.S. Environmental Protection Agency's (EPA) proposed Clean Water Rule, which, if finalized, would restore long-standing Clean Water Act protections to streams and many wetlands across the country.
These protections, which stood for decades since Congress passed the Clean Water Act in 1972, were dismantled in the last decade. As a result, 59 percent of America's streams and 20 million acres of wetlands were left vulnerable to toxic pollution.
Pellegrino is a team member of the Blue Frontier Campaign, a group of "seaweed rebels," the ocean equivalent of grassroots organizers.
She is an adventurer, enduring the grueling conditions of long-distance solo paddling, such as severe weather, waterway currents, isolation and self-doubt. Margo has completed several long-distance paddles, from Miami to Maine, around the Gulf Coast and the West Coast along with a few smaller, more local jaunts to highlight ocean issues.
The first leg of this journey began at the end of May and took her through six states, from New York to Illinois, via the Hudson River, Erie Canal, Lake Erie, Lake Huron and Lake Michigan, to educate the public about watershed issues that impact our drinking water and waterways, and eventually harm our oceans.
At each stop along the way, Pellegrino will meet with and highlight the local groups working on these issues. "Keeping our rivers, lakes, bays, and ocean clean and healthy not only benefits our own individual health but also ensures that these economic drivers continue to contribute to a healthy tourism and recreational industry," said Pellegrino. She is collecting water samples all along the way using HOPE2O test kits provided by Blue Ocean Sciences.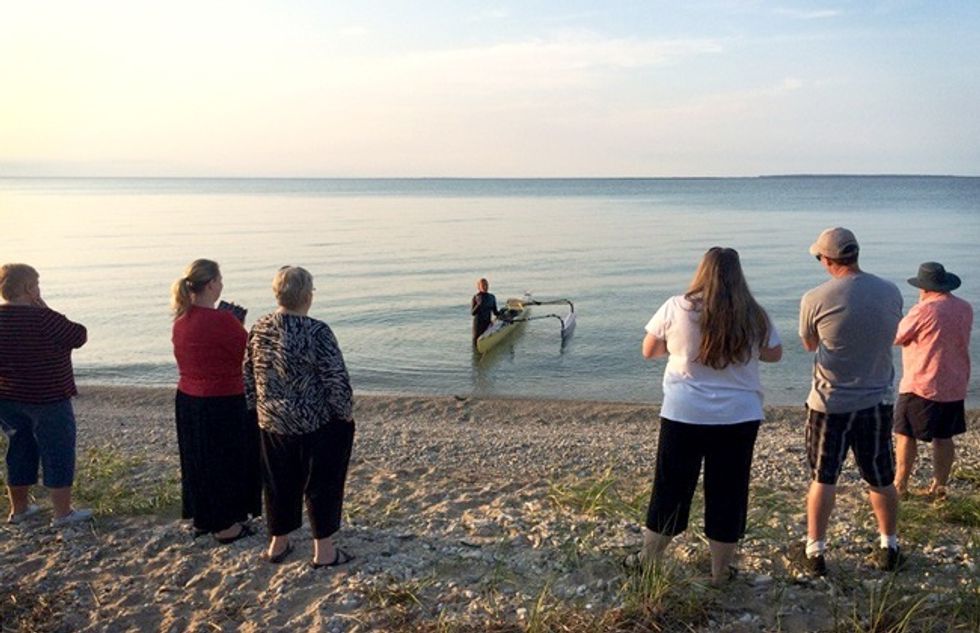 Pellegrino will be sharing the results and information about the pollution problems on her website throughout her paddle. Follow Pellegrino's paddle via SPOT Tracker, and check back on this page for trip updates.
Cate Johnson, Earthjustice's press intern, interviewed Pellegrino on July 6 about her on-the-ground experience with our nation's rivers and the importance of the Clean Water Rule.
Cate Johnson: When you're paddling, how can you tell if a river is in trouble?
Margo Pellegrino: There have been plenty of times when I've paddled through horrifically dirty water. I see lots of trash in our waterways. I've paddled through toxic algae. Some algae, of course, occur naturally and are harmless, but there is this chunky, disgusting, slimy green kind that blooms when there's an excess of fertilizer and agricultural waste pollution in the water. In a lot of the areas where I have paddled, like Oneida Lake and the Erie Canal, the water looked clear, but I have to wonder when I'm paddling through hosts of dead fish all over the place. One of the Erie Canal lock masters told me that the herring didn't even reach his lock this year, which was a first for him—an indication that something is seriously wrong in that waterway.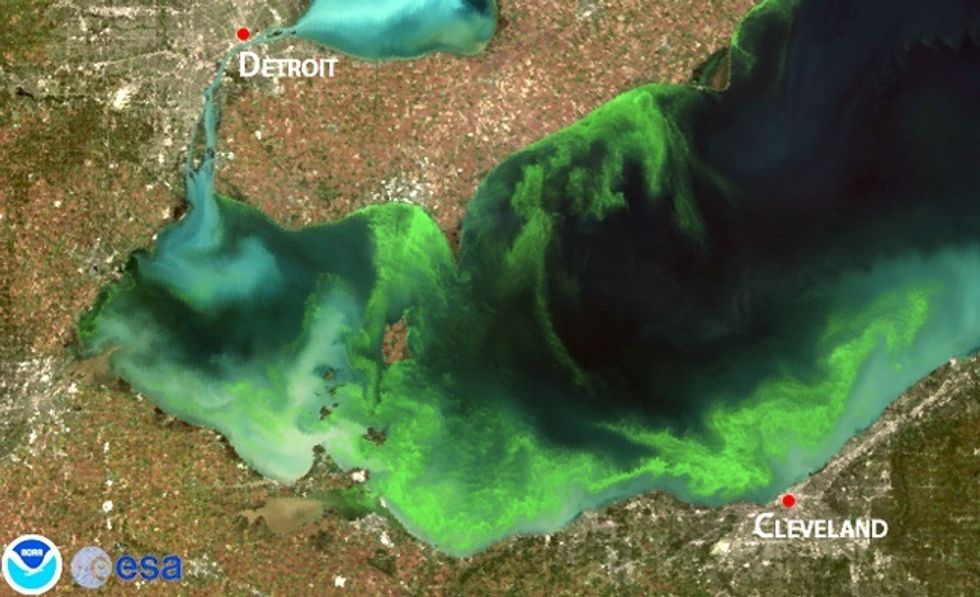 Image credit: MERIS/ESA, PROCESSED BY NOAA/NOS/NCCOS
Cate Johnson: How important are individuals in terms of river clean-up and the character of a river?
Margo Pellegrino: I think that they're immensely important. We also need legislation and strong regulations, but I don't think this is a solo journey; it takes a lot of people who care, who take part and help out. I also think getting people active and outside is hugely beneficial to the waterways. If swimming were mandated across the country I don't think that we would have the problems that we have (laughs).
Cate Johnson: What would you say to folks who oppose the Clean Water Rule?
Margo Pellegrino: I would tell them to go drink from any number of our dirty waters to see how long they last and how much they like it. They need to realize that you need clean water to live. It's a no-brainer. You need clean water to drink; you need clean water to swim in. No one wants to swim or play in dirty water. I really do think that getting people involved in their waterways is crucial.
Cate Johnson: What impact do you hope the Clean Water Rule has on some of the communities you've paddled through?
Margo Pellegrino: I really hope that places like the Maumee River don't see disgusting algae blooms. Last week, on Port Huron, five beaches were closed because of E. coli. Who knows what the source of that is? You really hope that people can drink their water, that they have no more scares. Last year, there was a horrible algae bloom and how many people couldn't drink their water in Toledo and the Toledo area? I would hope that the Clean Water Rule would limit that and provide an improvement so people don't have to be scared to drink their water.
Cate Johnson: What do you think is a realistic goal for river health in the U.S.?
Margo Pellegrino: I hope people stop taking their water for granted, and I hope people get more active in speaking out. And I hope they look at their own behavior, what they can improve on and do in their lives—even buying organic with fewer pesticides and petrochemicals going into the land and getting into our waterways.
YOU MIGHT ALSO LIKE
3 Presidential Candidates Say 'No' to Fossil Fuel Funding, Will Hillary Join Them?
People Power Needed Now More Than Ever
EcoWatch Daily Newsletter