This website uses cookies to ensure you get the best experience while browsing it. By clicking 'Got It' you're accepting these terms.
One-Third of World's Orangutans at Risk From Fires in Sumatra and Borneo
Nov. 01, 2015 09:32AM EST
Climate
Despite some rainfall in the last few days, thousands of fires continue to burn on the main islands of Sumatra and Borneo. Unlike previous years, when fires mainly impacted agricultural land, these fires, fueled by a particularly dry season due to El Nino, have swept into national parks and primary forests, the last refuges for so many iconic endangered species, such as orangutans, rhinoceros and tigers.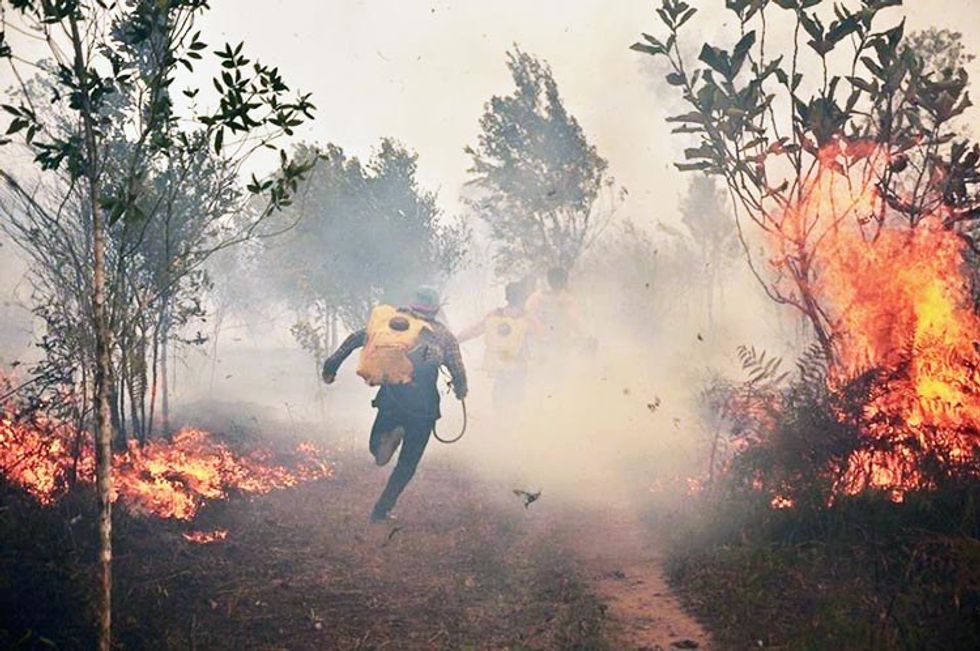 Local people fighting fires in Indonesia's national park Tanjung Puting. Photo credit: Faqih Zabach
All these animals hover on the brink of extinction and now the odds have been tipped even further against them. It is estimated that a third of the world's orangutan population is under threat with many already dying and orphans flooding into rescue centers.
Data released last week by Guido van der Werf on the Global Fires Emissions Database estimate emissions generated every day from the fires exceeds that of the average daily emissions for the entire U.S. economy. The U.S economy is 20 times the size of Indonesia's. Van der Werf estimates that over just 3 weeks of burning, the fires in Indonesia exceeded the entire annual CO2 emissions of Germany.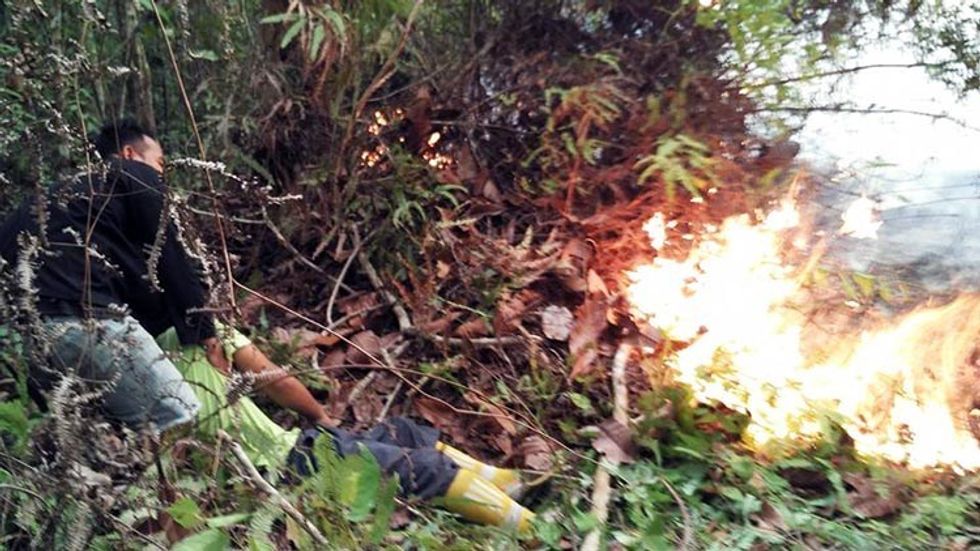 Rescuing collapsed fire fighter in Indonesia's national park Tanjung Puting. Photo credit: Faqih Zabach
These are staggering statistics and illustrate just how critical it is that the world pays attention, supports the Indonesian government to enforce a fire moratorium, provides sophisticated fire fighting equipment, and holds palm oil corporations and companies using palm oil in their products to account over plantation practices.
These figures are even more disturbing because the fires are in peatlands. Not only are tropical peatlands significant carbon storage areas but when they burn they emit up to 10 times more methane than fires in non-peat lands. Nancy Harris and others, including the World Resources Institute, suggest that when the emissions from both the draining of peatlands for plantations and the fires are taken into account the methane released is 200 times more than that emitted from fires in any other land areas.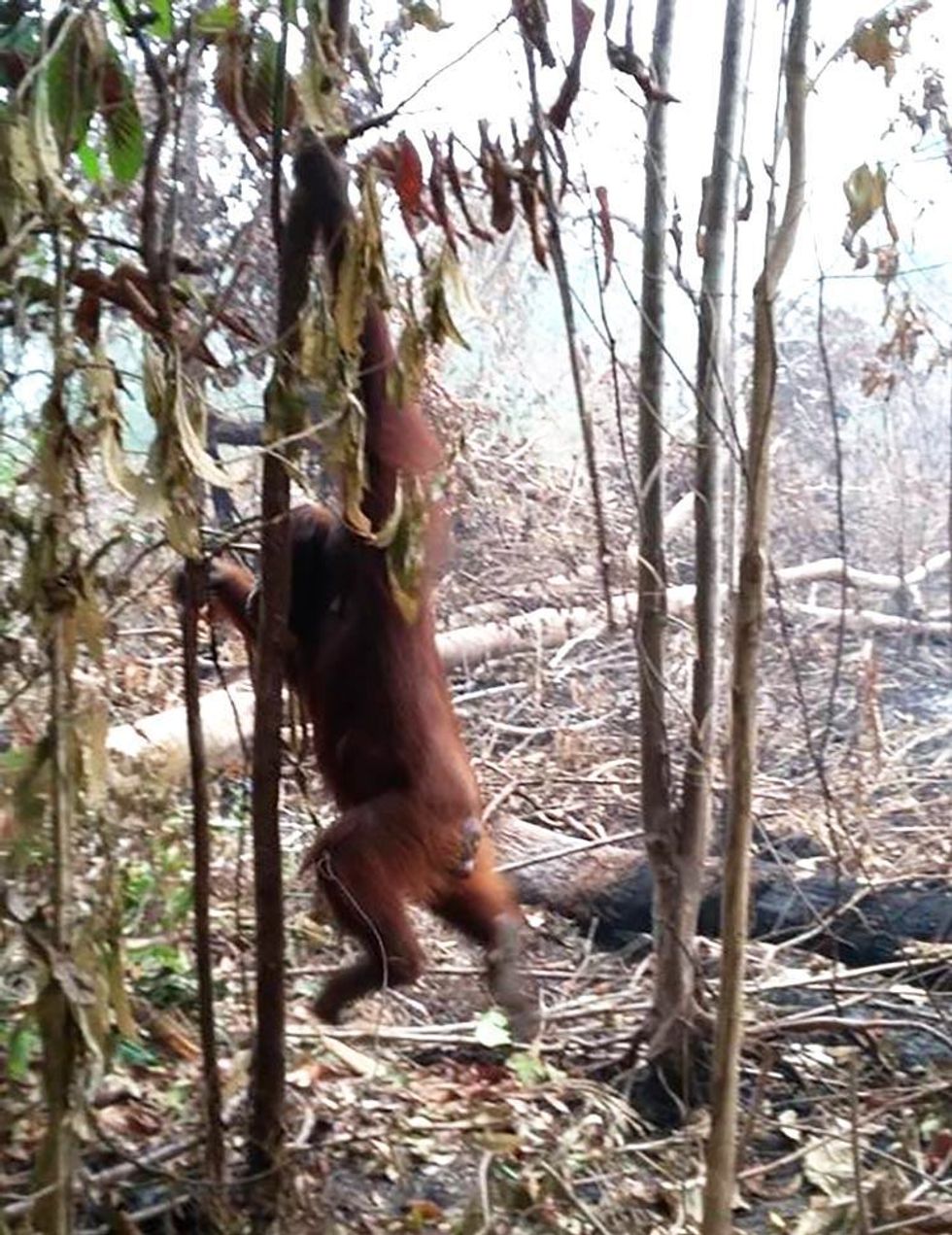 Orangutan running from the fire.
This is not only an environmental disaster of massive proportions but also a humanitarian one which will have long-term economic repercussions for Indonesia. Estimates put the number of people affected by respiratory illness at 500 million across Indonesia, Singapore and Malaysia.
So why is there so little press coverage or interest from the rest of the world in this catastrophe? Is it because it is man-made, driven by the palm oil and pulp and paper corporations as well as poachers and small farmers? Do we some how think this is not as news worthy as a hurricane or earthquake?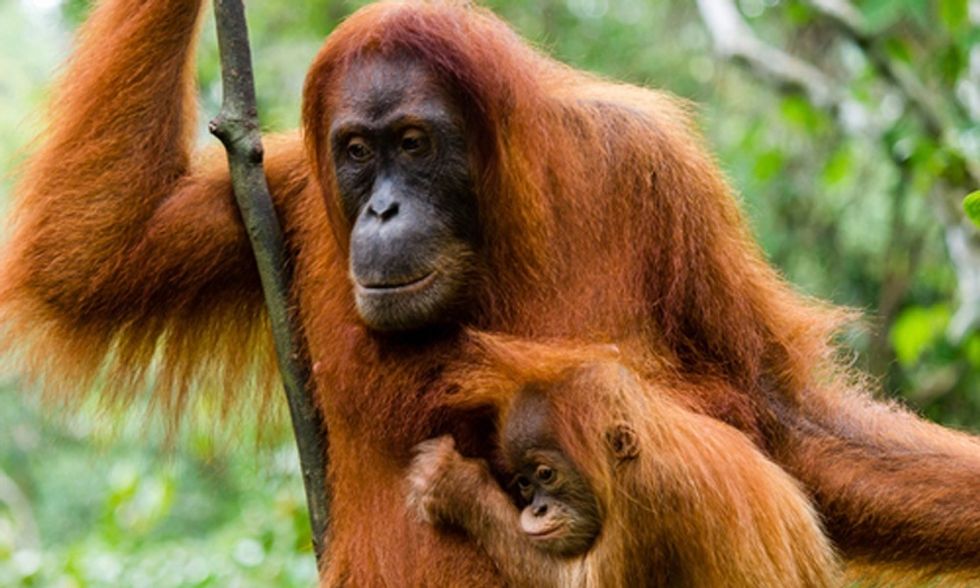 Photo credit: Shutterstock
While it may seem like this is a problem on the other side of the world we are all, as consumers, complicit in this crime. The supply chain is not always obvious and lack of product labelling often means we have no idea that our shampoo or crackers or toilet paper have such a devastating effect. If there is going to be any chance to save the rapidly disappearing mega fauna on our planet and to limit the damage from global warming then we have to start thinking that a problem over there is also a problem over here.
Marie Gale is a conservationist with Save Indonesian Endangered Species Fund an NGO actively engaged in reforestation and wildlife conservation in Sumatra and Borneo.
YOU MIGHT ALSO LIKE
Watch Live as Polar Bears Congregate Waiting for Sea Ice to Form
Algal Blooms Linked to Largest Die-Off of Great Whales Ever Recorded
Plastic Bags and Fishing Nets Found in Stomach of Dead Whale
295 Bears Killed in Florida's First Black Bear Hunt in Decades
EcoWatch Daily Newsletter
Aerial shot top view Garbage trucks unload garbage to a recycle in the vicinity of the city of Bangkok, Thailand. bugto / Moment / Getty Images
German researchers have identified a strain of bacterium that not only breaks down toxic plastic, but also uses it as food to fuel the process, according to The Guardian.
The Environmental Protection Agency (EPA) issued a policy memo yesterday that is an expansive relaxation of legally mandated regulations on polluting industries, saying that industries may have trouble adhering to the regulations while they are short-staffed during the coronavirus global pandemic, according to the AP.
Hurricane Dorian was one of the 2019 Atlantic hurricane season's most devastating storms. NASA
2019 marked the fourth year in a row that the Atlantic hurricane season saw above-average activity, and it doesn't look like 2020 will provide any relief.
The deep, open ocean may seem like an inhospitable environment, but many species like human-sized Humboldt squids are well-adapted to the harsh conditions. 1,500 feet below the ocean's surface, these voracious predators could be having complex conversations by glowing and changing patterns on their skin that researchers are just beginning to decipher.
A worker distributes disinfection wipes at a farmers market at Richard Tucker Park in New York City on March 21, 2020. Lev Radin / Pacific Press / LightRocket via Getty Images
Not many restaurants will be able to survive coronavirus, and this is a personal, social and national tragedy.
I'm worried about farmers markets too.