This website uses cookies to ensure you get the best experience while browsing it. By clicking 'Got It' you're accepting these terms.
One Simple Thing You Can Do Today to Stop Global Climate Change
Apr. 09, 2015 07:50AM EST
Climate

Last week, the U.S. took an important step forward and joined the European Union, Mexico and others in announcing a national commitment for reducing carbon emissions. Of course, with the climate negotiations happening in Paris at the end of the year, this national commitment is extremely important in demonstrating to the international community that the U.S. is serious about solving climate change.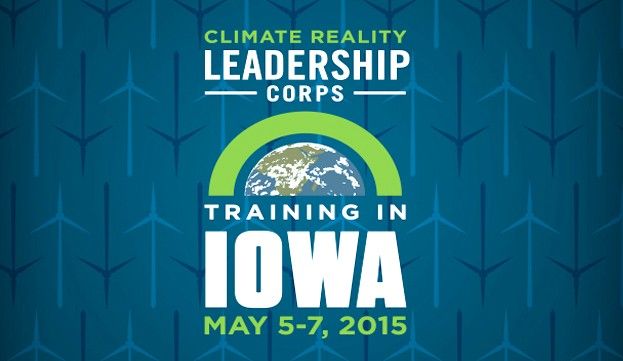 But here at home, climate change is also becoming an increasingly hot-button issue. Recent antics like Senator Inhofe's throwing a snowball on the Senate floor to "disprove" climate change and the series of Senate votes to establish that climate change is not a hoax indicate that politicians can no longer evade questions as to their positions on climate change. Just last week, a national poll of registered voters in the U.S. showed that 58 percent of voters favor candidates who will take action to fight climate change.
It is critical that we hold our leaders of all political parties and at all levels accountable for taking action to combat the largest threat the world has ever faced. We have the solutions to solve the climate crisis and the international community is beginning to take action—now it is a question of mobilizing individuals, organizations and leaders here in the U.S. to take urgent action.
The good news is that community leaders across the U.S. are already taking up the cause and implementing solutions. At The Climate Reality Project, we seek to find those individuals and equip them with the knowledge, tools and drive to communicate effectively and activate their communities on what can be done to solve the climate crisis.
It is for this reason that we're bringing our highly effective international Climate Reality Leadership Corps program back to the U.S.—our 28th training will take place May 5-7 in Cedar Rapids, Iowa.
At the training, former U.S. Vice President Al Gore and I will join scientists, strategists, organizers and technical specialists to discuss the science of climate change, the direct cost climate impacts are having on communities around the world and solutions available to solve the climate crisis.
Why Iowa?
Iowa, of course, holds unique political significance—as the first caucus state, Iowa's voters will help determine the issues and candidates that will feature in the presidential race for the next 18 months.
Additionally, increasingly extreme weather, exacerbated by climate change—including heat waves, drought and flooding—will have major negative implications for Iowa's extensive agricultural production.
Finally, climate change may hold serious health consequences for the people of Iowa—the Natural Resource Defense Council estimates that more than 240,000 people in Iowa suffer from asthma, a condition that may worsen as climate change causes air quality to deteriorate.
In Iowa next month, the training will not only explore these negative impacts of climate change, but will also focus on the solutions at hand, building on Iowa's strong history of supporting renewable energy.
What You Can Do
We're looking for those passionate individuals from all political parties and backgrounds to join us in Iowa and help demonstrate to our leaders that Americans want climate action today. Our Climate Reality Leaders are critical to bringing together climate voices to call for national climate policies that will have an impact globally.
We hope to see you there.
Applications open now to be trained in Iowa by former Vice President Al Gore and other experts to become a Climate Reality Leader. This is the first of three North American trainings to be held in 2015, with others to follow in Toronto and Miami.
YOU MIGHT ALSO LIKE
Become a Climate Reality Leader: Share the Truth About Climate Change and Inspire Action
Obama Says Climate Change Is Hazardous to Your Health
How Meat Consumption Is Linked to Climate Change and Drought
EcoWatch Daily Newsletter
Artist's conception of solar islands in the open ocean. PNAS
Millions of solar panels clustered together to form an island could convert carbon dioxide in seawater into methanol, which can fuel airplanes and trucks, according to new research from Norway and Switzerland and published in the Proceedings of the National Academy of Sciences journal, PNAS, as NBC News reported. The floating islands could drastically reduce greenhouse gas emissions and dependence on fossil fuels.
Marcos Alves / Moment Open / Getty Images
More than 40 percent of insects could go extinct globally in the next few decades. So why did the U.S. Environmental Protection Agency (EPA) last week ok the 'emergency' use of the bee-killing pesticide sulfoxaflor on 13.9 million acres?
EcoWatch teamed up with Center for Biological Diversity via EcoWatch Live on Facebook to find out why. Environmental Health Director and Senior Attorney Lori Ann Burd explained how there is a loophole in the The Federal Insecticide, Fungicide, and Rodenticide Act under section 18, "that allows for entities and states to request emergency exemptions to spraying pesticides where they otherwise wouldn't be allowed to spray."
Simple swaps that cut down on kitchen trash.
Sponsored
By Kayla Robbins
Along with the bathroom, the kitchen is one of the most daunting areas to try and make zero waste.
View of downtown Miami, Florida from Hobie Island on Feb. 2, 2019.
Michael Muraz / Flickr
The Democratic candidates for president descended upon Miami for a two-night debate on Wednesday and Thursday. Any candidate hoping to carry the state will have to make the climate crisis central to their campaign, as The New York Times reported.
By Sharon Kelly
On Monday, the Wall Street Journal featured a profile of Scott Sheffield, CEO of Pioneer Natural Resources, whose company is known among investors for its emphasis on drawing oil and gas from the Permian basin in Texas using horizontal drilling and hydraulic fracturing, or fracking.
Pexels
By Craig K. Chandler
The federal government has available to it, should it choose to use them, a wide range of potential climate change management tools, going well beyond the traditional pollution control regulatory options. And, in some cases (not all), without new legislative authorization.
Denis Poroy / Getty Images
By Dan Gray
Processed foods, in their many delicious forms, are an American favorite.
But new research shows that despite increasing evidence on just how unhealthy processed foods are, Americans have continued to eat the products at the same rate.
By Sarah Steffen
With a profound understanding of their environmental surroundings, indigenous communities around the world are often cited as being pivotal to tackling climate change.