This website uses cookies to ensure you get the best experience while browsing it. By clicking 'Got It' you're accepting these terms.
One of World's Fastest Melting Glaciers May Have Lost Largest Chunk of Ice in Recorded History
Aug. 20, 2015 09:58AM EST
Climate
With the world's glaciers melting at record rates, the Jakobshavn—Greenland's fastest-moving glacier and one of the fastest melting in the world—may have lost its largest chunk of ice in recorded history.
Massive calving event on Greenland's fastest melting #glacier http://t.co/aRvxQcDOvf Images: http://t.co/fmoHfapp4o pic.twitter.com/VC4arPdVw0

— The Ice Age (@Jamie_Woodward_) August 20, 2015
The Washington Post reported that members of the Arctic Sea Ice Forum examined satellite images of the glacier between Aug. 14 and Aug. 16 and found that a large chunk of ice (an estimated total area of of 12.5 square kilometers or five square miles), had broken away from the glacier's face. The amount is quite possibly the largest ever recorded, some members have speculated.
According to forum member Espen Olsen, this loss is "one of the largest calvings in many years, if not the largest." (Calving is the sudden release and breaking away of a mass of ice from a glacier, iceberg, ice front, ice shelf or crevasse).
As the Post noted in its report, calving isn't unusual for this area in Greenland due to rising air and sea temperatures in the Arctic. "As of 2012, the glacier was pouring out ice at a speed of 150 feet per day, nearly three times its flow rate in the 1990s," the report stated.
One of the world's fastest melting glaciers may have just lost its biggest ice chunk on record http://t.co/Y0CnIXwDYL pic.twitter.com/i8WbaBaIm1

— Post Green (@postgreen) August 19, 2015
"Overall, I don't think that they really can nail the 'largest' [calving event] or not," he wrote in an email to the publication. "I wouldn't get too excited on this, even though it is not good news." He added that the satellite images the forum members observed were only spaced by one full day and the ice loss could have broken off in separate smaller events instead of one giant calving.
Even if this event isn't the largest ice loss recorded on the glacier, as you can see from these satellite images captured on July 31 and Aug. 16 of this year (just two weeks apart!) by Joshua Stevens, a senior data visualizer and cartographer at NASA's Earth Observatory, the Jakobshavn is going through tremendous ice loss.
"The calving events of Jakobshavn are becoming more spectacular with time, and I am in awe with the calving speed and retreat rate of this glacier," said Eric Rignot, a glaciologist at the Jet Propulsion Laboratory, in a NASA Earth Observatory post. "These images are a very good example of the changes taking place in Greenland."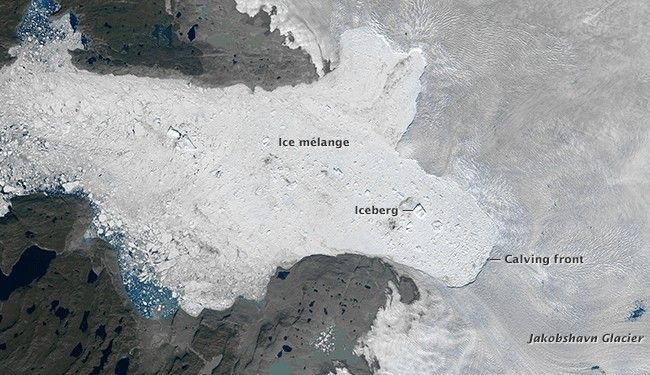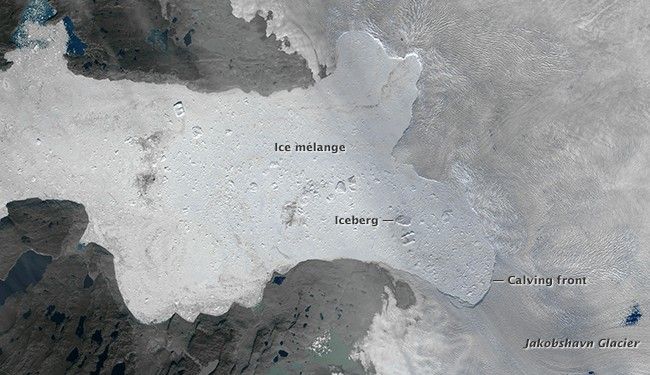 "What is important is that the ice front, or calving front, keeps retreating inland at galloping speeds," Rignot said.
The Jakobshavn is of particular significance since it is responsible "for draining a large portion of the Greenland Ice Sheet," and "could contribute more to sea level rise than any other single feature in the Northern Hemisphere," the Earth Observatory post stated.
According to University of Washington glaciologist Ian Joughin, Jakobshavn's calving front has moved about 600 meters (2,000 feet) farther inland than the summer before for the last several years.
The Jakobshavn is also one of the fastest-flowing glaciers in the world. In the summer of 2012 alone, the glacier accelerated at a rate of 17 kilometers (10 miles) per year, a speed never witnessed before. On average, the glacier moved nearly three times faster in 2012 than it did in the mid-1990s.
Worldwide, the current rate of glacier melt is without precedent. Recent data compiled by the World Glacier Monitoring Service (WGMS) show that several hundred glaciers are losing between half and one meter of thickness every year—at least twice the average loss for the 20th century—and remote monitoring shows this rate of melting is far more widespread.
YOU MIGHT ALSO LIKE
The Drought in California Is So Bad the Ground Is Literally Sinking
Astronaut Snaps Epic Photo of Wildfires from Space as Record 7 Million Acres Burn
Alaska's Rapidly Melting Glaciers: A Major Driver of Global Sea Level Rise
EcoWatch Daily Newsletter

georgeclerk / E+ / Getty Images
By Jennifer Molidor
One million species are at risk of extinction from human activity, warns a recent study by scientists with the United Nations. We need to cut greenhouse gas pollution across all sectors to avoid catastrophic climate change — and we need to do it fast, said the Intergovernmental Panel on Climate Change.
This research should serve as a rallying cry for polluting industries to make major changes now. Yet the agriculture industry continues to lag behind.
Edwin Remsburg / VW Pics / Getty Images
Botswana, home to one third of Africa's elephants, announced Wednesday that it was lifting its ban on the hunting of the large mammals.
"The Ministry of Environment, Natural Resources Conservation and Tourism wishes to inform the public that following extensive consultations with all stakeholders, the Government of Botswana has taken a decision to lift the hunting suspension," the government announced in a press release shared on social media.
Pxhere
By Richard Denison
Readers of this blog know how concerned EDF is over the Trump EPA's approval of many dozens of new chemicals based on its mere "expectation" that workers across supply chains will always employ personal protective equipment (PPE) just because it is recommended in the manufacturer's non-binding safety data sheet (SDS).
By Grant Smith
From 2009 to 2012, Gregory Jaczko was chairman of the Nuclear Regulatory Commission, which approves nuclear power plant designs and sets safety standards for plants. But he now says that nuclear power is too dangerous and expensive — and not part of the answer to the climate crisis.
A lake in Rocky Mountain National Park. Brett Walton / Circle of Blue
By Brett Walton
When Greg Wetherbee sat in front of the microscope recently, he was looking for fragments of metals or coal, particles that might indicate the source of airborne nitrogen pollution in Rocky Mountain National Park. What caught his eye, though, were the plastics.
Gabriele Holtermann Gorden / Pacific Press / LightRocket / Getty Images
In a big victory for animals, Prada has announced that it's ending its use of fur! It joins Coach, Jean Paul Gaultier, Giorgio Armani, Versace, Ralph Lauren, Vivienne Westwood, Michael Kors, Donna Karan and many others PETA has pushed toward a ban.
This is a victory more than a decade in the making. PETA and our international affiliates have crashed Prada's catwalks with anti-fur signs, held eye-catching demonstrations all around the world, and sent the company loads of information about the fur industry. In 2018, actor and animal rights advocate Pamela Anderson sent a letter on PETA's behalf urging Miuccia Prada to commit to leaving fur out of all future collections, and the iconic designer has finally listened.
Amer Ghazzal / Barcroft Media / Getty Images
If people in three European countries want to fight the climate crisis, they need to chill out more.
That's the conclusion of a new study from think tank Autonomy, which found that Germany, the UK and Sweden all needed to drastically reduce their workweeks to fight climate change.
Amazon Employees for Climate Justice held a press conference after the annual shareholder meeting on May 22. Amazon Employees for Climate Justice