This website uses cookies to ensure you get the best experience while browsing it. By clicking 'Got It' you're accepting these terms.
One of World's Fastest Melting Glaciers May Have Lost Largest Chunk of Ice in Recorded History
Aug. 20, 2015 09:58AM EST
Climate
With the world's glaciers melting at record rates, the Jakobshavn—Greenland's fastest-moving glacier and one of the fastest melting in the world—may have lost its largest chunk of ice in recorded history.
Massive calving event on Greenland's fastest melting #glacier http://t.co/aRvxQcDOvf Images: http://t.co/fmoHfapp4o pic.twitter.com/VC4arPdVw0

— The Ice Age (@Jamie_Woodward_) August 20, 2015
The Washington Post reported that members of the Arctic Sea Ice Forum examined satellite images of the glacier between Aug. 14 and Aug. 16 and found that a large chunk of ice (an estimated total area of of 12.5 square kilometers or five square miles), had broken away from the glacier's face. The amount is quite possibly the largest ever recorded, some members have speculated.
According to forum member Espen Olsen, this loss is "one of the largest calvings in many years, if not the largest." (Calving is the sudden release and breaking away of a mass of ice from a glacier, iceberg, ice front, ice shelf or crevasse).
As the Post noted in its report, calving isn't unusual for this area in Greenland due to rising air and sea temperatures in the Arctic. "As of 2012, the glacier was pouring out ice at a speed of 150 feet per day, nearly three times its flow rate in the 1990s," the report stated.
One of the world's fastest melting glaciers may have just lost its biggest ice chunk on record http://t.co/Y0CnIXwDYL pic.twitter.com/i8WbaBaIm1

— Post Green (@postgreen) August 19, 2015
"Overall, I don't think that they really can nail the 'largest' [calving event] or not," he wrote in an email to the publication. "I wouldn't get too excited on this, even though it is not good news." He added that the satellite images the forum members observed were only spaced by one full day and the ice loss could have broken off in separate smaller events instead of one giant calving.
Even if this event isn't the largest ice loss recorded on the glacier, as you can see from these satellite images captured on July 31 and Aug. 16 of this year (just two weeks apart!) by Joshua Stevens, a senior data visualizer and cartographer at NASA's Earth Observatory, the Jakobshavn is going through tremendous ice loss.
"The calving events of Jakobshavn are becoming more spectacular with time, and I am in awe with the calving speed and retreat rate of this glacier," said Eric Rignot, a glaciologist at the Jet Propulsion Laboratory, in a NASA Earth Observatory post. "These images are a very good example of the changes taking place in Greenland."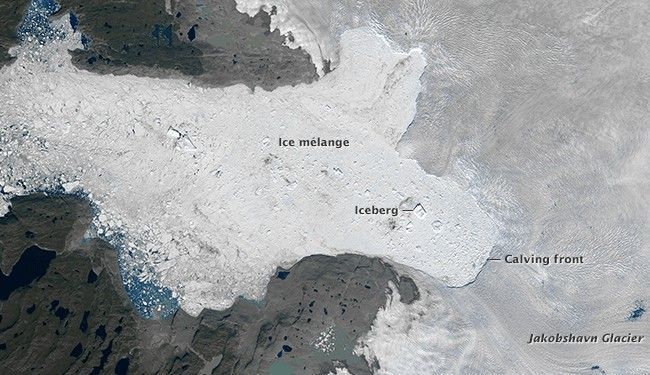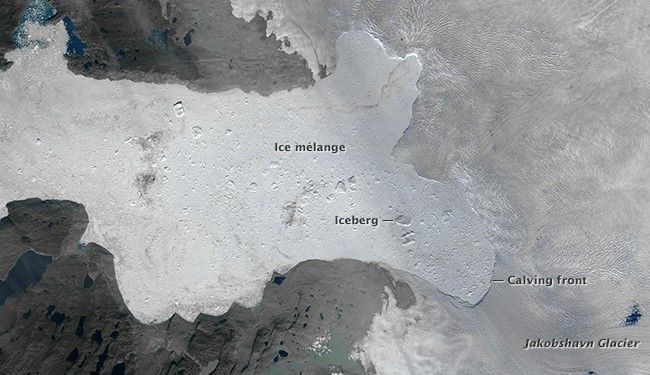 "What is important is that the ice front, or calving front, keeps retreating inland at galloping speeds," Rignot said.
The Jakobshavn is of particular significance since it is responsible "for draining a large portion of the Greenland Ice Sheet," and "could contribute more to sea level rise than any other single feature in the Northern Hemisphere," the Earth Observatory post stated.
According to University of Washington glaciologist Ian Joughin, Jakobshavn's calving front has moved about 600 meters (2,000 feet) farther inland than the summer before for the last several years.
The Jakobshavn is also one of the fastest-flowing glaciers in the world. In the summer of 2012 alone, the glacier accelerated at a rate of 17 kilometers (10 miles) per year, a speed never witnessed before. On average, the glacier moved nearly three times faster in 2012 than it did in the mid-1990s.
Worldwide, the current rate of glacier melt is without precedent. Recent data compiled by the World Glacier Monitoring Service (WGMS) show that several hundred glaciers are losing between half and one meter of thickness every year—at least twice the average loss for the 20th century—and remote monitoring shows this rate of melting is far more widespread.
YOU MIGHT ALSO LIKE
The Drought in California Is So Bad the Ground Is Literally Sinking
Astronaut Snaps Epic Photo of Wildfires from Space as Record 7 Million Acres Burn
Alaska's Rapidly Melting Glaciers: A Major Driver of Global Sea Level Rise
EcoWatch Daily Newsletter
Variety of fermented food korean traditional kimchi cabbage and radish salad. white and red sauerkraut in ceramic plates over grey spotted background. Natasha Breen / REDA&CO / Universal Images Group / Getty Image
Even if you've never taken probiotics, you've probably heard of them.
These supplements provide numerous benefits because they contain live microorganisms, such as bacteria or yeast, which support the healthy bacteria in your gut (1, 2, 3, 4).
Pexels
Singapore will become the first country in the world to place a ban on advertisements for carbonated drinks and juices with high sugar contents, its health ministry announced last week. The law is intended to curb sugar consumption since the country has some of the world's highest diabetes rates per capita, as Reuters reported.
A typical adult takes around 20,000 breaths per day. If you live in a megacity like Beijing, with many of those lungfuls you're likely to inhale a noxious mixture of chemicals and pollutants.
Fred Stone holds his brown swiss cow Lida Rose at his Arundel dairy farm on March 18 after a press conference where he spoke about PFAS chemical contamination in his fields. Gregory Rec / Portland Portland Press Herald via Getty Images
By Susan Cosier
First there was Fred Stone, the third-generation dairy farmer in Maine who discovered that the milk from his cows contained harmful chemicals. Then came Art Schaap, a second-generation dairy farmer in New Mexico, who had to dump 15,000 gallons of contaminated milk a day.
Protesters attend the 32nd annual Fur-Free Friday demonstration on Nov. 23, 2018 in Beverly Hills, California. Ella DeGea / Getty Images
California Governor Gavin Newsom signed into law a bill that that bans the sale and manufacture of fur products in the state. The fur ban, which he signed into law on Saturday, prohibits Californians from selling or making clothing, shoes or handbags with fur starting in 2023, according to the AP.
By Simon Evans
During the three months of July, August and September, renewables generated an estimated total of 29.5 terawatt hours (TWh), compared with just 29.1TWh from fossil fuels, the analysis shows.
A demonstrator waves an Ecuadorian flag during protests against the end of subsidies to gasoline and diesel on Oct. 9 in Quito, Ecuador. Jorge Ivan Castaneira Jaramillo / Getty Images
Protesters block the road outside Mansion House in London during an XR climate change protest. Gareth Fuller / PA Images via Getty Images