This website uses cookies to ensure you get the best experience while browsing it. By clicking 'Got It' you're accepting these terms.


The best of EcoWatch, right in your inbox. Sign up for our email newsletter!
One of World's Fastest Melting Glaciers May Have Lost Largest Chunk of Ice in Recorded History
Aug. 20, 2015 09:58AM EST
Climate
With the world's glaciers melting at record rates, the Jakobshavn—Greenland's fastest-moving glacier and one of the fastest melting in the world—may have lost its largest chunk of ice in recorded history.
Massive calving event on Greenland's fastest melting #glacier http://t.co/aRvxQcDOvf Images: http://t.co/fmoHfapp4o pic.twitter.com/VC4arPdVw0

— The Ice Age (@Jamie_Woodward_) August 20, 2015
The Washington Post reported that members of the Arctic Sea Ice Forum examined satellite images of the glacier between Aug. 14 and Aug. 16 and found that a large chunk of ice (an estimated total area of of 12.5 square kilometers or five square miles), had broken away from the glacier's face. The amount is quite possibly the largest ever recorded, some members have speculated.
According to forum member Espen Olsen, this loss is "one of the largest calvings in many years, if not the largest." (Calving is the sudden release and breaking away of a mass of ice from a glacier, iceberg, ice front, ice shelf or crevasse).
As the Post noted in its report, calving isn't unusual for this area in Greenland due to rising air and sea temperatures in the Arctic. "As of 2012, the glacier was pouring out ice at a speed of 150 feet per day, nearly three times its flow rate in the 1990s," the report stated.
One of the world's fastest melting glaciers may have just lost its biggest ice chunk on record http://t.co/Y0CnIXwDYL pic.twitter.com/i8WbaBaIm1

— Post Green (@postgreen) August 19, 2015
"Overall, I don't think that they really can nail the 'largest' [calving event] or not," he wrote in an email to the publication. "I wouldn't get too excited on this, even though it is not good news." He added that the satellite images the forum members observed were only spaced by one full day and the ice loss could have broken off in separate smaller events instead of one giant calving.
Even if this event isn't the largest ice loss recorded on the glacier, as you can see from these satellite images captured on July 31 and Aug. 16 of this year (just two weeks apart!) by Joshua Stevens, a senior data visualizer and cartographer at NASA's Earth Observatory, the Jakobshavn is going through tremendous ice loss.
"The calving events of Jakobshavn are becoming more spectacular with time, and I am in awe with the calving speed and retreat rate of this glacier," said Eric Rignot, a glaciologist at the Jet Propulsion Laboratory, in a NASA Earth Observatory post. "These images are a very good example of the changes taking place in Greenland."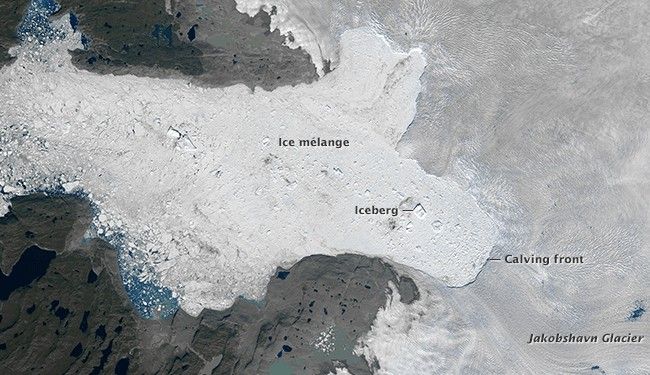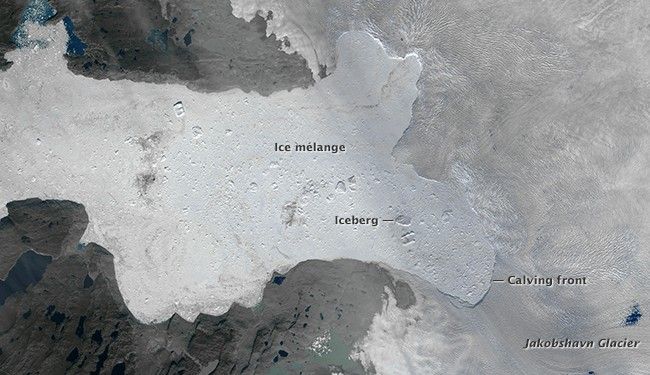 "What is important is that the ice front, or calving front, keeps retreating inland at galloping speeds," Rignot said.
The Jakobshavn is of particular significance since it is responsible "for draining a large portion of the Greenland Ice Sheet," and "could contribute more to sea level rise than any other single feature in the Northern Hemisphere," the Earth Observatory post stated.
According to University of Washington glaciologist Ian Joughin, Jakobshavn's calving front has moved about 600 meters (2,000 feet) farther inland than the summer before for the last several years.
The Jakobshavn is also one of the fastest-flowing glaciers in the world. In the summer of 2012 alone, the glacier accelerated at a rate of 17 kilometers (10 miles) per year, a speed never witnessed before. On average, the glacier moved nearly three times faster in 2012 than it did in the mid-1990s.
Worldwide, the current rate of glacier melt is without precedent. Recent data compiled by the World Glacier Monitoring Service (WGMS) show that several hundred glaciers are losing between half and one meter of thickness every year—at least twice the average loss for the 20th century—and remote monitoring shows this rate of melting is far more widespread.
YOU MIGHT ALSO LIKE
The Drought in California Is So Bad the Ground Is Literally Sinking
Astronaut Snaps Epic Photo of Wildfires from Space as Record 7 Million Acres Burn
Alaska's Rapidly Melting Glaciers: A Major Driver of Global Sea Level Rise
EcoWatch Daily Newsletter
Denali national park. Domen Jakus / Flickr / CC BY-NC 2.0
By Stephanie Gagnon
Happy National Parks Week! This year, between April 20 and 28, escape to the beautiful national parks — either in person or in your imagination — and celebrate the amazing wildlife that calls these spaces home.
fstop123 / iStock / Getty Images Plus
At EcoWatch, our team knows that changing personal habits and taking actions that contribute to a better planet is an ongoing journey. Earth Day, happening on April 22, is a great reminder for all of us to learn more about the environmental costs of our behaviors like food waste or fast fashion.
To offer readers some inspiration this Earth Day, our team rounded up their top picks for films to watch. So, sit back and take in one of these documentary films this Earth Day. Maybe it will spark a small change you can make in your own life.
Sesame, three months old, at Seal Rescue Irleand.
Screenshot / Seal Rescue Ireland Instagram
On Friday, Seal Rescue Ireland released Sesame the seal into the ocean after five months of rehabilitation at the Seal Rescue Ireland facility. Watch the release on EcoWatch's Facebook.

Beer packs of Guinness will now come in a cardboard box. Diageo

By Jordan Davidson
Guinness is joining the fight against single use plastic. The brewer has seen enough hapless turtles and marine life suffering from the scourge of plastic.
Maskot / Getty Images
People of all ages are spending more of their day looking at their phones, computers and television screens, but parents now have another reason for limiting how much screen time their children get — it could lead to behavioral problems.
Rapper and comedian Lil Dicky released a 7-minute climate change awareness song and video today, ahead of Earth Day on Monday, with proceeds going to the Leonardo DiCaprio Foundation.
Pexels
By Eoin Higgins
The New York City Council passed the world's "largest single carbon reduction effort that any city, anywhere, has ever put forward" on Thursday afternoon, marking a major milestone in the fight against the climate crisis.