One of the Lucky Ones: Seal Pup Released Back Into the Ocean After Severe Injuries From Marine Debris
A seal pup named Maëlle was released back into the ocean Tuesday, three months after being found severely underweight and injured by a fishing net wrapped deep around her neck.
The female seal, thought to be only five- or six-months-old at the time, was found in December on a beach near the city of Nanaimo in British Columbia, Canada.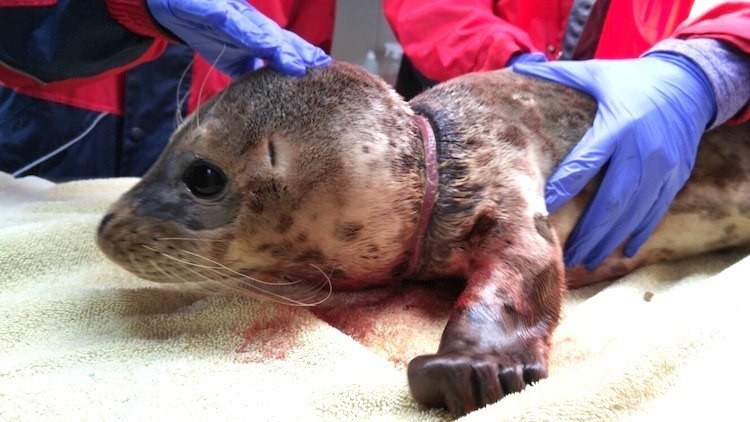 Marine debris can cause serious harm to aquatic life, such as this young female seal named Maëlle who was found with fish net embedded in her neck. Photo credit: Vancouver Aquarium
After rescuers untangled her from the netting, Maëlle was transported to the Vancouver Aquarium's Marine Mammal Rescue Centre for rehabilitation.
According to a blog post from the aquarium, the pup only weighed 9 kilograms when she was brought to the center.
"She was really underweight, so [the net] had probably been around her neck for what we're guessing was about a month's time," Lindsaye Akhurst, manager of the aquarium's rescue center, told CBC News. "She weighed half the amount of the weight that she should've."
Akhurst noted that injuries like Maëlle's are concerning because they're entirely due to human activity, adding that the aquarium rescues about 150 animals in similar circumstances every year.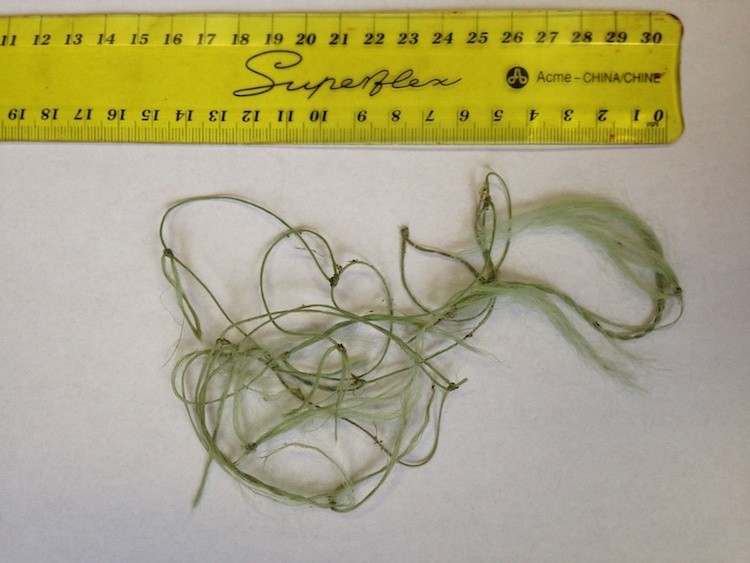 This tiny piece of fishing net caught around Maelle's neck caused her severe injuries. Photo credit: Vancouver Aquarium
Maëlle was put on a feeding program to help her gain weight and given antibiotics and fluids to help her heal.
The pup, who is named after Canadian snowboarder and 2010 Olympic gold medalist Maëlle Ricker, managed a full recovery and was released into Cates Park in North Vancouver March 8 with her namesake athlete also in attendance.
"It's an enormous honor to be invited to witness the release of the now-healthy seal pup that is named after me," Ricker said in the aquarium's blog post. "I'm grateful for the opportunity to help raise awareness about the importance of cleaning up our Canadian shorelines to help protect aquatic ecosystems and wild animals like Maëlle."
Akhurst told 24 Hours Vancouver that the seal "didn't even bat an eyelash" as she swam away into the North Vancouver sea.
"Her being an older animal when she came in, it's nice that she's doing so well, so fast," Akhurst said.
Maëlle's story is another reminder of the destruction caused by human litter which can choke, injure and even kill aquatic life as small as the tinniest fish to the largest whales. According to the aquarium, pinnipeds—seals and sea lions—are particularly susceptible to marine debris because of their curious nature.
An estimated 640,000 tonnes of ghost gear, which includes nets, lines and traps are lost, abandoned or discarded in our oceans every year. Added to that, at least 8 million tons of plastics leak into the ocean annually, meaning there will be more plastic than fish in the ocean by 2050.
We can all do something to help reduce marine litter, from lifestyle changes to participating in beach cleanups. Last year alone, the Great Canadian Shoreline Cleanups kept more than 175,932 kilograms of litter from reaching the oceans, lakes, rivers, streams and other water systems.
"This seal pup is one of the few lucky ones—the trash humans leave behind often has fatal consequences for wildlife in all our waters," Kate Le Souef, manager of the Great Canadian Shoreline Cleanup, said.
YOU MIGHT ALSO LIKE
Endangered Species Found Dead, Likely Result of Illegal Fishing
Ocean 'Artivist' Creates Breathtaking Coral Reef Sculptures
Why Is Mine Waste Being Dumped Directly Into the Ocean?
Young Humpback Whale Found Dead, Exposes Devastating Impacts of Ocean Trash
Bill Maher is sick of billionaires' obsession with Mars, more like "Mars-a-Lago," he said.
In a new animation produced by ATTN:, the popular talk show host of Real Time, discusses the perils of our planet, including how "climate change is killing us."
Keep reading...
Show less
Dr. Benjamin D. Santer, research scientist
A group of prominent climate scientists have written a study explicitly refuting statements made by the U.S. Environmental Protection Agency Administrator Scott Pruitt on climate data. During his Senate confirmation hearing, Pruitt claimed in a written response that satellite data shows a "leveling off" of warming over the past two decades.
Keep reading...
Show less
By David Pomerantz
The Nevada Assembly passed a bill Wednesday that would dramatically increase the growth of renewable energy in the state, but Sheldon Adelson, the casino magnate and major donor to Donald Trump, is attempting to prevent the bill from becoming law.
Keep reading...
Show less
Matt Crossick
By Yosola Olorunshola
Whether it's through fashion or protest, Vivienne Westwood is not a woman afraid of making a statement.
On May 23, she rocked up to the residence of the Archbishop of Canterbury in London with a special guest—the Grim Reaper—to issue a strong statement on the Church of England's position on fracking.
Keep reading...
Show less
By Paul Brown
The food industry and big agricultural concerns are driving climate change and at the same time threatening to undermine efforts to feed the world's growing population, according to GRAIN, an organization that supports small farmers.
Particularly singled out for criticism are the large chemical fertilizer producers that have gained access to the United Nations talks on climate change. GRAIN accuses them of behaving like the fossil fuel companies did in the 1990s, pushing false information in the hope of delaying real action on climate change.
Keep reading...
Show less
May. 24, 2017 06:55PM EST
By Sydney Robinson
President Trump has no doubt been given a long list of extravagant, elaborate gifts in his lifetime, but the gift given to him today by Pope Francis may not make it on his most favorite list.
Keep reading...
Show less
May. 24, 2017 07:17PM EST
By John Rogers
Maybe it's because I first started working on clean energy while serving in the Peace Corps he founded, or maybe it's my years of working on these issues from his home state. But I can't help thinking about the 100th anniversary of John F. Kennedy's birth, and connecting his stirring rhetoric to the energy challenges of our times.
Here's what our 35th president might have said about the challenges of energy transition and the opportunities in clean energy:
"Change is the law of life. And those who look only to the past or present are certain to miss the future."
Keep reading...
Show less
May. 24, 2017 01:47PM EST
Keep reading...
Show less


Get EcoWatch in your inbox