This website uses cookies to ensure you get the best experience while browsing it. By clicking 'Got It' you're accepting these terms.
One Big Step Closer to Ending Mountaintop Removal Coal Mining
Nov. 15, 2012 03:37PM EST
Energy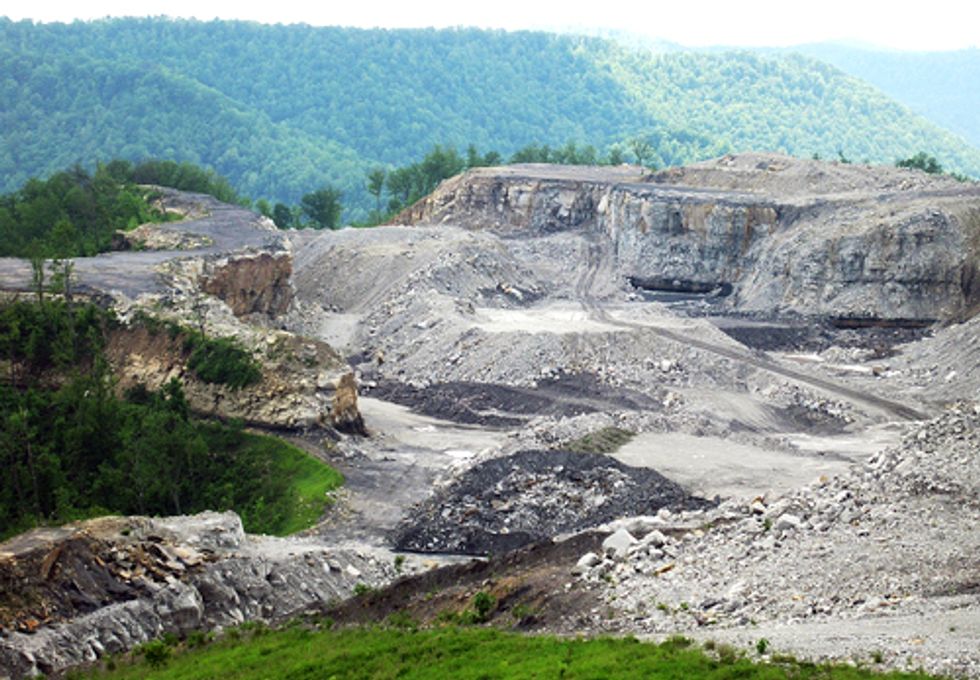 Today, Patriot Coal Corporation (NYSE: PCX) announced its intention to immediately begin phasing out all large scale surface mining in Appalachia. The announcement follows an historic agreement with the Sierra Club, Ohio Valley Environmental Coalition and the West Virginia Highlands Conservancy, represented by attorneys from Appalachian Mountain Advocates.
Patriot, which filed for Chapter 11 Bankruptcy on July 9, sought approval from the groups for an extension to the schedule under which the company is required–pursuant to a court order and settlement resolving prior litigation with the groups–to install expensive pollution controls at several mines in West Virginia. Astonishingly, along with its commitment to end large scale surface mining in the region, the company also acknowledged the impact this destructive form of mining has on local communities and announced its commitment to reduce its environmental footprint. Patriot is among the largest mountaintop removal coal mine operators in Appalachia.
"This is an historic moment for people hardest hit by mountaintop removal coal mining," said Michael Brune, executive director of the Sierra Club. "Tens of thousands of people have worked tirelessly to put an end to this destructive process, and today's agreement is a major step towards ending this abhorrent form of mining and repairing the damage done to communities and ecosystems across the region. Patriot Coal may be the first company to cease mountaintop removal mining but, because of the tireless efforts of committed volunteers and community organizations, it certainly won't be the last."
The agreement requires Patriot to move away from, and ultimately cease, mountaintop removal and all other forms of large-scale surface mining in Appalachia. In return, Patriot will be granted additional time to install selenium treatment at several of its mines. Patriot will also retire significant infrastructure required to perform mountaintop removal mining, including the dragline at its Catenary mine complex, which will be retired immediately, and the dragline at its Hobet mine complex, which will be retired in 2015.
Patriot will also withdraw two applications for Clean Water Act section 404 valley fill permits currently pending before the Army Corps of Engineers, and will surrender its remaining rights under a third permit. These section 404 permits allow companies to dump the waste from mountaintop removal mines into valleys, burying streams and headwaters that are critical to local biodiversity. Further, Patriot has committed to not apply for any additional large-scale surface mine permits, has agreed to not open any new stand-alone surface mines and will only conduct small scale surface mining in conjunction with existing and planned underground mining. The agreement allows Patriot to move forward with its plans to open one new metallurgical coal mine for which a section 404 permit application is pending, but preserves the right of the groups to challenge that permit in the event that the U.S. Environmental Protection Agency identifies water quality concerns with the permit. Patriot will also donate $500,000 to a West Virginia nonprofit organization to be identified by the parties.
Patriot has issued the following statement:
"Patriot Coal has concluded that the continuation or expansion of surface mining, particularly large scale surface mining of the type common in central Appalachia, is not in its long term interests. Today's proposed settlement commits Patriot Coal to phase out and permanently exit large scale surface mining and transition our business primarily toward underground mining and related small scale surface mining. Patriot Coal recognizes that our mining operations impact the communities in which we operate in significant ways, and we are committed to maximizing the benefits of this agreement for our stakeholders, including our employees and neighbors. We believe the proposed settlement will result in a reduction of our environmental footprint. This settlement is consistent with Patriot Coal's business plan to focus capital on expanding higher margin metallurgical coal production and limiting thermal coal investments to selective opportunities where geologic and regulatory risks are minimized. Patriot Coal urges the Court to approve the settlement because it strengthens the Company's ability to continue operating with our nearly 4000 employees, and significantly increases the likelihood that we will emerge from the chapter 11 process as a viable business, able to satisfy our environmental and other obligations."
"It's heartening any day we learn that a major player decides that mountaintop removal is not in the best interest—of the company or of our mountains, streams, and communities," said Jim Sconyers, chair of the West Virginia Sierra Club. "We look forward to the day when full implementation of this agreement is achieved."
In return, Sierra Club, Ohio Valley Environmental Coalition, and the West Virginia Highlands Conservancy have agreed to file a joint motion with Patriot that will extend the time the company is allowed to comply with court ordered selenium controls at the Hobet mine by 15 months. The coalition will also allow Patriot to extend the date of compliance for selenium treatment at 42 other outlets at other mines and facilities by 12 months.
"We've been saying for many years that if companies had to pay the real costs of mountaintop removal, it would not be economically feasible," said Cindy Rank of the West Virginia Highlands Conservancy. "Hopefully, it's now become clear that when coal companies are required to prevent illegal selenium pollution and pay the costs for cleanup themselves it's simply doesn't make economic sense to continue this destructive form of mining."
"We hope that this agreement, while holding Patriot responsible for its legacy of mining pollution, puts the company in a strong enough financial condition through its underground mining that it can honor its obligations to its retirees and workers," said Dianne Bady of the Ohio Valley Environmental Coalition.
The Sierra Club, Ohio Valley Environmental Coalition, and the West Virginia Highlands Conservancy were represented in the matter by Joe Lovett and Derek Teaney of Appalachian Mountain Advocates. The agreement was announced during a proceeding before Judge Robert Chambers of the U.S. District Court for the Southern District of West Virginia.
Visit EcoWatch's MOUNTAINTOP REMOVAL page for more related news on this topic.
EcoWatch Daily Newsletter
A First Nations protester walks in front of a train blockade in Tyendinaga, near Belleville, Ontario, Canada on Feb. 21, 2020. LARS HAGBERG / AFP via Getty Images
An indigenous rail blockade that snarled train travel in Canada for more than two weeks came to an end Monday when police moved in to clear protesters acting in solidarity with another indigenous community in British Columbia (B.C.), which is fighting to keep a natural gas pipeline off its land.
A rainbow snake, a rare reptile spotted in a Florida county for the first time in more than 50 years, seen here on July 5, 2013.
Kevin Enge / FWC Fish and Wildlife Research Institute / Flickr
A Florida hiker recently stumbled across a slithering surprise — a rare snake that hadn't been spotted in the area for more than 50 years.
We need our government to do everything it can to stop PFAS contamination and exposure from wreaking havoc in communities across the country. LuAnn Hun /
Unsplash
By Genna Reed
The EPA announced last week that it is issuing a preliminary regulatory determination for public comment to set an enforceable drinking water standard to two of the most common and well-studied PFAS, PFOA and PFOS.
This decision is based on three criteria:
PFOA and PFOS have an adverse effect on public health
PFOA and PFOS occur in drinking water often enough and at levels of public health concern;
regulation of PFOA and PFOS is a meaningful opportunity for reducing the health risk to those served by public water systems.
Charging EVs in Stockholm: But where does a dead battery go? Ranjithsiji / Wikimedia Commons
By Kieran Cooke
Driving an electric-powered vehicle (EV) rather than one reliant on fossil fuels is a key way to tackle climate change and improve air quality — but it does leave the old batteries behind as a nasty residue.
U.S. Secretary of the Treasure Steven Mnuchin arrives for a welcome dinner at the Murabba Palace in Riyadh, Saudi Arabia on Feb. 22, 2020 during the G20 finance ministers and central bank governors meeting. FAYEZ NURELDINE / AFP via Getty Images
Finance ministers from the 20 largest economies agreed to add a scant mention of the climate crisis in its final communiqué in Riyadh, Saudi Arabia on Sunday, but they stopped short of calling it a major economic risk, as Reuters reported. It was the first time the G20 has mentioned the climate crisis in its final communiqué since Donald Trump became president in 2017.