This website uses cookies to ensure you get the best experience while browsing it. By clicking 'Got It' you're accepting these terms.
OMG I Thought You Were Dead!
Dec. 02, 2014 09:15AM EST
I shouted with euphoric joy through my regulator, 20 feet underwater. I can only imagine how wide my eyes were. It must have been difficult to discern between an expression of delighted surprise and a textbook example of wide-eyed diver panic. My eyes were transfixed on an old friend with a funny name whom I hadn't laid eyes on in years. I had heard he was dead—or at least gravely ill. But there in front of me, larger than life, vibrant and embracing the sun, my friend was very much alive and healthy, clearly enjoying the good life in Cuba.
Several years earlier, I joined an expedition to explore a corner of the Gulf of Mexico I had only heard about from colleagues: The magnificent coral reef ecosystem of Veracruz, Mexico. Seated inside the DeepRover submersible with great anticipation for a vibrant reef that lay below me, I was lowered from the deck of a Mexican Navy ship into the warm blue waters below and radioed the ship that I was going to begin my descent.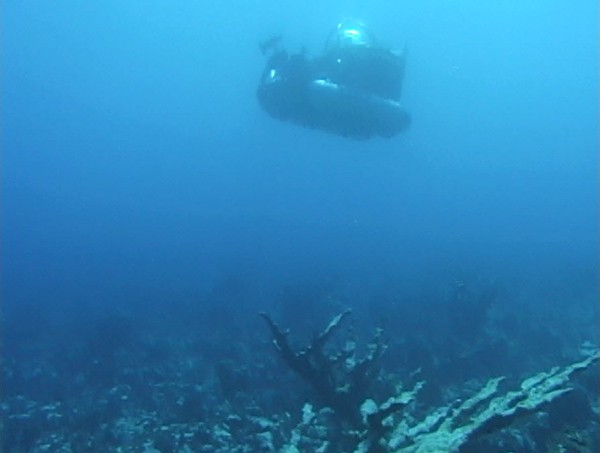 As the reef came into view, my eyes seemed to betray me. The rich colors of the coral reef were absent. So were the fish. Where a once-magnificent coral reef had stood less than a decade earlier, only a massive skeleton remained, now covered with algae and little else. Flying the sub between massive canyon walls built over millennia by once-thriving corals, the scene was reminiscent of World War II newsreels depicting Europe's bombed-out cities, their former glory evidenced only by the lifeless shells of long-abandoned buildings.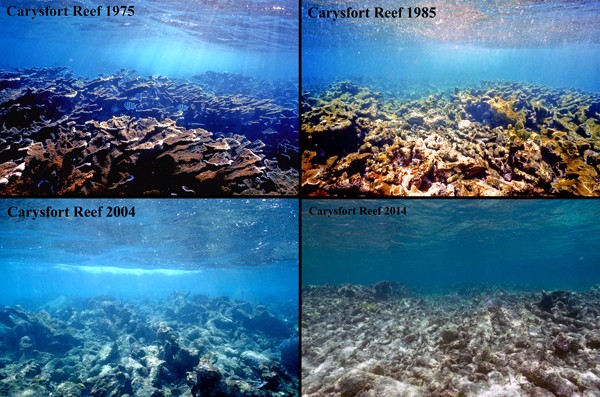 I had seen this before. The reefs I had so delighted in as a teenager in the Florida Keys are unrecognizable today. In the Lower Keys, live coral is estimated to be only 20 percent of what it was in the early seventies when I first dove there. Was this scene at Veracruz a mournful glimpse into the future of Caribbean coral reefs?
A major report released earlier this year from the Global Coral Reef Monitoring Network and International Union for the Conservation of Nature (IUCN) puts it clearly and bluntly: Without swift and meaningful action, "Caribbean coral reefs and their associated resources will virtually disappear within just a few decades…" The report is the most comprehensive to date, compiling a record 35,000 quantitative reef surveys from 1969 to 2012 across 90 locations in 34 countries.
The report reveals an average decline of coral cover in the Caribbean of more than 50 percent since 1970, but the overall decline, which likely began several decades earlier, is even higher. Caribbean corals are dying from a lethal mix of slow-motion insults, including fueling the growth of algae by nutrient pollution, eliminating the fish that graze on algae due to overfishing, and bathing corals in hotter and hotter water due to climate change, to name a few.
Statistics like these make it easy for one to abandon hope. Perhaps I had, too. But then I found myself yelling through my regulator, reunited at last with my long-lost friend. Most folks call him, "Elkhorn," but his scientific name is Acropora palmata: Elkhorn coral. Elkhorn coral is perhaps the Caribbean's most iconic coral species and one of the most important reef-building species. Sadly, elkhorn is now the poster child of Caribbean coral's demise. The National Oceanic and Atmospheric Administration (NOAA) estimates that elkhorn is now 95 percent extinct from Caribbean waters, and it is now listed on U.S. Endangered Species List.
I knew from data and photos taken by colleagues that such corals flourished in Cuba. And on previous expeditions, I had even glimpsed small patches of elkhorn, clinging to reef crests, standing tall before the breaking turquoise waves. But in my wide-eyed encounter, I was breathless. I beheld not just a small patch of healthy coral. I saw stand after stand—a forest of glorious, healthy mustard-brown elkhorn, as far as my eyes could see along this part of Cuba's northern coast, just 90 miles south of the decimated reefs of the Florida Keys.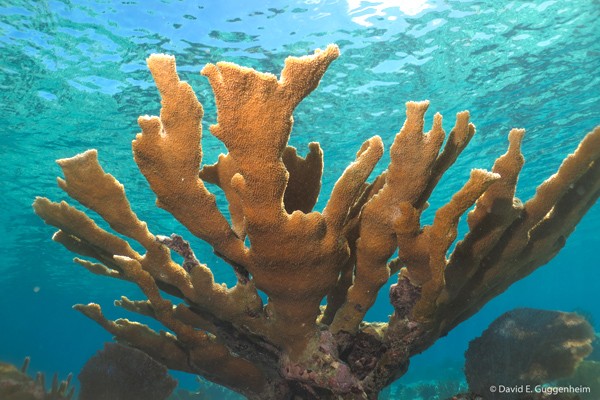 Yet this was nothing compared to what I would see just a few months later. At the urging of my Cuban colleagues, I visited an archipelago 50 miles off Cuba's southern coast, named "Gardens of the Queen" by Christopher Columbus. In the fading sunlight I beheld magnificent stands of healthy elkhorn coral, impossibly packed full of grunts, snappers and angelfish seeking refuge for the evening. I later learned I had seen just a tiny fraction of a barrier reef of elkhorn that continues for more than 30 miles along the archipelago!
Elkhorn and the other corals here show virtually no signs of the diseases that have decimated reefs throughout the Caribbean. It is the healthiest Caribbean marine ecosystem I have ever seen, abundant with sharks, goliath groupers, sea turtles and many other imperiled species.
Cuba's Gardens of the Queen is the country's first marine protected area (MPA) and, at nearly 1,000 square kilometers, the largest fully-protected MPA in the Caribbean. Cuba has made a national commitment to protecting 25 percent of its waters, a staggering, world-leading figure, especially as compared to the worldwide average of 1 percent.
Today, I am filled with hope. If we can study this living laboratory to unlock the mysteries of what is keeping the coral reef ecosystems in Gardens of the Queen so healthy and resilient, we can gain insights that can guide our hand to restore coral reef ecosystems throughout the Caribbean. Working with our Cuban colleagues, we are preparing an international scientific workshop in the coming year with this very purpose, to learn from this living time machine, one of the last natural coral reef laboratories, to understand what a healthy coral reef ecosystem is supposed to look like and how we can best protect it.
I am hopeful that a spirited collaboration with Cuba helps advance international efforts in restoring the beloved natural heritage of the Caribbean. And I hope that in the not too distant future, we all have a chance to hear underwater shouts of joy.
Readers interested in seeing the author's first encounter with healthy elkhorn coral stands in Cuba may be interested in viewing "Cuba: The Accidental Eden," part of the PBS Nature series.
YOU MIGHT ALSO LIKE
What Becomes of Cuba After the Embargo Is Lifted?
500 Years After Columbus, Cuba's Gardens of the Queen Still Pristine
Prince William and British naturalist David Attenborough attend converse during the World Economic Forum annual meeting, on January 22 in Davos, Switzerland. Fabrice Cofferini /AFP / Getty Images
Britain's Prince William interviewed famed broadcaster David Attenborough on Tuesday at the World Economic Forum's annual meeting in Switzerland.
During the sit-down, the 92-year-old naturalist advised the world leaders and business elite gathered in Davos this week that we must respect and protect the natural world, adding that the future of its survival—as well as humanity's survival—is in our hands.
Electric vehicle sales took off in 2018, with a record two million units sold around the world, according to a new Deloitte analysis.
What's more, the accounting firm predicts that another 21 million electric cars will be on the road globally over the next decade due to growing market demand for clean transportation, government subsidies, as well as bans on fossil fuel cars.
Teenager Alex Weber and friends collected nearly 40,000 golf balls hit into the ocean from a handful of California golf courses.
Alex Weber /
CC BY-ND
Southwest Greenland had the most consistent ice loss from 2003 to 2012. Eqalugaarsuit, Ostgronland, Greenland on Aug. 1, 2018.
Rob Oo / CC BY 2.0
Greenland is melting about four times faster than it was in 2003, a new study published Monday in the Proceedings of the National Academy of Sciences found, a discovery with frightening implications for the pace and extent of future sea level rise.
"We're going to see faster and faster sea level rise for the foreseeable future," study lead author and Ohio State University geodynamics professor Dr. Michael Bevis said in a press release. "Once you hit that tipping point, the only question is: How severe does it get?"
Finally, some good news about the otherwise terrible partial government shutdown. A federal judge ruled that the Trump administration cannot issue permits to conduct seismic testing during the government impasse.
The Justice Department sought to delay—or stay—a motion filed by a range of coastal cities, businesses and conservation organizations that are suing the Trump administration over offshore oil drilling, Reuters reported. The department argued that it did not have the resources it needed to work on the case due to the shutdown.
Most people have heard of the Amazon, South America's famed rainforest and hub of biological diversity. Less well known, though no less critical, is the Pantanal, the world's largest tropical wetland.
Like the Amazon, the Pantanal is ecologically important and imperiled. Located primarily in Brazil, it also stretches into neighboring Bolivia and Paraguay. Covering an area larger than England at more than 70,000 square miles, the massive wetland provides irreplaceable ecosystem services that include the regulation of floodwaters, nutrient renewal, river flow for navigability, groundwater recharge and carbon sequestration. The wetland also supports the economies of the four South American states it covers.
Demonstrators participate in a protest march over agricultural policy on Jan. 19 in Berlin, Germany. Carsten Koall / Getty Images Europe
By Andrea Germanos
Organizers said 35,000 people marched through the streets of the German capital on Saturday to say they're "fed up" with industrial agriculture and call for a transformation to a system that instead supports the welfare of the environment, animals and rural farmers.

The fire that erupted after a pipeline explosion in Mexico Friday. FRANCISCO VILLEDA / AFP / Getty Images
By Patrick Rogers
If you have ever considered making the switch to an environmentally friendly electric vehicle, don't drag your feet. Though EV prices are falling, and states are unveiling more and more public charging stations and plug-in-ready parking spots, the federal government is doing everything it can to slam the brakes on our progress away from gas-burning internal combustion engines. President Trump, likely pressured by his allies in the fossil fuel industry, has threatened to end the federal tax credits that have already helped put hundreds of thousands of EVs on the road—a move bound to harm not only our environment but our economy, too. After all, the manufacturing and sale of EVs, hybrids, and plug-in hybrids supported 197,000 jobs in 2017, according to the most recent U.S. Energy and Employment Report.