This website uses cookies to ensure you get the best experience while browsing it. By clicking 'Got It' you're accepting these terms.
OMG I Thought You Were Dead!
Dec. 02, 2014 09:15AM EST
Climate
I shouted with euphoric joy through my regulator, 20 feet underwater. I can only imagine how wide my eyes were. It must have been difficult to discern between an expression of delighted surprise and a textbook example of wide-eyed diver panic. My eyes were transfixed on an old friend with a funny name whom I hadn't laid eyes on in years. I had heard he was dead—or at least gravely ill. But there in front of me, larger than life, vibrant and embracing the sun, my friend was very much alive and healthy, clearly enjoying the good life in Cuba.
Several years earlier, I joined an expedition to explore a corner of the Gulf of Mexico I had only heard about from colleagues: The magnificent coral reef ecosystem of Veracruz, Mexico. Seated inside the DeepRover submersible with great anticipation for a vibrant reef that lay below me, I was lowered from the deck of a Mexican Navy ship into the warm blue waters below and radioed the ship that I was going to begin my descent.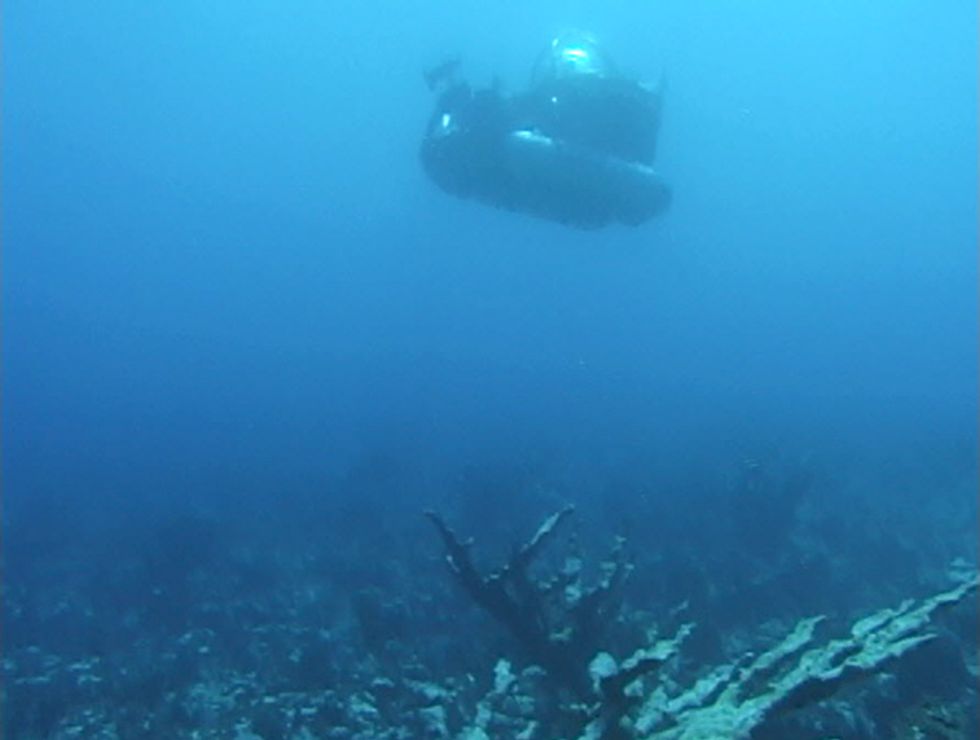 As the reef came into view, my eyes seemed to betray me. The rich colors of the coral reef were absent. So were the fish. Where a once-magnificent coral reef had stood less than a decade earlier, only a massive skeleton remained, now covered with algae and little else. Flying the sub between massive canyon walls built over millennia by once-thriving corals, the scene was reminiscent of World War II newsreels depicting Europe's bombed-out cities, their former glory evidenced only by the lifeless shells of long-abandoned buildings.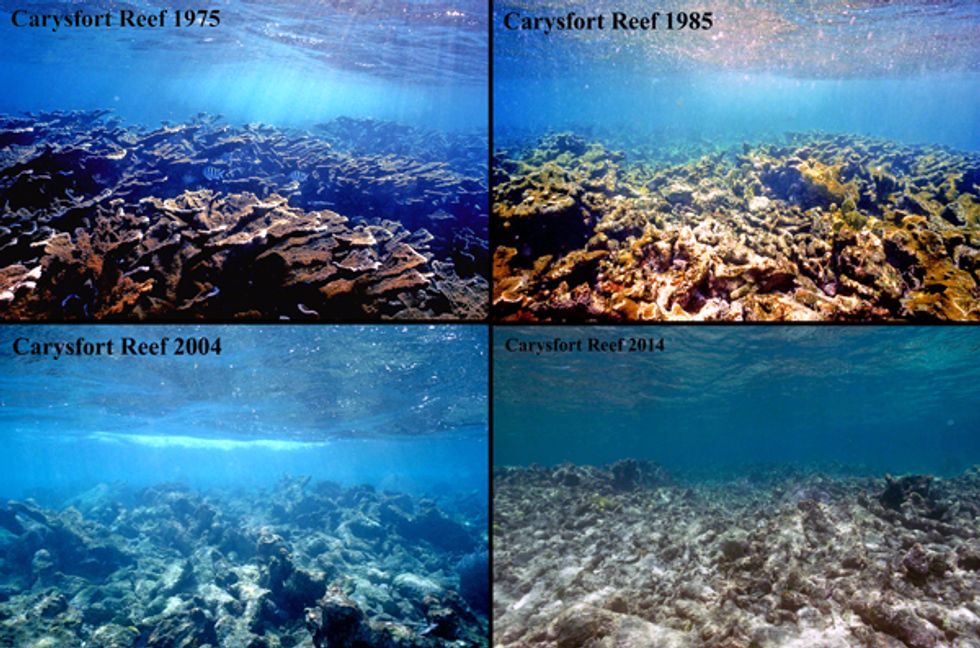 I had seen this before. The reefs I had so delighted in as a teenager in the Florida Keys are unrecognizable today. In the Lower Keys, live coral is estimated to be only 20 percent of what it was in the early seventies when I first dove there. Was this scene at Veracruz a mournful glimpse into the future of Caribbean coral reefs?
A major report released earlier this year from the Global Coral Reef Monitoring Network and International Union for the Conservation of Nature (IUCN) puts it clearly and bluntly: Without swift and meaningful action, "Caribbean coral reefs and their associated resources will virtually disappear within just a few decades…" The report is the most comprehensive to date, compiling a record 35,000 quantitative reef surveys from 1969 to 2012 across 90 locations in 34 countries.
The report reveals an average decline of coral cover in the Caribbean of more than 50 percent since 1970, but the overall decline, which likely began several decades earlier, is even higher. Caribbean corals are dying from a lethal mix of slow-motion insults, including fueling the growth of algae by nutrient pollution, eliminating the fish that graze on algae due to overfishing, and bathing corals in hotter and hotter water due to climate change, to name a few.
Statistics like these make it easy for one to abandon hope. Perhaps I had, too. But then I found myself yelling through my regulator, reunited at last with my long-lost friend. Most folks call him, "Elkhorn," but his scientific name is Acropora palmata: Elkhorn coral. Elkhorn coral is perhaps the Caribbean's most iconic coral species and one of the most important reef-building species. Sadly, elkhorn is now the poster child of Caribbean coral's demise. The National Oceanic and Atmospheric Administration (NOAA) estimates that elkhorn is now 95 percent extinct from Caribbean waters, and it is now listed on U.S. Endangered Species List.
I knew from data and photos taken by colleagues that such corals flourished in Cuba. And on previous expeditions, I had even glimpsed small patches of elkhorn, clinging to reef crests, standing tall before the breaking turquoise waves. But in my wide-eyed encounter, I was breathless. I beheld not just a small patch of healthy coral. I saw stand after stand—a forest of glorious, healthy mustard-brown elkhorn, as far as my eyes could see along this part of Cuba's northern coast, just 90 miles south of the decimated reefs of the Florida Keys.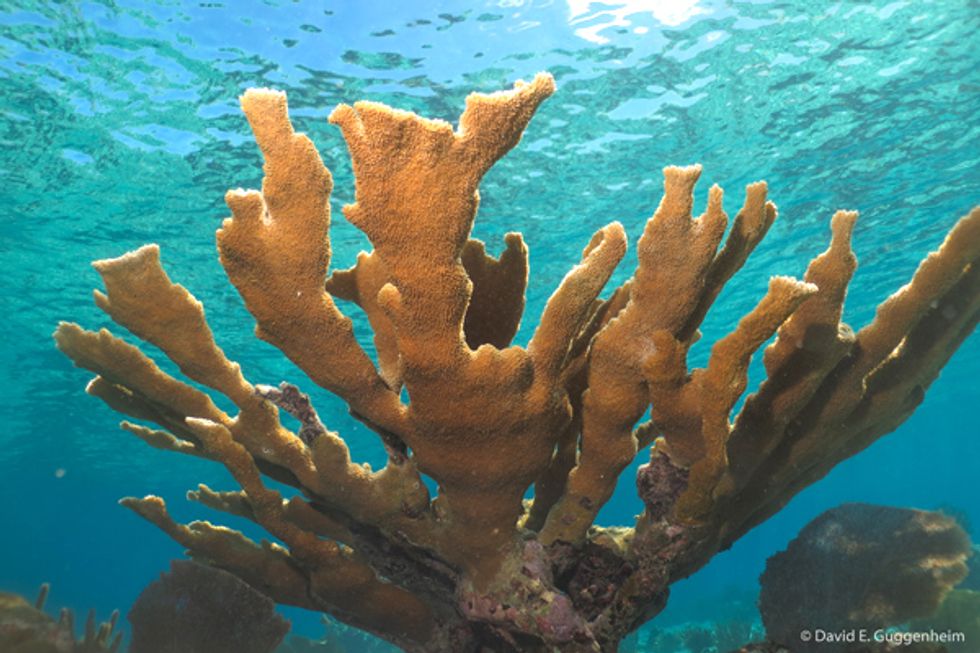 Yet this was nothing compared to what I would see just a few months later. At the urging of my Cuban colleagues, I visited an archipelago 50 miles off Cuba's southern coast, named "Gardens of the Queen" by Christopher Columbus. In the fading sunlight I beheld magnificent stands of healthy elkhorn coral, impossibly packed full of grunts, snappers and angelfish seeking refuge for the evening. I later learned I had seen just a tiny fraction of a barrier reef of elkhorn that continues for more than 30 miles along the archipelago!
Elkhorn and the other corals here show virtually no signs of the diseases that have decimated reefs throughout the Caribbean. It is the healthiest Caribbean marine ecosystem I have ever seen, abundant with sharks, goliath groupers, sea turtles and many other imperiled species.
Cuba's Gardens of the Queen is the country's first marine protected area (MPA) and, at nearly 1,000 square kilometers, the largest fully-protected MPA in the Caribbean. Cuba has made a national commitment to protecting 25 percent of its waters, a staggering, world-leading figure, especially as compared to the worldwide average of 1 percent.
Today, I am filled with hope. If we can study this living laboratory to unlock the mysteries of what is keeping the coral reef ecosystems in Gardens of the Queen so healthy and resilient, we can gain insights that can guide our hand to restore coral reef ecosystems throughout the Caribbean. Working with our Cuban colleagues, we are preparing an international scientific workshop in the coming year with this very purpose, to learn from this living time machine, one of the last natural coral reef laboratories, to understand what a healthy coral reef ecosystem is supposed to look like and how we can best protect it.
I am hopeful that a spirited collaboration with Cuba helps advance international efforts in restoring the beloved natural heritage of the Caribbean. And I hope that in the not too distant future, we all have a chance to hear underwater shouts of joy.
Readers interested in seeing the author's first encounter with healthy elkhorn coral stands in Cuba may be interested in viewing "Cuba: The Accidental Eden," part of the PBS Nature series.
YOU MIGHT ALSO LIKE
What Becomes of Cuba After the Embargo Is Lifted?
500 Years After Columbus, Cuba's Gardens of the Queen Still Pristine
EcoWatch Daily Newsletter
A new report spotlights a U.N. estimate that at least 275 million people rely on healthy coral reefs. A sea turtle near the Heron Island in the Great Barrier Reef is seen above. THE OCEAN AGENCY / XL CATLIN SEAVIEW SURVEY
In a new report about how the world's coral reefs face "the combined threats of climate change, pollution, and overfishing" — endangering the future of marine biodiversity — a London-based nonprofit calls for greater global efforts to end the climate crisis and ensure the survival of these vital underwater ecosystems.
Half of the extracted resources used were sand, clay, gravel and cement, seen above, for building, along with the other minerals that produce fertilizer. Cavan Images / Cavan / Getty Images
The world is using up more and more resources and global recycling is falling. That's the grim takeaway from a new report by the Circle Economy think tank, which found that the world used up more than 110 billion tons, or 100.6 billion metric tons, of natural resources, as Agence France-Presse (AFP) reported.
By Gero Rueter
Heating with coal, oil and natural gas accounts for around a quarter of global greenhouse gas emissions. But that's something we can change, says Wolfgang Feist, founder of the Passive House Institute in the western German city of Darmstadt.

By George Citroner
Recent research finds that official government figures may be underestimating drug deaths by half.
Researchers estimate that 142,000 people died due to drug use in 2016.
Drug use decreases life expectancy after age 15 by 1.4 years for men and by just under 1 year for women, on average.
Government records may be severely underreporting how many Americans die from drug use, according to a new study by researchers from the University of Pennsylvania and Georgetown University.
Water coolers in front of shut-off water fountains at Center School in Stow, MA on Sept. 4, 2019 after elevated levels of PFAS were found in the water. David L. Ryan / The Boston Globe via Getty Images
In a new nationwide assessment of drinking water systems, the Environmental Working Group found that toxic fluorinated chemicals known as PFAS are far more prevalent than previously thought.