This website uses cookies to ensure you get the best experience while browsing it. By clicking 'Got It' you're accepting these terms.
Oil Can't Compete With Renewables, Says National Bank of Abu Dhabi
Mar. 05, 2015 11:11AM EST
Business
You wouldn't expect a bank in the oil-rich Middle East to be touting the future of renewable energy over that of oil. But that's just what the National Bank of Abu Dhabi (NBAD) is doing with its new report, Financing the Future of Energy: The opportunity for the Gulf's financial services sector.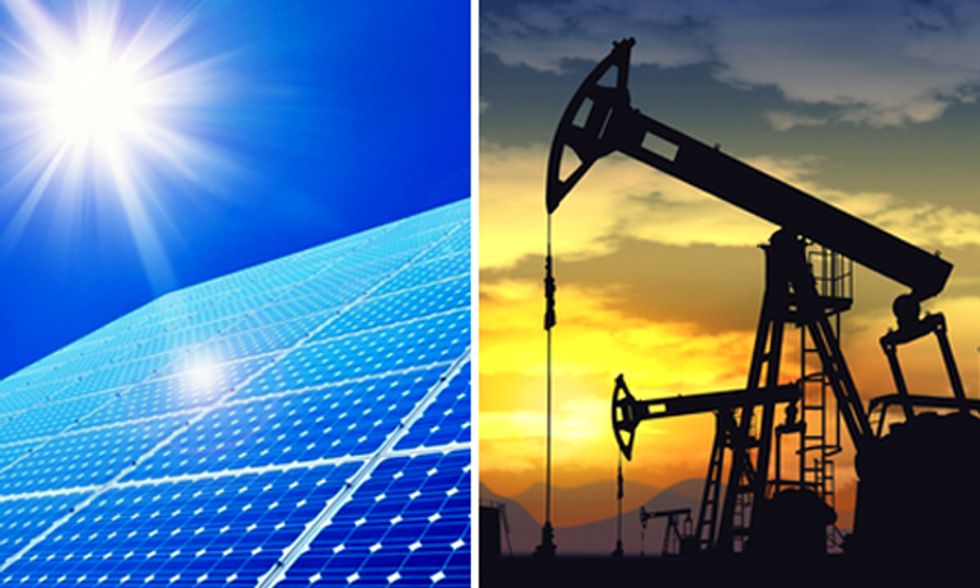 Aimed primarily at investors and focusing on financial performance and potential, the report found that fossil fuels just weren't keeping up with solar and wind, and were less likely to do so in the future, even if oil prices dropped much lower than they are now.
"It provides insights into how that community might engage with public and private sector stakeholders to create a more energy efficient economy, turning the aspirations of the region into a reality that will attract the attention of the rest of the world and unlock significant financial opportunities," says the report's introduction.
Energy demand is expected to triple in the next 15 years in the rapidly growing Persian Gulf region—already the biggest energy consumer per capita in the world—a demand far outstripping the current supply. Yet, despite the recent plunge in oil prices, the report says that that demand will be more efficiently filled by renewables, offering more reliable and lucrative investment opportunities than oil.
"Some of the report's findings may surprise you, as they did me," writes NBAD CEO Alex Thursby in the report's introduction. "For example, renewable energy technologies are far further advanced than many may believe: solar photovoltaic (PV) and on-shore wind have a track record of successful deployment, and costs have fallen dramatically in the past few years. In many parts of the world, indeed, they are now competitive with hydrocarbon energy sources. Already, more than half of the investment in new electricity generation worldwide is in renewables. Potentially, the gains to be made from focusing on energy efficiency are as great as the benefits of increasing generation. Together, these help us to reframe how we think about the prospects for energy in the region."
Among the report's surprisingly findings are that fossil fuels are already uncompetitive with solar in terms of price, and that would be true even if oil fell as low as $10 a barrel. And with the supply of fossil fuels finite and increasingly difficult to extract, the bank believes that almost all future investments will be in renewables.
"Prices have fallen dramatically in the past few years: solar PV falling by 80 percent in six years, and on-shore wind by 40 percent," it says. "The speed of this shift towards grid parity with fossil fuels means that, in many instances, perceptions of the role of renewables in the energy mix have not caught up with reality."
It also points out that some of the objections to renewables—for instance, the intermittency of wind and sunshine—are being overcome as the development of storage technologies picks up steam. It suggests that such technologies present excellent investment opportunities.
"There has been an historic concern that renewables are an unreliable option, because the wind blows only intermittently and the sun does not shine all the time, but that is proving to be less of an issue," the report says. "Developments in storage technologies are progressing rapidly, and in the next few years utility-scale solutions will be deployed that further minimize concern around what was until recently seen as a major inhibitor to the uptake of renewable generation."
It also suggested that investment opportunities would exist in developing countries such as Kenya as their middle class grew and they looked to escape the volatility of oil prices and control their energy supply locally.
"When we look to the future, it is very clear that renewables will be an established part of the global energy mix," writes Thursby. "Governments around the world, including the Gulf region, are setting out their ambitions for decarbonizing their economies, and the global debate about energy has never been more intense."
YOU MIGHT ALSO LIKE
Google Invests $300 Million in SolarCity to Make Going Solar Easier
India's Huge Commitment to Renewable Energy Provides 'Gift to the World'
EcoWatch Daily Newsletter
Indigenous people of various ethnic groups protest calling for demarcation of lands during the closing of the 'Red January - Indigenous Blood', in Paulista Avenue, in São Paulo, Brazil, Jan. 31, 2019. Cris Faga / NurPhoto / Getty Images
By Raphael Tsavkko Garcia
Rarely has something so precious fallen into such unsafe hands. Since Jair Bolsonaro took the Brazilian presidency in 2019, the Amazon, which makes up 10 percent of our planet's biodiversity and absorbs an estimated 5 percent of global carbon emissions, has been hit with a record number of fires and unprecedented deforestation.
Microsoft's main campus in Redmond, Washington on May 12, 2017. GLENN CHAPMAN / AFP via Getty Images
Microsoft announced ambitious new plans to become carbon negative by 2030 and then go one step further and remove by 2050 all the carbon it has emitted since the company was founded in 1975, according to a company press release.
Nestlé is accelerating its efforts to bring functional, safe and environmentally friendly packaging solutions to the market and to address the global challenge of plastic packaging waste.
Nestlé
/ Flickr /
CC BY-NC-ND 2.0
Nestlé, the world's largest food company, said it will invest up to $2 billion to address the plastic waste crisis that it is largely responsible for.
Yellow soft shell D-vitamin capsule held to the sun. Helin Loik-Tomson / iStock / Getty Images
The common murre population in Alaska has been decimated by an ocean heatwave. Linda Burek / iStock / Getty Images Plus
An expanse of uncommonly warm seawater in the Pacific Ocean created by a marine heatwave led to a mass die-off of one million seabirds, scientists have found.