This website uses cookies to ensure you get the best experience while browsing it. By clicking 'Got It' you're accepting these terms.
Ohio's Energy Future Is Bright Unless FirstEnergy Gets Its Way
Sep. 30, 2015 01:26PM EST
Business
Ohio Sen. Bill Seitz (R-Cincinnati) has been trumpeting recommendations of a legislative committee to put Ohio's clean-energy laws permanently on ice.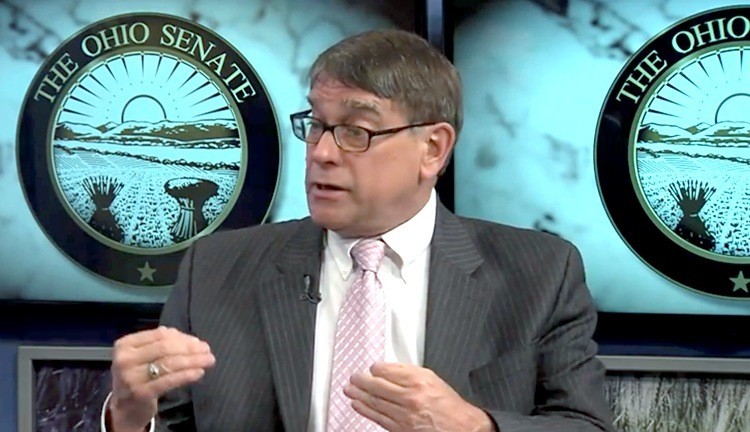 Freezing Ohio's clean-energy standards would be bad news for Ohio's economy, jobs, electric consumers and the environment. But the Energy Mandates Study Committee appears ready to do just that. The legislature created the committee when it voted in 2014 to temporarily freeze Ohio's clean-energy standards and become the first state in the nation to do so. The committee is now recommending the freeze be made permanent.
Why would the state legislature want to permanently freeze the standards? Good question. Unfortunately, I don't think there is a very inspiring answer.
FirstEnergy, Ohio's largest electric monopoly, takes issue with Ohio's clean-energy laws and has been fighting them for years. Ohio requires the state's biggest electric monopoly to invest in its competition and jumpstart a more competitive market for energy services. Why would they want to do that? Well, they don't, obviously.
FirstEnergy has dominated Northern Ohio's energy market for decades and been paid handsomely for it. Advances in technology, however, now enable us to break down the electric monopoly. We are at the cusp of a technological revolution in the way we do energy, just like the way cell phones changed telecommunications.
The time has come for investing in the next generation of energy and more competitive energy markets. But big energy won't give up market domination and monopoly profits willingly. Hence, a mandate on Ohio's monopolies is necessary and beneficial.
Renewable energy is a manufactured science. Since the sun and wind are an unlimited resource, the more we invest in the technology to capture it, the cheaper and more efficient it will get. The future of energy, unfettered by special interests, portends solar on every rooftop. Imagine all the roofing jobs created to install solar on rooftops all across Ohio.
Energy efficiency already makes economic sense. However, there are numerous market barriers standing in the way of wise energy choices. For instance, neither renters nor landlords have any incentive to make rental properties more efficient since the renter pays the energy bills while the landlord owns the property.
In fact, the market for electricity is itself heinously inefficient. For every three lumps of coal, you only get one out. Only a market dominated by monopolies could withstand this level of inefficiency.
Investments in combined heat and power technology can more than double the efficiency with which we make electricity, while putting people to work in good-paying jobs and reducing the high level of emissions emitted by the electric power sector. Targeted investments in this technology can also make our manufacturing sector leaner, greener and more globally competitive.
Ohio's clean-energy laws have also driven increasing investments in low-income home weatherization, permanently lowering utility bills for struggling households while putting people to work insulating their homes.
The future of energy is bright for Ohio, unless FirstEnergy and its legislative partner in crime, Sen. Bill Seitz, get their way.
I hope we don't let that happen.
Amanda Woodrum is a Policy Matters Ohio energy and sustainability researcher.
YOU MIGHT ALSO LIKE
Koch Brothers: Apocalyptical Forces of Ignorance and Greed, Says RFK Jr.
How the Oil & Gas Industry Turned Colorado From Blue to Red
Fracking Boom Bursts in Face of Low Oil Prices
Exxon Advertised Against Climate Change for Decades After Top Executives Knew Burning Fossil Fuels Would Warm the Planet
EcoWatch Daily Newsletter
Ocean Heroes Bootcamp
By Coda Christopherson (11) and Lea Eiders (15)
Growing up in a plastic-free home, I was sheltered from the plastic waste crisis. I (Coda) went to a very progressive school that had vegan lunch items, farm animals and ran on solar power. My mom produces zero-waste events and my dad is a sailor, so we're very passionate about the ocean. When I was nine years old, we moved back to Manhattan Beach, California and I started 3rd grade in a public school. This was the first time I really understood that plastic-free living is not the norm; single-use plastics were everywhere, especially in the cafeteria. Once I recognized this problem, I knew I had to make a difference.
A major California avocado producer issued a voluntary recall of the popular fruit over concerns they could be contaminated with Listeria monocytogenes, USA Today reported.
Henry Avocado issued the recall Saturday after a routine government inspection at its California packing facility turned up positive test results for the bacteria on "environmental samples," the company said in a statement. No illnesses have been reported.
Acting Secretary David Bernhardt visited Watson Hopper Inc., a manufacturer of rigs and oil drilling equipment in Hobbs, New Mexico on Feb. 6, 2019.
Tami A. Heilemann / DOI
Oil executives gathered for a conference laughed about their "unprecedented" access to Trump administration officials, according to a recording obtained by Reveal from the Center for Investigative Reporting.
In the recording, taken at a June 2017 meeting of the Independent Petroleum Association of America (IPAA) at a Ritz-Carlton in Southern California, members expressed excitement about one official in particular: David Bernhardt, who had been nominated that April to be deputy secretary at the Department of Interior (DOI). Bernhardt would be confirmed the following month.
"We know him very well, and we have direct access to him, have conversations with him about issues ranging from federal land access to endangered species, to a lot of issues," IPAA political director Dan Naatz said in the recording.
Pixabay
Saw palmetto (Serenoa repens) is a type of palm native to the southeastern U.S.
Jeff K / Flickr / CC BY-NC 2.0
By Elizabeth Henderson
The certified organic label has helped save many generational farms and enabled people like me, who do not come from agricultural backgrounds, to become successful farmers. Organic farming has brought environmental benefits—healthier soils, freedom from toxic pesticides and herbicides—to 6.5 million acres in the U.S.
PhotoAlto / Laurence Mouton / Getty Images
By Ana Reisdorf, MS, RD
You've probably heard the buzz around collagen supplements and your skin by now. But is the hype really that promising? After all, research has pointed to both the benefits and downsides of collagen supplements — and for many beauty-conscious folk, collagen isn't vegan.
Pixabay
By Marlene Cimons
Neil Pederson's introduction to tree rings came from a "sweet and kindly" college instructor, who nevertheless was "one of the most boring professors I'd ever experienced," Pederson said. "I swore tree rings off then and there." But they kept coming back to haunt him.
Aerial view of the explosion site of a chemical factory on March 22 in Yancheng, Jiangsu Province of China. Caixin Media / VCG / Getty Images)
At least 47 people have died in an explosion at a plant in Yancheng, China Thursday run by a chemical company with a history of environmental violations, Sky News reported.