This website uses cookies to ensure you get the best experience while browsing it. By clicking 'Got It' you're accepting these terms.
Ohio's Energy Future Is Bright Unless FirstEnergy Gets Its Way
Sep. 30, 2015 01:26PM EST
Energy
Ohio Sen. Bill Seitz (R-Cincinnati) has been trumpeting recommendations of a legislative committee to put Ohio's clean-energy laws permanently on ice.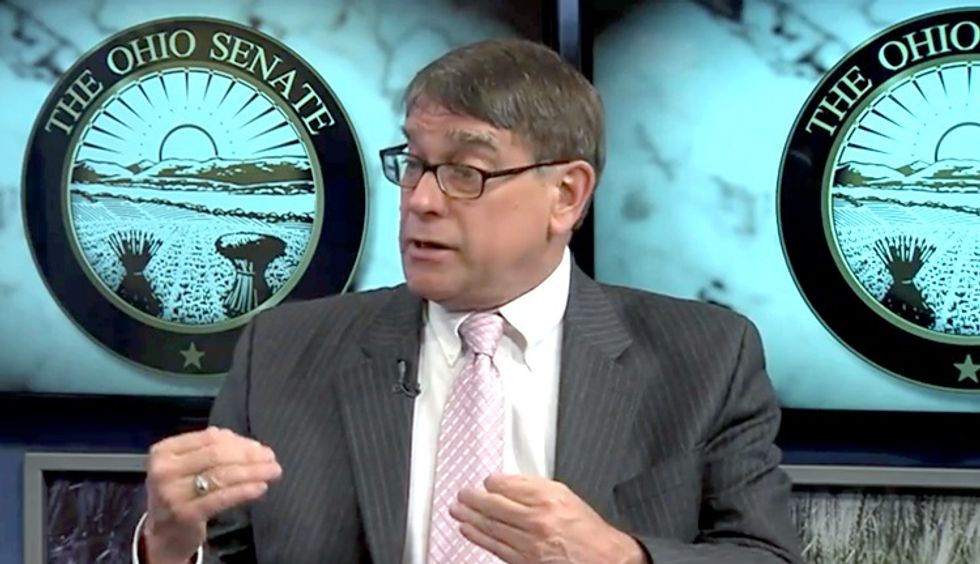 Freezing Ohio's clean-energy standards would be bad news for Ohio's economy, jobs, electric consumers and the environment. But the Energy Mandates Study Committee appears ready to do just that. The legislature created the committee when it voted in 2014 to temporarily freeze Ohio's clean-energy standards and become the first state in the nation to do so. The committee is now recommending the freeze be made permanent.
Why would the state legislature want to permanently freeze the standards? Good question. Unfortunately, I don't think there is a very inspiring answer.
FirstEnergy, Ohio's largest electric monopoly, takes issue with Ohio's clean-energy laws and has been fighting them for years. Ohio requires the state's biggest electric monopoly to invest in its competition and jumpstart a more competitive market for energy services. Why would they want to do that? Well, they don't, obviously.
FirstEnergy has dominated Northern Ohio's energy market for decades and been paid handsomely for it. Advances in technology, however, now enable us to break down the electric monopoly. We are at the cusp of a technological revolution in the way we do energy, just like the way cell phones changed telecommunications.
The time has come for investing in the next generation of energy and more competitive energy markets. But big energy won't give up market domination and monopoly profits willingly. Hence, a mandate on Ohio's monopolies is necessary and beneficial.
Renewable energy is a manufactured science. Since the sun and wind are an unlimited resource, the more we invest in the technology to capture it, the cheaper and more efficient it will get. The future of energy, unfettered by special interests, portends solar on every rooftop. Imagine all the roofing jobs created to install solar on rooftops all across Ohio.
Energy efficiency already makes economic sense. However, there are numerous market barriers standing in the way of wise energy choices. For instance, neither renters nor landlords have any incentive to make rental properties more efficient since the renter pays the energy bills while the landlord owns the property.
In fact, the market for electricity is itself heinously inefficient. For every three lumps of coal, you only get one out. Only a market dominated by monopolies could withstand this level of inefficiency.
Investments in combined heat and power technology can more than double the efficiency with which we make electricity, while putting people to work in good-paying jobs and reducing the high level of emissions emitted by the electric power sector. Targeted investments in this technology can also make our manufacturing sector leaner, greener and more globally competitive.
Ohio's clean-energy laws have also driven increasing investments in low-income home weatherization, permanently lowering utility bills for struggling households while putting people to work insulating their homes.
The future of energy is bright for Ohio, unless FirstEnergy and its legislative partner in crime, Sen. Bill Seitz, get their way.
I hope we don't let that happen.
Amanda Woodrum is a Policy Matters Ohio energy and sustainability researcher.
YOU MIGHT ALSO LIKE
Koch Brothers: Apocalyptical Forces of Ignorance and Greed, Says RFK Jr.
How the Oil & Gas Industry Turned Colorado From Blue to Red
Fracking Boom Bursts in Face of Low Oil Prices
Exxon Advertised Against Climate Change for Decades After Top Executives Knew Burning Fossil Fuels Would Warm the Planet
EcoWatch Daily Newsletter
Pro-environment demonstrators on the streets of Washington, DC during the Jan. 20, 2017 Trump inauguration.
Mobilus In Mobili
/ Flickr /
CC BY-SA 2.0
By Dr. Brian R. Shmaefsky
One year after the Flint Water Crisis I was invited to participate in a water rights session at a conference hosted by the US Human Rights Network in Austin, Texas in 2015. The reason I was at the conference was to promote efforts by the American Association for the Advancement of Science (AAAS) to encourage scientists to shine a light on how science intersects with human rights, in the U.S. as well as in the context of international development. My plan was to sit at an information booth and share my stories about water quality projects I spearheaded in communities in Bangladesh, Colombia, and the Philippines. I did not expect to be thrown into conversations that made me reexamine how scientists use their knowledge as a public good.
Mt. Rainier and Reflection Lake on Sept. 10, 2015. Crystal Geyser planned to open a bottling plant near Mt. Rainier, emails show.
louelke - on and off / Flickr
Bottled water manufacturers looking to capture cool, mountain water from Washington's Cascade Mountains may have to look elsewhere after the state senate passed a bill banning new water permits, as The Guardian reported.
Large storage tank of Ammonia at a fertilizer plant in Cubatão, Sao Paulo State, Brazil. Luis Veiga / The Image Bank / Getty Images
The shipping industry is coming to grips with its egregious carbon footprint, as it has an outsized contribution to greenhouse gas emissions and to the dumping of chemicals into open seas. Already, the global shipping industry contributes about 2 percent of global carbon emissions, about the same as Germany, as the BBC reported.
At high tide, people are forced off parts of the pathway surrounding DC's Tidal Basin. Andrew Bossi /
Wikimedia
The Jefferson Memorial in Washington, DC overlooks the Tidal Basin, a man-made body of water surrounded by cherry trees. Visitors can stroll along the water's edge, gazing up at the stately monument.
But at high tide, people are forced off parts of the path. Twice a day, the Tidal Basin floods and water spills onto the walkway.
Lioness displays teeth during light rainstorm in Kruger National Park, South Africa. johan63 / iStock / Getty Images
Ahead of government negotiations scheduled for next week on a global plan to address the biodiversity crisis, 23 former foreign ministers from various countries released a statement on Tuesday urging world leaders to act "boldly" to protect nature.