Ohioans Thank U.S. EPA for Mercury Pollution Protections
Feb. 23, 2012 06:05PM EST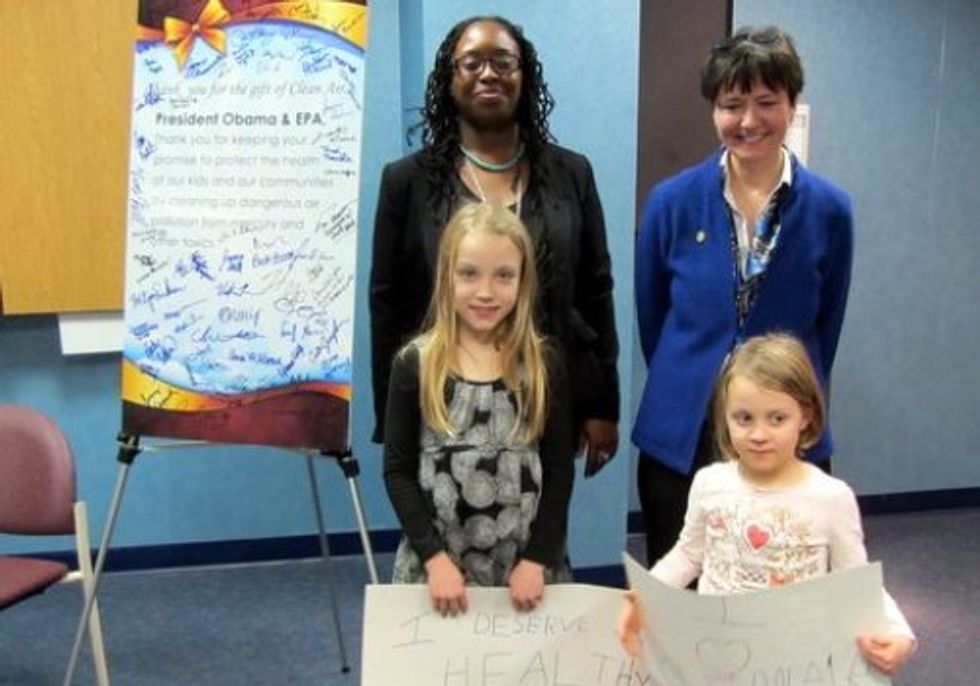 Local health experts, faith leaders, conservation organizations and northeast Ohio families welcomed U.S. Environmental Protection Agency (EPA) Regional Administrator, Susan Hedman, to Cleveland on Feb. 22. Administrator Hedman spoke at Rainbow Babies and Children's Hospital to highlight the public health benefits of the federal Mercury and Air Toxics standards that will limit mercury and other toxic pollution from coal fired power plants. A large thank you card, signed by northeast Ohioans, was presented to the regional administrator and U.S. EPA by Cleveland area children to praise the agency for its efforts to protect the health and well-being of Ohio families.
"Reducing pollution from power plants has significant public health benefits, including decreasing the prevalence of pollutants that exacerbate cardiovascular and pulmonary disease," said Cleveland area pediatrician Dr. Aparna Bole. "By preventing power plant pollution of our air and water, we are helping to enhance the health of our neighborhoods here in Cleveland and Northeast Ohio and ensuring a healthier environment for our children—so they can thrive today and be well tomorrow."
Coal-fired power plants are the single largest source of mercury pollution, arsenic and acid gases, and account for 25 percent of all toxic metal emissions in the U.S. Once in the air, mercury rains down and accumulates in the bodies of fish and shellfish. If people eat fish or seafood from polluted bodies of water, mercury accumulates in their bodies and can be passed from mother to child.
Mercury is a known neurological and developmental toxin—extensive research has shown that mercury affects cognitive and motor function. "We are especially concerned about exposures to children and fetuses to mercury: because they are undergoing rapid development, children and fetuses are particularly sensitive to mercury's toxic effects. The EPA's new rule is a great step towards protecting ourselves and our children against harmful effects of mercury as well as other environmental contaminants" said Dr. Ellen Wells, environmental epidemiologist at Case Western Reserve University School of Medicine
According to EPA studies, the mercury problem in the U.S. is so widespread that at least 1 in 12—and as many as 1 in 6—American women of childbearing age have enough mercury in their bodies to put a fetus at risk. The Ohio Department of Health has issued a fish consumption advisory for fish caught in every fresh water lake, river and stream in the state of Ohio due to mercury contamination.
"Audubon Ohio, and parents like me across the state, applaud the President and the U.S. EPA for their courage and resolve in protecting Ohio families. Now we need Ohio's leaders in Congress to stand up to polluters who say our kids are not worth the effort to reduce dangerous emissions from power plants." said Marnie Urso, spokesperson for Audubon Ohio and mother of two.
Rev. Dr. Tony Minor of Lutheran Metropolitan Ministry added "We serve a God who is concerned about all people. We are all called to be good stewards of all that we have inherited. With shared happiness comes shared responsibility. I thank the U.S. EPA for its willingness to fulfill its responsibility and its ability to protect us all."
Congress is currently considering several legislative proposals to prevent the U.S. EPA from fully implementing new clean air standards that would reduce air pollution from toxic substances like mercury, arsenic, soot, smog, carbon and other pollutants from power plants. Many of these new standards will save thousands of lives each year. The new mercury and air toxics standards will save as many as 11,000 lives, prevent as many as 130,000 asthma attacks among children and prevent as many as 4,700 heart attacks each year.
"It took over 20 years to put these standards in place," said EPA Regional Administrator Susan Hedman. "They were long overdue—and, in his State of the Union Address President Obama made it clear that this Administration will not back down from protecting our kids from mercury pollution."
EcoWatch Daily Newsletter