Ohioans Speak Out Against Fracking
Jan. 11, 2012 09:19AM EST
Energy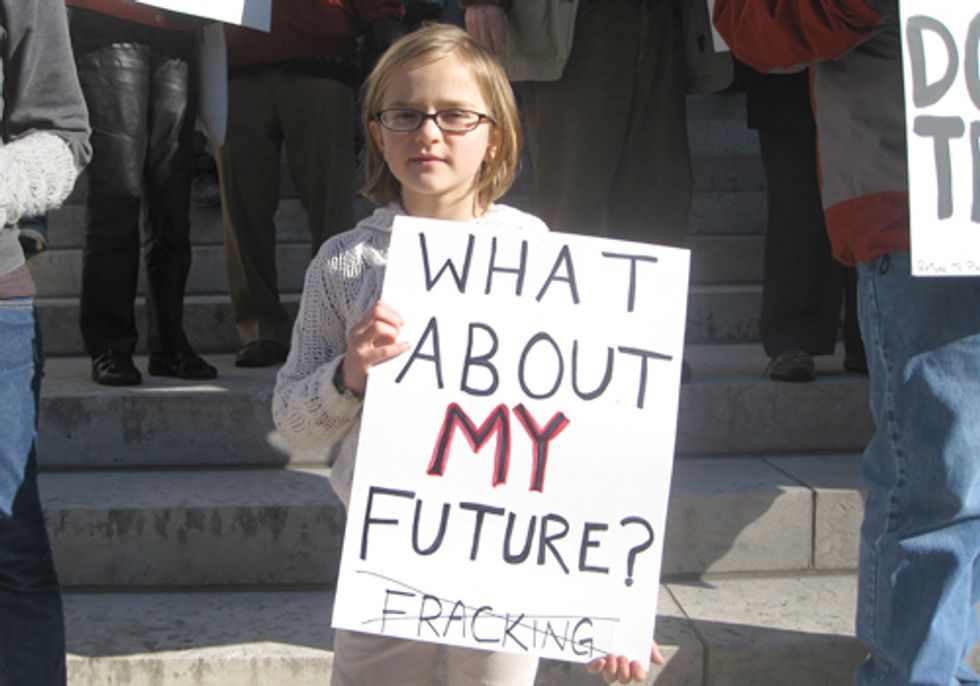 Thank you to Ohio State Representatives Robert F. Hagan (D-Youngstown), Tracy Maxwell Heard (D-Columbus), Teresa Fedor (D-Toledo), Mike Foley (D-Cleveland), Denise Driehaus (D-Cincinnati), Nickie J. Antonio (D-Lakewood) and Dan Ramos (D-Lorain), and Ohio State Senators Charleta Tavares (D-Columbus) and Mike Skindell (D-Lakewood) for their leadership at the Ohio Statehouse rally on Jan. 10 in support of a moratorium on fracking permits and wastewater disposal injection wells, and for asking Gov. John Kasich to protect the environment and public health by supporting SB 213/HB 345.
Hagan introduced legislation yesterday calling for a moratorium on injection wells in the state. Other lawmakers have sponsored bills that would halt drilling operations for oil and gas in Ohio until the U.S. Environmental Protection Agency finishes a study examining whether there is a link between fracking drill sites and contaminated drinking water.
Driehaus, who introduced the moratorium bill on fracking in the Ohio House of Representatives, said that it makes sense to wait until the federal government concludes its study before proceeding with more drilling activity.
The protest was organized by NO FRACK OHIO, a collaboration of more than 50 grassroots and conservation groups calling for further safeguards on horizontal hydraulic fracturing. More than 250 people attended the two-hour rally to voice their opposition to hydraulic fracturing—better known as fracking—and deep injection wastewater disposal wells asking for a statewide ban on fracking.
Thanks to everyone who attended yesterday's rally, which told our elected officials that creating jobs at the expense of human health and the environment is not sustainable. I had a chance to speak at the event and share my thoughts on the need for stronger support of renewable energy on the state and federal levels that will create green jobs to help our country transition to cleaner, renewable sources of energy. We need to provide incentives for the investment in renewable energy which is a first step in helping level the playing field between renewable and nonrenewable energy. Since the fossil fuel industry is so highly subsidized and externalizes much of its costs, the renewable energy industry cannot compete without the help of incentives.
To view more photos from yesterday's rally, click here.
To read an article on yesterday's rally, click here, and to read a previous post on fracking in Ohio, click here.
Visit our fracking page to keep up-to-date on fracking issues worldwide.
EcoWatch Daily Newsletter