Ohioans Protest Fracking Wastewater Injection Well
Nov. 19, 2012 08:00PM EST
Energy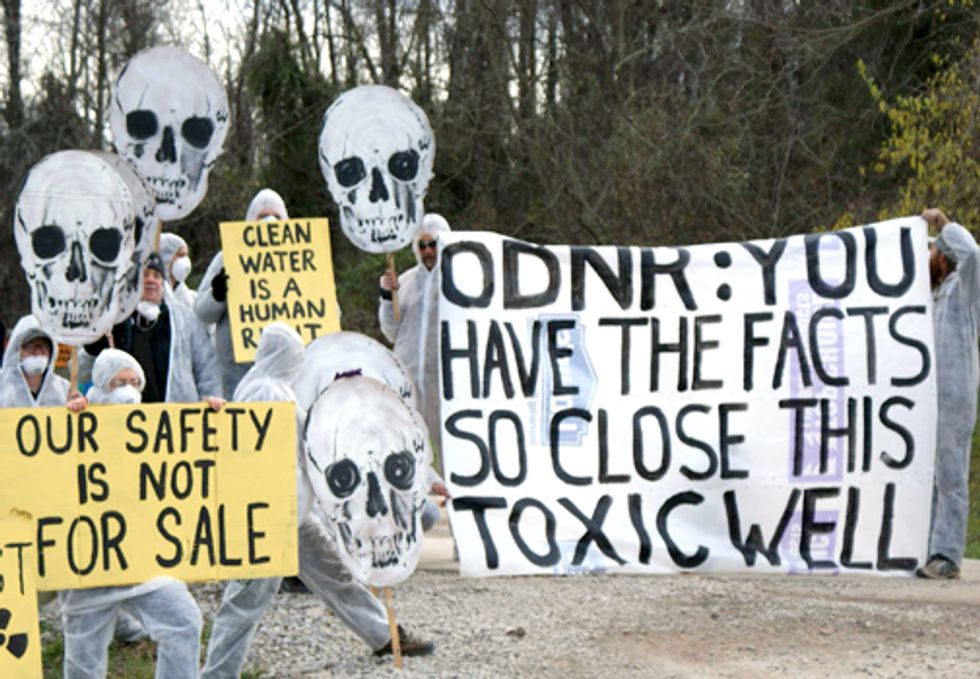 A group of Athens County residents wearing hazmat style suits and respirators gathered in front of the Hazel Ginsburg fracking wastewater injection well site on Ladd Ridge Road in Alexander Twp. demanding that the Ohio Department of Natural Resources (ODNR) shut down the well do to safety concerns.
The protesters held banners that read "Shut it Down, No New Permits," "ODNR: You Have the Facts So Close this Toxic Well," "Our Safety is Not for Sale," and "Clean Drinking Water is a Human Right." Many of the signs were emblazoned with the symbol for radioactivity. The protest was in solidarity with those who are blockading the Keystone XL pipeline in Texas.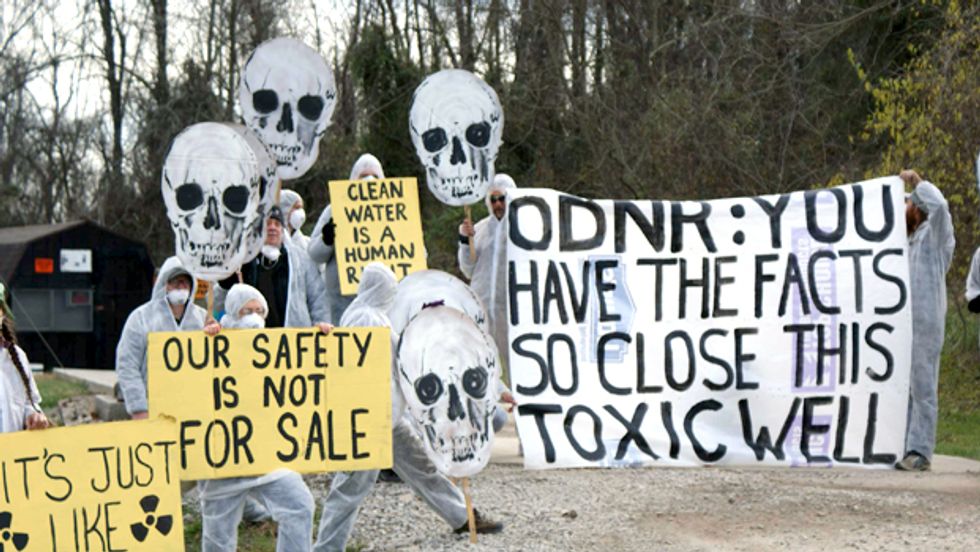 The Athens County Sheriff's Office deputy arrived around 1 p.m. and asked the protesters to disperse. All of the protestors complied and no arrests were made.
Athens County residents have been calling for the Ginsburg Well to be shut down for nearly a year, ever since the ODNR's own records surfaced, showing that the well has been in violation since the 1980's with the ODNR never enforcing their own numerous "plug and abandon" orders. This well site has become of particular concern now that Ohio accepts out-of-state fracking toxic wastewater by the millions of gallons.
This fall the U.S. Geological Survey showed that this wastewater has radioactivity levels 300 times higher than the federal legal limit for industrial waste. Teresa Mills of the Buckeye Forest Council has called the Ginsburg Well "the worst well in the state of Ohio" in terms of violations.
This week, the ODNR granted permits for four new injection wells in Athens County. Community members are asking, why should the ODNR grant new permits when they cannot regulate the wells already in operation?
The ODNR is continuing to ignore requests for public hearings on injection well permits, even though 100 Ohioans have written letters requesting such hearings.
When it comes to injection wells, Ohioans have nothing to gain and everything to lose. The risk is high, the benefits are zero. This is yet another way that extractive industries exploit rural communities.
In June, Madeline ffitch protested the Ginsburg fracking wastewater well in Athens, Ohio, and tied herself to two 55-gallon barrels filled with concrete.
Visit EcoWatch's FRACKING page for more related news on this topic.
EcoWatch Daily Newsletter
Related Articles from EcoWatch
Recent Stories from EcoWatch