This website uses cookies to ensure you get the best experience while browsing it. By clicking 'Got It' you're accepting these terms.
Ohio Utilities Take Renewable Energy Fight to State Supreme Court
Aug. 04, 2014 12:25PM EST
Renewable Energy
A case going before the Ohio Supreme Court could have a major impact on distributed generation in the state, while raising questions about corporate separation and possible conflicts of interest for regulated utilities.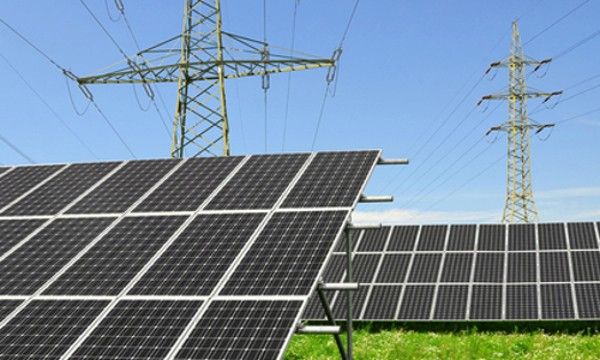 The PUCO's recent decision holds that customers who provide excess electricity to the grid are entitled to the full value that would be charged under the electricity part of their bills. Photo courtesy of Shutterstock
The Public Utilities Commission of Ohio (PUCO) recently confirmed that net-metering customers are entitled to the full value of the electricity they feed back into the grid from renewable energy and other distributed generation technologies.
However, FirstEnergy and American Electric Power (AEP)'s Ohio utilities are trying to reduce the amounts customers will get for that excess electricity. The utilities, along with Dayton Power & Light and Duke Energy, also raised other objections to the rules.
On July 23 the PUCO denied FirstEnergy's third request for rehearing. AEP's Ohio Power Company has already appealed the case to the Supreme Court of Ohio. FirstEnergy has not yet announced whether it will appeal as well.
Power in and power out
Net metering is a way for customers who produce some or all of their power to avoid overcharges for electricity they do not need. Those customer-generators may have solar panels, wind turbines, certain types of combined heat and power systems or other types of on-site generation.
Net metering also provides a way for those customers to get compensation for any excess electricity they feed into the grid. In those cases, Ohio law says customers are entitled to the value of "that electricity."
The big question in the PUCO case is what that value is.
Because of a 1999 deregulation law in Ohio, customers have a choice of which company provides their electricity. Electric distribution utilities are still regulated monopolies, however.
The regulated utility handles all the billing, but customers' bills have two main parts: distribution and generation.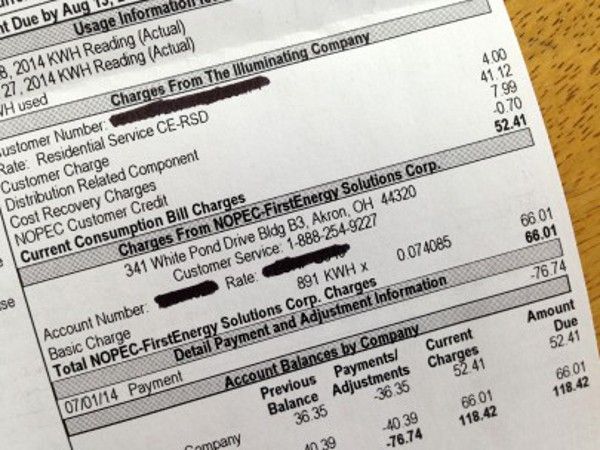 Ohio customers' electric bills have two main parts: distribution and generation. Image by Kathiann M. Kowalski.
Distribution includes the equipment and work the utility does to carry and deliver electricity to its customers.
The other main part of customers' bills covers electricity generation. If the utility is not the generation provider, it transmits payment to the electrical services company.
The PUCO's recent decision holds that customers who provide excess electricity to the grid are entitled to the full value that would be charged under the electricity part of their bills.
Most of that charge depends on the market value of energy, which fluctuates. The rate also reflects a fixed "capacity" price, which is determined from annual auctions by the grid operator, PJM.
"It's about 15 percent of the generation portion of the customer's electric bill," said FirstEnergy spokesperson Doug Colafella.
The utilities say customers producing excess electricity should only get the energy part of the electricity rate, and nothing for capacity. That's how things have been handled so far, Colafella said. "We're saying let's follow the original rules that were put in place."
"If a customer generates excess power, essentially they would be credited just for the energy that they produced and didn't need," Colafella explained. Including capacity would require larger payments.
"The PUCO is now saying that we would have to credit that kind of customer an average of about 15 percent more," Colafella observed.
Utility company filings cite a 2002 Ohio Supreme Court case, which held that customers providing excess electricity to the grid should not get reimbursed for amounts covered by the distribution portion of the bill.
"The court stated that the net-metered customer did not contribute to the cost of PIPP [low-income support] charges, transmission, distribution, etc.," explained Dan Sawmiller at the Sierra Club's Beyond Coal campaign. "Inasmuch as the Court holding said that customers were entitled to the full generation rate, that would include capacity and energy."
The PUCO said that its rulemaking decision complies with both the 2002 court case and the Ohio statute.
"[E]lectricity supplied to a customer-generator includes components such as capacity, demand, and energy," the PUCO wrote. Its July decision confirmed rulings on the issue in January and May.
The PUCO also noted that Ohio law bars utilities from charging higher retail rates to net-metering customers than they would pay without their own generation.
Not compensating for part of the electricity charge could result in a different rate.
"The net metering rules require utilities to provide net metered customers compensation for electricity delivered to the grid at the same price that the utility would charge (including capacity and energy) for delivering electricity to the customer," said Lawrence Friedeman, vice president for regulatory affairs and compliance at IGS Energy in Dublin, Ohio. The company promotes the development of distributed generation projects.
"IGS supported the Commission's net metering rules because they provide reasonable compensation to distributed generation resources and enable them to compete on more level footing with traditional power plants," Friedeman said.
Encouraging distributed generation with reasonable compensation for electricity going into the grid is "good public policy," Friedeman stressed. "Distributed generation projects are on-site, reliable and local, energy efficient, and are cleaner than traditional power plants."
Potential windfalls
Both camps in the net metering dispute see the other side gaining an unfair advantage if their position prevails.
"For most customer-generators there is no way to ascertain whether they have contributed to a reduction in capacity costs," Colafella said. "If they don't provide capacity, they should not be paid for capacity."
On the flip side, any excess electricity fed into the grid can be sold to other customers. Those other customers would almost certainly pay the full generation rate, without getting any discount for capacity.
"There's certainly the potential for a windfall" to utilities, said Martin Kushler, a senior fellow at the American Council for an Energy-Efficient Economy (ACEEE).
Conflicts of interest
Indeed, Ohio's four large electric utilities have unregulated affiliates that sell electricity.
"It creates this very direct conflict of interest," said Kushler.
The less customers can get for electricity they put into the grid, the longer it takes to pay off the capital costs for their own generation. Less financial incentive to choose those technologies would reinforce demand from existing electricity suppliers.
"This seems to get into even more issues of corporate separation—yet another attempt by an Ohio distribution utility to make its generation affiliate more profitable," Sawmiller agreed.
Similar reasoning explains why FirstEnergy and other utilities supported the recent rollback of Ohio's energy efficiency standard, Kushler said. "Arguably, at least under traditional regulation, the utility would have some obligation to minimize costs to their customers."
However, that's not what happened with Ohio Senate Bill 310, he says. The new law, signed by Gov. John Kasich (R) in June, freezes the renewable energy and energy efficiency standards for two years and then scales them back significantly.
"Energy efficiency was saving electricity at about 2 cents a kilowatt-hour—far cheaper than any source of supply—and yet the vested interests were successful in decimating Ohio's energy efficiency policy," Kushler said.
So far, three of Ohio's four electric distribution utilities have said their energy programs will continue for at least part of the freeze period under SB 310. FirstEnergy is the exception.
"At this point we have not made any decision as to whether we're going to make any changes to our current plan," Colafella said.
"I would be totally shocked if they do anything but cancel those programs," said Rob Kelter, an attorney with the Environmental Law and Policy Center. "It would negatively affect FirstEnergy customers, but it would help their unregulated affiliate sell more electricity."
Meanwhile, on the federal level, FirstEnergy's ongoing FERC challenge aims to exclude demand response from the results of May's capacity auction for 2017-2018.
"We believe that removing these demand resources from the capacity market is going to provide vital compensation for essential physical assets like nuclear, coal, [and] gas base load plants," Colafella said. "It's going to help foster properly functioning capacity markets."
"Demand response presents absolutely zero reliability concerns," Sawmiller noted. "It won't freeze like a coal plant did during the polar vortex. In addition, it's incredibly cheap. This applies downward pressure to capacity prices, lowering electric bills for all customers."
"If FirstEnergy is able to reduce the amount of demand response that goes into these auctions, it will raise prices for customers," Sawmiller added.
"Having demand response bid in lowers the price for all the generators that bid in," Kushler agreed. Conversely, keeping demand response out would raise the auction's closing price. In Kushler's view, FirstEnergy's attempt to exclude it is yet another "classic conflict of interest."
ACEEE, the Sierra Club, and the Environmental Law & Policy Center are members of RE-AMP, which publishes Midwest Energy News.
You Might Also Like
Ohio Becomes First State to Roll Back Renewable Energy Mandate
ALEC Attacks Ohio Renewable Energy Standard, Local Newspapers Fail to Show Fossil Fuel Connection
Ohio State Researchers Show How Renewable Energy Standards Reduce Carbon Emissions
EcoWatch Daily Newsletter

YinYang / E+ / Getty Images
Ragú Old World Style Traditional is one of three flavors named in a voluntary recall.
Mike Mozart
/
CC BY 2.0
Spaghetti with plastic sauce? That's what you might be eating if you pour one of three flavors of Ragú sauce over your pasta.
Mizkan America, the food company that owns Ragú, announced Saturday that it was voluntarily recalling some Chunky Tomato Garlic & Onion, Old World Style Traditional and Old World Style Meat sauces because they might be contaminated with plastic fragments, The Today Show reported.
A dead sea lion on the beach at Border Field State Park, near the international border wall between San Diego, California and Tijuana, Mexico. Sherry Smith / iStock / Getty Images
People crossing the Brooklyn Bridge on July 20, 2017 in New York City sought to shield themselves from the sun as the temperature reached 93 degrees. Drew Angerer / Getty Images
by Jordan Davidson

Taking action to stop the mercury from rising is a matter of life and death in the U.S., according to a new study published in the journal Science Advances.
Salmon fry before being released just outside San Francisco Bay. Jim Wilson / The New York Times / Redux
By Alisa Opar
For Chinook salmon, the urge to return home and spawn isn't just strong — it's imperative. And for the first time in more than 65 years, at least 23 fish that migrated as juveniles from California's San Joaquin River and into the Pacific Ocean have heeded that call and returned as adults during the annual spring run.
Protesters hold a banner and a placard while blocking off the road during a protest against Air pollution in London. Ryan Ashcroft / SOPA Images / LightRocket / Getty Images
By Jessica Corbett
Dozens of students, parents, teachers and professionals joined a Friday protest organized by Extinction Rebellion that temporarily stalled morning rush-hour traffic in London's southeasten borough of Lewisham to push politicians to more boldly address dangerous air pollution across the city.

Jose A. Bernat Bacete / Moment / Getty Images
By Bridget Shirvell
On a farm in upstate New York, a cheese brand is turning millions of pounds of food scraps into electricity needed to power its on-site businesses. Founded by eight families, each with their own dairy farms, Craigs Creamery doesn't just produce various types of cheddar, mozzarella, Swiss and Muenster cheeses, sold in chunks, slices, shreds and snack bars; they're also committed to becoming a zero-waste operation.