Ohio to Gov. Cuomo: We Are Not New York's Dumping Ground
Feb. 13, 2013 05:03PM EST
Energy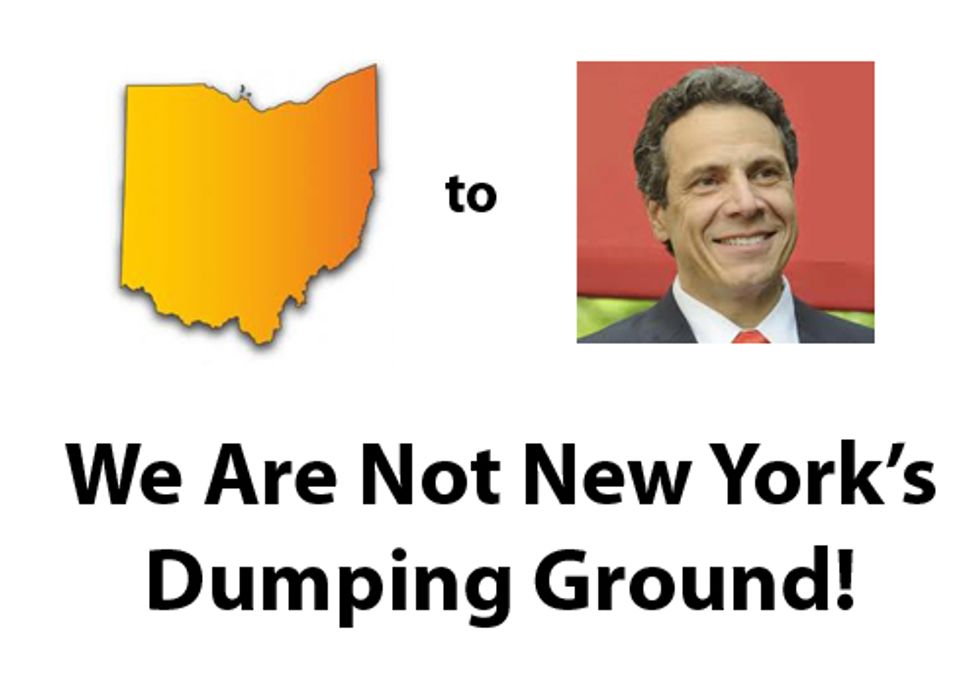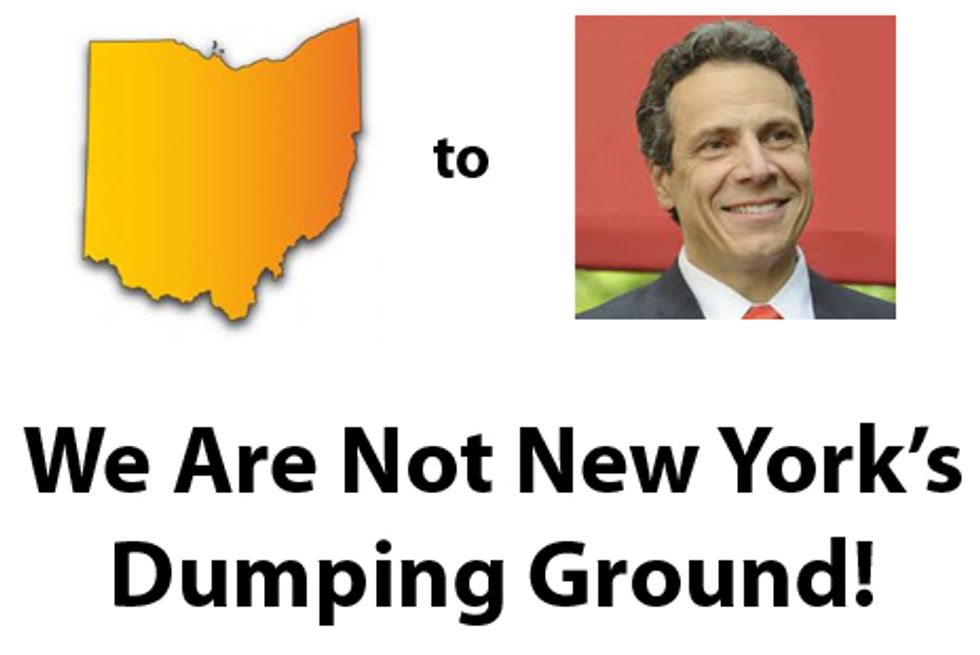 For the second time, Ohio communities sent a message to New York Governor Andrew Cuomo. In the letter, delivered today to Gov. Cuomo, citizens and communities across Ohio sent a clear message to the State of New York: Ohio does not want to serve as the dumping ground for New York's toxic fracking waste. Governor Cuomo is expected to soon decide whether or not to open vast areas of New York to the process of High Volume Horizontal Hydraulic Fracturing (HVHF) or fracking.
The letter notes that a decision to allow HVHF to proceed in New York would be irresponsible not only for the reasons outlined in referenced documents, but also due to the lack of infrastructure in New York for the disposal of fracking waste within the state. Ohio is the most likely target for the disposal of the toxic, radioactive fracking waste that will be produced if New York opens its land to fracking.
Susie Beiersdorfer, member of Frack Free Mahoning, a community group working to pass home rule amendments to Youngstown's city charter, stated, "The most recent toxic assault on the City of Youngstown, Ohio on Jan. 31, was an illegal dumping of more than 40,000 gallons of toxic oil and wastewater into our Mahoning River by a company with a very long list of violations. The origin of this toxic material is as yet unknown but is most likely from Pennsylvania."
Beiersdorfer added,"Governor Cuomo, this is just one more reason for you to continue to ban fracking in the State of New York."
A U.S. Geological Survey report found radioactivity in Marcellus Shale wastewaters that exceeds the U.S. Environmental Protection Agency safe drinking limits by up to 3,600 time and federal industrial discharge limits by more than 300 times.
"Enough is enough," said Heather Cantino, a member of the Athens County Fracking Action Network. "We in Ohio have a huge stake in New York's decision. We do not want to be New York's toilet. We are already Pennsylvania's and West Virginia's. The people of Ohio say no to New York: We do not want your highly toxic radioactive waste dumped in leaking wells drilled through our water supplies."
Julia Fuhrman Davis, a Beaver Township resident, echoed Cantino's sentiments stating, "I do not want our community be a toilet for New York's or other states' toxic waste water."  
The coalition of groups behind the letter emphasize their commitment to end dumping of toxic radioactive oil and gas wastewater in Ohio.
Visit EcoWatch's FRACKING page for more related news on this topic.
——–
Sign the petition today, telling President Obama to enact an immediate fracking moratorium:

EcoWatch Daily Newsletter
Related Articles from EcoWatch
Recent Stories from EcoWatch