Ohio Newspapers Remain Silent on ALEC as Group Influences State Senate's Anti-Renewable Legislation
As the Ohio Senate's members debated about and eventually passed legislation to freeze renewable energy and efficiency standards for two years, some of the state's most-read newspapers chose American Legislative Exchange Council (ALEC) affiliates for nearly half of their interviews.
Still, none of those publications have mentioned ALEC once since April 7, according to analysis from Media Matters for America (MMFA).
That's a little troubling considering that the legislators behind Senate Bill 310 are members of or have ties to ALEC, the secretive group that lobbies on behalf of fossil fuel interests and connects companies to legislators that will fight for laws that curtail the advancement of renewables. The group crafts model legislation and its Private Enterprise Advisory Council includes Koch Industries, Energy Future Holdings, Peabody Energy and ExxonMobil—the type of companies that see the increased deployment of renewable energy as a financial threat.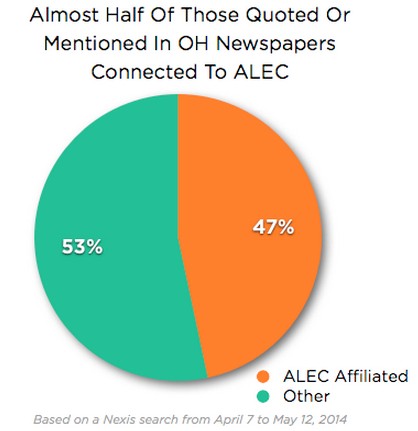 According to MMFA, the major newspapers in the state—The Columbus Dispatch, Cleveland Plain Dealer, Akron Beacon Journal and Cincinnati Enquirer—have collectively dedicated 32 articles, op-eds, and editorials to SB 310 since April 7, but none referenced ALEC. MMFA previously released a study stating that the publications also didn't mention ALEC in March when the legislation was introduced.
It passed the state Senate May 8, and could be up for a vote within the Ohio House's Public Utilities Committee early next week.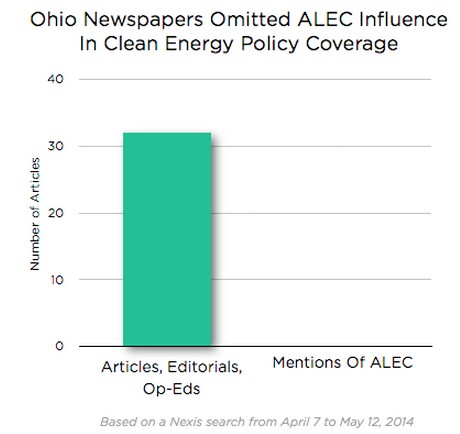 SB 310 would push final renewable energy and efficiency targets back to 2027. It would also set up a committee to review the standards during the two-year freeze. That, along with bill language regarding the intent to reduce mandates, leads some to believe the standards might not actually be reinstated in 2017.
"The bill should avoid suggesting the outcome of reducing energy efficiency mandates in advance of the study committee's work," Scott Gerfen, a spokesman for the Office of the Ohio Consumers' Counsel, told Midwest Energy News. "Further, the scope of the study committee's review is too limited."
The counsel also wants any possible study commission to review other provisions in the law that "unfairly favor utilities and increase Ohioans' electric bills."
Gov. John Kasich is expected to sign the bill if it passes the Ohio House. According to analysis from People for the American Way, Kasich is recognized in ALEC's internal talking points as someone who "helped mold ALEC in its formative years."
Ohio Sens. Keith Faber, Frank LaRose and William G. Batchelder are all ALEC members and were proponents of SB 310. Sen. Bill Seitz is known as the legislation's loudest advocate. He is also an ALEC board member, according to MMFA.
The renewable standard, SB 221, was passed in 2008. According to a report from the Advanced Energy Economy Ohio Institute and the Ohio State University's Center for Resilience, SB 221 has saved consumers 1.4 percent on their electricity bills, with efficiency helping to reduce demand.
Some late changes to SB 310 place no value on efficiency. While the standards are frozen, utilities won't be required to offer incentives for energy-efficient appliances, light bulbs and more.
"There won't be any opportunities for them to receive some help in investing in the energy efficiency of their home," Max Neubauer, a senior policy analyst for the American Council for an Energy-Efficient Economy, told Midwest Energy News. "Those folks who don't have opportunities to invest in their energy efficiency will be subjected to potentially higher energy bills, because over the course of these two years, it's likely that rates will continue to rise."
——–
YOU ALSO MIGHT LIKE
Will Ohio Become First State to Rescind Renewable Energy Mandates
Ohio State Researchers Show How Renewable Energy Standards Reduce Carbon Emissions
The Most Dangerous 'Model' Laws Written by ALEC
——–
Bill Maher is sick of billionaires' obsession with Mars, more like "Mars-a-Lago," he said.
In a new animation produced by ATTN:, the popular talk show host of Real Time, discusses the perils of our planet, including how "climate change is killing us."
Keep reading...
Show less
Dr. Benjamin D. Santer, research scientist
A group of prominent climate scientists have written a study explicitly refuting statements made by the U.S. Environmental Protection Agency Administrator Scott Pruitt on climate data. During his Senate confirmation hearing, Pruitt claimed in a written response that satellite data shows a "leveling off" of warming over the past two decades.
Keep reading...
Show less
By David Pomerantz
The Nevada Assembly passed a bill Wednesday that would dramatically increase the growth of renewable energy in the state, but Sheldon Adelson, the casino magnate and major donor to Donald Trump, is attempting to prevent the bill from becoming law.
Keep reading...
Show less
Matt Crossick
By Yosola Olorunshola
Whether it's through fashion or protest, Vivienne Westwood is not a woman afraid of making a statement.
On May 23, she rocked up to the residence of the Archbishop of Canterbury in London with a special guest—the Grim Reaper—to issue a strong statement on the Church of England's position on fracking.
Keep reading...
Show less
Military veterans from across Virginia released a letter Thursday opposing two proposed fracked-gas pipelines: Dominion Energy's Atlantic Coast Pipeline and EQT's Mountain Valley Pipeline. These pipelines would cross through pristine areas of Virginia, taking private property by use of eminent domain, removing mountain ridgetops and threatening valuable drinking water resources. The veterans view this as contrary to their service to protect and defend the freedom and security of American citizens.

Keep reading...
Show less
By Paul Brown
The food industry and big agricultural concerns are driving climate change and at the same time threatening to undermine efforts to feed the world's growing population, according to GRAIN, an organization that supports small farmers.
Particularly singled out for criticism are the large chemical fertilizer producers that have gained access to the United Nations talks on climate change. GRAIN accuses them of behaving like the fossil fuel companies did in the 1990s, pushing false information in the hope of delaying real action on climate change.
Keep reading...
Show less
May. 24, 2017 06:55PM EST
By Sydney Robinson
President Trump has no doubt been given a long list of extravagant, elaborate gifts in his lifetime, but the gift given to him today by Pope Francis may not make it on his most favorite list.
Keep reading...
Show less
May. 24, 2017 07:17PM EST
By John Rogers
Maybe it's because I first started working on clean energy while serving in the Peace Corps he founded, or maybe it's my years of working on these issues from his home state. But I can't help thinking about the 100th anniversary of John F. Kennedy's birth, and connecting his stirring rhetoric to the energy challenges of our times.
Here's what our 35th president might have said about the challenges of energy transition and the opportunities in clean energy:
"Change is the law of life. And those who look only to the past or present are certain to miss the future."
Keep reading...
Show less


Get EcoWatch in your inbox