Ohio is Not the Nation's Fracking Waste Toilet
Mar. 18, 2013 06:09PM EST
Energy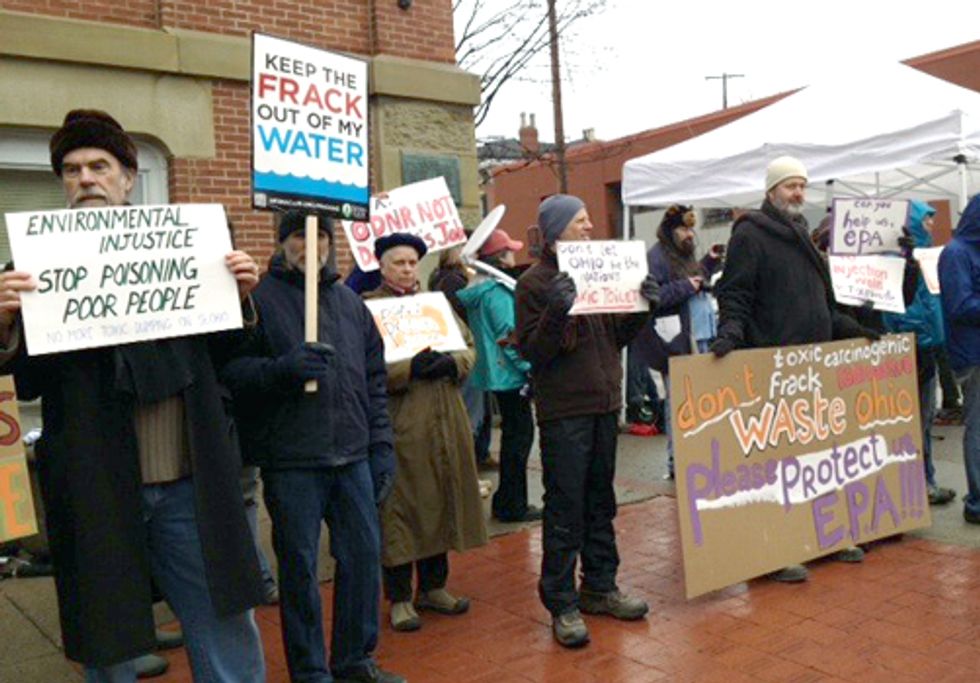 Fifty people, including Athens County Commissioner Charlie Adkins and Athens Mayor Paul Wiehl, braved the rain and cold today to gather at the Athens County Courthouse plaza, bedecked for the occasion with a full-sized outhouse, chanting "We are not the nation's toxic toilet."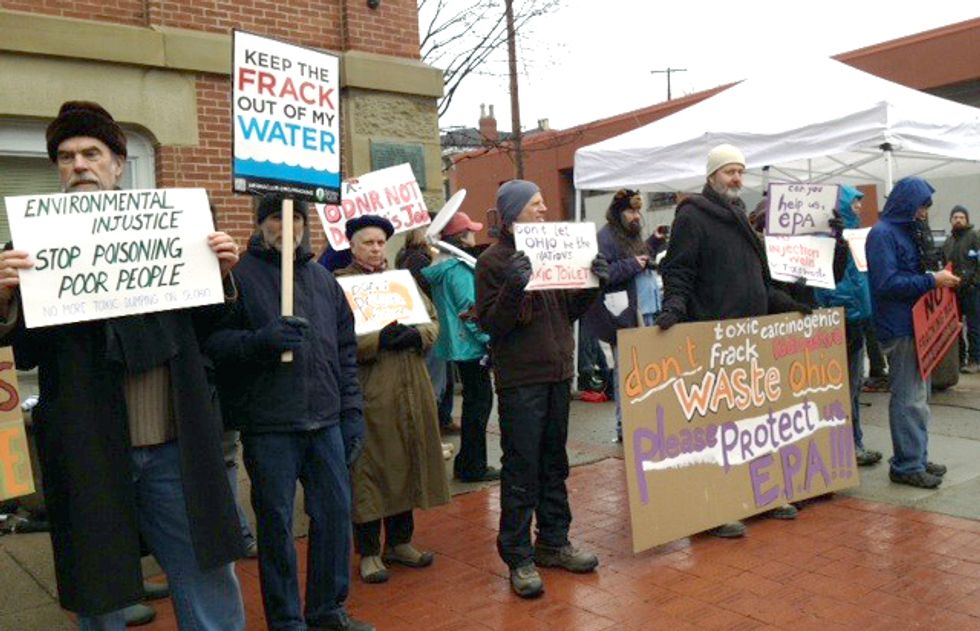 The Athens rally was one of four events in Ohio announcing the filing of a citizens' petition to U.S. Environmental Protection Agency (EPA), which was written on behalf of all Ohio citizens by Teresa Mills from the Center for Health, Environment and Justice and Buckeye Forest Council. More than two hundred groups and individuals around the state signed the letter calling on the U.S. EPA to do a full audit of Ohio's underground injection control program and to suspend Ohio's primacy, or right to control the injection well program. Other events were held in Columbus, Youngstown and Portage County.
Speakers at the Athens event described the long violation history of Athens County's Ginsburg injection well, at which Appalachia Resist! organized actions last June and November, and of the recent intentional dumping of as much as 250,000 gallons of toxic, radioactive frack waste over a period of month into a tributary of the Mahoning River by Ben Lupo and his companies. The Ohio Department of Natural Resources (NRDC) allowed Lupo's multiple operations to continue for decades in spite of at least 120 violations, many of them serious. Lupo is being tried for federal violations of the Clean Water Act for the Mahoning dumping and faces penalties much steeper than Ohio would inflict, according to Ohio Attorney Mike Dewine.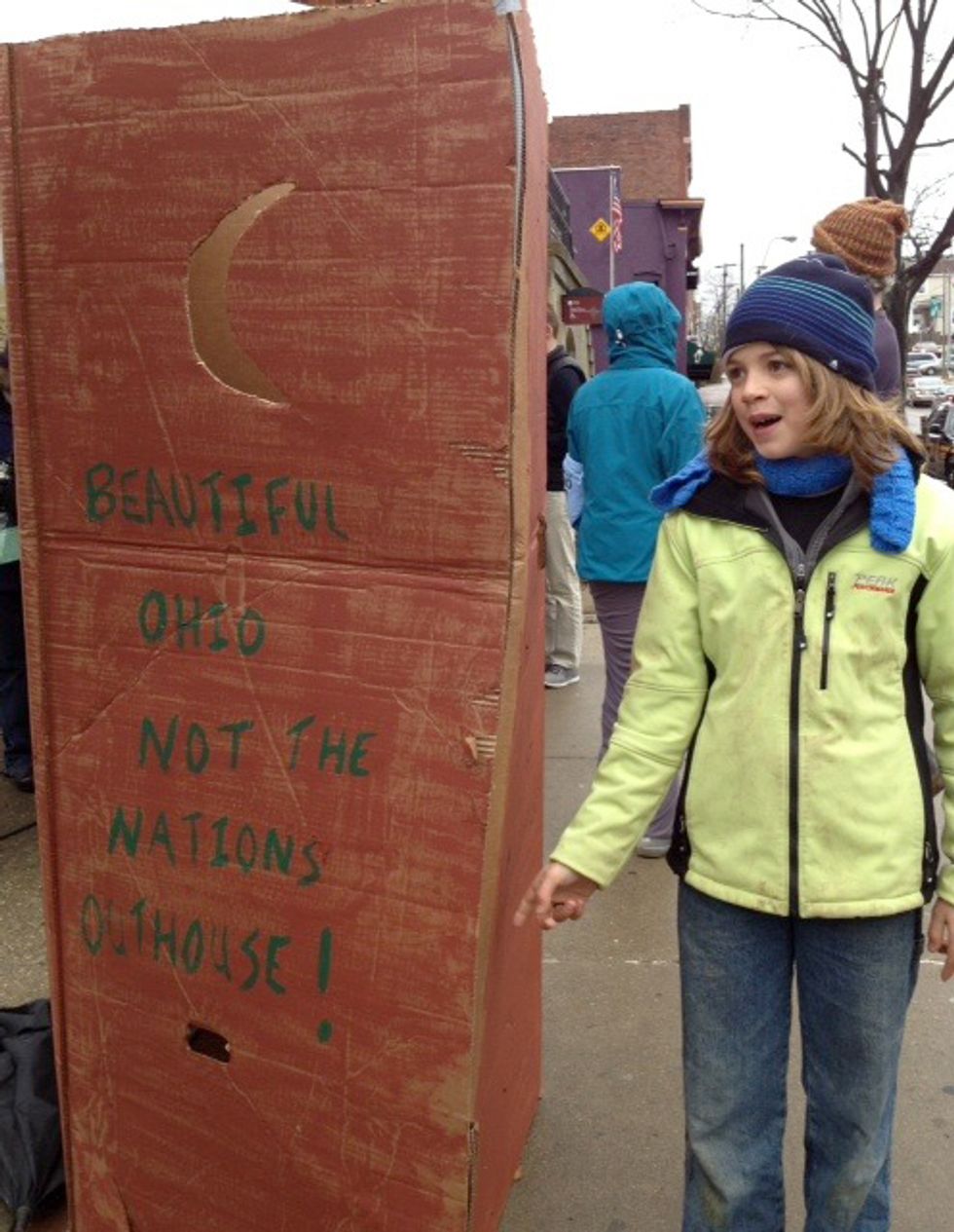 Grace Hall, a member of Athens County Fracking Action Network, the event's sponsor, told the crowd, "Ohio Department of Natural Resources is not doing its job. It should be protecting Ohioans from carcinogenic, radioactive frack waste. Instead, it allows waste injection wells to operate for years after they have failed serious safety inspections."
 
Crissa Cummings, the event's emcee, stated, "Last year over 500 million gallons of toxic, radioactive frack waste was dumped in Ohio communities. Over half of this came from Pennsylvania and West Virginia. We desperately need public servants who can protect us from the money-hungry fracking industry. ODNR obviously can't. We need U.S. EPA to take back permitting and regulation of Class II injection wells. In Pennsylvania where U.S. EPA is in charge, there are five operating injection wells. Ohio has 179, with more on the way, despite landowner resistance." One example of landowner resistance is the Atha injection well permit being opposed by Athens County Commissioners and hundreds of Athens County citizens and contested by the landowner, Melvina Mae Frost, where the well is proposed.
Other speakers included Nate Ebert, who is facing charges for his recent daylong occupation of a tripod at Greenhunter's New Matamoras frack waste transfer facility, and Melissa Wales, co-director of Ohio University's United Campus Ministry. Hall addressed the risks of barging frack waste on the Ohio River to the five million people who depend on drinking water that would be impacte by toxic radioactive waste spills in the river. 
Wales spoke of past exploitation of Appalachia, but also of the region's "thriving arts scene and entrepreneurial spirit along with one of the most highly touted local food systems anywhere in the nation." She concluded, "We have a vision of who we are, where we want to go and what we want to be that is inclusive, holistic, healthy and sustainable for all of us. The dangerous, exploitative, unregulated and toxic fracking industry cannot be a part of that future."
The event concluded with Space Welch calling on ralliers to speak out to elected officials and to the U.S. Coast Guard, which can require an Environmental Impact Statement before approving barging of frack waste on the Ohio River.
Visit EcoWatch's FRACKING page for more related news on this topic.
——–
Sign the petition today, telling President Obama to enact an immediate fracking moratorium:

EcoWatch Daily Newsletter
Recent Stories from EcoWatch