This website uses cookies to ensure you get the best experience while browsing it. By clicking 'Got It' you're accepting these terms.
Ohio House of Representatives Votes against a Clean Lake Erie
Apr. 26, 2012 07:05AM EST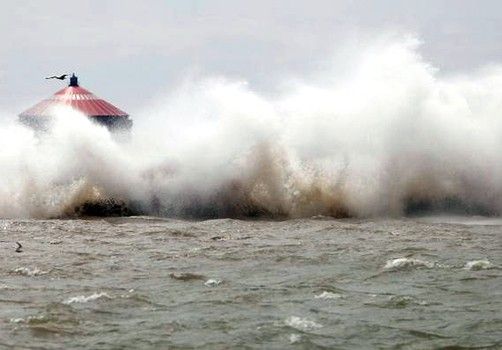 The Ohio House of Representatives repeated history today and once again passed an unbalanced bill that repeatedly puts the interests of industrial mining companies and other large industrial interests ahead of the health of streams and their wildlife and the rights of recreational users to the inland lakes and streams that drain to Lake Erie in Ohio.
The House voted 59-38 along party lines today on a bill (House Bill 473) to implement the Great Lakes Compact, a binding agreement among the eight Great Lakes States to guide the sustainable management of water use in all of the Great Lakes and the tributaries and groundwater that flow into the Lakes.
Despite improvements over an even more imbalanced bill that Gov. John Kasich vetoed last summer, the House continued to give short shrift to the Compact's requirement to protect not only the quantity and quality of Lake Erie lake water, but also the inland waterways when considering industry permit applications to withdraw and use water in the Lake Erie drainage basin.
"It's Groundhog Day all over again at the Statehouse," said Kristy Meyer, director of Agricultural and Clean Water Programs at the Ohio Environmental Council.
"The Ohio House has chosen to elevate mining and other industrial interests over the public interest, putting at risk the health and wildlife of our Great Lake.  Mining companies, bottlers, and industrial feedlots are the big winners. The big losers are the millions of sportsmen and boaters and countless wildlife that depend on healthy tributaries. So much for Earth Day in Ohio."
The vote follows months of negotiation and weeks of House committee hearings during which sportsmen, scientists, charter boat captains, boaters, travel and tourism business owners, and environmental-conservation groups warned that the bill:
Will lock the courthouse door on the right of anglers, hunters, trappers, boaters and other recreational users to challenge how many millions of gallons of water an industrial mineral mining company or other industrial facility may withdraw from Lake Erie or inland waterway, by limiting appeal rights only to persons with a clear economic or property interest;
May put spawning areas for walleye and steelhead trout at risk for degradation, by ignoring adverse impacts to inland streams and only considering such impacts to all of Lake Erie, and;
May result in reduced stream flows and concentrated nutrients and pollutants from farm field runoff and city sewer overflows, fueling toxic algae in Lake Erie's western basin by setting water use limits based on 90-day averages, not actual daily withdrawals.
The Kasich administration and the bill's supporters did agree to several improvements over the previous bill that Kasich vetoed. The bill that passed the House today would allow power plants, manufacturers, golf courses, agriculture, water companies and other users to take up to 2.5 million gallons of water per day directly from the lake and 1 million from most groundwater, rivers, streams and other inland sources before having to get a state permit. Those thresholds are more in line with those set by other Great Lakes states.
For high-quality rivers and streams with watersheds draining over 100 square miles, users would not need to seek a permit unless they were withdrawing 100,000 gallons of water a day averaged over 90 days. For high-quality rivers and streams between 50 and 100 square miles, users could take up to 100,000 gallons a day, as averaged over 45 days, before seeking a permit. The threshold for smaller high-quality waterways would also be 100,000 gallons a day, but there would be no averaging. A withdrawal of 100,000 gallons in a single day would trigger the permitting requirement.
As reported by the Toledo Blade, roughly 153.9 million gallons of water flow into Lake Erie every day from the Detroit River, other tributaries, and rainfall, according to a 2009 report by the International Upper Great Lakes Study Board. That compares to 154.9 million gallons that flow out over Niagara Falls, is lost to evaporation, and is diverted to New York canals.
Despite these good improvements won by the Kasich administration, the bill remains tilted in business' interest. The industrial minerals mining industry along with industrial feedlots and other industrial interests stalwartly support the bill. Meanwhile, sportsmen, charter boat captains, and environmental-conservation groups vigorously oppose it.
Former Ohio Govs. Bob Taft and George Voinovich wrote to lawmakers, urging them to address these concerns. Former Ohio DNR Director Sam Speck, who negotiated the Compact agreement amongst the Great Lakes states, testified Tuesday about the importance of striking a fair balance between industry's access to water and maintaining sustainable water supplies in the Lake Erie drainage basin. He predicted that a court would strike down the limitation on the right of recreational users to appeal water use permits.
During Tuesday's committee testimony, sportsmen groups vigorously opposed the bill's repeal of recreational users' common law right to appeal an industrial water use permit in Lake Eire and its tributaries. The bill narrows those rights to persons or businesses who have a direct economic or property interest in a water use permit.
The League of Ohio Sportsmen, the Greater Cleveland Boating Association and the Izaak Walton League of America urged the House committee to preserve, not eliminate, recreational users' rights, as Ohio has for decades. Like its Committee, the full House rejected attempts by minority Democrats to protect the sportsmen's rights.
Anthony Caruso, Rear Commander of the Greater Cleveland Boating Association, which represents more than 15,000 boat owners across the Ohio Lake Erie basin, told the Committee "We strongly resent that HB 473 narrows the definition of "Aggrieved Person" and by doing so eliminates our rights, and other recreational users' rights, to access and enjoy Ohio's waters."
The bill also dismisses the numerous small and medium-sized businesses that rely on Lake Erie and the importance of Lake Erie's $10 billion tourism economy.
The Lake Erie Charter Boat Association, representing more than 225 members, testified that a healthy Lake Erie and its tributaries are vital to the charter boat business. Without strong walleye, steelhead, and other prized sport fish populations, charter boat captains will have fewer fish for customers to catch and with toxic algal blooms customers won't return to spend their day on a lake covered in green slime. A healthy Lake Erie is vital to the charter boat business and many other businesses along Lake Eire.
Opposition to the bill centers around four continuing concerns:
Rolling back current Ohio law that protects Lake Erie's tributaries. A healthy Lake Erie is only as healthy as the tributaries that flow into it. By not protecting the tributaries, HB 473 violates Ohio's binding agreement with the other Great Lakes states and risks worsening toxic algal blooms, deteriorating critical spawning and nursery habitat, and decreasing Lake Erie's prized sport-fish population.
Averaging water withdrawals over a 90 day average. By measuring withdrawals on a 90 day average instead of a "per day" measure, facilities could withdraw 10 million gallons of water in a single day and still not be required to seek a permit. Fish and other wildlife do not live in an average amount of water. Fish cannot survive hours let alone days without sufficient water and oxygen.
Eliminating recreational users' right to appeal a water withdrawal permit. In an unprecedented move, HB 473 outright abandon's Ohio's public trust responsibility to care for all Ohio's waters and eliminates the right of anglers, boaters and other recreational users to appeal a water withdrawal or water use decision that negatively impacts their ability to enjoy Ohio's natural resources.
Experimental permit loopholes that allow a facility to skirt the Compact. Under the bill, an industrial water user could apply for an experimental permit that, under the bill, enabling it to evade the Compact's restriction on any "significant adverse impact" to Lake Erie basin waters. The bill also would enable industrial water users to apply for an experimental permit an unlimited number of times.
Opposition to the bill was led by Reps. Teresa Fedor (D-Toledo), Dennis Murray (D-Sandusky), Kathleen Clyde (D-Kent, and Sean O'Brian (D-Brookfield). The Democrats offered amendments that would address the concerns of witnesses. Majority Republicans summarily voted not to consider the amendments.
The only proponent witnesses to testify in support of HB 473 were the Ohio Chamber of Commerce and the Coalition for Sustainable Water Management, representing industry interests.
Opposing the bill were:  
The Ohio Environmental Council
The Nature Conservancy—Ohio Chapter
Lake Erie Charter Boat Association
Greater Cleveland Boating Association
League of Ohio Sportsmen
Natural Resources Defense Council
National Wildlife Federation
Lake Erie Waterkeeper
Black Swamp Conservancy
Izaak Walton League of America–Ohio Division
Lake Erie Improvement Association
Grand River Sailing Club
Interested Party testimony summarizing concerns about the bill and about how a healthy lake ecosystem is vital to the tourism industry within the Lake Erie basin was offered by:
Former Ohio DNR Director Sam Speck
Larry Fletcher, Lake Erie Shores & Islands Visitors Bureau
Dr. Jeffrey Reutter, Director, Ohio Sea Grant College Program, Stone Laboratory, Center for Lake Erie Area Research, and Great Lakes Aquatic Ecosystem Research Consortium, The Ohio State University
Dr. Bob Heath, Emeritus Professor, Kent State University
Dick Bartz, U.S. Geological Survey
John Stark, Freshwater Director, The Nature Conservancy, Ohio Chapter
The bill now heads to the Ohio Senate, which is expected to pass the bill, with or without any amendments.
"Our last hope is the Ohio Senate. We hope that our Senators can accomplish what our Representatives did not: consider the interests of the many recreational and small business users of Lake Erie, not just the industrial interests," said Meyer.
For more information, click here.
EcoWatch Daily Newsletter
A Boeing 737-800 BCF (Boeing Converted Freighter) is marked "Prime Air" as part of Amazon Prime's freight aircraft during the 53rd International Paris Air Show at Le Bourget Airport near Paris, France on June 22. Mustafa Yalcin / Anadolu Agency / Getty Images
It's Prime Day! The day when thousands of increasingly absurd items are discounted so deeply that you suddenly need items you never knew existed. Yes, I do need a hotdog shaped toaster next to me while I watch this Fast & Furious seven movie box set! And I need it in my house today!
By Peter Sinclair
The weather in many areas across the U.S. has been – and certainly throughout America's heartland was for much of the past winter and spring – frightful.
Golde Wallingford submitted this photo of "Pure Joy" to EcoWatch's first photo contest. Golde Wallingford
EcoWatch is pleased to announce our third photo contest!

There's a short window between when a tick bites and when it passes on bacteria or virus.
MSU Ag Communications, Courtesy Dr. Tina Nations, CC BY-ND
By Jerome Goddard
When it comes to problems caused by ticks, Lyme disease hogs a lot of the limelight. But various tick species carry and transmit a collection of other pathogens, some of which cause serious, even fatal, conditions.

tomosang / Moment / Getty Images
By Jessica A. Knoblauch
Say goodbye to one of the dreamiest things about childhood. In the Midwest, fireflies are dying off.
A new Climate Emergency Fund contains more than $625,000 which will go to grassroots climate action groups like Extinction Rebellion and students who have organized weekly climate strikes all over the world. @ExtinctionR / Twitter
By Julia Conley
Heeding the call of grassroots campaigners, several wealthy philanthropists announced Friday a new fund that will raise money for climate action groups around the world.
Skyhobo / iStock / Getty Images
The Trump administration is preparing to roll out a proposal that would remove communities' ability to officially contest decisions regarding how much pollution can be released by local power plants and factories, the New York Times reports.
In this May 10 photo oil flows at a Chevron oil field in Kern County, California. California Department of Fish and Wildlife's Office of Spill Prevention and Response
California officials ordered Chevron Friday "to take all measures" to stop a release that has spilled around 800,000 gallons of water and crude oil into a dry creek bed in Kern County, KQED reported.