This website uses cookies to ensure you get the best experience while browsing it. By clicking 'Got It' you're accepting these terms.
Ohio Gov. John Kasich Signs Nation's First Renewable Energy Freeze
Jun. 13, 2014 03:25PM EST
Business
It took two weeks, but now it's official—Ohio is the nation's first state to roll back renewable energy standards.
After the state House of Representatives passed Senate Bill 310 in May, Gov. John Kasich signature was all that was missing to ensure Ohio's clean-energy fall from grace. The standards—first passed in 2008 and reauthorized two years ago—previously required the state's utilities to sell more solar and wind energy each year and charged them with finding efficiency solutions for their customers. Kasich's signing means the standards are put on hold until 2017, when a committee formed by the bill's passage could agree to permanently freeze them.
Kasich signed the bill Friday without any comment to the media, The Plain Dealer reported.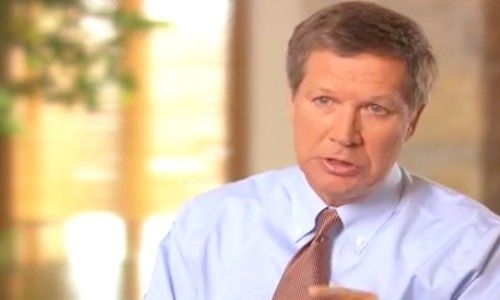 "Dirtier air. Higher electric bills. Lost jobs and investment. These are the new 'dividends' in store for Ohio from this major divestiture in clean energy," said Trish Demeter, managing director of Energy and Clean Air Programs for the Ohio Environmental Council (OEC).
Groups like the American Wind Energy Association made a late push for Kasich to veto the bill, but they had no such luck. They tried reminding the governor of success stories like the Blue Creek Wind Farm, spread across two counties and six townships in Northwest Ohio. In February, Iberdrola Renewables presented $2.7 million worth of checks to two communities to commemorate the first of the annual payments in lieu of taxes for the state's largest wind farm. In all, environmental groups like the OEC estimate that consumers have saved a combined $1 billion on their bills over the life of the standards, while others say the standards have brought in $1 billion in investment commitments.
"With this legislation, Gov. Kasich is moving the state backwards while monopoly utilities like FirstEnergy and AEP will see even greater profits," Sierra Club campaign representative Daniel Sawmiller said in a statement. "Ohioans can now expect higher electricity bills, fewer jobs in the clean energy manufacturing and construction industries, and increased pollution.
"Gov. Kasich promised Ohioans he would protect Ohio families, create Ohio jobs, and champion clean energy technologies. By signing this devastating bill, he has decided to ignore the health and economic interests of everyday Ohioans in favor of big corporations. We need Gov. Kasich to be strong on energy efficiency, renewable energy, and green jobs to move Ohio forward."
EcoWatch Daily Newsletter
Large food companies are following in the footsteps of fast-food restaurants such as Burger King and KFC by offering meat alternatives. Getty Images
By Elizabeth Pratt
Hormel, Kellogg's, and Kroger are among the large companies now planning to offer "fake meat" products at grocery stores.
Experts say the trend toward plant-based meats coincides with consumers' desires to eat less meat.
However, experts urge consumers to closely check package labels as a product isn't necessarily healthy just because it's described as plant-based.
In grocery stores and fast-food outlets around the U.S., a revolution is taking place.
Colombia rainforest. Marcel Oosterwijk / CC BY-SA 2.0
Many of us think of the Amazon as an untouched wilderness, but people have been thriving in these diverse environments for millennia. Due to this long history, the knowledge that Indigenous and forest communities pass between generations about plants, animals and forest ecology is incredibly rich and detailed and easily dwarfs that of any expert.
picture-alliance / Newscom / R. Ben Ari
By Wesley Rahn
Plastic byproducts were found in 97 percent of blood and urine samples from 2,500 children tested between 2014 and 2017, according to a study by the German Environment Ministry and the Robert Koch Institute.

Pexels
Medically reviewed by Daniel Bubnis, MS, NASM-CPT, NASE Level II-CSS
Hot yoga has become a popular exercise in recent years. It offers many of the same benefits as traditional yoga, such as stress reduction, improved strength, and flexibility.
Lara Hata / iStock / Getty Images
By SaVanna Shoemaker, MS, RDN, LD
Rice is a staple in many people's diets. It's filling, inexpensive, and a great mild-tasting addition to flavorful dishes.
An image of the trans-alaskan oil pipeline that carries oil from the northern part of Alaska all the way to valdez. This shot is right near the arctic national wildlife refuge. kyletperry / iStock / Getty Images Plus
The Trump administration has initialized the final steps to open up nearly 1.6 million acres of the protected Alaskan National Wildlife Refuge to allow oil and gas drilling.