Ohio Fights Back After Becoming the Nation's Fracking Waste Dump
Jul. 15, 2013 12:33PM EST
Energy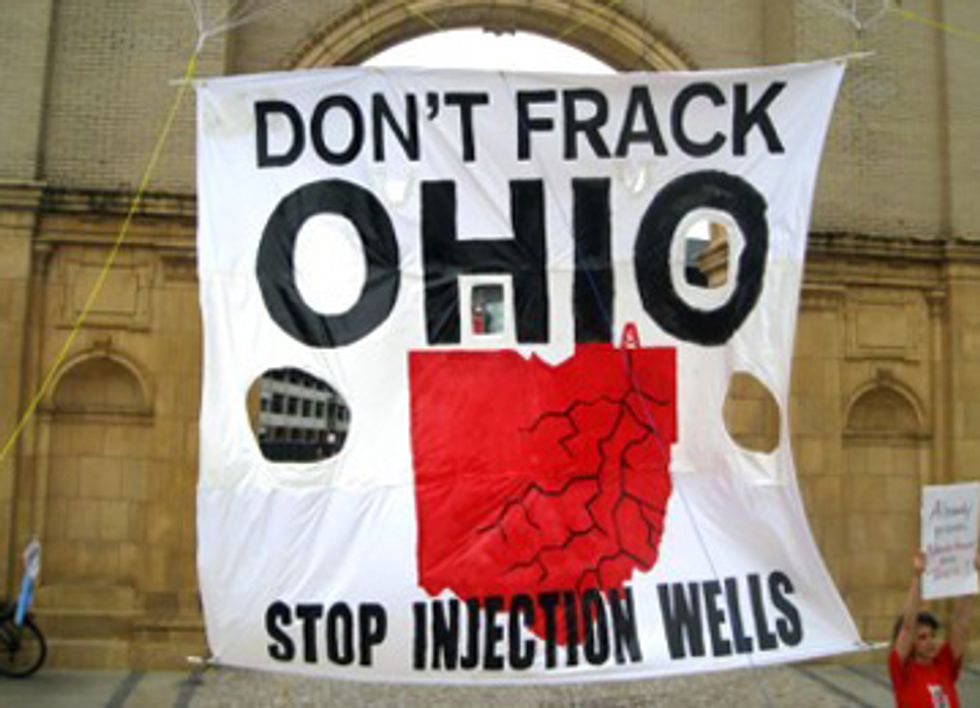 Article updated July 16.
For those living in Ohio, hydraulic fracturing wells aren't the only cause of concern in the nation's quest to leave no oil formation un-fracked. The state has been the site of a growing fracking fluid disposal industry that enjoys a steady stream of business from neighboring Pennsylvania.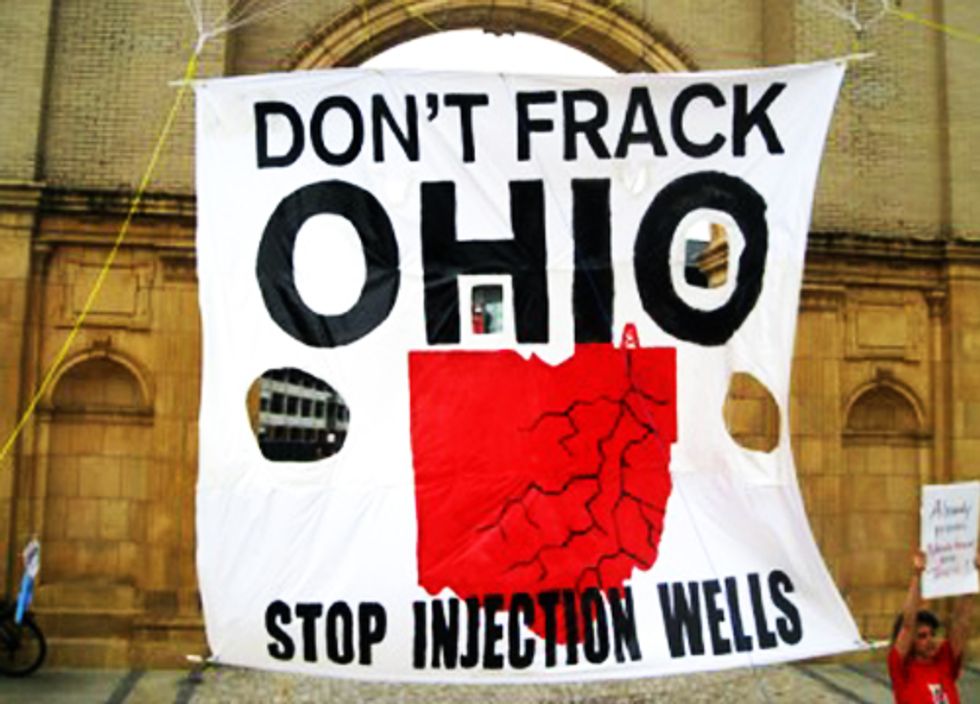 Ohio is home to 191 fracking fluid disposal wells. Last year, more than 14 million barrels of the toxic waste were injected into the ground in Ohio.
With the focus on the petroleum industry's use of fracking to extract oil and natural gas, disposal sites have largely flown under the radar. Yet the sites, known as injection wells, are essential to the fracking industry and pose their own set of threats to groundwater supplies and the health of nearby residents.
That's why residents throughout the state are gearing up for what they're calling Don't Frack Ohio 2, a weekend-long conference for concerned residents that will wrap up with a July 29 inter-faith service and rally in the state's Trumbull County.
"Fracking waste is the dirty secret than no legislator wants to talk about when they're making promises about the prosperity fracking will supposedly bring to our state," organizers said in an email sent to supporters.
What is a Disposal Injection Well?
The process of hydraulic fracturing injects a mixture of carcinogenic chemicals, silica sand and water into the ground to break up and access oil deposits, which are then retrieved from the well. While the process allows once-untapped oil to be extracted, it doesn't make its way to the surface as an untainted product.
The extracted oil is tainted with other naturally occurring materials, including brine, a mixture of silica-laced water containing radioactive organic materials. When the oil is separated from this mixture, companies are left with a wastewater mixture not suitable for above-ground disposal.
This is where the need for injection wells comes into the picture.
In Ohio, injection wells are created from oil and gas wells no longer in use. For the industry, such wells are the answer for fracking fluid wastewater disposal, since the infrastructure for injecting the material "back where it belongs" is already in place.
Yet for those living near abandoned oil wells, that's cause for concern.
As Nathan Rutz, campaign organizer for environmental organization Ohio Citizens Action, explains, the regulations for acceptable disposal sites are flawed. The underground infrastructure for former oil and gas wells is susceptible to breakdown, creating a potential avenue for the brine to seep into groundwater supplies, he said.
This has residents deeply concerned because contamination of groundwater could lead to a permanent and serious health risk. Because the chemicals used in the fracking process are diverse and often hidden from the public through "trade secret" protections, Ohio residents aren't entirely sure how great the threats are.
"A lot of people are terrified," Rutz told Mint Press News.
Based on the history of the industry, there's cause for concern.
According to a 2012 ProPublica investigation, fountains of contaminated water buried deep below the surface have emerged in Oklahoma and Louisiana in the last four years. In the early 1990s, Florida was considered to have the strictest regulations for injection wells, yet 20 of them malfunctioned, contaminating an aquifer in the southern portion of the state.
According to statistics compiled by ProPublica, inspections on injection wells from 2007 to 2010 revealed that structural integrity violations were issued for one out of every six wells tested.
Rallying for Change, Awareness
The rally and workshop sessions scheduled for the end of July are as much about creating awareness for legislators as they are about protesting the industry.
"The problem is our legislatures don't know about injection wells and how little we know," Rutz told Mint Press News.
The event is also about educating people on what the new industry could mean for their neighborhoods and families, which may feel the impact of the fracking industry in their own backyards.
There's also an issue of policy, as Ohio's lack of protections has emerged as a major factor for the growing industry.
"Since our neighboring states are much more stringent with their waste disposal standards, Ohio has become the designated regional dumping ground for fracking waste. It's time to tell our policymakers that big oil and gas corporations should be cleaning up their own messes, not dumping it in our backyards," organizers said in an email about the July 29 rally.
While the focus this time around will primarily be on injection wells, Ohio residents are also busy battling against oil extraction. The state is a prime target for oil drilling because it sits atop the Utica and Marcellus shale formations.
As of May, 100 drilling wells were in operation in Ohio, according to the Department of Natural Resources. And it doesn't look like things will slow down anytime soon. Nearly 700 permits have been given out, with more than 330 wells drilled.
The creation of drilling wells in the state feeds the cycle, creating an even greater need for injection wells and leaving area residents fighting an entire industry that feeds off itself.
Political Climate
Residents rallying against the industry could be facing an uphill battle. The state's governor has repeatedly rolled out the red carpet for oil companies looking at Ohio for fracking and disposal possibilities.
According to Don't Frack Ohio, a grassroots advocacy organization, Gov. John Kasich, a Republican, set a goal of increasing the number of fracking wells in the state by 4,000 in just four years.
In June, Kasich signed new oil drilling rules for the state that sought to tax oil companies and monitor water supply usage. While controversial among members of his own political party, the rules were largely seen by Ohio residents as a nod to the industry and an attempt to ensure the public the industry is being monitored.
Kasich is a known supporter of the oil industry, having received more than $213,000 in political contributions from the industry, according to a TruthOut report. He's not alone. From 2001 to 2011, fracking companies contributed $2.8 million to Ohio candidates.
Ohio's congressional representatives haven't escaped the fracking cash rush, either. According to Common Cause, $600,000 was spent by the oil and gas industry in contributions to the state's members of Congress.
The top recipient? Republican House Speaker John Boehner, who, as of 2011, had received $186,900.
Despite the fight against big money, residents of Ohio still hold the power in terms of electing officials to act in their best interest. The fight against the fracking industry, both in terms of injection sites and oil drilling sites, is not political. The rally expected July 29 will draw those who are not united by a political ideology, but by a desire to keep their land safe and their families healthy.
Visit EcoWatch's FRACKING page for more related news on this topic.
——–
SHARE YOUR THOUGHTS BELOW: Whose responsibility should it be to treat contaminated radioactive wastewater from oil and gas drilling operations? Should it be injected into the ground or mixed with cement to be sent to our landfills as solid waste? If neither, what do we do with it now that the industry has already produced millions of gallons of wastewater waiting to be disposed of?
——–

EcoWatch Daily Newsletter
Related Articles from EcoWatch