Ohio EPA Finalizes Air Permits for Fracking
Feb. 16, 2012 09:56PM EST
Energy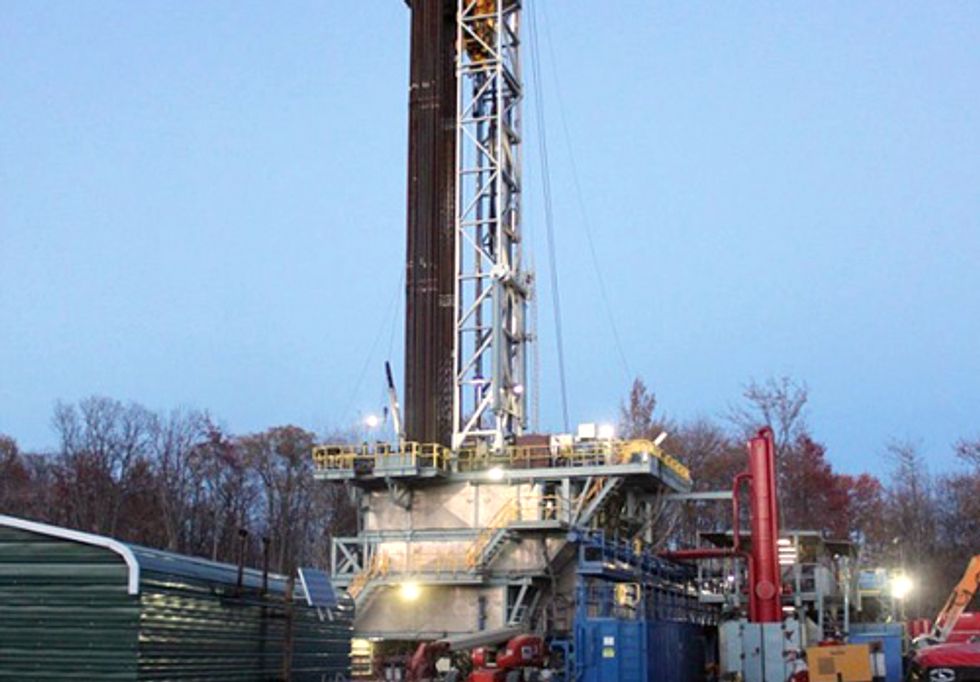 The Ohio EPA finalized its general permit for production operations at shale gas well sites. The Ohio Environmental Council, Buckeye Forest Council, and Center for Health, Environment and Justice are calling for further protections for health and environment.
The Missing
"The Agency seemed to forget there are two other phases of oil and gas operations," states Nathan Johnson of Buckeye Forest Council. "The drilling/fracturing and completion phases have been ignored. Left unchecked, these phases will put tons of harmful air pollutants into our communities."
The groups also state that it is not uncommon for the drilling/fracturing phase to use nearly 30,000 gallons of fuel in a two-week time frame.
"That 1980s-era construction vehicle could stay in one county for weeks or months at a time, burping out dangerous pollution," states David R. Celebrezze of Ohio Environmental Council. "It may be considered 'temporary,' but the health impacts of diesel pollution can be life-long."
Medical researchers have linked diesel pollution to asthma attacks, painful breathing, heart and lung disease, cancer and early death.
"These oil and gas operations have a responsibility to the local community to use all technologies to reduce every aspect of air pollution from each phase," states Teresa Mills of Center for Health, Environment and Justice. "If they do not install best emissions reduction technology, it tells us they prioritize making money over the health of our communities."
Although it is difficult to gauge the exact amount of pollution that will be generated as a result of oil and gas operations in regard to the Marcellus and Utica Shales, the groups calculated emissions from existing operations in West Virginia and Pennsylvania that are drilling in the Marcellus Shale.
Phases not covered under the General Permit include the drilling/fracturing phase and the completion phase.
    Drilling phase (range)*
       NOx: 80lbs-14,600lbs
       VOCs: 106lbs-1,440lbs
       PM: 80lbs-680 lbs
    Fracturing phase
       NOx: 1.4 tons
       VOCs: .06 tons (120 lbs)
       PM: .05 tons (89 pounds)
    Completion phase
       NOx: 2.26 tons (4,512 pounds)
       VOCs: 2.51 tons (5,011 pounds)
       PM: .29 tons (571 pounds)
*emissions amounts depend on the type of diesel engines being used [tier 0 (dirtiest) to tier 4 (cleanest)]. There is nothing that prevents a contractor from using 30 or 40 year old, inefficient, highly polluting diesel engines on an oil and gas operations.
The Bad
A general permit improves the efficiency of the permitting process by setting out all of the terms and conditions in advance. However, environmental and community groups have serious concerns with the local implications of this general permit.
"This general permit short-circuits the public input on these operations," states Mills. "If a large operation comes to your community and they already have a general permit, you have little recourse but to get a gas-mask and hold on for the ride."
According to the Ohio EPA "a summary of the potential emissions expected from this source is as follows:

 
The Good
Generally, the groups are praising the Ohio EPA for being proactive in regulating the production phase of oil/gas operations. The groups credit the agency for requiring frequent inspections of unpaved roads to ensure dust emissions are kept to a minimum.
Additionally, they compliment Ohio EPA for revising a section of the permit to include limitations on the total volume of material to be stored rather than limiting the size of the tanks (which would have allowed a loophole for industry to exploit).
Another positive point: the General Permit does require at least tier 3 engine standards for engines installed at the production facility. Tier 3 engines have a 71 percent reduction in PM and 53 percent reduction in NOx compared to tier 0 engines.
As the Ohio EPA moves forward with these rules, the groups encourage the Agency to stringently track air emissions for all three phases and revisit this permit in one year.
--------
The mission of the Ohio Environmental Council (OEC) is to secure healthy air, land, and water for all who call Ohio home. The OEC is Ohio's leading advocate for fresh air, clean water, and sustainable land use. The OEC has a 40-year history of innovation, pragmatism, and success. Using legislative initiatives, legal action, scientific principles, and statewide partnerships, the OEC secures a healthier environment for Ohio's families and communities.
EcoWatch Daily Newsletter
Related Articles from EcoWatch
Recent Stories from EcoWatch