Ohio Citizens Stand Up to Fracking Industry
Dec. 22, 2011 04:10PM EST
Fracking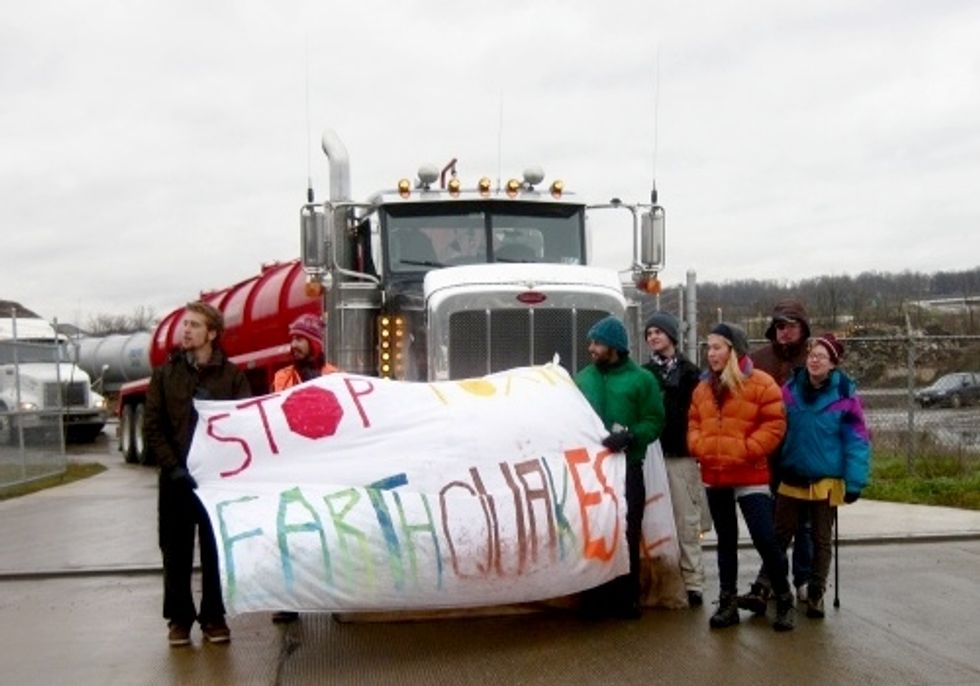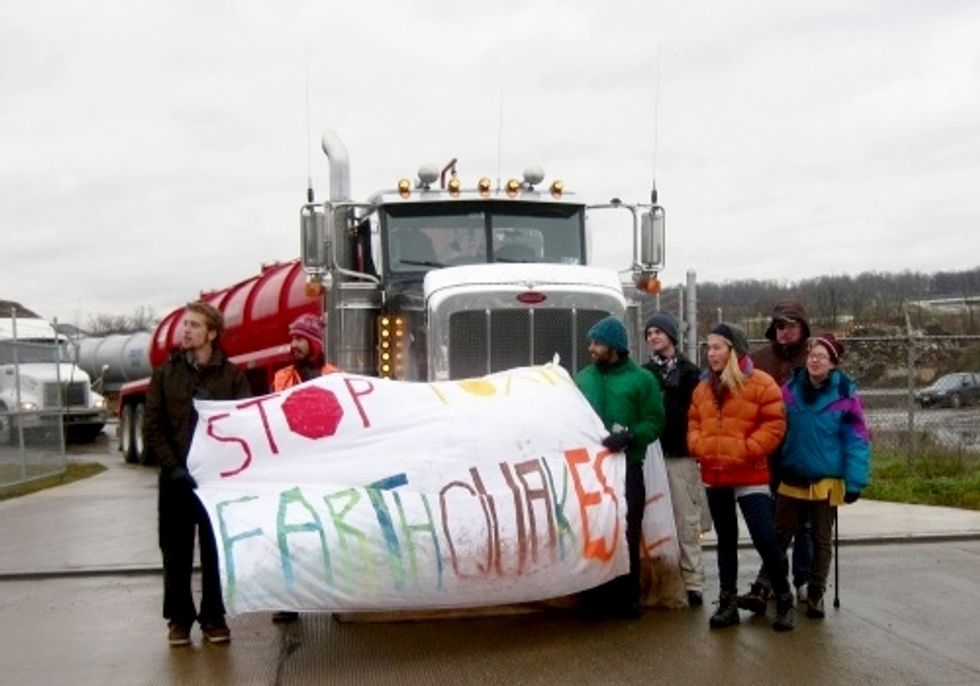 Seven protesters arrested for blockading trucks containing highly toxic waste water produced from hydraulic fracturing on Nov. 30 were on trial in Youngstown. The action was carried out in response to the D&L Energy owned injection well in Youngstown, which is injecting waste water from Pennsylvania and Ohio deep into the ground.
In a courtroom packed with local supporters and members of Occupy Youngstown the seven were charged with M1 Disorderly Conduct, which carries a maximum 30-day term of confinement and a $250 fine per arrestee. Defendants entered a plea of "no contest" which accepts the facts but does not admit guilt. After being declared guilty of the reduced charge of M4 Disorderly Conduct protesters were fined $50 and court fees on recommendation of judge and prosecutor.
The Youngstown injection well has caused eight nearby earthquakes since March of 2011—seven of these with an epicenter located at the well. Arrested activist Ben Shapiro said, "Well casings and cement break and degrade in the best of circumstances leaking highly toxic chemicals, it's far more dangerous at the epicenter of these earthquakes. How in the world can V&M Star and the Ohio Department of Natural Resources think this can be safe anywhere for our drinking water?"
Jaime Frederick of Youngstown Ohio has been sick ever since a fracked well on a neighboring property was drilled and known fracking fluid contaminants entered her well. "I was being poisoned and didn't know it. My gall bladder had completely stopped working. I kept getting sicker and sicker."
People across the country are pointing to the direct action that took place in Youngstown, Ohio, as an example of how citizens are willing to take a stand against the fracking industry. An example of this is Sandra Steingraber, an environmental biologist that mentioned the Ohio activists in her testimony against injection wells for fracking waste at a New York State Public hearing.
Fracking threatens citizens by exposing them to millions of gallons of water polluted with known toxins and carcinogens such as benzene, formaldehyde, heavy metals and surfactants. These chemicals cause extreme health effects including cancer and brain damage from endocrine disruption. A recent well leak in Broadview Heights sickened neighbors while local emergency responders could do nothing for 24 hours. In Chester Township 85 gallons of crude oil, gas and toxic waste water shot 20 feet in the air.
According to defendant Sean O'Toole, a 61-year old retired veteran and local resident, "hydrofracking companies causing irreparable damage to the land and people should be prosecuted and not those seeking to protect safe drinking water and community health. What's going on is radical, not me."
For more information, click here. To contribute to the regional legal defense fund for activists, click here.
EcoWatch Daily Newsletter