This website uses cookies to ensure you get the best experience while browsing it. By clicking 'Got It' you're accepting these terms.
Ohio Citizen Action Honors Staughton and Alice Lynd
Feb. 02, 2012 10:35AM EST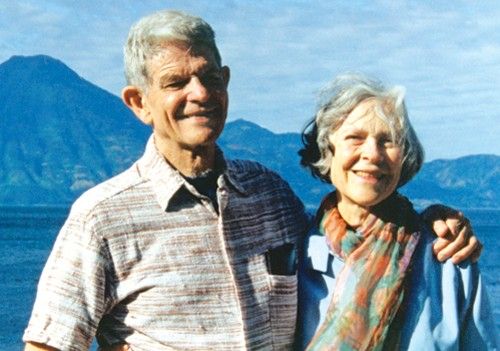 Ohio Citizen Action will honor Staughton and Alice Lynd with its highest recognition, the Howard M. Metzenbaum Award, on Saturday, Feb. 18, at the College Club in Cleveland, Ohio. Staughton and Alice Lynd of Niles, Ohio are lifelong participants in movements for social change in the U.S. and beyond. During their extraordinary partnership of more than half a century, they have earned a reputation as dedicated historians, legal scholars, and tireless advocates for peace and justice. Together they have fought for racial equality, peace and the rights of workers and prisoners—and against exposure to toxic hazards and the death penalty.
The Lynds' tireless activism has inspired and motivated generations of people. In the early 1960s, the Lynds moved to Atlanta to join renowned historian, author and activist Howard Zinn in the fight for civil rights and educational opportunities for African-Americans. Afterward they relocated to New England when Staughton accepted a teaching position at Yale University. They both became deeply involved in the anti-Vietnam War movement, with Staughton chairing the first March on Washington and Alice counseling young draftees and editing a book of the personal accounts of conscientious objectors.
The couple came to Youngstown in 1976 to advocate for workers whose grievances had not been addressed by either their employers or their unions. Staughton filed suit on behalf of workers and unions against U.S. Steel, which had closed its local mills with careless speed. Alice too received a law degree and they both began working for the local Legal Aid agency.
Throughout the 1980s and 1990s, the couple supplemented their legal work by documenting the oral histories of people seeking justice across the globe from Nicaragua to Palestine. They also nurtured grassroots groups such as Workers Against Toxic Chemical Hazards.
Once they retired in 1996, Staughton and Alice became interested in the industry that had replaced Youngstown's steel mills—prisons. By developing relationships with the leaders of the 1993 Lucasville prison riot, they not only shed light on the root causes of the disturbance, but went on to highlight inhumane treatment of high-security prisoners. Their work advocating for prisoners led directly to work against the death penalty.
Today the Lynds remain active and outspoken, harnessing their radical passion with wisdom and experience. They have authored several books and are sought after speakers on a range of pressing social issues.
"Ohio Citizen Action is so pleased to be able to recognize and honor the steadfast commitment of Staughton and Alice Lynd, not only to a group or a cause, but to a place and the ideal of justice that has characterized their lives and their partnership for more than 50 years," said Executive Director Sandy Buchanan.
"Just like Senator Metzenbaum, the Lynds are the embodiment of principled tenacity and tireless persistence in the fight for what is right."
The award event will begin with a reception at 6 p.m., followed by presentation of the award. The program will be a forum, featuring a discussion led by the Lynds entitled "Occupy Now, But What's Next?"
For more information or to purchase tickets to the event, click here.
EcoWatch Daily Newsletter
Artist's conception of solar islands in the open ocean. PNAS
Millions of solar panels clustered together to form an island could convert carbon dioxide in seawater into methanol, which can fuel airplanes and trucks, according to new research from Norway and Switzerland and published in the Proceedings of the National Academy of Sciences journal, PNAS, as NBC News reported. The floating islands could drastically reduce greenhouse gas emissions and dependence on fossil fuels.
Marcos Alves / Moment Open / Getty Images
More than 40 percent of insects could go extinct globally in the next few decades. So why did the U.S. Environmental Protection Agency (EPA) last week OK the 'emergency' use of the bee-killing pesticide sulfoxaflor on 13.9 million acres?
EcoWatch teamed up with Center for Biological Diversity via EcoWatch Live on Facebook to find out why. Environmental Health Director and Senior Attorney Lori Ann Burd explained how there is a loophole in the The Federal Insecticide, Fungicide, and Rodenticide Act under section 18, "that allows for entities and states to request emergency exemptions to spraying pesticides where they otherwise wouldn't be allowed to spray."
Simple swaps that cut down on kitchen trash.
Sponsored
By Kayla Robbins
Along with the bathroom, the kitchen is one of the most daunting areas to try and make zero waste.
View of downtown Miami, Florida from Hobie Island on Feb. 2, 2019.
Michael Muraz / Flickr
The Democratic candidates for president descended upon Miami for a two-night debate on Wednesday and Thursday. Any candidate hoping to carry the state will have to make the climate crisis central to their campaign, as The New York Times reported.
By Sharon Kelly
On Monday, the Wall Street Journal featured a profile of Scott Sheffield, CEO of Pioneer Natural Resources, whose company is known among investors for its emphasis on drawing oil and gas from the Permian basin in Texas using horizontal drilling and hydraulic fracturing, or fracking.
Pexels
By Craig K. Chandler
The federal government has available to it, should it choose to use them, a wide range of potential climate change management tools, going well beyond the traditional pollution control regulatory options. And, in some cases (not all), without new legislative authorization.
Denis Poroy / Getty Images
By Dan Gray
Processed foods, in their many delicious forms, are an American favorite.
But new research shows that despite increasing evidence on just how unhealthy processed foods are, Americans have continued to eat the products at the same rate.
By Sarah Steffen
With a profound understanding of their environmental surroundings, indigenous communities around the world are often cited as being pivotal to tackling climate change.