Oh No, Not Those Liberal Hollywood Elites Trying to Squash America's Energy Independence Again
Oct. 07, 2012 04:40PM EST
Energy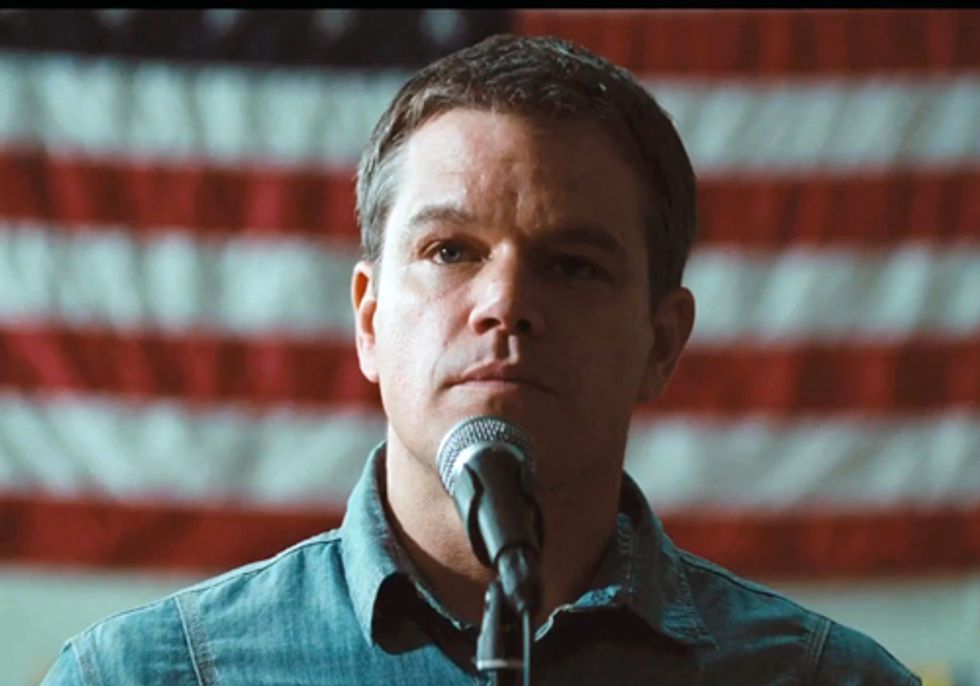 By Paul E McGinniss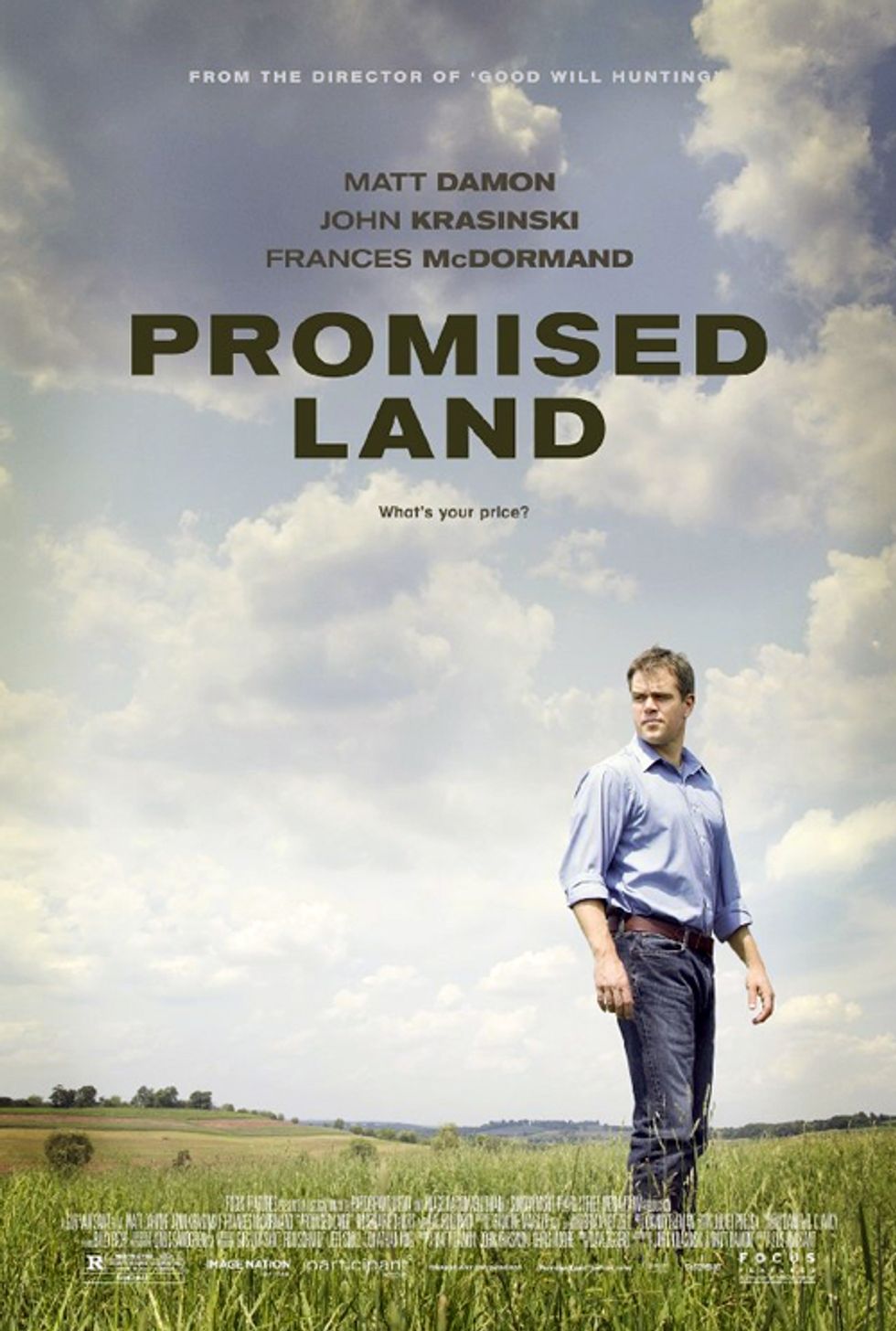 Isn't it bad enough we have to see Daryl Hannah splashed all over the internet and TV because she helped a 78-year-old great-grandmother protect her land from the I'll-do-anything-to-make-a-profit company TransCanada while they build the Keystone XL pipeline to carry toxic tar sands oil from Canada to Texas to ship it overseas? Now, Matt Damon is starring in a soon-to-be-released film, Promised Land, that focuses on fracking for natural gas. Apparently, the character Damon portrays in the film starts out as the pro-fracking bad guy and ends up the anti-fracking hero. Figures.
Okay, kidding aside, now that A-list megastar is headlining a film with an anti-fracking slant, the pro-fracking oil and gas lobby has come out swinging full force to denounce Damon and the film. Even Fox News has already issued a damming critique—Hollywood, Hypocrisy and Matt Damon's Anti Fracking Film—of this not yet released movie. The Fox piece states:
"Hollywood hates fracking—so much, that the makers of that particular upcoming flick were willing to accept financing from an oil-producing foreign government, the United Arab Emirates that stands to benefit by less domestic energy supply in the U.S."
Well, Fox could have added a few more facts. Green Prophet, a website highlighting green things happening in the middle east, noted:
Promised Land was funded by a United Arab Emirates company in Abu Dhabi which partnered with film producer Participant Media to make 15-18 films. Participant Media, which is known for creating provocative and socially conscious films, clarified that the investment covers all qualifying Participant narrative films regardless of genre or subject matter. This same partnership produced The Help, a film about American civil rights, hardly a film that would benefit an oil rich middle eastern country.
What's more, if Fox News wanted to give accurate nuance and substance to its reference to oil rich Abu Dhabi, they might have mentioned that Abu Dhabi is investing billions of dollars in renewable energy. They are building Masdar, a city that will sustain itself entirely on solar energy and other renewable sources. Masdar will be the headquarters of the International Renewable Energy Agency and was conceived as a hub for clean-tech research and companies. On top of that, Crown Prince of Abu Dhabi HH Mohammed bin Zayed bin Sultan Al Nahyan, even crowned his court with a rooftop array of photovoltaic panels.
Besides, by painting Matt Damon as a hypocrite, Fox News is trying to convince people that the way fracking is presented in the film is inaccurate. The article states:
"You see Hollywood doesn't face facts, it ignores them or twists them beyond recognition until they fit the left-wing agenda."  
Propaganda from pro-frackers tries to brainwash the public into thinking fracking isn't a health danger or bad for the environment. Politicians like Texas Governor Rick Perry absurdly assert that there is absolutely no proof that hydraulic fracturing for natural gas causes groundwater pollution. Think Progress pointed out how wrong Perry is on this subject:
"In fact, if Perry wants to be shown 'one place' where fracking has polluted groundwater, he has at least five to choose from. Pavillion, Wyoming; Sublette County, Wyoming; Dimock, Pennsylvania; Bradford County, Pennsylvania; and Pittsburgh, Pennsylvania are all home to confirmed cases of groundwater contamination caused by fracking."
ProPublica examined governmental reports and private lawsuits, and interviewed scores of residents, physicians and toxicologists in four states—Colorado, Texas, Wyoming and Pennsylvania—that are drilling hot spots. ProPublica reported:
"Hydraulic fracturing, along with other processes used to drill wells, generates emissions and millions of gallons of hazardous waste that are dumped into open-air pits. The pits have been shown to leak into groundwater and also give off chemical emissions as the fluids evaporate. Residents' most common complaints are respiratory infections, headaches, neurological impairment, nausea and skin rashes. More rarely, they have reported more serious effects, from miscarriages and tumors to benzene poisoning and cancer."
ProPublica's Guide To Fracking points out many nasty facts about fracking, such as: samples from gas wells in New York that showed levels of radioactivity more than 250 times the federal drinking water standard, a 2008 investigation found more than 1,000 cases of water contamination in drilling areas around the country and as gas drilling expanded across the country state agencies failed to keep pace by hiring more inspectors, leaving some wells uninspected for years.
Meanwhile, shills for the oil and gas industry like The Heritage Foundation, continue to say we don't need regulation or oversight, and they continue to lie and say there is no proof fracking causes any harm. It's no surprise The Heritage Foundation has also come out swinging against the "Hollywood liberals" with the article: Matt Damon's Promised Land Twists the Fracking Facts. Nick Loris from the The Heritage Foundation, said "Hydraulic fracturing is subject to both federal and state regulations, and there have been no instances of fracking causing contamination of drinking water."
But the reality is oil and gas corporations have managed to evade the law by getting exemptions from critically important protective environmental provisions like the Safe Drinking Water Act and Clean Water Act. What's more, the fossil fuel industry, when confronted with lawsuits from damages caused by oil and gas drilling, has paid millions of dollars in legal settlements to victims across the country. This, in effect, has bought the silence of these victims by forcing them to sign nondisclosure agreements that prevent them from ever speaking about the poisoning of their drinking water or health impacts caused by the contamination, ultimately allowing these companies to deny responsibility or even admit they were ever at fault in the first place.
But despite the attempts by the industry to cover up the facts, the real facts about fracking are everywhere. One example is DeSmogBlog's report, stating:
"In Texas—which now has about 93,000 natural-gas wells, up from around 58,000 a dozen years ago—a hospital system in six counties with some of the heaviest drilling said in 2010 that it found a 25 percent asthma rate for young children, more than three times the state rate of about seven percent. Areas around fracking drills smell like raw sewage mixed with gasoline, drilling-waste pits, some as large as a football field, sit close to homes. Of more than 179 wells producing waste water with high levels of radiation, at least 116 reported levels of radium or other radioactive materials 100 times as high as the levels set by federal drinking-water standards"
Watch out natural gas industry, the grassroots environmental movement is growing and getting stronger everyday. Renewable energy is the right direction for America and the rest of the world. It's time to stop subsidizing and externalizing the costs of the fossil fuel industry. Continued support of dirty energy is the equivalent of throwing the baby out with the bath water.
A warning to all you Fox News loving frackers that are still recovering from the headache the watershed anti-fracking documentary Gasland caused, you might want to take a few Aspirin (or something much stronger) before Promised Land hits theaters nationwide this December.
Gasland galvanized the environmental movement like no other documentary before. It's likely Promised Land will push the anti-fracking envelope even further. With this kind of exposure, the half truths and lies being pushed by the oil and gas industry's propaganda machine can be countered with the real facts and figures in front of an even broader audience. Hooray for Hollywood!
Visit EcoWatch's FRACKING page for more related news on this topic.
--------
Paul E McGinniss is The New York Green Advocate. He is a green building consultant and real estate broker in New York. He is pretty much obsessed with all things environment and has lately become a resiliency addict.
EcoWatch Daily Newsletter