This website uses cookies to ensure you get the best experience while browsing it. By clicking 'Got It' you're accepting these terms.
Offshore Wind Installations on Track For Seventh Consecutive Record Year
Oct. 30, 2013 04:14PM EST
By J. Matthew Roney
Offshore wind power installations are on track to hit a seventh consecutive annual record in 2013. Developers added 1,080 megawatts (MW) of generating capacity in the first half of the year, expanding the world total by 20 percent in just six months. Fifteen countries host some 6,500 MW of offshore wind capacity. Before the year is out, the world total should exceed 7,100 MW. Although still small compared with the roughly 300,000 MW of land-based wind power, offshore capacity is growing at close to 40 percent a year.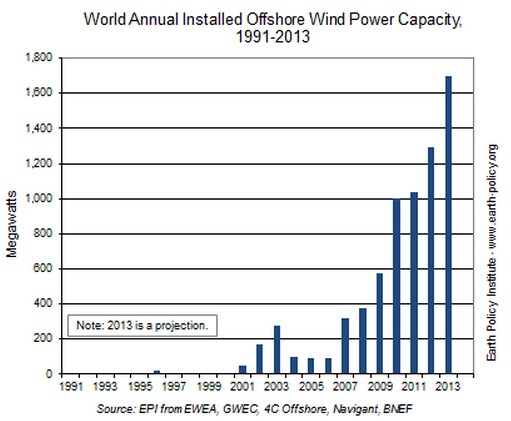 Graphic credit: Earth Policy Institute
In 1991, Denmark installed the world's first offshore wind farm, a 5 MW project in the Baltic Sea. The country's offshore wind sector has since alternated between lulls and bursts of activity. Since 2008, Denmark's offshore wind capacity has more than tripled, topping 1,200 MW by mid-2013. More than 350 MW of offshore wind power were plugged into the grid in the first half of the year—all of it to complete the 400 MW Anholt project, which is expected to meet 4 percent of Danish electricity needs.
Denmark already gets more than 30 percent of its electricity from wind—onshore and offshore—and aims to increase that share to 50 percent by 2020. At about one third the size of New York State, Denmark has the world's highest wind power capacity per square mile, so it will rely mostly on offshore expansion to hit the 2020 target.
Denmark was first to put wind turbines in the sea, but today it ranks a distant second to the UK in total offshore wind generating capacity. More than 500 MW of new offshore wind power went online in UK waters in the first half of 2013, bringing the country's grand total to more than 3,400 MW—enough to power more than 2 million UK homes.
The bulk of this new offshore capacity went to completing the 630 MW first phase of the London Array, now the world's largest offshore wind farm. It overtook another UK project, the 500 MW Greater Gabbard wind farm, which was finished in 2012. In all, the UK has some 12,000 MW of offshore wind capacity under construction or in earlier development stages.
Belgium's offshore wind capacity grew 20 percent to 450 MW in the first half of 2013, placing it third in the world rankings. Germany reached 380 MW of offshore wind and will have at least 520 MW by year's end. Beyond this, the German offshore industry expects another 1,000 MW will connect to the grid in both 2014 and 2015.
Countries in Asia are starting to make offshore wind power more than just a European affair. China, for example, brought its first offshore wind farm online in 2010. Since then, China has quickly climbed to fourth in the world, with 390 MW. The official goal is for 5,000 MW of wind capacity in Chinese waters by 2015, ballooning to 30,000 MW by 2020.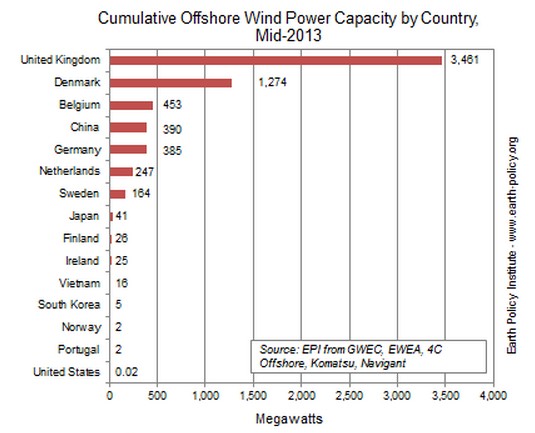 Graphic credit: Earth Policy Institute
In Japan, where land is at a premium and where the future of nuclear energy is in question, offshore wind is gaining attention as a potentially huge domestic, carbon-free power source. A 16 MW project inaugurated in the first half of 2013 bumped Japan's offshore wind capacity to 41 MW.
Because Japan lacks much shallow seabed in which to fix standard offshore turbines, new floating turbine technology is likely the future for offshore wind there. Off the coast of Fukushima prefecture, a 2 MW floating turbine will begin generating electricity in November 2013, the first stage of a 16 MW demonstration project. If it performs well, the hope is to expand the project's capacity to up to 1,000 MW by 2020.
Floating turbines may actually be a big part of future offshore wind development at the global level. Not only do they greatly expand the area available for wind farms, they also have the potential to dramatically reduce the cost of offshore wind generation, which today is more than twice as expensive as that from turbines on land. While offshore wind manufacturers have managed to achieve cost reductions for the turbines themselves—through lighter, stronger materials and increased efficiency, for example—these savings have thus far been offset by the rising cost of installing and maintaining turbines fixed to the seabed as projects move into deeper waters.
The renewable energy consultancy GL Garrad Hassan notes that working around harsh weather becomes much easier with floating turbines: when conditions are favorable, relatively cheap tugboats can bring a turbine to the project site for quick installation, avoiding the need for specialized installation vessels. The turbine can be floated back to shore when the time comes for maintenance, lowering both cost and risk.
The world is gaining experience in using this young technology. In the last few years, Norway's Statoil and Seattle-based Principle Power have both deployed floating wind prototypes successfully, in Norwegian and Portuguese waters, respectively.
In June 2013, the U.S. at last joined the offshore wind club when a 20 kilowatt (0.02 MW) floating wind turbine anchored off the coast of Maine first sent electricity to the state's power grid. The turbine developer, DeepCwind, a consortium led by the University of Maine, plans to deploy two much larger versions, 6 MW each, in 2016. 
The first full-fledged offshore wind farm in the United States, though, will likely be of the traditional variety fixed to a foundation in the seabed. Three proposals—Massachusetts' 470-MW Cape Wind project, Rhode Island's 30 MW Block Island Wind Farm, and New Jersey's 25 MW Fisherman's Energy I project—are the closest to beginning construction. 
U.S. offshore wind's potential is staggering. According to the U.S. Department of Energy, shallow waters along the eastern seaboard could host 530,000 MW of wind power, capable of covering more than 40 percent of current U.S. electricity generation. Adding in deeper waters and the other U.S. coastal regions boosts the potential to more than 4.1 million MW. 
This is consistent with the findings of a 2009 Harvard study that calculated wind energy potential worldwide. The authors estimated that in most of the world's leading carbon dioxide-emitting countries, available wind resources could easily meet national electricity needs. In fact, offshore wind alone would be sufficient. 
Clearly, the world has barely begun to realize its offshore potential. Indeed, in some countries, regulatory and policy uncertainty seem to be sapping offshore wind's momentum just as it really gets going, clouding the picture for future development. The UK government, concerned about costs, recently changed its target date for 18,000 MW of offshore wind from 2020 to 2030. In Germany, turbine orders are scarce as developers await the new coalition government's plans for regulations and incentives. And in China, offshore wind companies say the guaranteed price for the electricity they generate is set too low to stimulate rapid growth, calling into question whether the country can hit its ambitious goals for 2015 and 2020. 
Reflecting the hazy outlook in these and other key countries, projections for global offshore wind capacity over the next decade or so—from research and consulting firms and from industry publications—range anywhere from 37,000 to 130,000 MW. Despite the impressive growth of recent years, it seems that the lower end of these forecasts is much more likely. We know there is practically no limit to the available resource. What remains to be seen is how quickly the world will harness it and give offshore wind power a more prominent place in the new energy economy.

Prince William and British naturalist David Attenborough attend converse during the World Economic Forum annual meeting, on January 22 in Davos, Switzerland. Fabrice Cofferini /AFP / Getty Images
Britain's Prince William interviewed famed broadcaster David Attenborough on Tuesday at the World Economic Forum's annual meeting in Switzerland.
During the sit-down, the 92-year-old naturalist advised the world leaders and business elite gathered in Davos this week that we must respect and protect the natural world, adding that the future of its survival—as well as humanity's survival—is in our hands.
Electric vehicle sales took off in 2018, with a record two million units sold around the world, according to a new Deloitte analysis.
What's more, the accounting firm predicts that another 21 million electric cars will be on the road globally over the next decade due to growing market demand for clean transportation, government subsidies, as well as bans on fossil fuel cars.
Teenager Alex Weber and friends collected nearly 40,000 golf balls hit into the ocean from a handful of California golf courses.
Alex Weber /
CC BY-ND
Southwest Greenland had the most consistent ice loss from 2003 to 2012. Eqalugaarsuit, Ostgronland, Greenland on Aug. 1, 2018.
Rob Oo / CC BY 2.0
Greenland is melting about four times faster than it was in 2003, a new study published Monday in the Proceedings of the National Academy of Sciences found, a discovery with frightening implications for the pace and extent of future sea level rise.
"We're going to see faster and faster sea level rise for the foreseeable future," study lead author and Ohio State University geodynamics professor Dr. Michael Bevis said in a press release. "Once you hit that tipping point, the only question is: How severe does it get?"
Finally, some good news about the otherwise terrible partial government shutdown. A federal judge ruled that the Trump administration cannot issue permits to conduct seismic testing during the government impasse.
The Justice Department sought to delay—or stay—a motion filed by a range of coastal cities, businesses and conservation organizations that are suing the Trump administration over offshore oil drilling, Reuters reported. The department argued that it did not have the resources it needed to work on the case due to the shutdown.
Most people have heard of the Amazon, South America's famed rainforest and hub of biological diversity. Less well known, though no less critical, is the Pantanal, the world's largest tropical wetland.
Like the Amazon, the Pantanal is ecologically important and imperiled. Located primarily in Brazil, it also stretches into neighboring Bolivia and Paraguay. Covering an area larger than England at more than 70,000 square miles, the massive wetland provides irreplaceable ecosystem services that include the regulation of floodwaters, nutrient renewal, river flow for navigability, groundwater recharge and carbon sequestration. The wetland also supports the economies of the four South American states it covers.
Demonstrators participate in a protest march over agricultural policy on Jan. 19 in Berlin, Germany. Carsten Koall / Getty Images Europe
By Andrea Germanos
Organizers said 35,000 people marched through the streets of the German capital on Saturday to say they're "fed up" with industrial agriculture and call for a transformation to a system that instead supports the welfare of the environment, animals and rural farmers.

The fire that erupted after a pipeline explosion in Mexico Friday. FRANCISCO VILLEDA / AFP / Getty Images
By Patrick Rogers
If you have ever considered making the switch to an environmentally friendly electric vehicle, don't drag your feet. Though EV prices are falling, and states are unveiling more and more public charging stations and plug-in-ready parking spots, the federal government is doing everything it can to slam the brakes on our progress away from gas-burning internal combustion engines. President Trump, likely pressured by his allies in the fossil fuel industry, has threatened to end the federal tax credits that have already helped put hundreds of thousands of EVs on the road—a move bound to harm not only our environment but our economy, too. After all, the manufacturing and sale of EVs, hybrids, and plug-in hybrids supported 197,000 jobs in 2017, according to the most recent U.S. Energy and Employment Report.