Offshore Wind Installations on Track For Seventh Consecutive Record Year
By J. Matthew Roney
Offshore wind power installations are on track to hit a seventh consecutive annual record in 2013. Developers added 1,080 megawatts (MW) of generating capacity in the first half of the year, expanding the world total by 20 percent in just six months. Fifteen countries host some 6,500 MW of offshore wind capacity. Before the year is out, the world total should exceed 7,100 MW. Although still small compared with the roughly 300,000 MW of land-based wind power, offshore capacity is growing at close to 40 percent a year.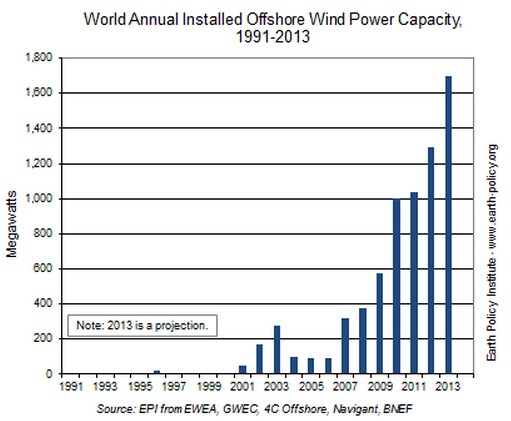 Graphic credit: Earth Policy Institute
In 1991, Denmark installed the world's first offshore wind farm, a 5 MW project in the Baltic Sea. The country's offshore wind sector has since alternated between lulls and bursts of activity. Since 2008, Denmark's offshore wind capacity has more than tripled, topping 1,200 MW by mid-2013. More than 350 MW of offshore wind power were plugged into the grid in the first half of the year—all of it to complete the 400 MW Anholt project, which is expected to meet 4 percent of Danish electricity needs.
Denmark already gets more than 30 percent of its electricity from wind—onshore and offshore—and aims to increase that share to 50 percent by 2020. At about one third the size of New York State, Denmark has the world's highest wind power capacity per square mile, so it will rely mostly on offshore expansion to hit the 2020 target.
Denmark was first to put wind turbines in the sea, but today it ranks a distant second to the UK in total offshore wind generating capacity. More than 500 MW of new offshore wind power went online in UK waters in the first half of 2013, bringing the country's grand total to more than 3,400 MW—enough to power more than 2 million UK homes.
The bulk of this new offshore capacity went to completing the 630 MW first phase of the London Array, now the world's largest offshore wind farm. It overtook another UK project, the 500 MW Greater Gabbard wind farm, which was finished in 2012. In all, the UK has some 12,000 MW of offshore wind capacity under construction or in earlier development stages.
Belgium's offshore wind capacity grew 20 percent to 450 MW in the first half of 2013, placing it third in the world rankings. Germany reached 380 MW of offshore wind and will have at least 520 MW by year's end. Beyond this, the German offshore industry expects another 1,000 MW will connect to the grid in both 2014 and 2015.
Countries in Asia are starting to make offshore wind power more than just a European affair. China, for example, brought its first offshore wind farm online in 2010. Since then, China has quickly climbed to fourth in the world, with 390 MW. The official goal is for 5,000 MW of wind capacity in Chinese waters by 2015, ballooning to 30,000 MW by 2020.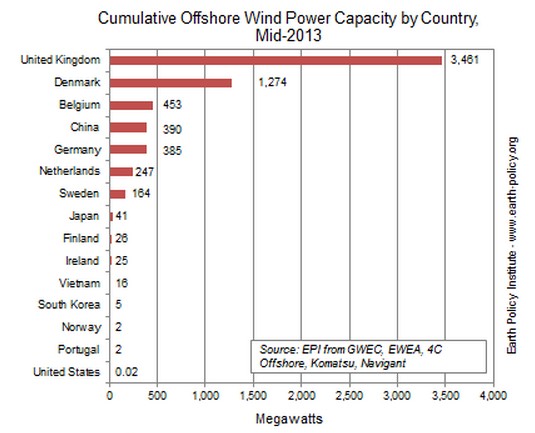 Graphic credit: Earth Policy Institute
In Japan, where land is at a premium and where the future of nuclear energy is in question, offshore wind is gaining attention as a potentially huge domestic, carbon-free power source. A 16 MW project inaugurated in the first half of 2013 bumped Japan's offshore wind capacity to 41 MW.
Because Japan lacks much shallow seabed in which to fix standard offshore turbines, new floating turbine technology is likely the future for offshore wind there. Off the coast of Fukushima prefecture, a 2 MW floating turbine will begin generating electricity in November 2013, the first stage of a 16 MW demonstration project. If it performs well, the hope is to expand the project's capacity to up to 1,000 MW by 2020.
Floating turbines may actually be a big part of future offshore wind development at the global level. Not only do they greatly expand the area available for wind farms, they also have the potential to dramatically reduce the cost of offshore wind generation, which today is more than twice as expensive as that from turbines on land. While offshore wind manufacturers have managed to achieve cost reductions for the turbines themselves—through lighter, stronger materials and increased efficiency, for example—these savings have thus far been offset by the rising cost of installing and maintaining turbines fixed to the seabed as projects move into deeper waters.
The renewable energy consultancy GL Garrad Hassan notes that working around harsh weather becomes much easier with floating turbines: when conditions are favorable, relatively cheap tugboats can bring a turbine to the project site for quick installation, avoiding the need for specialized installation vessels. The turbine can be floated back to shore when the time comes for maintenance, lowering both cost and risk.
The world is gaining experience in using this young technology. In the last few years, Norway's Statoil and Seattle-based Principle Power have both deployed floating wind prototypes successfully, in Norwegian and Portuguese waters, respectively.
In June 2013, the U.S. at last joined the offshore wind club when a 20 kilowatt (0.02 MW) floating wind turbine anchored off the coast of Maine first sent electricity to the state's power grid. The turbine developer, DeepCwind, a consortium led by the University of Maine, plans to deploy two much larger versions, 6 MW each, in 2016. 
The first full-fledged offshore wind farm in the United States, though, will likely be of the traditional variety fixed to a foundation in the seabed. Three proposals—Massachusetts' 470-MW Cape Wind project, Rhode Island's 30 MW Block Island Wind Farm, and New Jersey's 25 MW Fisherman's Energy I project—are the closest to beginning construction. 
U.S. offshore wind's potential is staggering. According to the U.S. Department of Energy, shallow waters along the eastern seaboard could host 530,000 MW of wind power, capable of covering more than 40 percent of current U.S. electricity generation. Adding in deeper waters and the other U.S. coastal regions boosts the potential to more than 4.1 million MW. 
This is consistent with the findings of a 2009 Harvard study that calculated wind energy potential worldwide. The authors estimated that in most of the world's leading carbon dioxide-emitting countries, available wind resources could easily meet national electricity needs. In fact, offshore wind alone would be sufficient. 
Clearly, the world has barely begun to realize its offshore potential. Indeed, in some countries, regulatory and policy uncertainty seem to be sapping offshore wind's momentum just as it really gets going, clouding the picture for future development. The UK government, concerned about costs, recently changed its target date for 18,000 MW of offshore wind from 2020 to 2030. In Germany, turbine orders are scarce as developers await the new coalition government's plans for regulations and incentives. And in China, offshore wind companies say the guaranteed price for the electricity they generate is set too low to stimulate rapid growth, calling into question whether the country can hit its ambitious goals for 2015 and 2020. 
Reflecting the hazy outlook in these and other key countries, projections for global offshore wind capacity over the next decade or so—from research and consulting firms and from industry publications—range anywhere from 37,000 to 130,000 MW. Despite the impressive growth of recent years, it seems that the lower end of these forecasts is much more likely. We know there is practically no limit to the available resource. What remains to be seen is how quickly the world will harness it and give offshore wind power a more prominent place in the new energy economy.

Wikimedia Commons
By Stacy Malkan
Neil deGrasse Tyson has inspired millions of people to care about science and imagine themselves as participants in the scientific process. What a hopeful sign it is to see young girls wearing t-shirts emblazoned with the words, "Forget princess, I want to be an astrophysicist."
Keep reading...
Show less
www.youtube.com
By Andy Rowell
Any day now we will truly witness climate change in action. Within days at worst, maybe weeks at best, scientists predict that a huge section of the Larsen C ice shelf in Antarctica will break off into the ocean, in what is called a major "carving" event.
Keep reading...
Show less
www.youtube.com
President Trump visited Cedar Rapids, Iowa on June 21 to speak to a large crowd in the U.S. Cellular Center at a political rally organized by his campaign.
As Trevor Noah noted during The Daily Show episode last night (starts at 2:25), the real reason Trump has these rallies is to "get back in front of his loyal crowds and feed of their energy." Noah believes that "Trump supporters are so on board with their dude he can say anything and they'll come along for the ride."
Keep reading...
Show less
The Kamuthi solar plant in the southern Indian state of Tamil Nadu.
The rapid growth in renewable energy continues to put a dent in the demand for coal.
Coal India, the world's biggest coal mining company and producer of 82 percent of the country's coal, announced the closure of 37 mines that are financially "unviable."
Keep reading...
Show less
www.youtube.com
By Katie O'Reilly
Two years ago—long before coal became one of the most dominant and controversial symbols of the 2016 presidential election—Bloomberg Philanthropies approached production company RadicalMedia with the idea of creating a documentary exploring the U.S. coal mining industry. Last spring, they brought on Emmy-nominated director Michael Bonfiglio, tasked with forging a compelling story out of the multitudes of facts, statistics and narratives underlying the declining industry.
Keep reading...
Show less
Mayors for 100% Clean Energy
Keep reading...
Show less
www.youtube.com
Thanks to Newsy for their coverage on Thursday's news that the U.S. Fish and Wildlife Service removed grizzly bears in the Greater Yellowstone region from the Endangered Species List.
Watch above as Newsy explains that the decision comes despite serious concerns from the environmental and scientific community, and Tribal Nations about a declining, isolated grizzly bear population with diminishing food resources and record-high mortalities.
Keep reading...
Show less
www.facebook.com
By Francine Kershaw
Seismic airguns exploding in the ocean in search for oil and gas have devastating impacts on zooplankton, which are critical food sources for marine mammals, according to a new study in Nature. The blasting decimates one of the ocean's most vital groups of organisms over huge areas and may disrupt entire ecosystems.
And this devastating news comes on the heels of the National Marine Fisheries Service's proposal to authorize more than 90,000 miles of active seismic blasting. Based on the results of this study, the affected area would be approximately 135,000 square miles.
Keep reading...
Show less
By Jill Richardson
Is coconut oil:
good for you
bad for you
neither good nor bad
scientists don't know
The subject of this question is the source of a disagreement. Initially, the question was thought to be settled decades ago, when scientist Ancel Keys declared all saturated fats unhealthy. Coconut oil, which is solid at room temperature, is a saturated fat.
Keep reading...
Show less


Get EcoWatch in your inbox