This website uses cookies to ensure you get the best experience while browsing it. By clicking 'Got It' you're accepting these terms.
Off-Road Plan Puts Species at Risk in National Forest
Nov. 04, 2011 10:36AM EST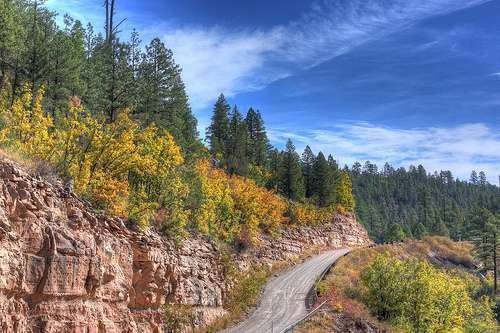 The Coconino National Forest announced a new off-road vehicle plan Nov. 3 that leaves open more than 3,100 road miles and nearly 1 million acres of forest to cross-country driving. Threatened species such as the Mexican spotted owl and Chiricahua leopard frog remain at risk from motorized corridors and driving off-road to pick up big game.
"Off-road vehicles in national forests are not only a blight on the landscape but also degrade the habitat of species already at the brink of extinction," said Cyndi Tuell at the Center for Biological Diversity. "And from a fiscal point of view, the Coconino National Forest today can afford to maintain just 600 miles of roads annually, yet this decision leaves more than 3,100 miles of roads open to public motorized uses. It's baffling to think that in these lean economic times a forest is planning for a road system it knows it can't afford."
Erosion from roads can also prevent the average forest visitor from accessing the forest. "A road that isn't maintained can erode into streams like Fossil Creek or become too rutted for an average family vehicle—like Friedland Prairie Road on the San Francisco Peaks," Tuell said.
Kim Crumbo of the Grand Canyon Wildlands Council has grave concerns about the continued impacts that off-road driving will have on habitat throughout the forest. "We had asked the Forest Service to protect forest resources by prohibiting all cross-country driving, including driving to pick up downed game like deer or elk. Unfortunately the decision allows hunters to drive off-road through nearly the entire forest."
Under the new plan, more than 900,000 acres of Coconino forest land would be open to driving, resulting in continued spread of invasive plants and habitat destruction.
Invasive plants in southwestern forests are often linked to wildfires and displace native plants that wildlife rely on for habitat and food sources. Most game units in the Coconino National Forest will allow motorized big game retrieval and most forests in Arizona are planning to allow motorized big game retrieval nearly forestwide. The U.S. Forest Service's decision notes that hunters wishing to have a primitive hunting experience are limited to a few hunting units in the Coconino National Forest or are forced to travel to New Mexico or other nearby states that are planning to offer quiet hunting experiences.
With this decision, all visitors seeking a quiet forest experience will struggle to find quiet places in the forest outside of the designated wilderness areas.
"Just one percent of the people visiting this forest are there primarily for ORV use, yet this decision allows ORVs on 80 percent of the roads," said Tuell. "This plan denies access to a quiet forest experience for the majority of us and just doesn't make sense for people or for wildlife."
For more information, click here.
EcoWatch Daily Newsletter
Environmental Investigation Agency
Last week, the Peruvian Palm Oil Producers' Association (JUNPALMA) promised to enter into an agreement for sustainable and deforestation-free palm oil production. The promise was secured by the U.S. based National Wildlife Federation (NWF) in collaboration with the local government, growers and the independent conservation organization Sociedad Peruana de Ecodesarrollo.
Pixabay
Leaked documents show that Jair Bolsonaro's government intends to use the Brazilian president's hate speech to isolate minorities living in the Amazon region. The PowerPoint slides, which democraciaAbierta has seen, also reveal plans to implement predatory projects that could have a devastating environmental impact.
XL CATLIN SEAVIEW SURVEY / THE OCEAN AGENCY
Hope may be on the horizon for the world's depleted coral reefs thanks to scientists who successfully reproduced endangered corals in a laboratory setting for the first time, according to Reuters.
Last week we received positive news on the border wall's imminent construction in an Arizona wildlife refuge. The Trump administration delayed construction of the wall through about 60 miles of federal wildlife preserves.
PhotoAlto / Frederic Cirou / Getty Images
Drinking water treated with fluoride during pregnancy may lead to lower IQs in children, a controversial new study has found.
National Institude of Allergy and Infectious Disease
A Greenpeace rally calls for a presidential campaign climate debate on June 12 in Washington, DC. Sarah Silbiger / Getty Images