This website uses cookies to ensure you get the best experience while browsing it. By clicking 'Got It' you're accepting these terms.
Ocean Tides to Power More Than 150,000 Homes
Oct. 18, 2015 11:09AM EST
Business
While the power plant below looks more like a gorgeous get-away than a solution to man's energy needs, its benefits extend far beyond its beauty. As Reconstruct reports, the Swansea Bay Tidal Lagoon will use the rise and fall of ocean tides to generate enough renewable electricity to power 155,000 homes for 120 years.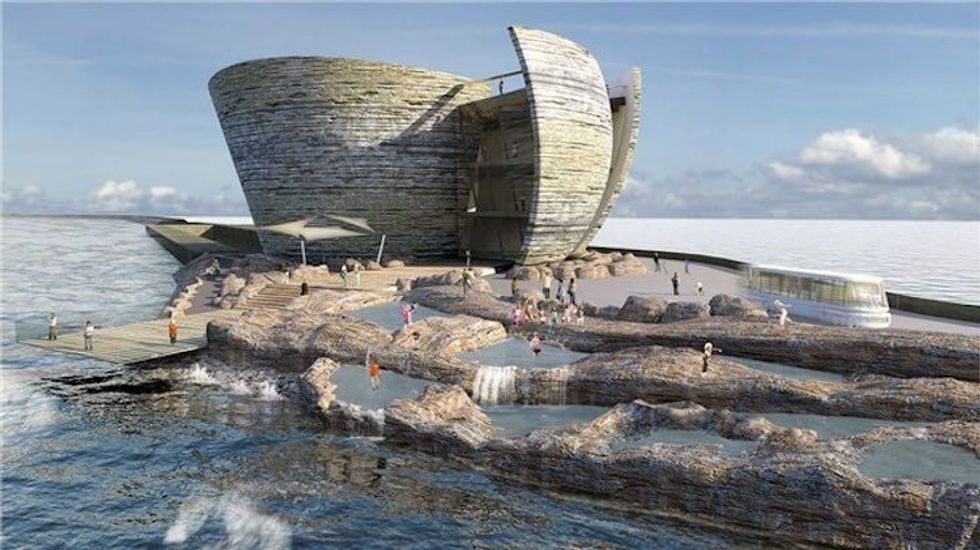 Though not completed at present, when the structure is finished, it will produce enough electricity to displace more than a quarter million barrels of oil each year—while leaving virtually no carbon footprint.
Power plants have been generating electricity from the oceans' tides since 1966, but the Swansea Lagoon is the first to employ a radically new method.
How Does It Work? 
It's nearly six-mile-long barrier wall will enclose a huge amount of water in an artificial "tidal lagoon." This lagoon captures and holds seawater at high tide. As the tide goes out, water in the 4.5 square mile lagoon will be as much as 27 feet higher than the water outside its walls. This immense pressure will be routed through 26 turbines, flooding out to sea until the water level equalizes on both sides of the lagoon.
The flow is reversed at high tide, keeping the sea out of the lagoon until it reaches maximum height. Then water is let go, so it may rush through the turbines until it again fills up the lagoon.
To put it into perspective, the amount of water rushing through the turbines would fill 100,000 Olympic swimming pools each day.
The Swansea Bay Tidal Lagoon will crank out clean energy as well as be used as a sports arena, aquaculture farm and seaside sculpture garden, reports GoodNewsNetwork. Its aquaculture farm will grow oysters, kelp and other local sea crops.
In addition, the lagoon can be used as a giant arena for sailing and cycling sports.
The designers of the fabulous structure plan to implement sculptures that appear to disappear into the water or rise out of it as the tides roll in and out.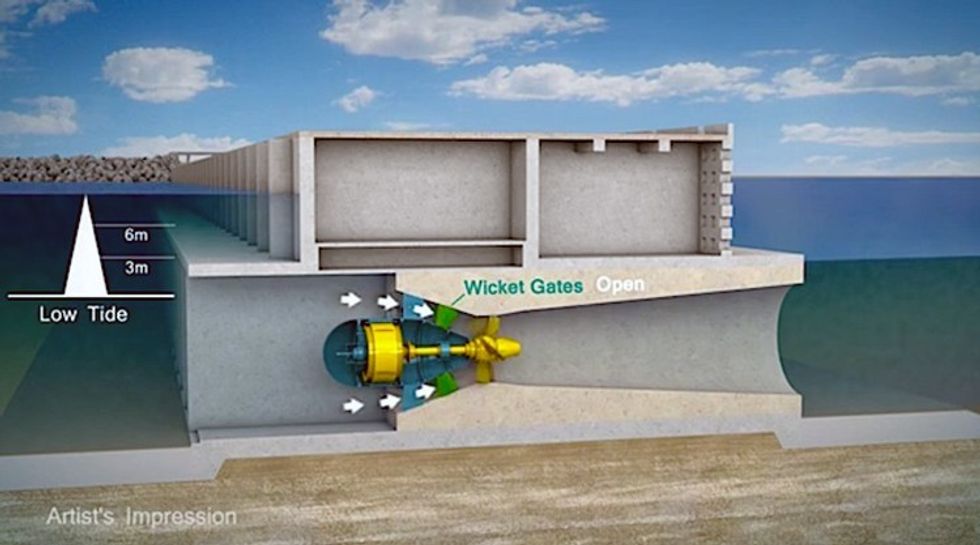 Its location at Swansea, Wales was chosen because it has some of the highest tide differences in the U.K. This will maximize the amount of water that can be used to turn turbines and generate the 420-gigawatt hours per year.
Plans for the structure were approved by the UK Energy Ministry in June, and construction is expected to begin sometime in 2017.
The builders are presently bargaining to exchange the $1.5 billion price tag (subsidized by the government for 35 years) for approval on two more tidal lagoon plants at Cardiff and Newport.
YOU MIGHT ALSO LIKE
Larry David as Bernie Sanders on Saturday Night Live: 'We Need a Revolution'
Bill McKibben Gets Arrested Exposing Exxon's 'Unparalleled Evil'
The World's Largest Earth Science Experiment: Biosphere 2
Lawsuits Mount Against Monsanto's 'Cancer-Causing' Weedkiller
EcoWatch Daily Newsletter
A pangolin at a rescue center in Cambodia. Rhett A. Butler / Mongabay
A man carries plastic shopping bags in Times Square on May 5, 2018 in New York City. Kena Betancur / VIEWpress / Corbis / Getty Images
White gold man-made diamond solitaire engagement ring. Clean Origin
While keeping track of the new trends in the diamond industry can be hard, it is still an essential task of any savvy consumer or industry observer. Whether you are looking to catch a deal on your next diamond purchase or researching the pros and cons of an investment within the diamond industry, keeping up with the trends is imperative.
Rep. Alexandria Ocasio-Cortez (D-NY) (C) chants with housing and environmental advocates before a news conference to introduce legislation to transform public housing as part of her Green New Deal outside the U.S. Capitol Nov. 14, 2019 in Washington, DC. Chip Somodevilla / Getty Images
Rep. Alexandria Ocasio-Cortez (D-N.Y.) took to the floor of the House of Representatives yesterday to chide Republicans for not reading the Green New Deal, which she introduced over one year ago, as The Hill reported. She then read the entire 14-page document into the congressional record.
Anti Ivan Duque's demonstrator is seen holding a placard with the photos of social leader Alirio Sánchez Sánchez and the indigenous Hector Janer Latín, both killed in Cauca, Colombia during a protest against Ivan Duque visit in London which included a meeting about fracking, environmental issues, the peace process implementation, and questioning the risk that social leaders in Colombia face. Andres Pantoja / SOPA Images / LightRocket / Getty Images
Colombia was the most dangerous nation in 2019 to be an environmental activist and experts suspect that conditions will only get worse.