This website uses cookies to ensure you get the best experience while browsing it. By clicking 'Got It' you're accepting these terms.
Ocean Tides to Power More Than 150,000 Homes
Oct. 18, 2015 11:09AM EST
While the power plant below looks more like a gorgeous get-away than a solution to man's energy needs, its benefits extend far beyond its beauty. As Reconstruct reports, the Swansea Bay Tidal Lagoon will use the rise and fall of ocean tides to generate enough renewable electricity to power 155,000 homes for 120 years.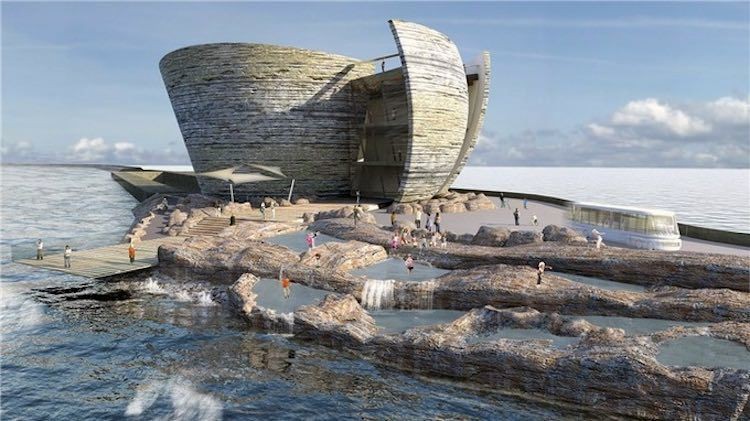 Though not completed at present, when the structure is finished, it will produce enough electricity to displace more than a quarter million barrels of oil each year—while leaving virtually no carbon footprint.
Power plants have been generating electricity from the oceans' tides since 1966, but the Swansea Lagoon is the first to employ a radically new method.
How Does It Work? 
It's nearly six-mile-long barrier wall will enclose a huge amount of water in an artificial "tidal lagoon." This lagoon captures and holds seawater at high tide. As the tide goes out, water in the 4.5 square mile lagoon will be as much as 27 feet higher than the water outside its walls. This immense pressure will be routed through 26 turbines, flooding out to sea until the water level equalizes on both sides of the lagoon.
The flow is reversed at high tide, keeping the sea out of the lagoon until it reaches maximum height. Then water is let go, so it may rush through the turbines until it again fills up the lagoon.
To put it into perspective, the amount of water rushing through the turbines would fill 100,000 Olympic swimming pools each day.
The Swansea Bay Tidal Lagoon will crank out clean energy as well as be used as a sports arena, aquaculture farm and seaside sculpture garden, reports GoodNewsNetwork. Its aquaculture farm will grow oysters, kelp and other local sea crops.
In addition, the lagoon can be used as a giant arena for sailing and cycling sports.
The designers of the fabulous structure plan to implement sculptures that appear to disappear into the water or rise out of it as the tides roll in and out.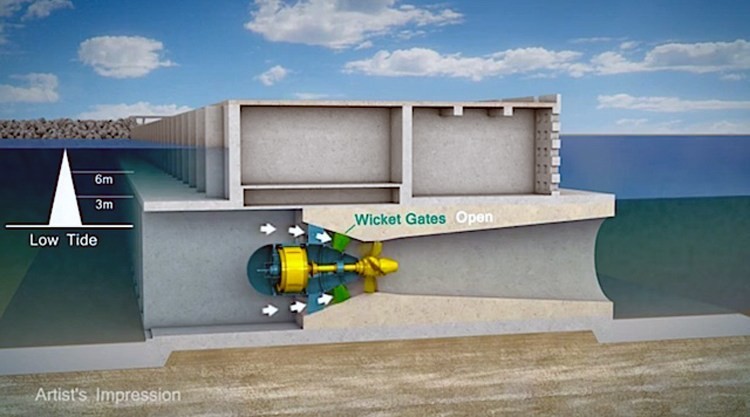 Its location at Swansea, Wales was chosen because it has some of the highest tide differences in the U.K. This will maximize the amount of water that can be used to turn turbines and generate the 420-gigawatt hours per year.
Plans for the structure were approved by the UK Energy Ministry in June, and construction is expected to begin sometime in 2017.
The builders are presently bargaining to exchange the $1.5 billion price tag (subsidized by the government for 35 years) for approval on two more tidal lagoon plants at Cardiff and Newport.
YOU MIGHT ALSO LIKE
Larry David as Bernie Sanders on Saturday Night Live: 'We Need a Revolution'
Bill McKibben Gets Arrested Exposing Exxon's 'Unparalleled Evil'
The World's Largest Earth Science Experiment: Biosphere 2
Lawsuits Mount Against Monsanto's 'Cancer-Causing' Weedkiller
Right whale Catalog
#2791
and her calf sighted 10 nautical miles off Fernandina Beach, Florida January 6.
Florida Fish and Wildlife Conservation Commission
Whale watchers and researchers are rejoicing after a third North Atlantic right whale calf was documented this winter, especially after the previous calving season resulted in no confirmed births.
A whale mother known as 1204 and the newborn were seen off Florida's northeast coast last week.
The first thing to know: You need to adopt at least two.
By David Kanter
Nitrogen pollution is produced by a number of interlinked compounds, from ammonia to nitrous oxide. While they have both natural and human sources, the latter increased dramatically over the past century as farmers scaled up food production in response to population growth. Once these chemicals are released into the air and water, they contribute to problems that include climate change and "dead zones" in rivers, lakes and coastal areas.
Mother and cub in the Arctic National Wildlife Refuge near Kaktovik, on the north slope of Alaska.
cheryl strahl / Flickr
A woman and child at a memorial of shoes displayed in front of the Puerto Rican capital in honor of those who died in Hurricane Maria. RICARDO ARDUENGO / AFP / Getty Images
Florida Fish and Wildlife officers responding after Hurricane Michael on Oct. 17, 2018.
Gus Holzer /
Florida Fish and Wildlife
Electric vehicle sales took off in 2018, with a record two million units sold around the world, according to a new Deloitte analysis.
What's more, the accounting firm predicts that another 21 million electric cars will be on the road globally over the next decade due to growing market demand for clean transportation, government subsidies, as well as bans on fossil fuel cars.
Teenager Alex Weber and friends collected nearly 40,000 golf balls hit into the ocean from a handful of California golf courses.
Alex Weber /
CC BY-ND
Sunoco's controversial Mariner East pipeline project in Pennsylvania is beginning 2019 on unstable ground, literally. A sinkhole opened in the suburban development of Lisa Drive in Chester County Sunday, exposing the old Mariner East 1 pipeline built in the 1930s.