Occupy Sandy—NYC's Instantaneous Grassroots Emergency Relief Network
Nov. 08, 2012 10:13AM EST
Climate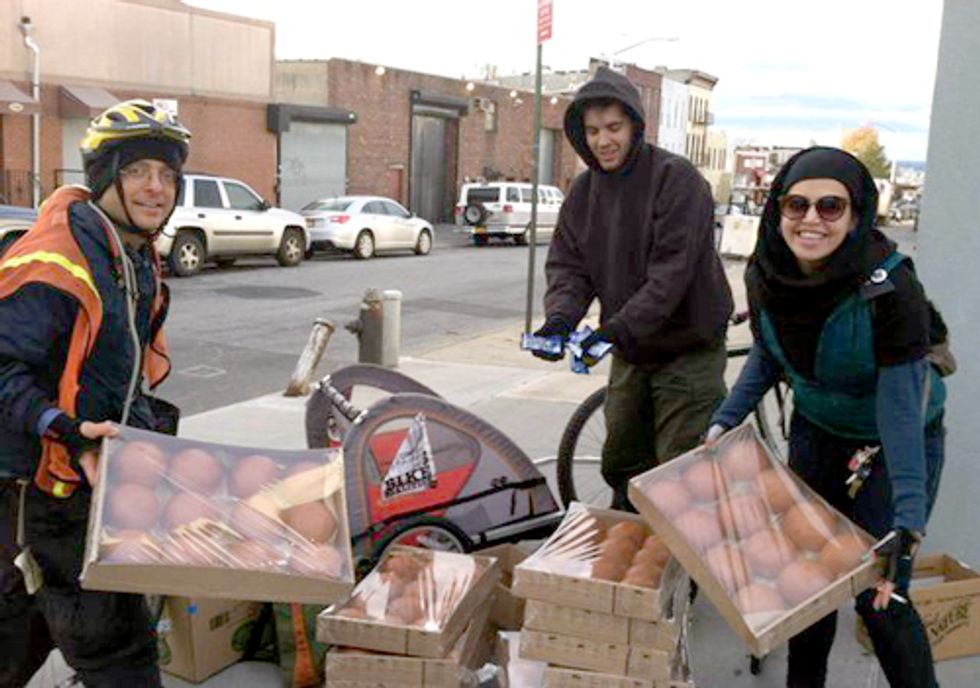 By Paul E McGinniss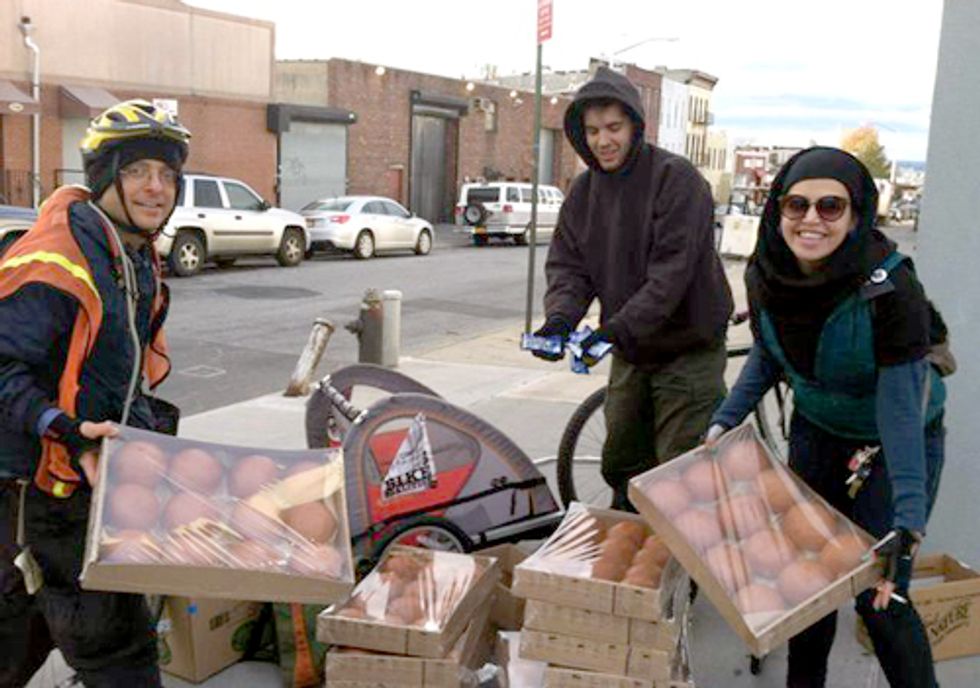 Occupy Sandy (OS), NYC's instantaneous grassroots emergency relief network, is the essence of resiliency. Shortly after superstorm Sandy hit NYC and wreaked unbelievable havoc, OS coordinated more than three thousand volunteers to offer emergency relief to New Yorkers not receiving timely, much needed assistance.
Within days, this grassroots coalition, spawned by Occupy Wall Street (OWS), had distributed tens of thousands of meals and other relief items to a struggling populations without power, food and water. 
Dana Balicki, an organizer with OWS, described how OS was launched with the help of neighborhood, citywide and national groups including 350.org and Recovers.org. While we talked, Dana was standing atop 1,000 cases of donated bottled water housed inside one of their emergency response centers—the transformed St. Jacobi Church in Sunset Park, Brooklyn, one of the NYC neighborhoods hardest hit by Sandy.
"Occupy Sandy was built on the history of OWS. It did not come out of nowhere. It was built out of the networks of activists, community groups and national organizations that worked with OWS to fight for economic justice," said Balicki.
Balicki emphasized that OS  is meant to be part of the overall network of help inside the region working to assist NYC residents, including the Red Cross and other groups. Because of the open source nimbleness of the Occupy Network, it allows them to move fast.
"FEMA is not a first responder. And, OS does not want to be disparaging of the city's response. What we are here to do is fill in the gaps. We have the ability to immediately mobilize based on the networks we built in the past year with OWS," said Balicki. "OS is just one of many efforts. It could not exist without all the other community, city and national groups and their networks. People from all over are being pulled in and all the groups working together is much bigger than the sum of its parts."
No matter what you might think about OWS, witnessing the remarkable genesis of OS and quick implementation of emergency efforts, it's not a stretch to imagine that OS could play an important role in future crisis relief operations across the country, especially as extreme weather continues to impact our planet.
Its clever open-source, peer-to-peer, on-the-ground emergency relief coordination is a model easily adapted for cities and communities all over the world when confronting severe weather or other natural disasters. OS is lend-a-hand, low-tech-meets-hi-tech SOS crisis response in action. It's the perfect combination of social media and social activism. Reddit meets the Red Cross or Facebook meets FEMA.
Indeed, the team behind OWS knows full well that OS has legs and those legs are made for walking. "The hope is, after the initial emergency response now in effect, we will do more long-term work with the community groups and reinforce the power of our interconnected networks. This is not the last time we will have these storms," said Balicki.
Hopefully, OS will remain a force for community building that will endure long after some sense of normalcy returns to the affected region. 
As we ended our conversation, Dana confirmed Occupy Sandy's long term commitment to the community. "After the power is turned back on in all of NYC and food, water and heat is not an issue for those upended by Sandy, there is still much work to be done."
Dana pointed out that "water pollution and mold will be an issue for many homeowners" and OS hopes to assist affected citizens in dealing with the continuing after affects of hurricane Sandy. With plans to expand their efforts, Balicki notes, "And, Staten Island has gone largely unrecognized and Occupy Sandy hopes to strengthen our connections to this borough and other parts of the city that need help now and might need help in the future."
What OS and other relief groups and their volunteers are accomplishing in the aftermath of superstorm Sandy is proof that people do have the power and nothing can stop us from overcoming any difficulty if we are willing to roll up our sleeves, get our hands dirty, open up our hearts and minds, share our social media networks and truly work together to overcome any adversity, quickly and efficiently.
Occupy Sandy has set up a "wedding registry" on Amazon for anyone who wants to donate supplies.
Occupy Sandy isn't the only instantaneous grassroots emergency relief network that formed following Sandy. Check out this great video from Reuters TV highlighting the community groups that are working to rebuild after Sandy's devastation:
Visit EcoWatch's HURRICANE SANDY page for more related news on this topic.
--------
Paul E McGinniss is The New York Green Advocate. He is a green building consultant and real estate broker in New York. He is pretty much obsessed with all things environment and has lately become a resiliency addict.
EcoWatch Daily Newsletter
Related Articles from EcoWatch
Recent Stories from EcoWatch