This website uses cookies to ensure you get the best experience while browsing it. By clicking 'Got It' you're accepting these terms.
Occupy Nukes Day of Action Remembers Hiroshima and Calls for End to Nuclear Power
Aug. 06, 2012 01:00PM EST
Energy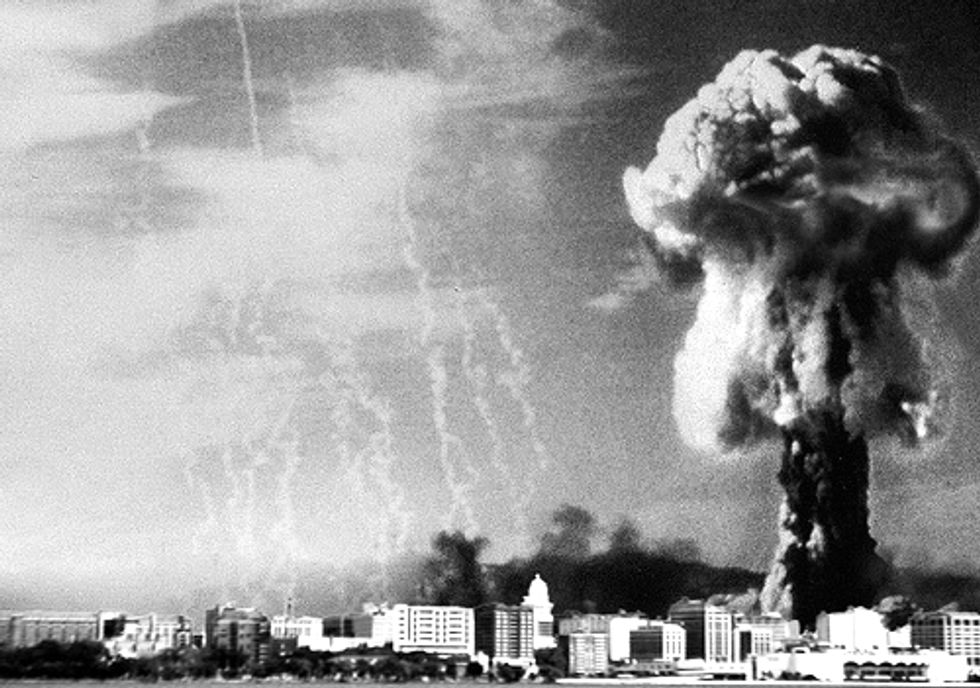 Today, Aug. 6, will be a day of solemn remembrance of those who suffered and perished in one of the most horrific and genocidal war crimes ever committed—the dropping of the atomic bomb on the civilian population of Hiroshima in 1945, equal only to the atomic bombing of Nagasaki three days later.
At least 225,000 civilians were killed in the Hiroshima bombing. Hundreds of thousands died later of cancers and thousands more inherited birth defects. But today will also be a day in which the 99% took action to ensure such destruction is never wrought on anyone ever again.
Nuclear weapons allow us to gauge the full extent of brutality that the 1%, which rules through exploitation, coercion and violence, is capable of committing.
The U.S. maintains more than 10,000 nuclear warheads, enough for 159,000 Hiroshimas.
President Barack Obama's FY 2012 budget request designates more than $7.6 billion to programs directly related to nuclear warheads.
According to a White House fact sheet: "The plan includes investments of $80 billion to sustain and modernize the nuclear weapons complex" and "well over $100 billion in nuclear delivery systems to sustain existing capabilities and modernize some strategic systems" by the year 2020.
Between 1940 and 2007 the U.S. spent approximately $7.2 trillion on nuclear weapons, exceeding the combined total federal spending for education; training, employment and social services; agriculture; natural resources and the environment; general science, space and technology; community and regional development, including disaster relief; law enforcement; and energy production and regulation.
Money spent on nukes is irradiating social programs for the 99%.
We further recognize that nuclear weapons have a bastard twin—nuclear power.
So-called "safe," "civilian" nuclear technology is used to justify the fossil-fuel intensive mining of uranium in some of the worlds most economically decimated regions, in countries such as Romania and Niger, and on indigenous lands in South Australia and the American West. Continued reliance on nuclear power has led the people of earthquake-prone Japan to experience the radioactive horrors of Hiroshima and Nagasaki all over again with the continuing disaster at the Fukushima-Daiichi plant.
Today, people power challenges nuclear power. The Occupy Movement stands in solidarity with those threatened, poisoned and murdered the globe over by the 1%'s nuclear-fueled rule.
Occupy activists in New Mexico, ground zero for U.S. nuclear weapons development, will hold a series of film screenings, teach-ins and rallies, culminating in a mass, non-violent direct action at Los Alamos National Laboratory. (Un)Occupy Albuquerque says, "No more nuclear weapons! No more corporate greed! No more war! Ya Basta U.S. global domination!"
In the San Fransisco Bay Area, Occupy activists will gather in hazmat suits at the Japanese Consulate, drawing connections between nuclear weapons and nuclear power, Hirsohima and Fukushima, Japanese and U.S. reactors, as well as drawing attention to the near eternal life of nuclear waste. Occupy San Francisco says, "Our government disregards radioactive pollution from the corporations that fund elections, and the people are unprotected from the nuclear threat."
Occupy Wall Street and affiliate groups in New York City will congregate at 30 Rockeller Plaza, headquarters of General Electric, the builders of the melted-down reactors at Fukushima. Demonstrators will be staging a die-in, or melt-in, calling attention to the costly and continued development of nuclear weapons and nuclear power technology in concert between the government and corporations.
GE brings good things to death. The mega-corporation, along with its Japanese nuclear partner Hitachi, is seeking permission from the industry-captured U.S. Nuclear Regulatory Commission to build a new uranium enrichment facility in Wilmington, N.C. The facility will utilize new laser technology that makes the processing of nuclear fuel swifter and more convenient for the 1%'s weapons and power plants.
Occupy Wall Street Environmental Solidarity says, "The 99% possess tools to transform waste and danger of the Nuclear Industrial Complex into structures that meet our real needs: true sustainability and security, just food production, jobs, renewable energy, affordable housing, education and economic justice."
Occupy Nukes demonstrations will be held at:
• 30 Rockefeller Plaza, New York, New York at 5:30 p.m
• Japanese Consulate at 50 Fremont St., San Francisco at 2 p.m.
• Los Alamos National Laboratory, Los Alamos, New Mexico, all day.
Groups taking part in Occupy Nukes include: Occupy Wall Street Environmental Solidarity, (Un)Occupy Albuquerque, Occupy Santa Fe, Occupy SF Environmental Justice Working Group, Coalition Against Nukes, No Nukes Action, GreenAction for Health and Environmental Justice, Nuke Free Now!, War Resisters League, Catholic Worker Movement, Shut Down Indian Point Now!, Abolition 2000 NY Metro, Brooklyn for Peace, Pax Christi and Todos Somos Japon.
Visit EcoWatch's NUCLEAR page for more related news on this topic.
EcoWatch Daily Newsletter
This study found evidence of illegal hammerhead fins in 46 out of 46 sampling events in Hong Kong. NOAA / Teachers at Sea Program
By Jason Bittel
Authorities in Hong Kong intercepted some questionable cargo three years ago — a rather large shipment of shark fins that had originated in Panama. Shark fins are a hot commodity among some Asian communities for their use in soup, and most species are legally consumed in Hong Kong, but certain species are banned from international trade due to their extinction risk. And wouldn't you know it: this confiscated shipment contained nearly a ton of illegal hammerhead fins.
A video shows a woman rescuing a koala from Australia's wildfires.
VOA News / YouTube screenshot
More than 350 koalas may have died in the wildfires raging near the Australian town of Port Macquarie in New South Wales, but one got a chance at survival after a woman risked her life to carry him to safety.
Heat waves emanate from the exhaust pipe of a city transit bus as it passes an American flag hung on the Los Angeles County Hall of Justice on April 25, 2013. David McNew / Getty Images
Air pollution rules aren't doing enough to protect Americans, finds a major new study that examined the cause of death for 4.5 million veterans, as The Guardian reported.
Coldplay is releasing a new album on Friday, but the release will not be followed by a world tour.
Ash dieback is seen infecting a European ash (Fraxinus excelsior) in Bottomcraig, Scotland, UK on Aug. 10, 2016.
nz_willowherb / Flickr
Scientists have discovered a genetic basis to resistance against ash tree dieback, a devastating fungal infection that is predicted to kill over half of the ash trees in the region, and it could open up new possibilities to save the species.