Obama's Power Africa Plan Selects U.S. Firms to Build 3 Solar Farms in Ethiopia
Two U.S. companies have received contracts to join President Obama's plan to double power access in Africa by 2030.
The Ethiopian Ministry of Water and Energy and directors at the Ethiopian Electric Power Corporation awarded contracts to Global Trade and Development Consulting (GTDC) and Energy Ventures to construct and operate three solar farms in Ethiopia, according to PV Tech. The Maryland companies will work on three 100 megawatt (MW) solar farms that are already collectively known as the 300MW Solar Project.
Obama's plan, Power Africa, was announced in June. The president wants to add 10,000 MW of clean energy to Africa in the next 17 years. More than two-thirds of the sub-Saharan African population is without electricity.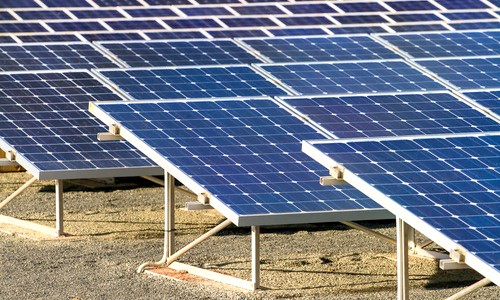 Photo courtesy of Shutterstock
"This project represents a significant advance in our Ethiopian energy initiative and is now part of our comprehensive energy plan," Ethiopian water and energy minister Alemayehu Tegenu said. "Given Ethiopia's large hydro-electric generation capacity and now wind and geothermal power generation coming on-line, large-scale solar fits nicely into our energy portfolio and will provide significant power generation capacity much faster than the other renewable technologies. We welcome this project with open arms."
The construction of the three solar farms are expected to generate about 2,000 jobs, some of which could be permanent. The partners of Power Africa will initially focus on Ethiopia, Ghana, Kenya, Liberia, Nigeria and Tanzania.
The U.S. committed $7 billion to Power Africa, though Obama estimated that it would take $300 billion for the continent to reach its energy goal. The U.S. Export-Import Bank (Ex-Im) promised up to $5 billion in support of U.S. exports for the development of power projects across sub-Saharan Africa. The Millennium Challenge Corporation (MCC) will invest up to $1 billion in African power systems "to increase access and the reliability and sustainability of electricity supply through investments in energy infrastructure, policy and regulatory reforms and institutional capacity building," according to the White House.
The private sector committed about $9 billion in investments this summer. Large investors include Heirs Holdings ($2.5 billion, 2,000 MW) and Symbion Power ($1.8 billion, 1,500 MW).
"[Electricity is] the lifeline for families to meet their most basic needs and it's the connection needed to plug Africa into the grid of the global economy," Obama told Forbes earlier this year. "You've got to have power.
"My own nation will benefit enormously if [Africa can] reach full potential."
 Visit EcoWatch's RENEWABLES page for more related news on this topic.

By Sydney Robinson
President Trump has no doubt been given a long list of extravagant, elaborate gifts in his lifetime, but the gift given to him today by Pope Francis may not make it on his most favorite list.
Keep reading...
Show less
By John Rogers
Maybe it's because I first started working on clean energy while serving in the Peace Corps he founded, or maybe it's my years of working on these issues from his home state. But I can't help thinking about the 100th anniversary of John F. Kennedy's birth, and connecting his stirring rhetoric to the energy challenges of our times.
Here's what our 35th president might have said about the challenges of energy transition and the opportunities in clean energy:
"Change is the law of life. And those who look only to the past or present are certain to miss the future."
Keep reading...
Show less
Keep reading...
Show less
The Brooks Range in the Arctic National Wildlife Refuge. Hillebrand / U.S. Fish and Wildlife Service
By Andy Rowell
"Disruption" is one of the buzzwords of the energy market right now as plummeting costs of renewables is changing the way we heat our homes and drive our automobiles.
Some of the biggest names in the energy business spoke Wednesday on that very topic in London at the Financial Times' Energy Transition Strategies Summit, at the panel Rethinking Energy in a Time of Disruption.
Keep reading...
Show less
Chris Kick / Twitter
Keep reading...
Show less
Shaahina Ali
Keep reading...
Show less
The federal government is providing extensive support for fossil fuel production on public lands and waters offshore, through a combination of direct subsidies, enforcement loopholes, lax royalty collection, stagnant lease rates and other advantages to the industry, a report released Wednesday found.
Keep reading...
Show less
By Elgie Holstein
The federal budget that the president proposes annually and Congress votes on is more than a collection of numbers. It tells us who the president is, what he stands for and what he cares about.
Keep reading...
Show less


Get EcoWatch in your inbox