Obama's Power Africa Plan Selects U.S. Firms to Build 3 Solar Farms in Ethiopia
Two U.S. companies have received contracts to join President Obama's plan to double power access in Africa by 2030.
The Ethiopian Ministry of Water and Energy and directors at the Ethiopian Electric Power Corporation awarded contracts to Global Trade and Development Consulting (GTDC) and Energy Ventures to construct and operate three solar farms in Ethiopia, according to PV Tech. The Maryland companies will work on three 100 megawatt (MW) solar farms that are already collectively known as the 300MW Solar Project.
Obama's plan, Power Africa, was announced in June. The president wants to add 10,000 MW of clean energy to Africa in the next 17 years. More than two-thirds of the sub-Saharan African population is without electricity.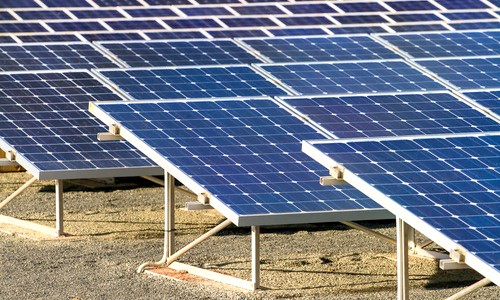 Photo courtesy of Shutterstock
"This project represents a significant advance in our Ethiopian energy initiative and is now part of our comprehensive energy plan," Ethiopian water and energy minister Alemayehu Tegenu said. "Given Ethiopia's large hydro-electric generation capacity and now wind and geothermal power generation coming on-line, large-scale solar fits nicely into our energy portfolio and will provide significant power generation capacity much faster than the other renewable technologies. We welcome this project with open arms."
The construction of the three solar farms are expected to generate about 2,000 jobs, some of which could be permanent. The partners of Power Africa will initially focus on Ethiopia, Ghana, Kenya, Liberia, Nigeria and Tanzania.
The U.S. committed $7 billion to Power Africa, though Obama estimated that it would take $300 billion for the continent to reach its energy goal. The U.S. Export-Import Bank (Ex-Im) promised up to $5 billion in support of U.S. exports for the development of power projects across sub-Saharan Africa. The Millennium Challenge Corporation (MCC) will invest up to $1 billion in African power systems "to increase access and the reliability and sustainability of electricity supply through investments in energy infrastructure, policy and regulatory reforms and institutional capacity building," according to the White House.
The private sector committed about $9 billion in investments this summer. Large investors include Heirs Holdings ($2.5 billion, 2,000 MW) and Symbion Power ($1.8 billion, 1,500 MW).
"[Electricity is] the lifeline for families to meet their most basic needs and it's the connection needed to plug Africa into the grid of the global economy," Obama told Forbes earlier this year. "You've got to have power.
"My own nation will benefit enormously if [Africa can] reach full potential."
 Visit EcoWatch's RENEWABLES page for more related news on this topic.

Greater Sage Grouse. Bureau of Land Management
The Center for Biological Diversity and the Sierra Club lodged formal comments with the federal government Monday opposing a massive gas fracking project that spans 220 square miles of public land in Wyoming south of Yellowstone National Park.
The Normally Pressured Lance gas field would destroy wildlife habitat and worsen ozone pollution, a major cause of childhood asthma, in areas already suffering from extreme air pollution.
Keep reading...
Show less
College of the Atlantic / Flickr
Sierra magazine, the national magazine of the Sierra Club, released on Tuesday its eleventh annual "Cool Schools" ranking of North America's greenest colleges and universities.
Sierra received complete surveys from a record-breaking 227 schools—in 36 states, the District of Columbia, and for the first time ever, Canada.
Keep reading...
Show less
Oil in the Niger Delta. Amnesty International Canada
By Andy Rowell
The decades-long struggle for social and environmental justice in the Niger Delta continues, largely unseen by the wider world.
On Aug. 11, hundreds of people from the Niger Delta stormed the Belema flow station gas plant owned by Shell in the Rivers State region of the Delta. The plant transports crude oil to the Bonny Light export terminal, from where it is shipped overseas.
Keep reading...
Show less
Rainforest Action Network / Flickr

The National Academy of Sciences, Engineering and Medicine said in a statement the Interior Department has directed it to cease its study on the potential health risks for people living near surface coal mines in Central Appalachia.
The Interior Department, which committed more than $1 million to the study last year, has begun an agency-wide review of grants over $100,000 because of the "Department's changing budget situation."
Keep reading...
Show less
California Energy Commission
California and North Carolina's electricity grids faced no disruptions during Monday's solar eclipse, which many saw as a test for the future when solar power will command a greater share of the energy mix.
"It bodes well for renewable energy on the grid during an event like this," said Eric Schmitt, a vice-president at California Independent System Operator that delivers most of the state's electricity.
Keep reading...
Show less
Bob Wick / Bureau of Land Management
Keep reading...
Show less
www.youtube.com
Are you ready to watch the Great American Eclipse of 2017? Will you be in the path of totality? Do you have your safety glasses ready?
Well, however you decide to watch the solar eclipse today, NASA TV will be showing the "Eclipse Across America" with live video of the celestial event. The feed is already live with lots of handy information about today's unprecedented eclipse. So be sure to watch above.
Enjoy!
Energy
Aug. 21, 2017 08:43AM EST
www.youtube.com
"One out of three Americans lives within 50 miles of high-level nuclear waste, some of which, like Plutonium, is lethally dangerous and will be around for an incredible longtime," John Oliver explained last night on Last Week Tonight.
According to the Nuclear Energy Institute, there is more than 71,000 tons of nuclear waste stranded at 104 reactors. "It was a problem we should have solved in the 1980s," Oliver said, "much like a Rubik's Cube."
Despite years of using nuclear energy, the country still doesn't have a permanent facility for its storage, the comedian said. Oliver proposed what the U.S. really needs is some kind of "nuclear toilet."
Watch above.