Obama's Nuke-Powered Drone Strike on America's Energy Future

So the "all the above" energy strategy now deems we dump another $6.5 billion in bogus loan guarantees down the atomic drain. Energy Secretary Ernest Moniz has announced finalization of hotly contested taxpayer handouts for the two Vogtle reactors being built in Georgia. Another $1.8 billion waits to be pulled out of your pocket and poured down the radioactive sink hole.
A nuke-powered drone strike on fiscal sanity.
While Fukushima burns and solar soars, our taxpayer money is being pitched at a failed 20th century technology currently distinguished by its non-stop outflow of lethal radiation into the Pacific Ocean.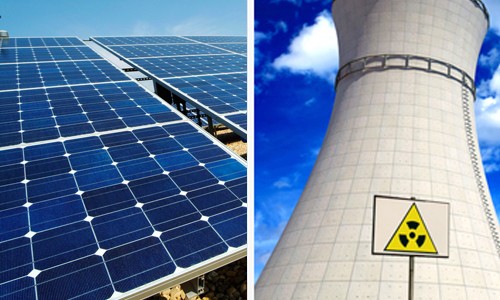 The money is to pump up a pair of radioactive white elephants that Wall Street won't touch. Georgia state "regulators" are strong-arming ratepayers into the footing the bill before the reactors ever move a single electron—which they likely never will.
Sibling reactors being built in Finland and France are already billions over budget and years behind schedule. New ones proposed in Great Britain flirt with price guarantees far above currently available renewables.
The Vogtle project makes no fiscal sense … except for the scam artists that will feed off them for years to come.
Substandard concrete, unspecified rebar steel, major labor scandals, non-existent quality control … all the stuff that's defined this industry since the Shippingport reactor started construction outside Pittsburgh some six decades ago is with us yet again.
It would be nice to say this is merely $6.5 billion wasted. But that's the tip of the iceberg. Long Island's Shoreham and New Hampshire's Seabrook came in at 5-10 times their original cost estimates.
Shoreham never made it to commercial operation. Neither did Seabrook Unit Two.
Should Vogtle, for which these loans are designated, beat the odds and actually go on line in the years to come, it will multiply its sunk cost by irradiating the countryside and creating radioactive waste nobody can handle.
Nor can it get private insurance to shield future victims and the taxpaying public from the inevitable disaster. The next commercial reactor to explode (joining the five that already have) will do damage in the trillions.
Its owners will not be liable, and the people making this decision will never go to prison.
But many along the way will pocket major fortunes from substandard construction, corner-cutting "safety" scams, black market parts purchasing, mafia-run hiring operations and the usual greasing of radioactive palms that defines all reactor construction projects.
Take that $6.5 or $8.3 billion and invest it right now in wind, solar, sustainable bio-fuels, geothermal, ocean thermal, wave energy, LED light bulbs, building insulation and Solartopian south-facing windows.
THEN we can dent in our climate crisis.
THAT's where the jobs are.
THERE would be an all-the-above energy strategy that actually makes sense.
Visit EcoWatch's NUCLEAR page for more related news on this topic.
——–
Harvey Wasserman edits www.nukefree.org, where petitions calling for the repeal of Japan's State Secrets Act and a global takeover at Fukushima are linked. He is author of SOLARTOPIA!Our Green-Powered Earth.

A coalition of conservation groups and others announced Thursday that a historic number of comments and petitions of support have been submitted to the U.S. Department of the Interior in support of Bears Ears National Monument. Despite the entirely inadequate 15-day comment period ending on May 26, more than 685,000 comments in support of Bears Ears National Monument have been collected.
Keep reading...
Show less
Rink Glacier in western Greenland, with a meltwater lake visible center. NASA/OIB
Scientists have had their eyes on Greenland as its iconic glaciers have begun disappearing due to a warming climate. But, what they didn't expect to see was a whole new type of melting.
Keep reading...
Show less
Mountain View Fire
By Lena Moffitt
An oil tanker in Mead, Colorado exploded, killing one and injuring three on Thursday. Authorities are continuing to investigate the cause of the explosion.
Keep reading...
Show less
Banner created by Alliance for Climate Education
Keep reading...
Show less
Twenty-two GOP senators sent a letter Thursday urging Donald Trump to pull out of the Paris agreement. They argued remaining in the deal could "upend" the administration's ability "to fulfill its goal of rescinding the Clean Power Plan."
Keep reading...
Show less
By Cheryl Johncox
The Federal Energy Regulatory Commission (FERC) rejected on Thursday Energy Transfer Partners' request to resume horizontal directional drilling at two sites for its Rover fracked gas pipeline. This rejection comes after numerous leaks into Ohio's wetlands, and Clean Air and Clean Water act violations. FERC has halted the process at only eight locations of the 32 where drilling is taking place under Ohio's wetlands and streams.
Keep reading...
Show less
By Nadia Prupis
A majority of people in eight countries say they are ready to change their lifestyles if it would prevent climate catastrophe, a survey on global threats released Wednesday found.
Keep reading...
Show less
May. 25, 2017 01:55PM EST
Bill Maher is sick of billionaires' obsession with Mars, more like "Mars-a-Lago," he said.
In a new animation produced by ATTN:, the popular talk show host of Real Time, discusses the perils of our planet, including how "climate change is killing us."
Keep reading...
Show less