Obama's New Special Adviser Is Outspoken Critic of Keystone XL
Dec. 11, 2013 11:58AM EST
Climate
By asking John Podesta to come to the White House as a special counselor at a time of turmoil and tough choices, President Obama has created an unusually close tie to an outspoken critic of the Keystone XL pipeline and the Canadian tar sands it would carry.
Podesta is a Washington policy insider who was Bill Clinton's chief of staff and whose Center for American Progress, or CAP, is an influential voice of liberalism. He has kept climate change high on his agenda for years and will continue to do so in the White House, reported The New York Times, which broke the news of his new assignment.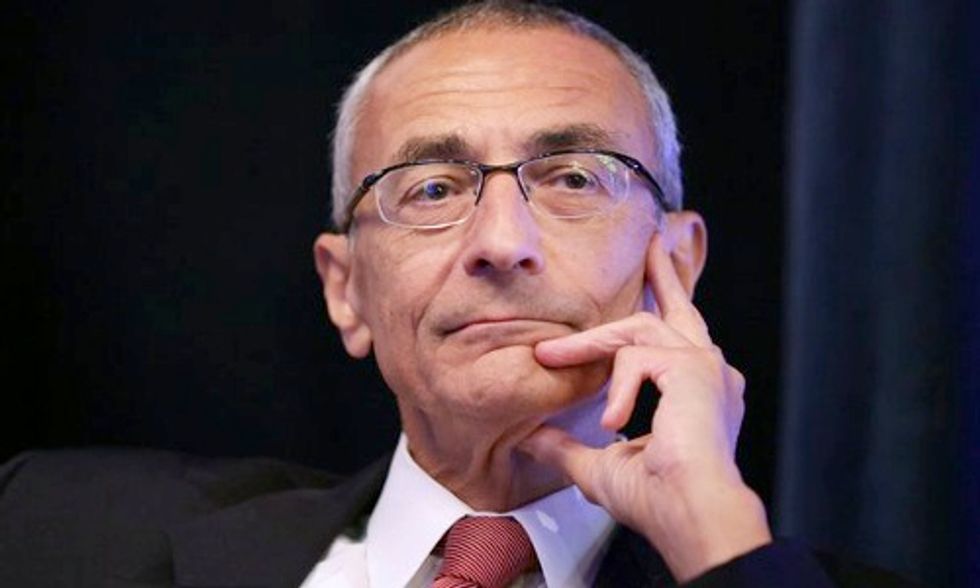 His arrival comes just as the decision on TransCanada's proposal to build a controversial pipeline to deliver tar sands crude from Alberta across the midsection of the U.S. approaches a critical turning point: the completion of a final environmental impact statement by the State Department. That will be followed by a crucial 90-day period in which President Obama must decide whether the pipeline is in the U.S. national interest.
Environmentalists who oppose the pipeline view the decision as a crucial test of President Obama's determination to tackle the problem of climate change.
Podesta has allied himself closely with some of them, including the wealthy investor Tom Steyer, who has been mobilizing opposition to the project. They appeared together at CAP's conference to celebrate its tenth anniversary this fall.
Just last week, CAP co-sponsored a daylong conference with Steyer's team in Georgetown to argue that the pipeline could not pass the litmus test President Obama set back in June—that the Keystone could only be approved if it didn't significantly exacerbate greenhouse gas emissions.
From the moment President Obama set that standard in a June speech, Podesta seems to have recognized the opportunity to reverse a tide that some had seen as flowing Keystone's way. On Twitter, he called the news a "huge announcement."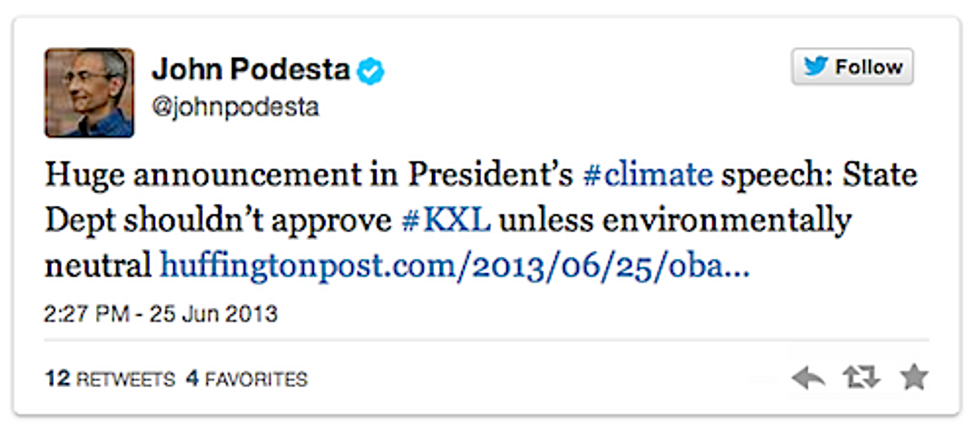 The Keystone decision is not by any means the main reason President Obama sought his help at this time. Podesta's range of policy expertise is very broad, and President Obama is turning to him for help with many challenges—from the implementation of the health care overhaul to the problem of income inequality that President Obama has been trying to elevate on the national agenda. These, not the KXL, will dominate their work on what the White House sees as legacy issues.
But climate change is another such legacy issue. And as the various interests in the Keystone decision make their final arguments at the White House, Podesta could not be better positioned as a particularly close adviser to voice his own views—and to debunk the arguments of those who favor the tar sands pipeline.
Just as he arrives, other key environmental aides are leaving: Heather Zichal, the White House climate czar, Nancy Sutley, the chair of the Council on Environmental Quality, and Gary Guzy, Sutley's deputy. (Zichal is replaced by her deputy, Dan Utech.)
A Long Public Record
Podesta's views on the tar sands and the Keystone pipeline have been clear for years.
In a 2010 speech entitled "The Dirty Truth About Tar Sands," he said that "oil extraction from tar sands is polluting, destructive, expensive, and energy intensive." He was speaking to a conference addressing ways that the industry might be made more "green," which he called highly unrealistic.
After President Obama turned down TransCanada's initial proposal for the pipeline in 2011, saying that there wasn't enough time to make an informed decision under a tight deadline imposed by Congress, Podesta and Steyer jointly wrote an op-ed column in the Wall Street Journal saying that the pipeline was unnecessary. They based their argument on the fact that oil production in the Bakken and other U.S. oilfields was growing so fast that the Canadian supplies were becoming irrelevant.
"While conservatives have been fighting to build a pipeline to import more foreign oil and deepen U.S. dependence, the U.S. is poised to transform its energy portfolio by developing domestic resources—renewable and mineral—that will let it become a net exporter of clean energy and energy technology in this decade," they wrote.
Podesta's operation publishes the blog ClimateProgress, whose founding editor Joe Romm has been a consistent voice against the Keystone; the blog was expanded significantly this year in another signal of how seriously CAP takes the issue. Other members of the CAP policy staff, like Daniel Weiss, its director of climate policy, also play leading roles in marshaling opposition to the pipeline.
The group's detailed policy prescriptions include urging the Obama Administration to put into effect a policy drafted several years ago to explicitly require that the greenhouse gas emissions and climate consequences of all major federal actions be thoroughly reviewed under NEPA, the National Environmental Policy Act. That could have required the State Department's environmental impact statement on the Keystone to give stricter scrutiny to the line, for example by emphasizing the cumulative effects of emissions, or by demanding some form of offsetting mitigation.
When asked about Podesta's appointment, TransCanada spokesman Shawn Howard said: "It's not our place to comment on potential staff changes at the White House, but as a company, we remain focused on the regulatory process that the U.S. Department of State has been overseeing for more than five years. We continue to remain focused on the final stage of our Presidential Permit review where the fundamental question is going to be if the Keystone XL Pipeline is in America's national interest. We continue to believe that it is."
But Podesta's move to the White House immediately ricocheted around Twitter as an omen of which way President Obama's pipeline decision would go. "Can't see this as good for Keystone XL pipeline," wrote David McLaughlin, who led Canada's National Roundtable on the Environment and the Economy until it was disbanded by the Conservative government.
In fact, the pipeline decision is still up in the air. Podesta surely will be heard in the inner councils to come. But in the end he, like Secretary of State John Kerry, will not own the decision—President Obama will.
UPDATE: Late on Tuesday, Dec. 10, after The New Yorker's Ryan Lizza published comments about Keystone XL that Podesta had made in an earlier interview, a White House aide said Podesta would not take part in its review of the pipeline. "John [Podesta] suggested that he not work on the Keystone Pipeline issue, in review at the State Department, given that the review is far along in the process and John's views on this are well known," the aide said. " [White House Chief of Staff] Denis [McDonough] agreed that was the best course of action." 
Republished with permission of InsideClimate News, a non-profit, non-partisan news organization that covers energy and climate change—plus the territory in between where law, policy and public opinion are shaped.
Visit EcoWatch's KEYSTONE XL page for more related news on this topic.

EcoWatch Daily Newsletter
Recent Stories from EcoWatch