This website uses cookies to ensure you get the best experience while browsing it. By clicking 'Got It' you're accepting these terms.
Obama's Climate Change Agenda Faces Supreme Court Hearing
Feb. 24, 2014 11:26AM EST
Climate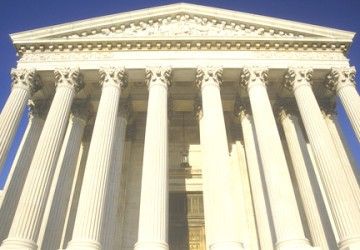 Photo courtesy of Shutterstock
By Vickie Patton
Today, the Supreme Court is hearing oral arguments in a case challenging EPA's interpretation that the Clean Air Act permit program requiring new and rebuilt industrial sources to deploy leading pollution control technology for each pollutant subject to regulation under the Act applies to greenhouse gases, just as these requirements have limited other airborne contaminants for over three decades.
This case is remarkable for what is not at stake, as well as for what is.
While the Supreme Court is considering only a single legal question of the numerous issues that were raised, this case has important implications.
Exempting climate pollution from these specific provisions of the Clean Air Act would harm innovation, because they were carefully designed by Congress to spur the development of new pollution prevention and control techniques for industrial sources. Putting a stop to these legislatively-crafted incentives to innovation in precisely the area where we so urgently need innovation—in addressing climate-destabilizing pollution—would be a damaging loss and risks "locking in" new high emitting and long lived industrial infrastructure. Such an exemption for climate pollution is patently contrary to Congress's specific command, in the statutory provisions at issue here, that these innovation-spurring requirements apply to "each pollutant subject to regulation under the Act".
Climate obstructionists will undoubtedly twist the meaning of the case to suggest broader implications, despite the court's decision to review only one narrow question. While the Administration is judiciously carrying out its responsibilities under the Clean Air Act to address climate pollution—in accordance with the authority that was twice affirmed by the United States Supreme Court—climate obstructionists will use this case to sow havoc and attack the U.S. Environmental Protection Agency (EPA). Indeed, these forces have already attacked EPA by unsuccessfully litigating virtually every aspect of EPA's first generation climate protections in court over a span of many years. Unfortunately, they will continue to attack EPA in the public square invoking the polarizing rhetoric that most Americans associate with divisive Beltway politics—not real world solutions.
What is not at stake in this case is the EPA's determination that six greenhouse gases—carbon dioxide, methane, nitrous oxide, hydrofluorocarbons, perfluorocarbons, and sulfur hexafluoride—endanger the health and welfare of current and future generations. This is the bedrock for EPA's manifest authority to adopt climate protections for cleaner cars and cleaner freight trucks, for reducing the potent methane leaked and vented from oil and gas development activities in the same way that Colorado has adopted methane emissions standards, and for cutting the massive carbon pollution from power plants—the nation's single largest source of carbon pollution and one of the largest in the world.
The history behind the case
For the past four years, big polluters and litigants such as the Attorney General of Texas have been suing the EPA over all aspects of its climate protections for America—including the science-based endangerment finding, and the historic Clean Cars Standards that are saving Americans money at the gas pump while strengthening our nation's energy security and reducing pollution. By contrast, the U.S. Automakers have consistently supported the clean car standards.
These dozens of lawsuits were considered together by the U.S. Court of Appeals for the D.C. Circuit—which upheld EPA's climate protections and rejected the legal challenges. In 2012, a three Judge panel of that court held that EPA's interpretation of the Clean Air Act was "unambiguously correct." Then-Chief Judge David Sentelle, appointed to the Court by President Ronald Regan, was a member of the three Judge panel that unanimously affirmed EPA's action.
Opponents filed numerous petitions seeking review by the Supreme Court, which refused to entertain most of their challenges.
Instead, the Court granted review of a single question – whether, under the terms of the Clean Air Act, EPA's regulation of climate pollution from cars triggered the requirement for pre-construction permits limiting the climate pollution discharged by large, new and rebuilt industrial sources of that pollution in the same way these requirements have applied to other air pollutants from these sources for over 35 years.
Bottom line
We need all available safeguards under the Clean Air Act to address the urgent challenge of climate change—including the advanced pollution control measures required as an essential protection in construction permits for large industrial sources. These measures are vital if we hope to minimize industrial climate pollution.
Further, one of the principal legal theories being advanced by petitioners would have adverse consequences for EPA's long-standing interpretation of the law – spanning the Presidencies of Ronald Regan, George H.W. Bush and George W. Bush—that has expansively applied the protections of the Clean Air Act's pre-construction review permit program to all regulated air pollutants. This line of attack, designed to narrow the air pollutants subject to these limits, would call into question the application of the program to pollutants such as hydrogen sulfide, fluorides and sulfuric acid mist.
Finally, we need to tell the truth to the public, to policymakers and to the highest Court in the land that EPA is judiciously carrying out its responsibilities under the nation's clean air laws to protect human health and the environment from climate pollution. We must take a stand against the sharply polarizing rhetorical excess leveled at EPA. For the real world solutions that have won far-reaching support, look no further than the cleaner cars on the road today that are strengthening our energy security, saving families hard earned money at the gas pump, and cutting carbon pollution.
The Environmental Defense Fund is a party to the case before the Supreme Court and participated in the presentation of oral arguments when the case was before the U.S. Court of Appeals for the D.C. Circuit. Patton is the organization's general counsel and manages the organization's national and regional clean air programs.
Visit EcoWatch's CLIMATE CHANGE page for more related news on this topic.

EcoWatch Daily Newsletter
Extreme weather events supercharged by climate change in 2012 led to nearly 1,000 more deaths, more than 20,000 additional hospitalizations, and cost the U.S. healthcare system $10 billion, a new report finds.
Giant sequoia trees at Sequoia National Park, California. lucky-photographer / iStock / Getty Images Plus
A Bay Area conservation group struck a deal to buy and to protect the world's largest remaining privately owned sequoia forest for $15.6 million. Now it needs to raise the money, according to CNN.
This aerial view shows the Ogasayama Sports Park Ecopa Stadium, one of the venues for 2019 Rugby World Cup. MARTIN BUREAU / AFP / Getty Images
The Rugby World Cup starts Friday in Japan where Pacific Island teams from Samoa, Fiji and Tonga will face off against teams from industrialized nations. However, a new report from a UK-based NGO says that when the teams gather for the opening ceremony on Friday night and listen to the theme song "World In Union," the hypocrisy of climate injustice will take center stage.
Vera_Petrunina / iStock / Getty Images Plus
By Wudan Yan
In June, New York Times journalist Andy Newman wrote an article titled, "If seeing the world helps ruin it, should we stay home?" In it, he raised the question of whether or not travel by plane, boat, or car—all of which contribute to climate change, rising sea levels, and melting glaciers—might pose a moral challenge to the responsibility that each of us has to not exacerbate the already catastrophic consequences of climate change. The premise of Newman's piece rests on his assertion that traveling "somewhere far away… is the biggest single action a private citizen can take to worsen climate change."

Volunteer caucasian woman giving grain to starving African children.
Bartosz Hadyniak / E+ / Getty Images
Food will be scarce, expensive and less nutritious," CNN warns us in its coverage of the UN's new "Climate Change and Land" report. The New York Times announces that "Climate Change Threatens the World's Food Supply."
By Adam Vaughan
Two-thirds of people in the UK think the amount people fly should be reined in to tackle climate change, polling has found.
Climate Week NYC
On Monday, Sept. 23, the Climate Group will kick off its 11th annual Climate Week NYC, a chance for governments, non-profits, businesses, communities and individuals to share possible solutions to the climate crisis while world leaders gather in the city for the UN Climate Action Summit.
By Pam Radtke Russell in New Orleans
Local TV weather forecasters have become foot soldiers in the war against climate misinformation. Over the past decade, a growing number of meteorologists and weathercasters have begun addressing the climate crisis either as part of their weather forecasts, or in separate, independent news reports to help their viewers understand what is happening and why it is important.